Bottled Tea Market
Bottled Tea Market Forecast, Trend Analysis & Competition Tracking - Global Market Insights 2018 to 2027
FACT2371MR
Mar-2022

List of Tables : 158

List of Figures : 120

170 Pages
'New Releases' – A Pervasive Strategy of Bottled Tea Manufacturers for Market Sustenance
Through 2027, the bottled tea market is expected to increase at a nearly 4% compound annual growth rate (CAGR).
In 2018, the global demand for still varieties of bottled tea will exceed 35 million litres. Revenues from sparkling tea, on the other hand, are expected to increase by 6% year over year in 2018.
The bottled tea market place has remained dynamic majorly due to altering consumer preference and beverage manufacturers' efforts to meet the evolving demand.
'New releases' in terms of flavor, authenticity and packaging in the tea market has become a pervasive strategy among bottled tea brands, small or big.
Organic kombucha, a fermented bottled tea by Uncle Matt's Organic brand was introduced in 2017. Available in a number of flavors, kombucha combines benefits of a green tea and natural prebiotics and organic acids.
In the first quarter of 2018, DanonWave-owned Brand Stok has launched a new range of cold brew beverages including Stok Yerba Mate Cold Brew Teas which are ready-to-drink bottled tea ranges.
Arcadia Beverage, in May 2018 launched Zumora, a new clean label beverage line including bottled tea.
In November 2017, Unilever Food Solution introduced the Pure Leaf Tea House Collection of hot and iced teas that are organic and flavored with fruit and herbs.
In October 2017, Argo Tea, a Chicago-based premium tea brand, launched a line of Single Estate Cold Brew Bottled Teas.
Avail customized purchase options for your needs
Bottled Tea Supply through HORECA on the Rise
The hospitality industry or HORECA (Hotel, Restaurant and Café) has gained significant momentum in the past decade against the backdrop of increasing propensity of consumers for food offerings prepared outside the home.
Growing interest of consumer packaged goods (CPG) industry in the HORECA to boost revenues has, in turn increased market revenues of bottled tea manufacturers.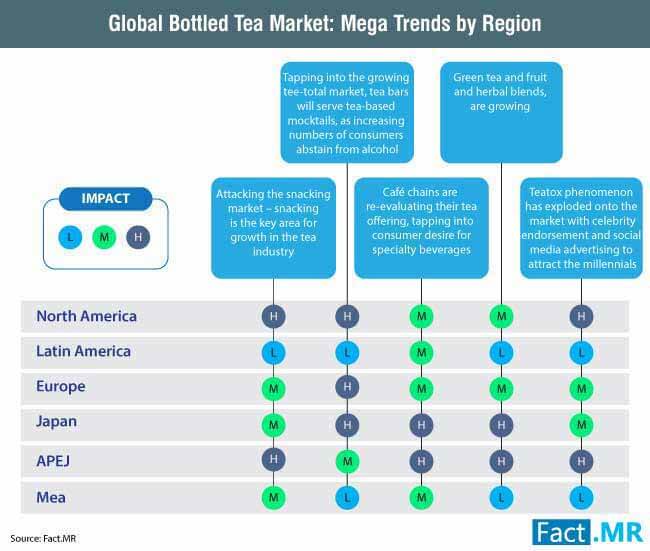 Although bottled tea has successfully entered the online sales channel, in an attempt to explore new modes of distribution beyond conventional supply chain, online retailers are also entering HORECA to favor revenue generation.
Further, new trends in the hospitality industry such as pop up restaurants, fast casual dining experiences, here-to-stay café and all-day breakfast are advocating the supply chain penetration of bottled tea market in HORECA.
Clean Label Nature of Bottled Tea Fits Well in Demand for Safe RTD Beverages
In a bid to meet consumer demand for ingredient authenticity, tea brands have indulged in R&D efforts to develop tea formulations with authentic taste and aroma.
Implementation of a ready-to-drink trend in processing and manufacturing has introduced a variety of teas that are bottled, chilled and commercialized– a perfect to-go beverage for consumers driving the clean label movement.
Aware of consumer sentiments for the clean label and low-sugar beverages, brands in the beverage industry have introduced multiple clean label tea-based formulations that are natural in origin and retains salutary benefits.
Industry titans including Unilever, Englewood Cliffs, N.J., Nestle and DuPont Nutrition & Health and premium entrepreneurs such as DanoneWave, Uncle Matt and Sunup Inc.
have ramped up their focus on clean label product offerings including bottled tea.
An Adaptive Approach to Modern-day Research Needs
Demand for Functional Beverages Complementing Bottled Tea Market Growth
Consumer demand for functional ingredients is on the rise. Tea blends with functional ingredients are the most trending phenomena in the bottled tea.
A meteoric rise in the popularity of green tea in the past decade as a healthy beverage is here to stay.
Further, different types of tea sold as bottled tea are believed to be rich in polyphenols and antioxidants- healthful components.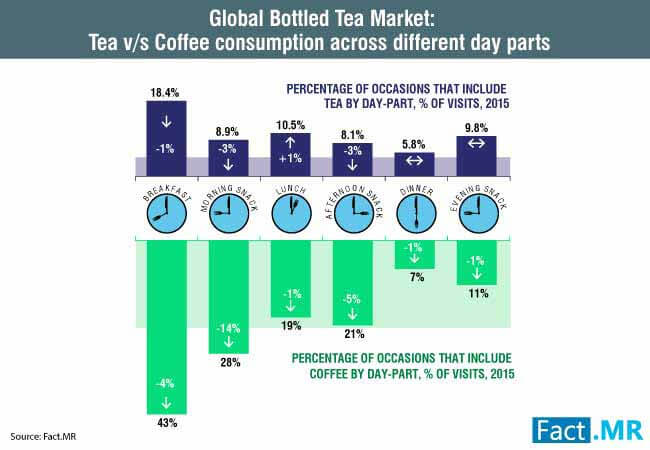 Although, in recent past, bottled tea witnessed a downfall amid the rise of the low- or no-sugar trend, manufacturers' attempts to meet health preferences of consumers have brought back bottled tea in the beverages market wherein retail shelves are currently superfluous with multiple brands of bottled tea.
Bullish Tea Industry Outlook Fuelling Bottled Tea Market
As the most widely consumed beverage after water, the appetite for tea continues to expand across the globe.
After Asian countries, greater affection for tea is observed among U.S. households. In addition, millennials' liking for tea is set to propel the tea industry growth in future.
Increasing demand for discrete flavors of tea and the availability of premium tea brands have exposed consumers to wider tea offerings including bottled tea.
These industry dynamics are likely to maintain the bottled tea market sustainability in the future.
Interested to Procure The Data
Competitive Landscape
The competitive landscape section of the bottled tea market report provides a dashboard view of the market players operating in the global marketplace of bottled tea.
In addition, company profiles of key market players with a detailed information on product offerings, company share, regional presence and notable developments are included in the competitive landscape section.
Few of the profiled players in the bottled tea market include Suntory Holdings Ltd, Nestlé S.A, The Coca-Cola Company, Tsing Hsin International Group, PepsiCo Inc, Monster Beverage Company, Uni-President Enterprises, JDP Group, Arizona Beverage Company and OISHI GROUP.
Key manufacturers in the bottled tea market are leveraging strategies such as the expansion of production capacity as well as market presence as well as new product launch.
Suntory Products Ltd. has announced at the beginning of 2018 that it will strengthen the PET bottle production facility of Haruna plant.
The PET bottle products will be produced using aseptic packaging to stay ahead of the consumer trends such as health-consciousness and changing work style.
Tiesta Tea, a Chicago-based loose-leaf tea company has launched a new line of functional cold brew bottled tea in targeted grocery stores in the U.S.
In November 2018, Buddha Teas, a California-based brand ventured into Latin America, Mexico with its bottled tea and beverages – single-herb teas, cannabidiol blends and RTD matcha beverage.
In January 2018, the Coca-Cola Company announced the launch of its popular tea brand – Fuzetea in Europe across 37 countries. The brand entails Coke's strategy to deliver low- and no-sugar options in more packages and locations.
Definition
Bottled tea is a general name given for different types of tea that are commercially sold as a bottled drink.
Black tea, green tea, red tea, oolong tea, jasmine tea, herbal tea and fruit tea that are made available in bottles are considered rich in antioxidants and polyphenols that help in the prevention of a number of diseases including cancer.
About the Report
Fact.MR has compiled a study on the bottled tea market and published a new report titled, "Bottled Tea Market Forecast, Trend Analysis & Competition Tracking - Global Market Insights 2018 to 2027."
This report on the bottled tea market covers all the vital aspects of the market that hold significant influence on the future progress of the bottled tea market.
The bottled tea market analysis covers a thorough analysis of the bottled tea market for the historical period of 2013-2017 and forecast period of 2018-2027.
Additional Questions Answered
In addition to the aforementioned insights of the bottled tea market, the bottled tea market report also covers other facets of the market that hold significant influence on the progress of the bottled tea market.
A thorough discussion as such can answer some of the important questions of business professionals interested in the bottled tea market.
What will be the impact of megatrends on the tea market and preference for bottled tea in the future?
Which region will lead the production and consumption of bottled tea during the forecast period?
Amid extensive popularity of coffee and development of bottled coffee, how will bottled tea market progress?
Among different types of bottled tea – still and sparkling, which type will be highly preferred in the future?
Research Methodology
The robust research methodology followed during the course of the bottled tea market study is provided in this chapter.
The methodology of research includes information on the primary as well as secondary research used to study the bottled tea marketplace at a global stage.
The resources used to carry out the primary and secondary research are discussed that gives clarity about the assumptions and forecast derived in the bottled tea market report.
Segmentation
The bottled tea market is segmented based on product type, nature, flavor and sales channel.
This structure of the bottled tea market is thoroughly discussed in this section of the bottled tea market.
Based on product type, the bottled tea market is sub-segmented into still bottled tea and sparkling bottled tea.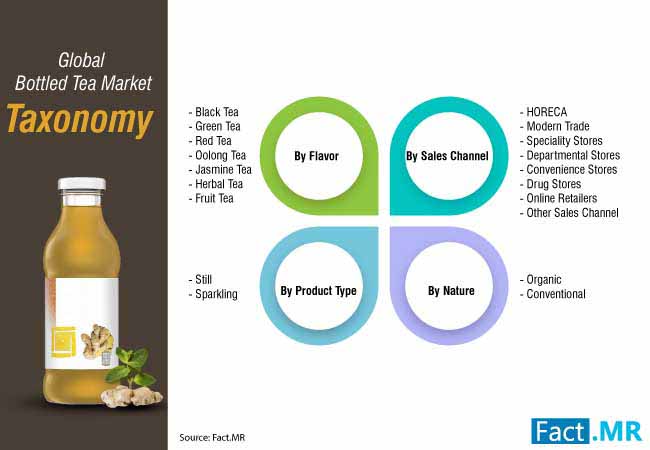 Further, the bottled tea market segmentation based on sales channel includes HORECA, modern trade, specialty store, departmental stores, convenient store, online retailers, drug stores and other sales channels.
By nature, the bottled tea market is sub-segmented into organic and conventional bottled tea.
Among different flavors, the bottled tea market is studied for black tea, green tea, red tea, oolong tea, jasmine tea, herbal tea and fruit tea.
- FAQs -
The Global Market For Bottled Tea Is Anticipated To Grow At A Value CAGR Of 4% During The Forecast Period.
Some of the key players in global market are Suntory Holdings Ltd, Nestlé S.A, The Coca-Cola Company, Tsing Hsin International Group and many more.
Need an Exclusive Report for your Unique Requirement?
- Our Clients -