Matcha Tea Market to Grow 1.6X, with an Uptick in Consumption Trends
Consumption of wellness teas is increasingly becoming mainstream as the consumers showing increasing affiliation towards health and wellness. Matcha tea is one of the tea variants that has garnered significant traction in the recent past and is expected to grow by 1.6X during the forecast period. While the middle-aged consumer groups have been observed to be the most important consumers of matcha tea, matcha tea is also becoming popular among young females. The constant upsurge in matcha tea demand has also led to the evolution of more convenient forms of the product, for instance, on-the-go matcha tea. On the go matcha tea brands such as Jade Monk and U Matcha have acquired significant consumer attention in the recent past.
APAC to Retain its Dominance in the Matcha Tea Market throughout the Forecast Period
Matcha tea finds its roots in Asian countries, especially China and Japan, where large number of consumers prefer them over other green teas. Relatively, consumers in North America and Europe are less aware about matcha tea, and these regions are largely dependent on imports from Asian countries. However, matcha tea market in these two regions is expected to exhibit higher growth than Asia-Pacific. Around 30% of households in New York and 29% in California have green tea in their regular grocery purchases. Green tea is being heavily replaced by matcha tea. The markets in Latin America and Middle-East and Africa are in their nascent stage and less lucrative in terms of market growth.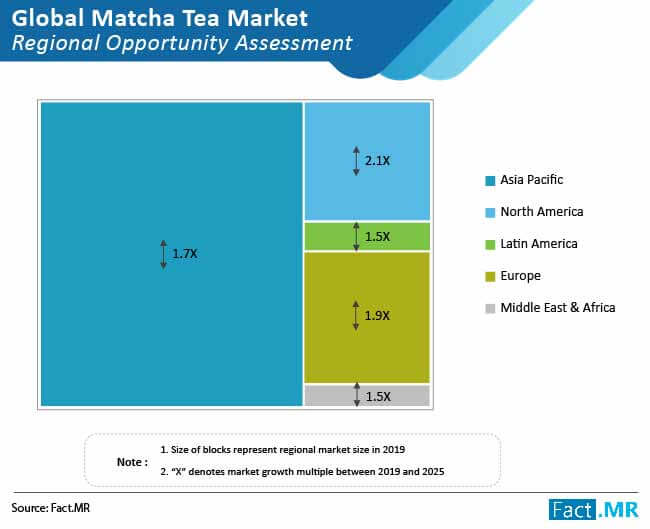 Access cutting-edge market intelligence on matcha tea by requesting for a report sample here
Market for Unsweetened Matcha Tea to Witness Double Digit Growth during the Forecast Period
Unsweetened matcha tea is anticipated to be more in demand as compared to sweetened and flavored variants as the former can be prepared with desired customization. Unsweetened matcha tea is also targeted at diabetic customers. Unsweetened matcha tea market is projected to witness the fastest growth followed by flavored variants. Some of the most sought after flavored variants of matcha tea include chocolate, coconut and ginger.
Standup Pouches of Matcha Tea to be Highly Sought After
Demand for standup pouches is high among the other matcha tea packaging variants. Most of the matcha tea customers seek to purchase matcha tea in quantities that can be consumed within a week or a fortnight. Demand for matcha tea in sachets is also increasing owing to emergence of customers who wish to try them first before purchasing.
Diversified Product Portfolios – Key Strategy of Matcha Tea Manufacturers
While matcha tea market is in the introductory phase of its lifecycle in most countries, key players are focusing on new product launches. Companies including ITO EN ltd., Tata Global Beverages Ltd., Starbucks Corporation, Unilever PLC, are amongst the frontrunners in new product launches.
In 2019, ITO EN Ltd. launched its new product under the brand name matcha LOVE.
In 2018, Starbucks launched a new product as a matcha hack to provide matcha tea at lower prices.
In 2019, Starbucks launched its new springs products collection with different flavors of matcha tea.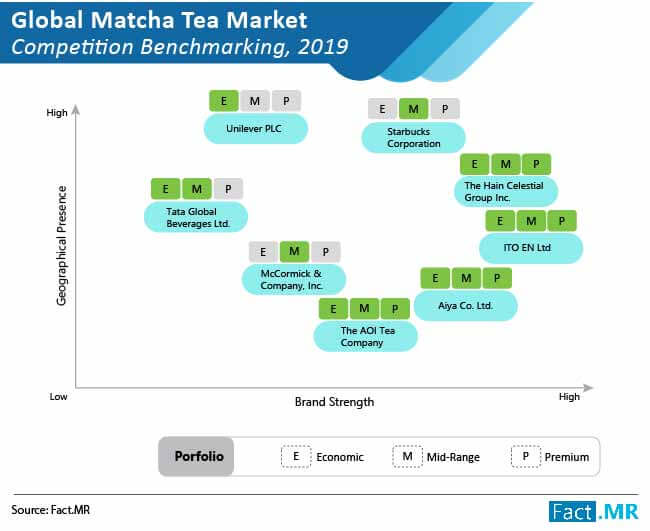 Get an edge over your competitors in the matcha tea market by asking an analyst here
Matcha tea market is anticipated to witness a notable upsurge during the forecast period 2019 to 2025, conferring to a new Fact.MR study. The study promotes crucial trends that are presently determining the growth of matcha tea market. This newly published and perceptive report sheds light on vital dynamics, which are likely to convert the future of Matcha tea market, in turn generating worthwhile opportunities for key companies as well as evolving players who are interested in the manufacturing of matcha tea.
Matcha tea market study is a detailed market intellect on key revenue progression factors, challenges, industry trends, and opportunities, which will eventually influence the growth of matcha tea market. The report primarily conveys a summary of the matcha tea market, considering present and upcoming toppings and fillings industry scenarios, to reveal striking sides relating to the acceptance of matcha tea across prominent regional markets.
A detailed assessment on few of matcha tea raw material suppliers accessible in the report allows the report readers to obtain detailed findings that have resulted from matcha tea supply chain analysis, business execution, and value chain analysis across the regional markets incorporated in the report. A list of prominent companies functioning in matcha tea market provided in the report enhances reliability of this ample research study.
Matcha tea Market: Report Summary and Scope
Study offers a comprehensive overview on diverse features that are inducing demand, revenue generation and sales in matcha tea market across the globe.
A comprehensive estimate on Matcha tea market has also been made accessible by the experts, who have considered the market estimates on the basis of a likely scenario, an optimistic scenario, and a conservative scenario regarding sales of matcha tea during the forecast period. Analysis and estimation of price point comparison by region and by product with the global average price has been included in this study.
Matcha tea Market: Segmentation
FactMR's study has done the segmentation of Matcha tea market on the basis of product type, nature, packaging and sales channel.
Product Type

Nature

Packaging

Sales Channel

Unsweetened

Sweetened

Flavored

Organic

Conventional

Cartons

Sachets

Stand up Pouches

Tins

Direct Sales

Indirect Sales

Modern Trade
Convenience Stores
Online Retailers
Other retail Formats
Matcha tea Market: Analysis on Market Size Evaluation
Predictions of matcha tea market, encompassing current as well as forthcoming projected values estimate and analysis on region-wise demand trends and price index have been assimilated in the report.
Market estimates at the regional and global scale for matcha tea are available in terms of "US$ Mn." A Y-o-Y growth contrast on prominent Matcha tea market segments, along with the market attractiveness valuation computes understandings brought in the report. Metrics mentioned above are also followed based on Matcha tea applications where matcha tea witness a steady demand.
Matcha tea Market: Scrutinized Assessment on Regional Segments
Weighted sections have been elaborated in the report on matcha tea market, which delivers projection on the regional markets. These chapters brighten the regional macros (political economic, and business environment outlook), which are expected to have a significant impact on the growth of Matcha tea market during period of forecast.
Country-specific valuation on demand for matcha tea has been offered for each regional market, along with the market scope estimate and forecast, price index, price point assessment, and impact analysis of dynamics of prominent regions and countries. For all regional markets Y-o-Y growth estimates have also been incorporated in the report.
Matcha tea Market: In-depth Analysis on Competitive Landscape
The report ends with a section on the competition scenario of matcha tea market, along with the profiles of major companies contributing to the market expansion. Essential and up-to-date data as well as information correlated to the market performers, who principally engage in the production and supply of matcha tea, has been brought with the help of a detailed dashboard view. Market share analysis and comparison of prominent players provided in the report permits the report readers to plan preemptive steps to advance their businesses.
Company profiles have been shared with report, which exerts essentials such as product portfolio, along with an all-inclusive SWOT analysis on each player recognized along with the company policies identification and analysis. The company presence mapped and presented through the matrix for all the prominent players of the market functioning in Matcha tea market offers readers with actionable intellect, which helps in thoughtfully presenting the market status, and making decisive predictions on the competition levels in Matcha tea market. Major companies operating in global Matcha tea market, include ITO EN Ltd, Tata Global Beverages, Starbucks Corp., The Hain Celestial Group Inc., Unilever and several others.
Fact.MR offers custom research services that help clients to get specific research solutions
We are committed towards customer satisfaction and quality service.
---
Our Clients

Matcha Tea Market Forecast, Trend Analysis & Competition Tracking - Global Market Insights 2019 to 2025