Electrical Steel Market
Electrical Steel Market Analysis By Product Type (Grain-Oriented Electrical Steel & Non-Grain Oriented Electrical Steel) By Application (Electric Steel for Inductors, Motors & Transformers) By End Use (Automobiles, Manufacturing, Energy Generation) Forecast 2022-2032
FACT2397MR
Oct-2022

List of Tables : 112

List of Figures : 92

170 Pages
R&D and Technological Advancements to Spur Electrical Steel Market's Outlook (2022-2032)
The global electrical steel market is valued at US$ 25.9 billion in 2022 and further expand at a CAGR of 8.5% to reach US$ 55.1 billion by the end of 2032.
Sales of electrical steel accounted for nearly 12.3% of the global specialty steel market at the end of 2021. Industrial growth plays a crucial part in market's growth over the forecast period.
Report Attributes

Details

Electrical Steel Market Size (2021A)

US$ 24.2 Billion

Specialty Steel Market (Parent)

US$ 196.0 Billion

Estimated Market Value (2022E)

US$ 25.9 Billion

Forecasted Market Value (2032F)

US$ 55.1 Billion

Global Market Growth Rate (2022-2032)

8.5% CAGR

North America Market Share (2022)

~15.6%

Europe Market Share (2022)

~24.3%

China Market Share (2022)

~32.0%

Market Share of Top 3 countries

~44.9%

Key Companies Profiled

Novolipetsk Steel
Voestalpine Stahl GmbH
POSCO
Nippon Steel
Sumitomo Metal Corporation
ThyssenKrupp AG
JFE Steel Corporation
Cogent Power
ArcelorMittal SA
Aperam SA
Baosteel Group
AK Steel Holding Corp
Allegheny Technologies Inc.
Phoenix Mecano AG
Leicong Industrial Co., Ltd.
Nicore Electrical Manufactory Co. LTD.
Steel Authority of India Limited
Interested to Procure The Data
Historic and Future Path Analysis: Electrical Steel Market
Electrical steel offers better mouldability and is lightweight as compared to conventional steel. Thus, it finds greater application in electronic systems in automobiles, as manufacturers are focused on increasing features while reducing the overall weight of automobiles.
Further, increasing automobile sales contributes significantly to the growth of the market. As in hybrid/electric vehicles, there are electrical steel core motors installed of high power, and thus there is a need for NGOES for its efficient and smooth operation.
Also, there are many small transformers and inductors used in automobiles that require electrical steel. Hence, demand for automobiles coupled with the plethora of applications spur the market's growth over the projected period.
Factors Determining Short Term Growth: ES is manufactured by adding silicon in appropriate proportion to crude steel. Thus, surging crude steel consumption drives the market's growth in the near future.
Approaches for Medium Term Growth: Increasing global energy and power generation is resulting in an increasing need for distribution and power transformers for generation and distribution of power, and the growing transformers market is expected to fuel sales for the market.
Long Term Growth Initiatives: Investment in R&D coupled with the adoption of winning-marketing strategies is anticipated to offer the market immense growth opportunity over the projection period.
Over the 2017-2021 historical period, the global electrical steel market registered a CAGR of 5.9%, and according to the Fact.MR, a market research and competitive intelligence provider, the market is projected to exhibit growth at 8.5% CAGR between 2022 and 2032.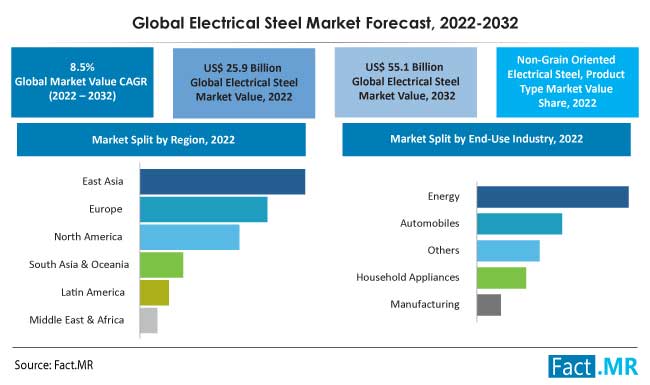 Market share analysis of electrical steel based on end-use industry and region is provided in a nutshell in the above image. Under the end-use industry segment, the energy sub-segment dominates with 40.7% market share in 2022.
"Government Initiatives for Enhancing Power Distribution Centers"
Government initiatives for enhancing power generation and renewable energy generation with increasing electricity transmission and distribution efficiency are expected to fuel the market's growth over the forecast period.
The trend of clean energy is forcing the government of numerous economies for developing advanced zero-emission energy generation plants. Several companies are working for evolving such plants. These types of projects require a larger quantity of transformers and other electrical components, thereby increasing the demand for electrical steel.
Transformers are designed with an expected life span of 30 years. However, various initiatives for enhancing the performance of electricity distribution networks are anticipated to increase demand for the market rigorously.
"Multiple Properties and Diverse Applications: Supplementing Market's growth"
Electrical steel is used in electric vehicles (EV) and hybrid electric vehicles (HEV) for the core of traction motors. It helps in reducing eddy current losses and improves the efficiency of the HEV/EV. High-speed electric motors, which operate at a frequency above 400Hz are used in the aerospace industry, and for the safe and smooth functioning of these high-frequency motors, its Hi-Lite grade is used as a core material.
Market growth is driven significantly by the energy and power industry, as this material is widely used in various electronic and electrical components used for power generation, transmission, and distribution. Cold rolled electrical steel (CRGO) is used to manufacture cores of transformers, thereby enabling lower core losses and ensuring a more compact size of transformers used for power transmission and distribution.
Also, stators and rotors of motors are made using its Hi-Lite grade to enable performance at high rotation speed and generation of required high power output in a more compact design.
"Electronic Ballasts: Hurdle to be Bridged"
Lighting ballasts are devices, which ensure electric lamps receive the right amount of electricity at the initial stage of starting and during operations of electric lamps. Previously, its transformers were used for magnetic ballasts.
Recently, however, electronic ballasts have replaced magnetic ballasts to ensure better efficiency, and electronic ballasts do not require transformers for efficient operation, as these work on the principle of electronic gas discharge.
Hence, the replacement of magnetic ballasts with electronic ballasts is expected to have a negative impact on the growth of the global market currently, as well as in the near future.
"Growing Prominence of Nickel-iron Alloys Owing to Various Advantages"
Though ES enhances efficiency and prevents losses in numerous applications, its magnetic properties are inadequate to satisfy the complicated necessities of precision and efficiency.
Nickel iron alloy is a highly innovative and smart solution as compared to it and are suitable alternatives for the market. Nickel iron alloys play a vital role in the manufacturing of sensors, relays, motor laminations, and others.
Also, this material delivers enhanced magnetic induction and permeability as compared to it. Hence, the increasing adoption of nickel-iron alloys in electro-technical applications is anticipated to restrict the growth of the global market over the study period.
Country-wise Insights
Why Germany has High Demand for the Electrical Steel?
Germany has a deeply rooted and evolving market for electric vehicles, and data centers also increase the demand for the market. As for the production of electric vehicle components and motors, electrical steel is preferred due to its specific properties.
Further, the data centers require high connectivity coupled with numerous transformers for enhanced operations, thus, resulting in the high adoption of product to meet the specific requirements.
Why is India Electrical Steel Market Projecting High Growth Opportunities?
With the flourishing industrial sector, including construction, mining, manufacturing, oil & gas, and utilities, the demand for dedicated equipment and thus engine components and structural components, such as composite parts, is anticipated to rise over the assessment period.
Attributing to this, many companies are entering the market or planning to enter with the hope to capitalize on the surging demand and expand their business globally. For this, companies are concentrating on developing innovative products that comply with the respective regulations and safety norms of local markets.
With the potential of effective research and development, manufacturers are finding new growth opportunities across the unexploited Indian market which contribute to increasing their market share. Companies are focused on developing their flat-rolls primarily for motors, generators, and transformers.
Demand for extremely thin electrical steel strips for high-frequency applications is also increasing with technological advancements. Manufacturers are adopting novel manufacturing processes for developing these types of products. Such factors drive the market's demand across the country.
An Adaptive Approach to Modern-day Research Needs
Category-wise Insights
Why motors sub-segment ranks-up in the market?
The motor sub-segment is expected to report the highest growth rate over the projection period. High permeability, high frequency, and outstanding magnetic properties of ES, make it a preferable choice for electric motors. Advancing emphasis on EV production is driving the need for electric motors, which is ultimately anticipated to aid market growth.
Further, on comparing conventional industrial motors with electric motors, electric motors deliver four folds higher speed. Elevated speed causes the generation of considerable heat, which may influence a vehicle's performance by augmenting core losses and exerting excessive mechanical stress on the motor and its components.
Electrical steel overpowers such situations due to its properties making it reliable and increasing the durability of the motor. Such factors are driving the segment's sales.
Why NGOES has Commanding Growth Opportunities in the Market?
Non-grain Oriented Electrical Steel (NGOES) has a major share in the market. It has accounted for the largest revenue share in 2021, i.e., 69.9%. NGOES discovers applications mainly in rotating machines and small transformers, among others. It is available in multiple grades relying upon composition, properties, and applications.
Avail customized purchase options for your needs
Manufacturer's Growth Stratagems
Eminent players includes Novolipetsk Steel, Voestalpine Stahl GmbH, POSCO, Nippon Steel, Sumitomo Metal Corporation, ThyssenKrupp AG, JFE Steel Corporation, among others.
Major key market players are focusing on safe and environment-friendly materials. The companies are focusing on developing products that comply with the safety norms of local markets. With effective research, development, and innovation, global manufacturers are working on the development of new products.
Further, the companies focus on cost reduction, improvement of existing products, process improvement, development of new manufacturing methods, quality assurance, and improvement of existing manufacturing methods to gain high-profit margins.
In April 2022, POSCO started the construction of an electrical steel production facility. The steel manufacturer in South Korea plans to invest US$ 805 million in the construction of the plant. The facility will have an annual production capacity of 300,000 tons of NOES.
In May 2021, JSW Steel and JFE Steel Corporation inked a memorandum of understanding (MoU) to carry out a feasibility study for the establishment of a GOES sheet manufacturing and sales joint-venture company in India.
Fact.MR has provided detailed information about the price points of key manufacturers of electrical steel positioned across regions, sales growth, production capacity, and speculative technological expansion, in the recently published report.
Segmentation of Electrical Steel Industry Research
By Product Type :

Grain-Oriented
Non-Grain Oriented

By Application :

Inductors
Motors
Transformers

By End-Use :

Automobiles
Manufacturing
Energy Generation
Household Appliances
Other End Uses

By Region :

North America
Latin America
Europe
East Asia
South Asia & Oceania
MEA