The Demand for Healthy Ingredients Will Surge Ready-to-Fill Pastry Market
The prominent players are likely to hold a small share in the global ready to fill pastry market which is majorly driven by the unorganized players. The ready to fill pastry market is fragmented across the regions and is dominated by the local and domestic manufacturers.
Ready to fill pastry market is expected to exhibit lucrative opportunities across the globe on the backdrop of growing number of bakery products consumers and food processing industries.
Moreover, the usage of natural ingredients in the bakery industry is expected to leave a lasting impression on the ready to fill pastry market. The unique and diverse flavors in the ready-to-fill pastry is allowing it a heads up for usage in ready to eat foods.
The Recent Fact.MR study reveals that the global ready-to-fill pastry market is likely to expand at the rate of more than 6% over the next decade. With increasing incidence of health issues like obesity, diabetes, and blood pressure, consumers are becoming more health conscious worldwide.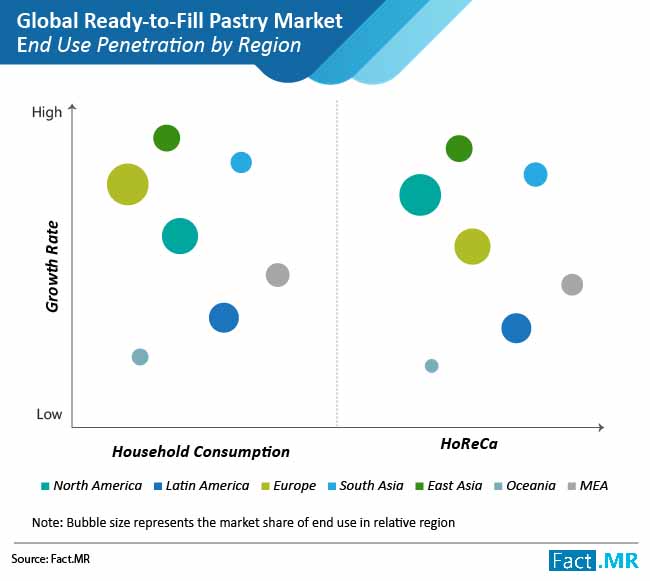 According to the Center for Disease Control and Prevention, more than half of the US adults have shifted towards the consumption of products with vegan ingredients, which in turn has propelled the growth of the global market.
Multiple gym chains, nutrition and fitness centers have been promoting the consumption of health food, dietary supplements, vegan products, and other health products, thus influencing the demand for ready to fill pastries made from vegan and healthy ingredients.
The ready to fill pastry made from healthy and nutritious ingredients helps in alleviating stress and countering health issues like obesity. Increasing awareness about these facts among global consumers is expected to boost the demand for ready to fill pastry in the global market.
Don't Need a Global Report?
Save 40% on Country & Region specific reports
Fortified Foods to Create Demand for Ready to Fill Pastry
Everyday foods enriched with protein ingredients are gaining immense traction among the consumers. The high inclination is a result of various factors including, rising prevalence of obesity and other lifestyle-related diseases.
The foods with high-protein are enhancing consumer health and wellness. Bakery products and snacks have been less considerate about fortification in foods for years.
The food fortification trend in baking industry is creating lucrative opportunities for the key players engaged in the ready-to-fill pastry market and this has been encouraging the incumbents to introduce ready-to-fill pastries with fortified ingredients in their existing portfolio to make it more sustainable and futuristic.
For example, ADM Company, a producer of soy proteins offers textured soy proteins for protein fortification.
More Insights, Lesser Cost (-50% off)
Insights on import/export production,
pricing analysis, and more – Only @ Fact.MR
The Trend of Veganism Will Fuel the Ready-to-fill Pastry Market
There has been a paradigm shift in the adoption of a vegan lifestyle, over the past few years. This trend is expected to have a positive influence on the demand for plant-based ingredients in foods.
Moreover, plant-based protein and fiber have become replacements for other proteins and fibers such as egg protein, meat protein, wheat protein, and others, owing to the increasing trend for veganism. After Hampton Creek used soy protein as an alternative to egg protein in mayonnaise, soy protein gained tremendous popularity.
The number of Vegans in US have dramatically increased, as consumers are actively adopting more ethical and sustainable lifestyles. Following this trend, the demand for vegan and natural products has increased.
Domestic manufacturers of botanical foods in the United States, as well as in Canada, experience a less stringent legislative background.
While the FDA has defined the category of botanicals, it does not strictly regulate their production in the U.S. Similarly, in Canada, manufacturers have opened domestic channels for the sales of botanicals and botanical foods. This trend aids in the growth of the ready-to-fill pastry market during the forecast period.
Know thy Competitors
Competitive landscape highlights only certain players
Complete list available upon request
Increasing Demand for Gluten-free and Vegan Products to Further Boost the Market
There has been increasing demand for gluten-free food products because of the intolerance of gluten or gluten allergies in many consumers. Consumers in the North American and European regions also demand vegan food, as well as gluten-free beetroot powder, since these are free from artificial colors, flavors, preservatives, and sweeteners.
Today, a growing number of foods are certified gluten-free or vegan. Beetroot powder is a vegan product, and therefore, has applications in vegan-labelled products such as vegan candies and jellies.
Increasing consumer awareness on preventive healthcare, as well as inclination towards low cholesterol level products, is driving the demand of ready-to-fill pastries in this region globally.
There is also rise in the adoption of vegan diets, which is contributing significantly towards the growth of the market. The growing food & beverage industry is also expected to boost the growth of the ready-to-fill pastry market.
Growing Health & Wellness Trends Will Continue to Bolster the Ready to Fill Pastry Market
Global consumers are inclined towards the maintenance of a healthy lifestyle, and this has resulted in a higher consumption of food and beverages with potential health benefits.
Nowadays, consumers are becoming more conscious about their eating habits and dietary intake, owing to which they are willing to spend extra money on a holistic approach to wellness and health.
Moreover, consumers these days are enthusiastically participating in physical activities to enhance well-being. Therefore, they prefer to consume products which supports their fitness routine. Thus, the market for ready-to-fill pastry with vegan ingredients is pacing rapidly.
Food Regulations to Overlook the Growth of the Ready-to-fill Pastry Market
The food safety regulations are evolving over time. Majority of the manufacturers view these regulations as a competitive advantage as consumers cannot ascertain the quality and safety of the product by just looking at it.
Hence, certification serves as a trademark to inform the consumers regarding the product safety and quality. These safety standards which are adopted by the manufacturers are likely to influence the growth of the ready-to-fill pastry market during the forecast period.
Moreover, food labeling forms an important framework in the food regulatory scenario. The aim of food labelling is to achieve safe food, alleviating environmental hazards, promoting human health and encouraging good manufacturing practices.
Hence, various regulatory bodies across the globe are emplacing upon the clear rather than clean label efforts so as to mitigate the safety issues associated with food production.
These food labelling regulations and guidelines protects the interest of the consumers and therefore, forces the manufacturers to provide good quality and safe products thereby, propelling the ready-to-fill pastry market towards growth and prosperity.
Favorable and Convenient Features of Ready-to-Fill Pastries Attract Consumer Attention
Most consumers across the globe are experiencing major changes in their lifestyles and eating habits, which has been stimulated by several external factors, such as globalization, among others. Busy lifestyles have fueled the market. Ready-to-fill pastries have versatile properties that meet the demands of most consumers in terms of convenience, taste, ease, and time, among others.
Apart from saving on cooking time, ready-to-fill pastries are also among the tastiest food products, taking popularity into consideration. Consumer demand for convenient and ready-to-eat foods is among the major drivers of the global ready-to-fill pastry market, which is expected to spur the demand for ready-to-fill pastries during the forecast period.
Easy Availability of Raw Materials Will Fuel Market Growth
The timely availability of raw material is of utmost importance for the growth of the food ingredients market. The various forms of ingredients that are required to produce ready-to-fill pastries have grown in abundance, thus, enabling producers the ease of procurement.
This not only contributes towards maintaining a zero demand and supply gap of ready-to-fill pastries, but also supports hassle-free procurement. It has been observed that, the providers of these products have mushroomed significantly in the recent past. Especially, in Asia Pacific, the number of providers of such raw materials has grown significantly.
Healthier, Natural & Non-Allergic Ingredients in Baked Products to Gain Traction
Increasing number of health conscious consumers across the globe are encouraging baking manufacturers in the market to produce healthier options in baking products. Many consumers are becoming fitness-oriented, and have started following healthy lifestyles while opting for convenience in their food choices.
Consumers who are more conscious about their food consumption habits are driving manufacturers in the global ready-to-fill pastry market to come up with baking products that are convenient and possess natural and non-allergen ingredients. Such moves help to capture the market base of consumers who are gluten intolerant or who suffer from specific allergies.
Targeting these consumers has become another popular trend in the global baking industry, thus, creating lucrative opportunities for manufacturers in the ready-to-fill pastry market.
The Ready to Fill Pastry Market is Characterized by Unorganized Players
A large part of the ready-to-fill pastry market is unorganized, which creates obstacles for established players in formulating their pricing and distribution strategies.
Large-sized businesses that use ready-to-fill pastries mostly source them from players in the organized sector. Various products are available in categories of businesses using ready-to-fill pastries; however, there are various large providers that lack proper foresight to target their customers.
This is further expected to intensify in the global market, as a large number of small manufacturers of ready-to-fill pastries are expected to emerge in the near future.
Global Ready-to-fill Pastry Market: Segmentation
Segmentation table of the global ready-to-fill pastry market has been provided below on the basis of shape, taste, application, end use, sales channel and region.
Region

North America
Latin America
Europe
East Asia
South Asia
Oceania
Middle East and Africa

Shape

Flower
Cocotte
Spoon
Cone
Others

Application

Dessert
Canape
Snack
Other

Taste
End Use

Household Consumption
Hotels, Restaurants, and Catering

Sales Channel

Direct Sales
Supermarkets/Hypermarkets
Convenience Stores
Online Stores
Other Channels