Pastry Fillings Market
Pastry Fillings Market By Type (Jelly, Creams, Crushes), By Source (Dairy, Non-dairy), By Application (HoReCa, Bakery & Confectionery, Residential), By Flavor (Unflavored, Flavored), By Sales Channel & By Region - Global Market Insights 2023 to 2033
Analysis of Pastry Fillings Market Covering 30+ Countries Including Analysis of US, Canada, UK, Germany, France, Nordics, GCC countries, Japan, Korea and many more
Pastry Fillings Market Outlook (2023 to 2033)
Global demand for pastry fillings is forecasted to increase at a CAGR of 5.2% from 2023 to 2033. In 2023, the global pastry fillings market is valued at US$ 1.2 billion and is thus expected to reach a market size of US$ 2 billion by 2033.
Supermarkets or hypermarkets are the most popular in this space due to the availability of a wide variety of pastry fillings and attractive discounts. Also, consumers who shop at supermarkets or hypermarkets have the opportunity to inspect the quality of the item that they intend to buy.
Pastry fillings can be used as fillings or as decorations. The flavor and outstanding texture of the pastry come from these pastry fillings. While solid pastry fillings are mostly available for baking in fruit flavor, other flavors such as chocolate, caramel, and veggie are also gaining popularity.
The market is growing as a result of the huge demand for pastry fillings in bakeries and confectionery, high consumption of pastry fillings due to their versatility and high flavor qualities, increasing consumer preference for choux pastries, puff pastries, and filo pastries, rising disposable income, and a rise in consumer spending on baked goods.
The market for pastry fillings is anticipated to increase as a result of rising product innovation and the popularity of customized pastries.
It is recommended that only heat-stable pastry fillings be used for pastries since they can endure the heat that rises with the dough during baking without losing their volume, form, or flavor. Manufacturers also provide a variety of recipes on how to combine their bake-stable pastry fillings with other bakery goods in addition to pastry to support the bakery industry.
The market for pastry fillings is also expected to rise due to factors such as rapid urbanization, an increase in flavor innovations, and changes in consumer behaviors. The demand for pastry fillings with bake-stable qualities is expected to rise dramatically due to increased consumer interest in different flavors.
Major producers of pastry fillings may benefit from a favorable opportunity in the market during the forecast period as the development of innovative food bakery items continues to rise in the food and beverage industry. Also, the expanding HoReCa culture in emerging countries is a significant contributor to the rise in demand for pastry fillings.
Pastry fillings are widely used at celebrations, parties, and events and go well with cakes, brownies, and waffles. The demand for pastry fillings is supported by the trend towards home baking and convenient packaging. Key providers of pastry fillings are concentrating on product creation and launch while taking into account consumer desires and the blending of various pastry flavors.
Report Attributes

Details

Pastry Fillings Market Size (2023)

US$ 1.2 Billion

Projected Market Value (2033)

US$ 2 Billion

Global Market Growth Rate (2023 to 2033)

5.2% CAGR

Market Share of Flavored Pastry Fillings

60%

Key Companies Profiled

White Toque
Puratos Group
Dawn Foods
EFCO Products
Rich Products Corporation
Herbstreith & Fox GmbH & Co. KG
Baker Fruit Processors Ltd
Malas Food Products Pvt. Ltd.
Royal Avebe U.A.
Andros Group
Don't Need a Global Report?
save 40%! on Country & Region specific reports
What are the Key Elements Boosting the Consumption of Pastry Fillings?
"Growing Consumer Inclination towards Ready-to-eat Foods"
The market for pastry fillings is being driven by a swift shift in consumer eating habits caused by the demand for novel and unique food products. Due to expanding purchasing power and increased urbanization, consumers are heavily spending on cooked and prepackaged food items, which eliminates the need to spend time preparing a conventional breakfast. The growing popularity of frozen bakery products, cakes, pastries, chocolate tarts, and other products is driving up demand for pastry fillings.
Rapid lifestyle changes include time spent on daily chores, commute time, and working longer hours. Busy professionals, households with just one person, and students find it difficult or impossible to prepare meals for themselves, preferring instead to buy ready-to-eat foods from bakeries or convenience stores. In addition, the lifestyle of middle-class sections has substantially improved recently due to the rapid expansion of numerous economies.
"Innovations in Terms of Natural Ingredients & Low-calorie Filling Formulations"
Vegan creams are the most prominent new developments in the pastry fillings market. Preference for these creams is anticipated to show prominent growth in shifting consumer demands towards on-the-go health foods.
Demand for sugar-free, gluten-free, and low-fat fillings is projected to expand quickly over the forecast period as a result of consumers' changing eating habits and growing awareness of the benefits of particular foods for their health.
Reduced sugar and calorie content are being promoted on the labels of bake-stable food products to meet the growing demand for fillings prepared with less added sugar.
"Huge Demand for Fruit Pastry Fillings Owing to Their Nutritional Advantages"
Fruits with strong flavors and visual appeals, such as strawberries, blueberries, raspberries, oranges, and limes, are perfect for baked goods such as cakes and pastries. In addition to retaining their natural sugars, these fruits make the bakery product a healthier substitute for processed sweets.
Fruits are abundant in vitamins and antioxidants that support immunity. Top producers are concentrating on providing a wide variety of fruit pastry fillings to meet consumer demand. Consumers are looking for bakery goods that will improve their whole eating experience and offer them nutritional advantages, such as an increase in energy.
What is Restraining the Demand for Pastry Fillings to Some Extent?
"Fluctuating Raw Material Prices and Health Concerns Associated with Consumption of Sugary Snacks"
Health concerns associated with the consumption of sugary snacks, particularly among obese or diabetic people hinder the adoption of pastry fillings. Fluctuating raw material prices and high costs associated with natural and organic fillings are hampering market growth, according to pricing trends.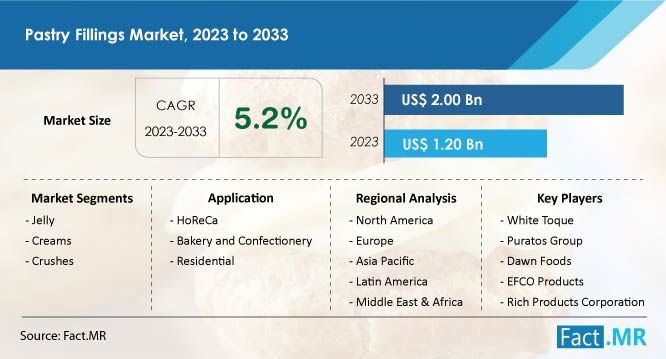 Which Region Holds a Leading Position in the Global Pastry Fillings Market?
"Rising Popularity of Choux Pastries in Europe"
Europe accounts for 40% share of the global market due to the growing popularity of choux pastries and the presence of numerous well-established local bakeries.
Convenience food consumption in the region is increasing, particularly among millennials and the working population.
More Insights, Lesser Cost (-50% off)
Insights on import/export production,
pricing analysis, and more – Only @ Fact.MR
Country-wise Insights
Why is the United States a Lucrative Market for Pastry Filling Producers?
"High Demand for Ready-to-fill Pastries in the United States"
The market in the United States is anticipated to increase significantly over the forecast period due to the growing preference of youngsters for sweet-baked products. Rising demand for ready-to-fill pastries and an increase in consumption of new bread varieties are supporting market expansion.
Why are Sales of Pastry Fillings Booming in Germany?
"Rising Demand for Low-calorie Pastry Options"
As consumers turn to healthier food options, growing demand for low-sugar and low-calorie food products is the main factor driving market growth in Germany. The market in Germany is being driven by rapid urbanization, rising disposable income, and an increase in the working population.
How is Japan Aiding Market Growth in Asia Pacific?
"Increasing Consumption of Dairy-based Pastry Fillings in Japan"
The presence of prominent bakery product manufacturers is stimulating market revenue in Japan. Growing consumption of dairy-based pastry fillings, an increase in the local supply of low-fat baked goods, and large production of confectionery and bakery products are the elements boosting market expansion in Japan.
Category-wise Insights
Why are Flavored Pastry Fillings More Popular among Consumers?
"Flavored Pastry Fillings Preferred Due to Their Great Nutritional Benefits & Pleasant Flavor"
Based on flavor, the market is classified into flavored and unflavoured.
Flavored pastry fillings account for 60% share of the global market.
Cakes, doughnuts, and other sweet baked foods can all employ flavored pastry fillings. In baked products and confectioneries, flavored pastry fillings are used as a filling ingredient. Due to their great nutritional benefits, pleasant flavor, scent, adaptability, variety of flavors & colors, and long shelf life, flavored pastry fillings are in higher demand.
Market expansion can be ascribed to rising bakery and confectionery product consumption and growing consumer interest in novel flavors. Flavored pastry fillings with exotic flavor profiles are set to exhibit high-demand growth
Dairy-based pastry fillings and toppings are expected to augur well in emerging regions. Both savory and sweet pastry fillings are garnering increasing consumer attention on the back of their versatility and high flavor attributes.
Which Application is Leading the Demand for Pastry Fillings?
"Growing Consumer Preference for Convenience Foods Driving Demand for Pastry Fillings in Bakery & Confectionery"
The market is segmented into HORECA, bakery & confectionery, and residential based on application. Many consumers prefer baked products as an essential part of their diet. As the market for convenience foods grows and consumer tastes for enticing, delectable, nourishing, and textured foods develop, the demand for pastry fillings will also expand.
Consumers all over the world are turning towards bakery items that provide significant advantages and meet their unique dietary requirements, such as gluten-free, kosher, organic, and natural ingredients. The appetite for nutrient-rich pastries has dramatically increased as chronic diseases such as diabetes are becoming more prevalent.
In response to consumer demand, a wide range of companies have released healthy bakery products that are free of fats and packed with whole grains, multigrain, and natural flavors. Whole grain bread is thought to have more vitamins, minerals, and antioxidants as well as more fiber, protein, and minerals than bread made from refined wheat. The cost of labor employed to make bakery products is also not very high.
Competitive Landscape
Top pastry filling producers put a lot of effort into creating new products while taking consumer preferences and the merging of distinct pastry flavors into consideration. They are focusing on quality control, product standards, safety regulations, collaborations, and supply chain management to make a mark in the industry. Leading companies are working on minimizing the harmful effects of food processing to reduce the environmental impact.
For instance :
In 2020, British Bakels, a company that sells bakery ingredients, boosted its range of vegan items by providing bake-stable fillings. These filings are available in caramel, chocolate, orange, lemon, and other flavors. Pastries, muffins, doughnuts, cupcakes, and other little, beautiful sweet delicacies can all be filled with pre-made fillings. With the addition of the fillings, the Bakels' menu now boasted almost 100 vegan-friendly options.
In 2020, Rise Baking Company acquired the North American frozen manufacturing businesses of Dawn Foods. The acquisition is expected to significantly affect the share of involved companies in the pastry fillings market.
Key Segments of Pastry Fillings Industry Research
By Type :

By Source :

By Application :

HoReCa
Bakery & Confectionery
Residential

By Flavor :

Unflavoured
Flavoured

Chocolate
Apple
Cherry
Strawberry
Vanilla
Others

By Sales Channel :

Direct Sales
Retail Sales

Supermarkets/Hypermarkets
Convenience Stores
Online Retail
Others

By Region :

North America
Europe
Asia Pacific
Latin America
Middle East & Africa
- FAQs -
The global pastry fillings market is forecasted to reach US$ 2 billion by 2033.
At present, Europe accounts for 40% share of the global market for pastry fillings.
Growing influence of Western culture across the world and high demand for bakery and confectionery products are boosting market expansion.
White Toque, Puratos Group, and Dawn Foods are the top suppliers of pastry fillings.
Worldwide consumption of pastry fillings is anticipated to increase at a CAGR of 5.2% through 2033.