Dried Spices Market
Dried Spices Market Size, Share Analysis by Product (Pepper, Paprika, Cloves, Cumin), by Nature (Conventional Dried Spices, Organic Dried Spices), by Form (Powdered, Granule, Whole Dried Spices), by Sales Channel (Supermarkets, Online Stores, Specialty Stores) & Regional Forecast - 2031
FACT349MR
Nov-2021

List of Tables : 136

List of Figures : 116

170 Pages
Dried Spices Market Outlook
The global sales of dried spices surpassed US$ 5.5 Bn in 2020. Prominent players involved in the dried spices market hold a nominal share, as the market is driven by local and domestic market players. Nearly 70% of the market is held by unorganized players, and the remaining market has been captured by prominent market players that are operational across several geographies around the world.
Demand for dried herbs, fresh herbs and whole spices are expected to remain prominent. Moreover, the rising usage of spices in bakery products and packaged food is expected to leave a long lasting imprint on the dried spices market. Thus, the dried spices industry is expected to exceed US$ 8.6 Bn to register a positive CAGR of 4.6% during the forecast period (2021–2031).
| | |
| --- | --- |
| Market Size Value in 2021 | US$ 5.5 Mn |
| Project Market Forecast Value in 2031 | US$ 8.6 Bn |
| Global Growth Rate (2021-2031) | 4.6% |
| Market Share of Asia | 45% |
Interested to Procure The Data
Demand Analysis of Dried Spices from 2016 to 2020 Vs Market Projections for 2021 to 2031    
As per Fact.MR's report, between 2016 and 2020, the global sales of dried spices surged at a CAGR of 4%. Rising demand for convenience food with new flavors is expected to continue due to the fast-paced routines of consumers. Preference for whole spices and fresh herbs has especially inclined in the past few years, given the increased emphasis on consuming clean label foods.
During the COVID-19 pandemic, consumption of different grades of dried herbs & spices increased manifold. Consumption of spices, including garlic, giloy and basil increased significantly, as they are considered potential immunity boosters. Besides, stay-at-home directives prompted people to frequent public eateries on a lesser scale, compelling them to prepare exotic cuisines at home, leading to increased dried spices uptake.
In addition, increasing inclination towards ready-to-use spice mixtures has also compelled food retailers to provide aromatic tablets and mixed spices. This, in turn, has propelled the use of spices in various dishes. Extensive applications in preparing cooking powder and various kinds of sauces & dressings are expected to remain prominent. Due to the reasons mentioned above, the sales of dried spices are expected to surpass US$ 8.6 Bn by registering a CAGR of 4.6% in the assessment period 2021-2031.
How is the Global Hospitality Industry Spurring Demand for Dried Spices?
Growth of hospitality, food mall, and tourism sectors is likely to be significant with the development of various tourist destinations. Expansion of several food malls, restaurants & hotels is likely to impact the growth of the global dried spices market positively. A wide range of hoteliers are focusing on capitalizing on the increasing inclination for novel food experiences to gain a successful competitive edge.
Moreover, the growing preference of guests and consumers for spicy cuisines has made the hotel industry offer many delicacies. In addition, as consumers gradually become price-conscious, food services are concentrating on evolving a wide range of alternatives to the offered food products. As natural seasonings and flavor ingredients remain central to taste and flavor enhancement, producers, processors, and manufacturers are increasingly using pepper and salt to improve the taste of food products.
Moreover, the demand for a wide range of flavor enhancing ingredients from the food industry is likely to boost the sales of dried herbs & spices. Some of the popular blends of dried spices such as garam masala, taco seasoning, and cajun seasoning are used to improve the taste of foodstuff, globally.
An Adaptive Approach to Modern-day Research Needs
Globalization Boosting Usage of Dried Spices in Various Dishes?
Dried spices have a positive perception among consumers, as these are thought to be beneficial to health and well-being. In Asia, dried herbs & spices have been used for centuries in household cooking owing to their benefits in flavouring as well as their medicinal properties.
Their popularity has also surged in Europe and North America, with many households and restaurants adopting dried spices in cooking. Increasing awareness about the benefits of dried spices is likely to contribute to the growth of the market during the assessment period. In certain countries, dried herbs & spices are specifically deployed for preparing delectable sauces & dressings, with players such as Kalsec and Chipotle emerging as some of the frontrunners in this domain.
Recent transactions show that leading F&B companies are attempting to shift their business models towards small-sized packaging to drive sales through affordability and convenience. Emerging players tend to challenge legacy brands by enriching their portfolios with organic, local, fresh, and healthy products, while leading and prominent players continue to show a marked preference for inorganic growth through the acquisitions of start-ups with high growth potential.
For a long time, the use of dried spices was limited to only Asia Pacific and the Middle East. However, globalization led to the creation of multi-ethnic cultures in many parts across the globe, which brought fame to cultural foods. Households in Europe and North America are now well aware of foods from the Middle East and Asia Pacific, which has led to a balanced surge in ingredients utilized for cooking. Processors and manufacturers of dried spices have also promoted the trend of experimenting with a wide range of cuisines across different geographies, and it is expected to thrive as more people are familiarized to worldwide cuisines.
Consciousness about Clean Label Foods Creating Lucrative Opportunities for Dried Spices?
Food processors and restaurants have always been reliant on synthetic compounds to flavor their food products. Inducing particular aromas, flavors, and color in foodstuffs surges their demand among customers, and several times, hotels and restaurants utilize these artificial aromas and flavors to improve food products.
However, as consumer consciousness on organic and clean label products has surged, food producers have been enforced to eliminate these unsafe compounds and incorporate organic and natural compounds. Increase in the demand for natural flavouring is an opportunity that dried spice manufacturers can leverage to their advantage.
Many spices, including clove, oregano, thyme, cumin and cinnamon, act as effective antibacterial and antifungal agents. They have proven highly effective in combating food spoilage induced by bacteria such as bacillus subtilis and pseudomonas fluorescens and pathogens such as staphylococcus aureus and vibrio parahaemolyticus.
Avail customized purchase options for your needs
Region-wise Analysis
Demand for Organic Food Positively Influencing Dried Spices Industry in North America?
A number of companies are launching new ranges of dried spices that can improve the quality of home-cooked food. In addition to taste, consumers in the U.S. and Canada are also aware of the importance of the nutritional value of food.
There has been a surge in the demand for dried spices that enhances the overall nutritional value of food products. The overall trend regarding clean labels and organic foods is also influencing the dried spices market in North America, and it is highly likely that, manufacturers will broaden their range of offerings to serve the evolving needs of end users.
Furthermore, the market for dried spices in North America continues to be driven by steady demand from households and restaurants/hotels. The demand for new flavors is driving manufacturers and importers to make adjustments in the demand and supply ratio; however, overall, the market seems to be on a steady footing. In addition, aversion to the use of chemicals and preservatives as well as concerns about the side effects of genetically modified foods are likely to create more demand for organic dried spices in the region. Thus, North America is expected to hold more than 25% market share for dried spices.
Influx of Myriad Cuisines from Different Cultures Spearheading Dried Spices Uptake across Europe?
The dried spices market in Europe has been influenced by waves of immigrants, bringing their own special foods and ingredients to the continent. Many countries in Europe such as Germany, U.K and Spain have a high percentage of immigrant and expatriate population, which has led to the inclusion of a number of spices and herbs in mainstream food.
This is likely to create opportunities for dried spice manufacturers in the region. In addition to the growth induced due to financial reasons, the demand for dried spices is also likely to grow on account of evolutions in taste and preferences.
Many consumers in the region are looking to experiment with new cuisines, and along with the demand for other ingredients, dried spices market players are also likely to benefit due to this. Thus, Europe is expected to possess 20% market share for dried spices in the sales indicator period.
Everyday Consumption to Bolster Demand of Dried Spices in Asia?
Spices are an integral part of cooking, and the demand for dried spices has steadily grown in the Asian market. Several countries in Asia are likely to bolster their agricultural infrastructure, which is dependent on the monsoon for agricultural produce.
Japan depends on foreign imports to meet its demand for spices and herbs. The demand for spices and herbs in Japan has increased in the last decade or so, as many restaurants serving ethnic food have opened up across the country. This has revved up the demand for dried spices in the country, and created a new consumer base that is experimenting with cooking.
Moreover, spices are widely used in most of the dishes in India. As spices play a vital part in Ayurveda and everyday food consumption, the demand for same has been on a steady rise in the country. This, in turn, has led Asia Pacific to dominate dried spices industry by possessing 45% market share in the forecast period.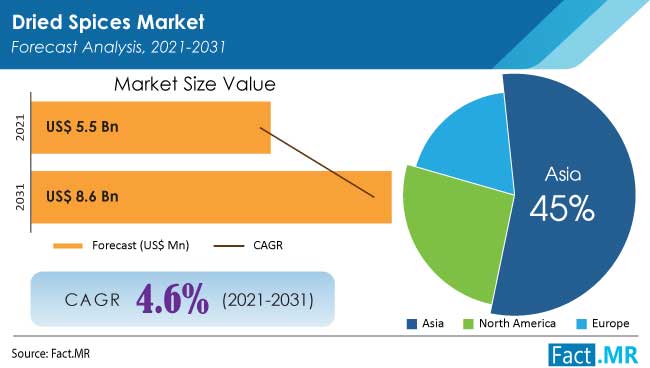 Category-Wise Insights
Pepper to Emerge as the Most Widely Consumed Dried Spice?
By product, Fact.MR expects demand for pepper to rise the fastest, registering a CAGR of 6% throughout the 2021-2031 forecast period. Pepper is extensively consumed, not only for the taste it imparts, but also because of its nature as an essential spice. Essential spices consumption is highly recommended, given their antioxidant and anti-inflammatory properties.
Black pepper is known to prevent cancer, when mixed with turmeric. When consumed with milk, it ingests vitamin A and carotenoids that help in curing cancer and other deadly diseases. The spice helps inhibit proliferation of β-catenin. Furthermore, black pepper is known to improve brain function, demonstrating potential benefits for symptoms related to Alzheimer's and Parkinson's diseases.
Rising Health Consciousness Augmenting Organic Natured Dried Spices Sales?
Rising concern for wellbeing among consumers have directed producers and manufacturers to progressively choose organic dried spice ingredients, globally. Growing awareness concerning several health-related issues aids the consumption of organic products, which will positively impact the growth of dried spices.
Moreover, growing awareness and increasing disposable income are likely to boost the sales of organic products. Thus, organic nature dried spices are expected to possess more than 40% market share.
Convenience Buying Positively Influencing Sales of Dried Spices in Supermarkets/Hypermarkets?
Urbanization has led to opening of various stores such as convenience stores, speciality stores and supermarkets/hypermarkets in developed nations. Thus, the ease of buying spices has increased the sales for the same. In addition, companies are offering various offers on dried spices. Also, dried spices packed in different forms have made it easier for people to buy dried spices from these stores.
In addition, globalization is offering different varieties of spices in the same shelf for consumers. As countries continue to import and export spices, the convenience of buying dried spices has increased. Thus, supermarkets/hypermarkets are expected to possess more than 40% market share for dried spices.
Competitive Landscape
Prominent market players are reliant on forging collaborative agreements and acquisition of existing small, medium and large scale dried spices and seasonings manufacturers as some of their primary expansion strategies. Other key approaches include introducing new flavors and combinations of various spices. Notable developments are as follows:
In September 2021, McCormick & Company, Inc and Heifer International announced a partnership that would support sustainable incomes for Spice Farmers in Guatemala. Through this partnership, the companies are focusing on investing in cardamom and allspice. This, in turn, will increase income for farmers in the region
In December 2018, Kerry Group announced an agreement to acquire two seasonings companies- Ariake USA, the North American Division of Ariake Japan Co., and Southeastern Mills North American coatings and seasonings business, enhancing the company's authentic taste and clean label portfolio
Report Scope
Attribute
Details
Forecast Period
2021-2031
Historical Data Available for
2016-2020
Market Analysis
US$ Mn for Value & '000 Units for Volume
Key Regions Covered

North America
Latin America
Europe
East Asia
South Asia
Oceania
Middle East & Africa

Key Countries Covered

U.S
Canada
Brazil
Mexico
Argentina
Germany
U.K
Spain
France
Italy
Russia
BENELUX
Nordics
India
China
Japan
ASEAN
Australia
New Zealand
GCC
South Africa

Key Segments Covered

Product
Nature
Sales Channel
Form
Region

Key Companies Profiled

Sensient Technologies Corporation
Synthite Industries Ltd.
McCormick & Company, Inc.
Kerry Group Plc.
Dohler GmbH
Takasago International Corp.
Olam International Limited
Firmenich SA
Ajinomoto Co., Inc.
Robertet SA

Pricing
Available upon Request
Key Segments Covered
Product

Pepper
Paprika
Cardamom
Cloves
Turmeric
Cumin
Nutmeg
Ginger
Cinnamon
Other Dried Spices

Nature

Conventional Dried Spices
Organic Dried Spices

Sales Channel

Supermarkets/Hypermarkets
Convenience Stores
Speciality Stores
Department Stores
Online Stores
Other Sales Channels

Form

Powdered Dried Spices
Granule Dried Spices
Whole Dried Spices