Dried Egg Market
Dried Egg Market By Product Type (Whole Eggs, Egg Whites, Egg Yolk), By End-Use Application (Food Processing Industry, Food Service Providers, Retails/Household) - Global Market Insights 2021 to 2031
FACT7065MR
Oct-2021

List of Tables : 67

List of Figures : 67

170 Pages
Dried Egg Market Outlook
Latest released report on the global dried egg market by Fact.MR estimates that the market will account for more than US$ 2 Bn in 2021. As per the study, the dried egg market is expected to witness a prominent CAGR of 8.2% to reach a valuation of US$ 4.56 Bn by the year 2031.
| | |
| --- | --- |
| Market Size Value in 2020 | US$ 1.93 Bn |
| Projected Market Forecast Value by 2031 | US$ 4.56 Bn |
| Global Growth Rate (2021 to 2031) | 8.2% CAGR |
| Market Share of Europe | 24.3% |
Demand Analysis of Dried Eggs from 2016 to 2020 Vs Market Projections for 2021 to 2031           
As per Fact.MR, a market research and competitive intelligence provider, over the past half-decade, global market value for dried eggs increased at a CAGR of around 6.6%, owing to increased demand for packaged food products, the personalization and snacking trend, and innovative food ideas related to the usage of dried eggs.
Sales of dried eggs are projected to further rise at a significant CAGR of around 8.2% over the forecast period of 2021 to 2031.
Developing nations such as Argentina, Brazil, and India, along with other countries, are shifting to different consumption patterns, from carbohydrate-based food items (rice, cereals, and grains) to protein-based items (fish, eggs, and meat). This factor alone is creating a huge effect in the food market and fuelling demand for eggs and egg-based products, thereby driving dried egg import and export globally.
This demand growth has helped increase dried egg production as well. The North America dried egg market accounts for more than 30% of worldwide production, while the market East Asia is predicted to expand at the highest CAGR of 11.2%.
Dried egg manufacturers are focused on processing eggs into the dried format due to high demand from the food industry.
Why is a Growing Food Service Industry Requiring Considerable Supply of Dried Eggs?
As dried egg products are non-perishable and have a much longer shelf-life (as long as 2 years if stored correctly), they can last for a long time unlike real eggs, while having the same nutritional values and benefits of a fresh egg. The product does not even require refrigeration to keep it intact for a longer period of time. Further, this form is very digestible and is a vast source of nutrients and antioxidants.
When packed in containers or pouches, the product consumes much less space than fresh eggs with a reduced weight per volume, while having the same quantity of nutrients. Dried eggs are very affordable too because they does not take much effort and production time. The product is just as safe as raw eggs with tremendous other features as mentioned earlier, making it perfect to use in different end-use industries related to food service.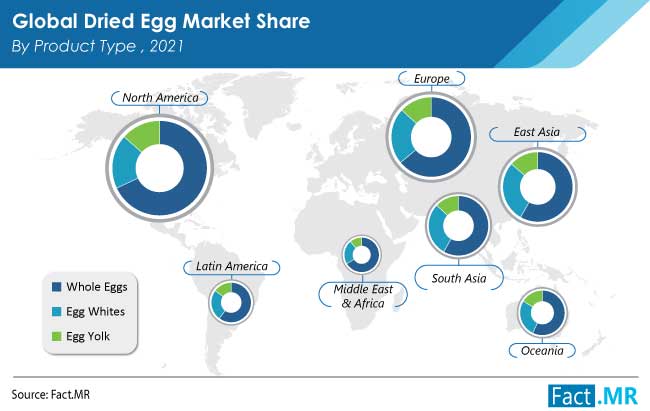 Which Factors are Hindering Market Expansion of Dried Eggs?
Egg allergy is the second-most prevalent food allergy in infants and young children. Majority of egg allergy research relies on self-reported food allergies, which tends to exaggerate the prevalence. Egg proteins can cause non-IgE-mediated and mixed IgE- and non-IgE-mediated reactions in addition to IgE-mediated allergy.
Atopic dermatitis and eosinophilic gastroenteropathy are two disorders that fall under this category. This is negatively impacting the market, leading to decline in demand.
Also, high tariffs on imported consumer goods raise the price of eggs and their products, making it harder for customers to purchase imported dried egg products in the market. In places such as Africa, majority of the population lives in poverty with very low consumption rates. This is limiting revenue growth of the dried egg market there indirectly. Norway has the highest import tariffs for eggs (196%), followed by Iceland (187%), and Canada (84.9%).
Avail customized purchase options for your needs
Country-wise Analysis       
How is Compulsory Inspection of Dried Egg Products and Egg Substitutes Regulating the Dried Egg Market in the U.S.?
As per recent reports, by October 30, 2023, dried egg products and egg substitutes will no longer be monitored by the FDA (U.S. Food and Drug Administration). Instead FSIS (Food Safety and Inspection Service) will take the charge and jurisdiction, and it will start incorporating its regulations on the egg substitutes market, both, for imported and domestically produced substitutes, and dried egg products.
According to the notice, foreign countries that export dried eggs and egg substitutes to the U.S. or want to do so, must submit some equivalence documentations to FSIS, after which, FSIS will determine if the country maintains the standard inspection system equivalent to the FSIS system. Otherwise, that country will not be eligible for exporting dried egg products and egg substitutes to the U.S. after October 30, 2023.
The main reason behind such an initiative lies on the fact regarding the contamination risk associated with these products, as egg substitutes are quite similar to egg products in formulation and processing. As a result, FSIS has determined that, for egg substitutes and dried eggs, processing must maintain the FSIS hazard analysis framework along with sanitation standard operating procedures framework and critical control point system.
However, the U.S. dried egg market is not only dominating the North America market with a market share of 88.3% in 2021, but also the global market. Demand for dried eggs in Canada is expected to witness lucrative growth rate of 5.1% over the forecast period.
Why is China Dominating the East Asia Market for Dried Eggs?
China has always inspired the world with its new techniques and innovations in the food market, and there is no exception for dried eggs as well. Companies such as Xinghua Lianfu Food Co., Ltd are manufacturing dried egg products with usual high nutritional value with protein, vitamins, fat, calcium, iron, potassium and other minerals needed by the human body, with a little add on.
The company claimed that dried egg granules, made for instant noodles and pasta, have a repair effect to liver tissue damage. The yellow grain-shaped dried egg can also improve appetite when consumed. The product is also being used widely in instant food items such as instant noodle seasonings and instant soups.
Market size of dried eggs in China is estimated to account for a value of US$ 157.7 Mn in 2021.
What is the Market Condition of Dried Eggs in India?
Changing food habits of Indian consumers have increased the market share of dried egg products in the country. Healthy lifestyle followed by increasing number of working women and nuclear families in urban and semi-urban areas has further increased consumption of dried eggs, with them being a cheap source of protein for the masses.
India, being the third-largest producer of eggs in the world, exports dried whole eggs, egg white, and egg yolks to 30 countries, and is further extending the service to the Government of Russia. In 2021, India holds a market share of 59.1% in South Asia, and is expected to witness a high CAGR of 11.1% over the forecast period.
How are Sales of Dried Eggs Shaping Up in Japan?
Since the animal disease outbreak of highly pathogenic H5N1-virus or avian influenza (HPAI) in Japan in 2004, Japanese consumers demonstrated high interest in processed dried egg products as a substitute for fresh eggs because.
According to Fact.MR, sales of dried eggs in Japan are estimated to account for 31.8% share of the overall East Asia market, with a market value worth US$ 108.2 Mn in 2021.
Dried egg imports in Japan after the outbreak have showed a surge post HPAI period, as the closer substitute for fresh eggs. Along with that, demand for different types of products such as dried egg whites and dried egg yolks has become more volatile due to price changes. Demand for the import of safer products such as dried eggs has increased in the country, and non-dried and shell egg products, import demand has weakened.
Companies such as Taiyo Kagaku Co., Ltd. are trying to extend product lines related to the market. Other than using egg white, egg yolks, and whole eggs as ingredients, the new line-up includes several other features, including egg white gelling and water retention, while using PF (particle fusion) processing of dried egg products practised by the company. This form of the product is well suited for powder blending as a white powder, and can be used for noodle confectionery and bakery as well.
What is Driving Market Demand of Dried Egg Products in Germany?
It is believed that Germans do not refrigerate eggs, as it can remove the protective layer outside the egg shell. Going with the saying, the market for dried egg products in Germany is ever-growing as an alternative with the highest market share in Europe at 23.7%, along with a market value of US$ 119.4 Mn in 2021.
Along with the prevention of contamination, longer shelf-life of dried egg products and being able to keep the product in room temperature are driving interest among consumers of Germany.
Category-wise Insights
Why is Dried Egg White Gaining Traction over Dried Egg Yolks?
According to Fact.MR, egg white is anticipated to witness lucrative growth rate at a CAGR of 10.7% over the forecast period, owing to color and gelling properties as an effect of drying method and storage conditions of the product.
Dried egg whites are used as a food ingredient to a great extent because of the unique functional properties related to color and gelling properties. Egg white can be dried with many different methods, like freeze drying and hot air drying, and then can be stored at 25-40°C for nearly 4 months. The gelling properties obtained during storage can result into higher protein conformation and better color for the end product.
Why is Application of Dried Eggs in the Food Processing Industry Dominating Over Other Applications?
In 2021, application in bakery & confectionery accounted for the highest market share of approximately 36.4% related to the food processing industry, but ice cream and frozen desserts are expected to rise at a higher CAGR worth 8.6% over the forecast period for the industry.
Dried eggs, being a kitchen staple, are extensively used to make different varieties of pastries, breakfasts, breads, and more. Due to the complex mixture of proteins and fats, many food items can easily be made by the product. However, fresh eggs have two main concerns - consuming raw eggs can cause disease affected by salmonella, and secondly, food waste due to shorter shelf-life.
This is where application of dried eggs in the food processing industry is high, as the product is pasteurized and can replace fresh eggs anytime in any recipe easily, with added water or other food items. Further, the form can be added to cookie dough or can be used to make any type of custard.
What is the COVID-19 Impact on the Dried Egg Market?
Though erratic consumer buying patterns during COVID-19 downgraded most markets, it did not affect the market for dried eggs much. Consumers are now more prone to stock up food and grocery items, and products having longer shelf life, such as dried eggs, are seeing huge demand from buyers.
Price of fresh eggs is fluctuating and going high sometimes; on the other hand, price of egg products, such as egg powder or dried eggs, has been moderate or even fallen. As per the US Department of Agriculture, average price for grade A large eggs in a wholesale basis was at its peak during the first week of April, 2021, which was nearly 3.5 times greater than the earlier month.
However, liquid and frozen egg prices were affected the most, while sales of dried egg products were the least affected, avoiding the volatility of large upswing and quick downturn in prices. Even the market for liquid eggs was saturated, and processors turned towards dried egg manufacturing after losing a significant portion of market share.
An Adaptive Approach to Modern-day Research Needs
Competition Landscape: Top Dried Egg Companies
Key market players are focusing on personalization of dried egg products while keeping laws and regulations in mind. Eggs have different regulations in different countries, such as if it is approved by the United States Department of Agriculture (USDA), it may not be sold in the U.K. or other European Union countries, and vice versa, because of strict laws associated with the protection of eggs and egg products.
In the U.S., the law declares that, be it any kind of egg, it must be washed with water with a temperature of 20°F warmer than the actual internal temperature of the egg (which should be minimum 90°F), followed by a non-scented detergent. After that, the product needs to be sprayed with chemical sanitizers to remove any pathogen and then dry it completely so that no moisture can be left to grow bacteria.
However, Europe does not follow the process, as it is believed that the processing can remove the protective coating on the egg shell, which prevents any pathogen from entering the porous shell, though it looks clean from outside. As a result, EU egg marketing law states that, class A eggs should not be cleaned or washed so as to retain the natural protection, lower the processing cost of dried eggs and encouraging farmers to nurture the hen laying area with a clean environment.
Fact.MR has provided detailed information about price points of Dried Egg of manufacturers positioned across regions, sales growth, production capacity, and speculative production expansion in the recently published report.
According to the latest egg market news report, published by USDA on August 09, 2021, dried egg prices are steady to higher for whole eggs and steady to lower on egg whites and yolks. Demand for the product is fairly good for whole eggs, and moderate for the rest of the types. Trading for the product is typically based on seasonal needs and regular commitments, while supplies are mixed for trade requirements.
Dutch Egg Powder Solutions recently built a new factory to specifically produce dried eggs. Before that, the company was outsourcing the drying process, but the ongoing COVID-19 pandemic has toughened the supply chain process worldwide, and transport costs have increased severely. The company now itself processes dried egg yolks, albumin powder, whole egg powder, and custom dried egg products, with customers from meat industry, industrial bakeries, potato processing industry, distillers, ice cream and salads, and dressing and sauce producers.
Similarly, recent developments related to companies offering dried eggs have been tracked by the team at Fact.MR, which are available in the full report.
Dried Egg Industry Report Scope
Attribute

Details

Forecast Period

2021-2031

Historical Data Available for

2016-2020

Market Analysis

MT for Volume and US$ Million for Value

Key Regions Covered

North America
Latin America
Europe
East Asia
South Asia
Oceania and MEA

Key Countries Covered

United States
Canada
Brazil
Mexico
Argentina
Rest of LATAM
Germany
U.K.
France
Spain
Italy
BENELUX
Nordic
Poland
Russia
Rest of Europe
China
Japan
South Korea
India
Thailand
Malaysia
Singapore
Rest of South Asia
Australia
New Zealand
South Africa
GCC Countries
Turkey
Northern Africa and Rest of MEA

Key Market Segments Covered

Product Type
End-Use Application
and Region

Key Companies Profiled

Interovo Egg Group BV
Sanovo Technology A/S
Agroholding Avangard
Kewpie Corporation
Rose Acre Farms
Rembrandt Enterprises
Michael Foods, Inc.
Ballas Egg Products Corp.
Henningsen Foods
Wulro BV
Others

Pricing

Available upon Request
Interested to Procure The Data
Market Segments Covered in Dried Egg Industry Analysis
By Product Type

Whole Eggs
Egg Whites
Egg Yolk

By End-Use Application

Food Processing Industry

Bakery & Confectionery
Creamy Sauces
Ice-cream and Frozen Desserts
Mayonnaise
Noodles & Pasta
Salad Dressings
Others

Food Service Providers
Retails/Household

Convenience Stores
Discount Stores
Grocery Stores
Modern Trade
Online Retail
Specialty Food/Sports Stores
Wholesalers
Other Sales Channel
Need an Exclusive Report for your Unique Requirement?
- Our Clients -

- Evaluate How Fact.MR's Report Can Help. -
Is the market research conducted by Fact.MR?
Yes, the report has been compiled by expert analysts of Fact.MR, through a combination of primary and secondary research. To know more about how the research was conducted, you can speak to a research analyst.
What research methodology is followed by Fact.MR?
Fact.MR follows a methodology that encompasses the demand-side assessment of the market, and triangulates the same through a supply-side analysis. This methodology is based on the use of standard market structure, methods, and definitions.
What are the sources of secondary research?
Fact.MR conducts extensive secondary research through proprietary databases, paid databases, and information available in the public domain. We refer to industry associations, company press releases, annual reports, investor presentations, and research papers. More information about desk research is available upon request.
Who are the respondents for primary research?
Fact.MR speaks to stakeholders across the spectrum, including C-level executives, distributors, product manufacturers, and industry experts. For a full list of primary respondents, please reach out to us.
Is a sample of this report available for evaluation?
Yes, you can request a sample, and it will be sent to you through an email.