GaN or gallium nitride power semiconductor technology has enabled significant improvements in performance levels of RF devices. By curtailing device parasitic elements, utilizing shorter gate lengths, and adhering to higher operating voltages, GaN technology has enhanced output-power densities, and improved efficiencies of RF devices.
GaN RF Technology – An Ideal Selection for Network Service Providers
Proliferation of next generation LTE wireless networks is considered to be a key factor propelling demand for GaN RF devices. Continuous rise in data consumption has fuelled expansion of commercial networks, prompting network carriers in adopting next generation LTE networks including 4G and 5G. High frequency data bandwidth connections of GaN RF technology has made it an ideal selection for network service providers. Deployment of GaN RF devices is likely to enable LTE devices in providing higher speeds to allow consumers download & upload content such as photographs and music, as well as watch online TV shows and play online games on maximum frequency bands. In addition, GaN RF devices ensure the device's ability to generate maximum frequency at necessary frequency band, preventing interferences from other frequency bands.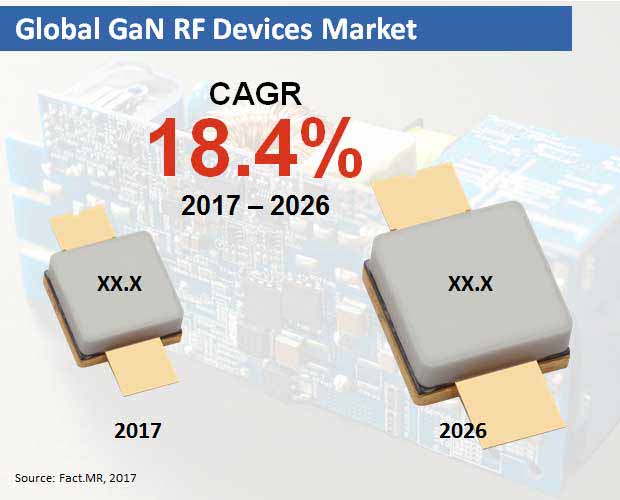 Proliferation of IoT is expected to emerge as one of the popular trends in the GaN RF devices market. Successful implementation of IoT needs data transfer over the network, deprived of human-to-computer interaction. Micro-electrical-mechanical systems and sensors have become an integral part of the IoT devices, and are expected to have a positive influence on demand for semiconductors. Increasing implementation of IoT has resulted into signal congestion, thereby creating the requirement for GaN technology, which can amplify the bandwidth, capacity and power required for communication between interconnected devices.
According to Fact.MR's new report, the global market for GaN RF devices is poised to register a splendid rise through the forecast period (2017-2026). Over US$ 1,600 Mn worth of GaN RF devices are estimated to be sold around the world by 2026-end.
Market Taxonomy
| | | | |
| --- | --- | --- | --- |
| Region | Product Type | Application | End User |
| North America | Module | Wireless Infrastructure | Telecommunications |
| Latin America | Discrete | Radars and Avionics | Automotive |
| Europe | | Power Storage | Aerospace and Defense |
| Japan | | PV Inverter | Medical Devices |
| APEJ | | CATV | Industrial |
| MEA | | Satellite Communication | |
| | | Hybrid and EV Components | |
| | | HEV Charging Equipment | |
| | | Traction Motor Components | |
| | | Other Applications | |
(Additional information, including cross-sectional data and country-wise analysis & forecast is available in the report)
APEJ to Remain Dominant Market for GaN RF Devices
The market for GaN RF devices is expected to witness the fastest expansion in Asia-Pacific excluding Japan (APEJ) through 2026. APEJ will also remain the dominant market for GaN RF devices, followed by Japan and North America. The markets in these regions is primarily being driven by increasing GaN RF devices application in defense sector, and large-scale growth of 4G networks. Presence of numerous GaN RF device manufacturers in APEJ is the main reason for its dominance in the global market.
Owing to large-scale 4G network deployment, the need for base stations and high-power transistors is increasing, thereby creating robust demand for wireless infrastructure. In addition, growing adoption of tablets, computers and smartphones, emergence of 5G network, and proliferation of IoT will further create growth avenues for wireless infrastructure. Wireless infrastructure will remain the largest application of GaN RF devices, followed by PV inverter.
Key Research Findings from Fact.MR's Report
Telecommunications sector will remain the most lucrative end-user of GaN RF devices
Discrete GaN RF devices are anticipated to remain preferred among products in the market
Competition Tracking
Most of the vendors in the GaN RF devices market have similar offerings, competing primarily in terms of key factors including support services, performance & quality, price and innovation. Requirement of enormous capital investment for development, innovation, and research for making advancements in GaN RF Devices remains a major concern for new market entrants. This will further intensify the competition between existing players. Key market participants mapped by Fact.MR's report include Raytheon, Sumitomo Electric, Bosch, STMicroelectronics, Hitachi, Toshiba, Mitsubishi Electric, Panasonic, Renesas, and Infineon.
Note: The insights mentioned here are of the respective analysts, and do not reflect the position of Fact.MR
The global GaN RF devices market will continue to be driven by GaN's wide bandgap property that encourages innovation, growing demand for GaN RF devices in aerospace, defense & military verticals, and successful implementation of GaN technology in RF-power electronics. This report, compiled by Fact.MR, provides in-depth analysis of the global GaN RF devices market for the forecast period 2017-2026, offering key insights on the growth prospects of the market.
Scope:
The scope of the Fact.MR's report is to analyze the global GaN RF devices market for the forecast period 2017-2026 and offer accurate and unbiased insights to the readers. GaN RF devices suppliers, stakeholders and manufacturers in the global information and communication technology industry can benefit from the analysis offered in this report. Comprehensive analysis regarding the impact of technological advancements such as cloud computing, internet of things (IoT), big data and artificial intelligence is detailed in this report. The comprehensive study throws light on various trends, dynamics and restrains shaping future of the market, which can serve as a platform of further study, interest and understanding for the leading industries, journals and trade magazines pertaining to global GaN RF devices market.
Summary:
The report commences with introducing the current market scenario for GaN RF devices. The executive summary section of the report offers insights to users regarding the future scope of the global GaN RF devices market. Brief information on the crucial aspects, statistics and facts on the global GaN RF devices keyword market is highlighted in this section.
Overview:
The next section offers an overview of the global GaN RF devices market. This section includes definition of the product – GaN RF devices, along with insights on dynamics contributing towards growth of the market. The overview also throws light on year-on-year growth and market value defining the future progress and decline of the global GaN RF devices. Statistics on the year-on-year growth provides readers with a broader view on expected progress patterns reshaping growth over the forecast period.
In the succeeding section, the report offers insights on major trends, retrains and drivers from demand, supply and macro-economic perspectives. The report also focuses on impact analysis of key drivers and restraints that offers better decision-making insights to clients.
The report further provides the readers with information on the leading technology and advancements traced in the global GaN RF devices market. Up-to-date information and latest advancements regarding growth opportunities can benefit the leading manufacturers of GaN RF devices. With continuous evolution and advancements in technology, tracking the latest trends and developments is fundamental for GaN RF devices manufacturers to formulate key business strategies. Detailed insights regarding the supply chain, list of distributors, raw material sourcing, cost structure, and pricing analysis are provided in this section.
Considering the global GaN RF devices market's wide scope, Fact.MR's report provides in-depth insights & forecast based on segment-wise analysis. The GaN RF devices market has been categorized on the basis of product type, application, end-user, and region. This sections delivers a comprehensive segmentation analysis, along with a detailed country-wise forecast offered on all parameters.
In the last section, the report provides information regarding the competitive landscape, along with a dashboard view of the market players and company analysis. This competitive intelligence is based on the providers' categories across the value chain, and their presence in the global GaN RF devices market.
Research Methodology
Fact.MR is committed to offer unbiased and independent market research solutions to its clients. Each market report of Fact.MR is compiled after months of exhaustive research. We bank on a mix of tried-and-tested and innovative research methodologies to offer the most comprehensive and accurate information. Our main sources of research include,
Primary research
Secondary research
Trade research
Focused interviews
Social media analysis
Fact.MR offers custom research services that help clients to get specific research solutions
We are committed towards customer satisfaction and quality service.
---
Our Clients

GaN RF Devices Market Forecast, Trend Analysis & Competition Tracking – Global Market insights 2017 to 2026