Favourable Reimbursement Scenario in Developed Regions Supporting Steady Growth of Apheresis Market
The introduction of new therapy lines such as stem cell therapy, immunoglobulin therapy, and radiotherapy for control and prevention of chronic diseases is inadvertently bolstering the adoption of apheresis procedures, in turn boosting the growth of the global apheresis market. Governments of North America and Europe are diverting investments towards encouraging the adoption of quality healthcare through various programs such as Medicare, Medicaid, employee insurance programs, and Veterans Health Administration, which alleviates high-cost concerns regarding apheresis procedures.
Lack of regular blood donors is being countered by private blood collection centres that attract donors through paid plans. In recent times, hospitals are increasing the adoption of apheresis equipment to collect and store required blood components, so as to reduce dependency on private suppliers and blood collection centres. Given the influence of these dynamics, research by Fact.MR projects the apheresis market to grow 2X during the forecast period (2020 - 2025).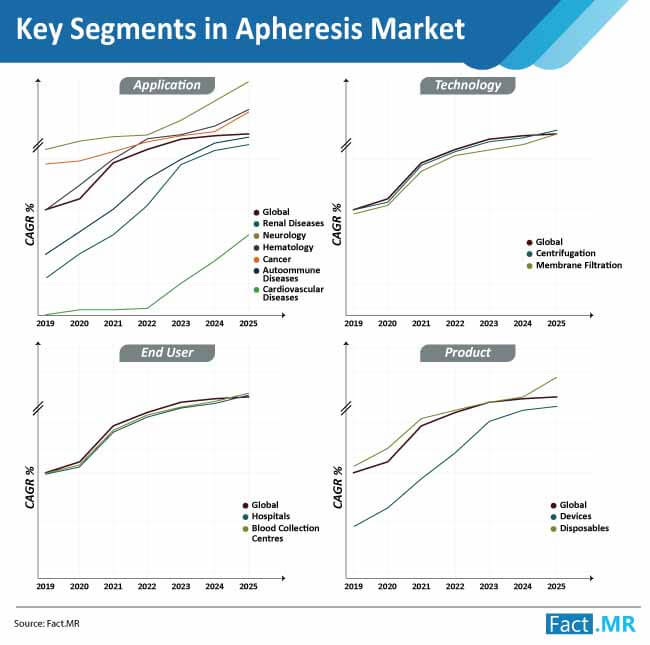 For detailed insights on market taxonomy, request a sample copy of the report here.
Shift from Single Dose to Double Dose Apheresis to Create Opportunities for Disposable Products
The healthcare sector is constantly plagued by a disproportionately high unmet need for blood components. As a result, a shift away from single dose towards double dose apheresis is observed to increase the yield of blood components. The shift is also creating an indispensable need to separate multiple components at once, which is driving the development of advanced products such as plasma separators and immunoadsorbent. The trend of adopting double dose apheresis procedures is specifically dominant in Japan, Germany, and the U.S. markets.
Disposables will remain preferred products in the apheresis market over devices, as advancements in apheresis equipment differentiate the types of columns, blood lines, and tubing. In addition, the frequency of use of these products is comparatively higher than the adoption of devices, which is projected to retain lucrative prospects from the sales of disposable products.
New Revenue Streams for Apheresis Procedures from Expansion of Application Scope
According to guidelines for apheresis procedures as provided by the American Society for Apheresis (ASFA), there are over 87 diseases that can be treated using the apheresis procedure as the sole line or as supportive treatment. Manufacturers of apheresis equipment are capitalizing on this opportunity to foster innovation in these products, and validate them based on evidence to target novel applications.
Among other applications, evidence-based use of apheresis procedures for neurological applications is projected to create a significant revenue stream for the apheresis market. Moreover, increasing use of radiotherapy or chemotherapy and incidence of damaged bone marrow are likely to unlock profitable avenues from apheresis procedures used for the treatment of cancer.
Understanding Impact of Underlying Challenges Present in Apheresis Market
Despite the emergence of new revenue channels for the apheresis market, there are numerous challenges present in the landscape, which could inadvertently narrow growth prospects. A key barrier to growth is the lack of skilled professionals. Recent times have witnessed an epochal scale of technological changes, which has revolutionized the healthcare industry, and, in turn, its operations. However, scarcity of expert operators leads to an increase in acquisition cost of well-informed resources, which adds up to the already high cost of apheresis procedures.
Healthcare expenses in developed regions such as North America and Europe are offset through government initiatives and reimbursement programs. However, cost concerns in developing and underdeveloped regions could shrink opportunities for players in the apheresis market, though these present highly lucrative, yet largely untapped markets.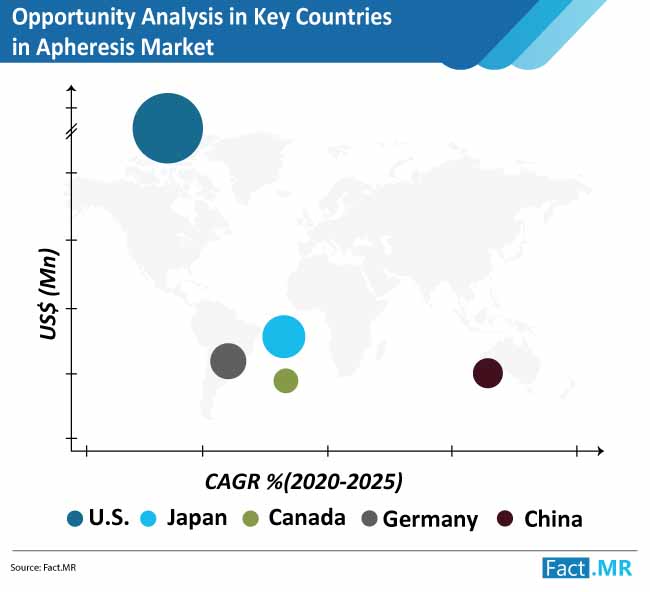 For detailed regional analysis, request a sample copy of the report here.
Cost-competitiveness - A Key Strategy to Grow in Developing Regions
High technological prowess coupled with government aid supporting research & development activities is increasing the concentration of manufacturers in North America. Advancements in the healthcare sector and progressive improvements in the quality of services have been increasing patients' reliance on hospitals and clinics. Besides this, easy access to advanced apheresis products, on the backdrop of ongoing development initiatives undertaken by market players, further expands the patient pool in the region. Considering these drivers, North America is expected to lead the growth of the apheresis market, with the regional market registering a CAGR of ~10% during the forecast period.
Among other regions, manufacturers in the apheresis market in Japan are taking the technological approach to foster innovation in the development of apheresis products, which is anticipated to strengthen the Asia Pacific apheresis market. Though reimbursement scenarios are likely to offer coverage in developing countries in future, it is imperative that market players adopt a cost-competitive strategy to achieve better penetration rate of products in these regions.
Request research methodology of this report.
Apheresis Market - Scope of the Study
Fact.MR, in its recently published research report on the apheresis market, offers actionable intelligence and key winning strategies for stakeholders in the global apheresis market. This exclusive study provides rare and relevant insights into weighted dynamics, which directly or indirectly influence the growth of the apheresis market during the forecast period (2020 - 2025).
With the help of key insights offered by this exclusive study, stakeholders will gain a brief idea regarding the growth of the apheresis market, and will be able to make informed business decisions. This detailed market study provides qualitative as well as quantitative data about the drivers, threats, restraints, and opportunities present in the apheresis market. The report also measures the impact of each of these dynamics to estimate the size of the apheresis market for the given period.
Authors of the report have taken ample care to measure and include the relevance and impact of microeconomic as well as macroeconomic factors that holds potential to influence growth of the apheresis market during the forecast period. The global study on the apheresis market includes Porter's Five Forces analysis, in order to present the buyer's and supplier's power in the landscape. In addition, the analysis also discusses the threat of substitutes and new entrants, which provides a brief idea regarding the future growth course of the apheresis market.
The global study offers crucial information about global, regional, and local players operating in the apheresis market, along with their estimated market share. Market share has been estimated in terms of value (US$ Mn). Besides providing key information regarding the concentration of leading, prominent, and local players in the apheresis market, the study also aims at equipping stakeholders with the best of information regarding their winning strategies, recent developments, and financials.
Apheresis Market - Assessment of Key Segments
With an aim to offer granular level insights into the apheresis market, authors of the report have segmented the landscape on the basis of end user, technology, procedure, application, product, and region. This global research report also analyses the incremental opportunity available in the apheresis market during the forecast period. Key segments of the apheresis market include:
| | | | | | |
| --- | --- | --- | --- | --- | --- |
| End User | Technology | Procedure | Application | Product | Region |
| Hospitals | Centrifugation | Plasmapheresis | Renal Diseases | Devices | North America |
| Blood Collection Centres | Membrane Filtration | Photopheresis | Neurology | Disposables | Europe |
| | | LDL Apheresis | Haematology | | Asia Pacific |
| | | Plateletpheresis | Cancer | | Latin America |
| | | Leukapheresis | Autoimmune Diseases | | Middle East &Africa |
| | | Erythrocytapheresis | Cardiovascular Diseases | | |
| | | Others (Lymphapheresis and extracorporeal immunoadsorption) | Others (Fibrosis and Diabetes) | | |
This detailed guide, based on the latest market movement, ensures that only precise information reaches stakeholders, so as to help them gain an upper hand over their competitors in the apheresis market. This exclusive guide offers crucial information about the current trends, pipeline drugs, unmet drugs, future scope, and government regulations for the apheresis market.
Key players profiled in this exclusive study on the apheresis market include Hemacare Corporation, Asahi Kasei Medical Co., Ltd, Therakos, Inc., B. Braun Melsungen AG, Terumo Corporation, Fresenius Medical Care, NIKKISO CO., LTD., Haemonetics Corp., Medica S.p.A., and Kawasumi Laboratories Inc.
Apheresis Market – Research Methodology
Research undertaken by seasoned analysts at Fact.MR consists of a systematic approach, including both, primary and secondary research methodologies. For conducting primary research, interviews and discussions were carried out with industry experts, key opinion leaders, vendors, and distributors. Besides these, respondents also include CEOs, presidents, directors, chairmen, vice presidents, marketing managers, suppliers, distributors, and chief medical officers, among others.
This helps in assessing the demand-supply gap prevailing in the apheresis market. In order to conduct secondary research, marketing collaterals, company websites, industry associations, and government statistics were studied. In addition to this, reports as well as content pieces published by credible sources, such as World Health Organization (WHO), PubMed (NCBI) articles, global and regional apheresis associations such as American Society for Apheresis (ASFA), American Association of Blood Banks (AABB), World Apheresis Association (WAA), U.S. Food and Drug Administration (FDA), Medical Dealer, Investing Daily, blogs, and others, were studied. Insights obtained through primary and secondary research are then authenticated with the data triangulation method.
Fact.MR offers custom research services that help clients to get specific research solutions
We are committed towards customer satisfaction and quality service.
---
Our Clients

Apheresis Market Forecast, Trend Analysis & Competition Tracking - Global Market Insights 2020 to 2025