Emollient Esters Market to Grow Steadily with Heightened Uptake of Skin Care Products
Owing to social media trends, awareness and desire for beauty and skin care products, has soared to next level. Rising number of beauty influencers and K-beauty trends have enabled manufacturers to open up new platforms in the purchase of skin care products. Emollient esters market is primarily driven by trends in skin care, hair care, oral care, cosmetics and toiletries. In terms of value, skin care products are leading emollient esters market.
However, emollient esters for hair care products is forecast to be the fastest growing application throughout forecast period (2019-2029). Furthermore, environmental pollutants such as traffic fumes, industrial exhaust, cigarette smoke & stubble burning are adversely affecting hair and skin. This is resulting in an increased demand for anti-pollution skincare and personal care products which in turn, creates healthy growth opportunities for global emollient esters market
Opportunities Abound as Leading Fashion Retailers Expand their Penetrative Reach in Market
Leading premium fashion brands like H&M, Zara SA, have entered into beauty and skin care segment, while Walmart and other retailers have backed fashion e-commerce giants such as Myntra. This is attracting consumers in a big way as sales have begun to proliferate in already established retail spaces. A huge following of these iconic brands has opened up new avenues for market leaders in skin & personal care products. This is projected to propel demand for emollient esters globally.
Europe to Remain Frontrunner with Fastest Growing Personal Care Sector
From the regional perspective, Europe accounted for the largest market share by 2019 end, due to the high demand for skin care products from the region. As per the Fact.MR study, Europe is forecast to continue its supremacy in emollient esters market accounting for over one third of the market share in 2029. Germany and France being major emollient ester manufacturing hubs will have a progressive influence on regional market growth. Furthermore, North America and East Asia are likely to witness high demand growth in the upcoming years due to rising consumption of emollient esters in personal care products.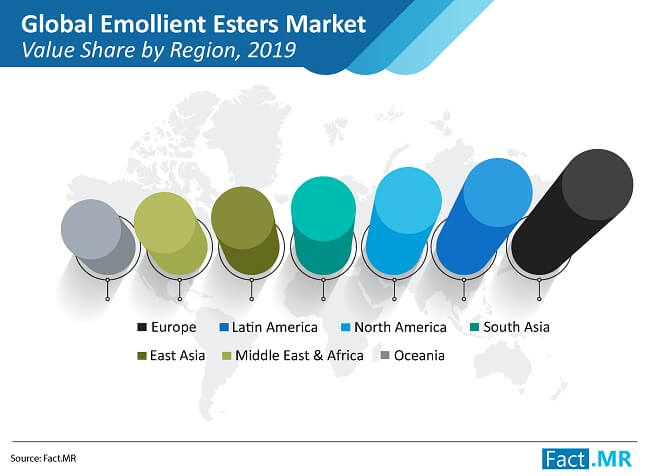 To get in-depth regional insights on the emollient esters market, ask an analyst here
Emerging Competitors Eying Capacity Expansion to Attract Larger Consumer Base
Global emollient esters market is moderately fragmented, with top four companies accounting for around half of the market share. Prominent companies operating in the global emollient esters market includes BASF SE, Croda International PLC, Lonza Group, Solvay, Eastman Chemical Company, Clariant AG, Dow Chemical Co., Stepan Company and Evonik Industry AG. Under organic and inorganic market strategies, players have been investing billions of dollars in production capacity expansions, acquisition, collaboration and product development to leverage huge potential in the emollient market.
For instance, in 2019, BASF SE signed an agreement with French company Biomillenia. The collaboration will help BASF to deliver innovative skin care ingredients by using Biomillenia's unique microbiome-on-a chip technology.
Likewise, in 2019, Clariant AG collaborated with Elevance, a leader in natural metathesis. The collaboration aims to deliver green emollient ingredients dedicated towards personal care industry.
The aforementioned strategies adopted by market players' aim towards high utilization of emollient esters in manufacturing of skin care and personal care products.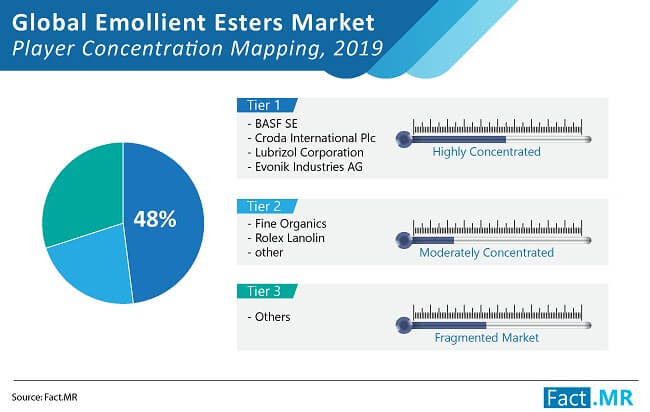 Get an in-depth scrutiny on the competition landscape of emollient esters market by requesting for a report sample here
Emollient Esters Market - Scope of the Report
The emollient esters market study done by Fact.MR gives exclusive information about how the market will grow during the forecast period of 2019 - 2029. The study predicts crucial trends that are determining growth of the emollient esters market. This newly published report sheds light on vital dynamics, such as drivers, restraints, and opportunities for key market players as well as emerging players associated with the manufacturing of emollient ester. The report primarily conveys a summary of the market, considering the present and upcoming personal care and cosmetics industry developments to reveal striking sides relating to the adoption of emollient ester across prominent regional markets.
A detailed assessment of the market supply chain analysis, business execution, and value chain analysis across the regional markets have been provided in the report. A list of prominent companies operating in the emollient esters market enhance the reliability of this comprehensive research study.
Emollient Esters Market: Report Summary
The study offers an inclusive analysis on diverse features including demand, revenue generation, and sales by key players in the emollient esters market across the globe. A comprehensive study on the market has been done through optimistic and conservative scenarios. The analysis and estimation of price point comparison by region with the global average price has been included in this study.
Emollient Esters Market: Segmentation
Fact.MR has segmented the emollient esters market on the basis of source, type, form, application, and region.
| | | | | |
| --- | --- | --- | --- | --- |
| By Source | By Type | By Form | By Application | By Region |
| Plant Based Emollient | Isopropyl Palmitate (IPP) | Solid | Skin Care | North America |
| Shea Butter | Isopropyl Myristate (IPM) | Semi-Solid | | Latin America |
| Cocoa Butter | Isopropyl 12 Hydroxy Stearate | Liquid | | Europe |
| Other Sources | Cetyl Palmitate | Powder/Flakes | | East Asia |
| Animal Based Emollients (Lanolin) | Myristyl Myristate | | | South Asia |
| | Octyl Hydroxy Stearate | | Hair Care | Oceania |
| | Tridecyl Salicylate | | Toiletries | MEA |
| | Cetearyl Octanoate | | Bath Oils & Shower Products | |
| | Butyl Oleate | | | |
| | Tridecyl Palmitate | | | |
| | Cetyl Acetate | | | |
| | PEG di-stearate | | Cosmetics | |
| | Cetyl Octanoate | | | |
| | Butyl Stearate | | | |
| | Other Esters | | | |
"This taxonomy prepared is confidential and intended exclusively for the individual or entity with whom it is being shared. Reading, disseminating, distributing, or copying this to any party other than addressee(s) is unauthorized and prohibited."
Emollient Esters Market: Analysis on Market Size Evaluation
Existing predictions of the emollient esters market, encompassing current as well as forthcoming values estimates, analysis on region-wise demand trends, and price index have been assimilated in the report.
The market estimation at the regional and global scale of emollient ester is available in terms of value (US$ Mn) and volume (tons). A Y-o-Y growth contrast of the prominent emollient esters market segments, along with market attractiveness valuation computes have been incorporated in the report. Metrics mentioned above are also based on emollient ester types, where emollient ester witnesses a steady demand.
Emollient Esters Market: Scrutinized Assessment on Regional Segments
The weighted sections have been elaborated in the report of the emollient esters market, which deliver projection on regional markets. These chapters highlight regional macros (political economic and business environment outlook), which are expected to have a momentous influence on the growth of the emollient esters market during the forecast period.
Country-specific valuation on the demand for emollient ester has been offered for each regional market, along with market scope estimates and forecast, price index, price point assessment, and impact analysis of dynamics in regions and countries. For all regional markets, Y-o-Y growth estimates have also been incorporated in the report.
Emollient Esters Market: In-Depth Analysis on Competitive Landscape
The report offers the competitive scenario of the emollient esters market, along with profiles of prominent companies contributing to market expansion. Essential and up-to-date data as well as information correlated to market performers, who are principally engaged in the production and supply of emollient ester, have been presented with the help of a detailed dashboard view. The market share analysis and comparison of prominent players provided in the report permits readers to take preemptive steps in advancing their businesses.
Company profiles have been combined in the report, which exert essentials such as product portfolio, along with all-inclusive SWOT analysis on each player. The company's presence is mapped and presented through the matrix for all prominent players functioning in the emollient esters market. It offers actionable insights to readers, which helps in thoughtfully presenting market status, and predicting competition levels in the emollient esters market. Prominent companies operating in the global emollient esters market include BASF SE, Croda International PLC, Lonza Group, Solvay, Eastman Chemical Company, Clariant AG, Dow Chemical Co., Stepan Company and Evonik Industry AG
Fact.MR offers custom research services that help clients to get specific research solutions
We are committed towards customer satisfaction and quality service.
---
Our Clients

Emollient Esters Market Forecast, Trend Analysis & Competition Tracking - Global Market Insights 2019 to 2029