Golf Cart Market to Witness High Demand Growth, as Infrastructure Spending on Golf Courses Ramps Up
Popularity of Golf is soaring in developed countries. US witnessed an upsurge in the number of golfers by 10% in last five years and this number is anticipated to increase in the foreseeable future. This is due to improved accessibility to golf courses and increased spending by local municipal corporations to build infrastructure required for golf in their cities. In the US, more than 70% golf courses are open for public in which more than 2,500 golf courses are administrated by the municipal corporation while more than 8,300 golf courses are operating commercially. In developing countries such as India and China, golf is getting widespread attention as awareness about the game is increasing with local players catching headlines in international golf tournaments. There are more than 4,500 golf facilities in Asia Pacific region and several facilities under construction. Worldwide growth in golf course projects in private clubs, golf-centric real estate developments and golf resorts are the factors which lead to a rise in the global demand for golf carts. Therefore, the global golf cart market is projected to create an absolute $ opportunity of more than US$ 1.6 billion to be valued at more than US$ 4.4 billion by the end of forecast period (2019 – 2028), predicts the report published by Fact.MR.
Electric Golf Cart to Acquire Majority Share in Global Golf Cart Market
Rapid urbanization, industrialization and increased use of Neighbourhood Electric Vehicles (NEVs) has enabled the adoption of electric golf carts as an alternative to gasoline based vehicles used for personal and industrial transportation. Competitive advantages of electric golf carts over gasoline based golf carts include absence of emission, less noise and cost efficient energy consumption. This encourages consumers to opt for electrical golf cart. Easily possible customization in electric golf cart attracts customers who prefer modification in aesthetics, seating capacity and increased space utilization. Fact.MR opines that electric golf cart is projected to capture more than 89% market share in term of value in the global golf cart market by the end of the forecast period (2019 – 2028).
Heightened Preference for Golf Cart Ownership to Propel Demand
Apart from use on the golf courses, golf carts are also used for transportation in the manufacturing & logistic industries as well as for personal use as low speed vehicles. People prefer to purchase a golf cart rather than rent it due to incentives from government such as tax credit on electric golf cart and relaxation from registration of the vehicle which falls under category of electric vehicles operating under 250 Watt & maximum speed of 25 Km/h. Furthermore, golf carts offer multiple benefits such as ease of driving, convenience and energy efficiency which attracts customers. In the report recently published by the Fact. MR, it is projected that renting will hold significant value share but fully owned golf cart segment is set to grab 3/4th market in terms of value and, is expected to grow at a value CAGR of 5.5% by the end of 2028.
Asia Pacific to Exhibit Strong Growth
Economies of China, Japan, India and Republic of Korea etc. are swelling up. There has been significant upsurge in per capita spending of these countries. These regions are experiencing faster rate of the urbanization which is resulting in improved lifestyles of citizens thus creating demand for luxury goods such as golf carts. There has been substantial growth in the number of golf courses in the last five years, and Asia Pacific now holds around 20% golf facilities of the world with more than 100 golf facilities which are currently under construction in the region. Fact.MR anticipates that this demand will remain positive in eastern regions such as Asia Pacific which is projected to hold around 60% value share of the global golf cart market during the forecast period.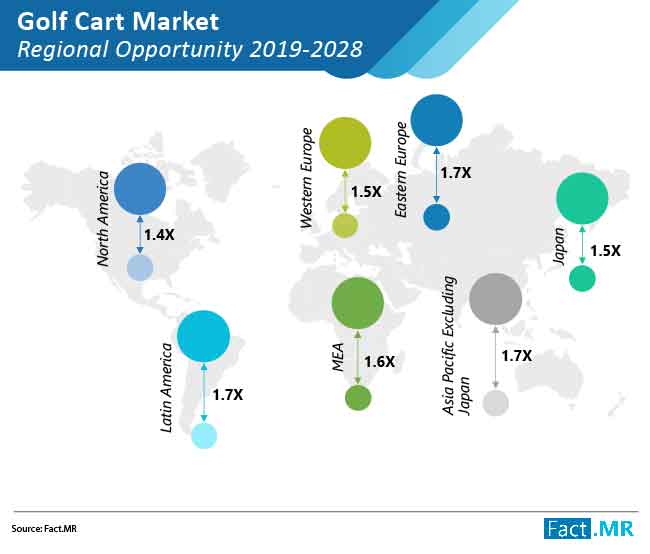 Manufactures Aiming Revenue Growth through Product Launches and Partnerships
Market leaders are maintaining strong position in the market with new product launches and partnerships in order to expand their business. For instance, in January 2019, market leader Club Car introduced a Lithium ion golf cart with the ability to save up to 50% electricity. In the same year, Club Car partnered with AEV Technologies for innovation in the electric golf cart market. In December 2018 at PGA Merchandise Show, another market leader Yamaha Golf Car Company launched a light utility vehicle in its UMAX lineup with enhanced features in the existing UMAX series.
Golf Cart Market - Scope of the Report
Fact.MR recently published a market study on the global market for golf cart. The study provides a detailed assessment on the key market dynamics, including drivers, trends, opportunities, restraints, and detailed information about the golf cart market structure. The market study presents exclusive information about how the golf cart market will grow during the forecast period of 2019-2028.
Key indicators of market growth, which include Year-on-Year (Y-o-Y) growth of the market, value chain, supply chain analysis, and Compounded Annual Growth Rate (CAGR) are explained in Fact. MR's study in a comprehensive manner. This information can help readers understand the quantitative growth prospects of the golf cart market in the forecast period.
The study is relevant for stakeholders in the golf cart market, including manufacturers, suppliers, distributors, and investors, and can help them in developing appropriate strategies to grow in the market. Stakeholders in the golf cart market, investors, industry experts, researchers, and journalists, as well as business researchers can leverage the information and data presented in the Fact.MR study.
The study also includes statistics as well as facts related to macro as well as microeconomic factors that are impacting developments in the golf cart market. It also offers actionable insights based on future trends in the golf cart market. Furthermore, small businesses and new entrants in the golf cart market too can make use of the information presented in this study, based on which, they can make appropriate business decisions in order to gain momentum in the market.
Key Segments of the Golf Cart Market
Fact.MR's study on the golf cart market offers information divided into four key segments-product, operation, application, ownership and region. This report offers comprehensive data and information about important market dynamics and growth parameters associated with these categories.
Product

Operation

Application

Ownership

Region

Push-Pull Golf Cart
Gasoline Golf Cart
Electric Golf Cart
Solar Powered Golf Cart

Golf Courses
Personal Use
Industry Use
Others

North America
Latin America
Western Europe
Eastern Europe
APEJ
MEA
Japan
Key Questions Answered in Fact.MR's Golf Cart Market Report
Which regions will continue to remain the most profitable regional markets for golf cart market players?
Which factors will induce a change in the demand for golf cart during the assessment period?
How will changing trends impact the golf cart market?
How can market players capture the low-hanging opportunities in the golf cart market in developed regions?
Which companies are leading the golf cart market?
What are the winning strategies of stakeholders in the golf cart market to upscale their position in this landscape?
Golf Cart Market: Research Methodology
In Fact.MR's study, a unique research methodology is utilized to conduct extensive research on the growth of the golf cart market, and reach conclusions on future growth parameters of the market. This research methodology is a combination of primary and secondary research, which helps analysts ensure the accuracy and reliability of conclusions.
Secondary resources referred to analysts during the preparation of the golf cart market study include statistics from governmental organizations, trade journals, white papers, and internal and external proprietary databases. Analysts have interviewed senior managers, product portfolio managers, CEOs, VPs, marketing/product managers, and market intelligence managers, who have contributed to the development of this report as a primary resource.
Fact.MR offers custom research services that help clients to get specific research solutions
We are committed towards customer satisfaction and quality service.
---
Our Clients

Golf Cart Market Forecast, Trend Analysis & Competition Tracking - Global Market Insights 2019 to 2028