Demand for Ammonium Sulfate to Soar with Rampant Adoption in Food Additives and Pharmaceuticals
The neutralizing effect of ammonium sulfate when administered in soil will aid the demand generation for ammonium sulfate during the forecast period (2019 – 2029). The product is increasingly being used in pharmaceuticals and food additive industries. It is also garnering positive acknowledgement from statutory bodies such as the US Food and Drug Administration (USFDA). Ammonium Sulfate reduces pH levels, and acts as a conditioner and strengthening agent in bakery products. Owing to increasing expenditure on vaccination, ammonium sulfate, a cleaning agent used in the process, will witness increasing demand from pharmaceuticals.
Fertilizers- Key Application Area
Fertilizer is the largest application segment for ammonium sulfate. It employs more than 74% of the total market share. Alternative nitrate-based fertilizers can cause denitrification and leaching of the soil. Hence, farmers worldwide are selecting ammonium sulfate based fertilizers since the compound contains necessary levels of nitrogenous elements along with protein synthesis catalyst sulfur. Food & Feed additive segment is second in terms of market share with over 14% share in 2019. However, pharmaceuticals offer the most lucrative growth opportunity with a healthy CAGR during the forecast period.
Southeast Asia & Oceania Bolster Growth
Southeast Asia & Oceania lead the market with more than 1/4th of the total market value. Developing economies in this region are witnessing rapid surge in food consumption which ripples down to an increase in agricultural production and the need for more ammonium sulfate. Europe and North America collectively account for more than 1/3rd of the market. Restrictions imposed on the use of nitrates by the European Union acts as a driver for ammonium sulfate demand in this region. The European Environment Agency estimates that more than 1/3rd of the total land area in Europe is employed for agricultural production which need sustainable fertilizers such as ammonium sulfate.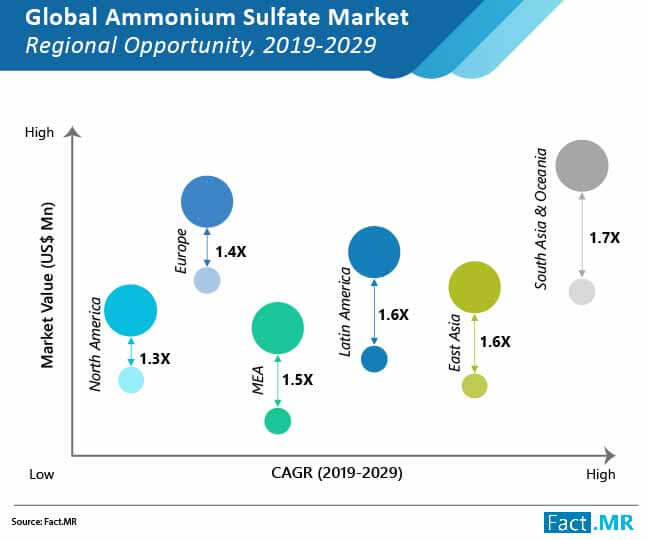 Get access to our cutting-edge and strategic market intelligence on ammonium sulfate by requesting for a report sample here
Expansion of Global Footprint Molds Competitive Landscape
Competitive landscape in ammonium sulfate market is defined by regulatory approval processes, difference of product specification, pricing, product grade, and production technology. Market players are focused on forging strategic relationships that ensures regular demand. Key manufacturers are invested in research and development of novel uses of ammonium sulfate in un-explored territories such as air purification and wastewater treatment.
Major market players that shape the ammonium sulfate market are BASF SE, Evonik Industries AG, Nouryon, SABIC, Akema, OCI Nitrogen, Lanxess, Novus International, Sumitomo Chemical, Honeywell International, Royal DSM, Helm AG, Tereos S.A., and Domo Chemicals. In Jan, 2020, Domo Chemicals completed the acquisition of Solvay's Performance Polyamides Business in a bid to enhance its product portfolio and industry expertise. This points to the fact that ammonium sulfate market is a fragmented market were major players are taking steps to achieve consolidation.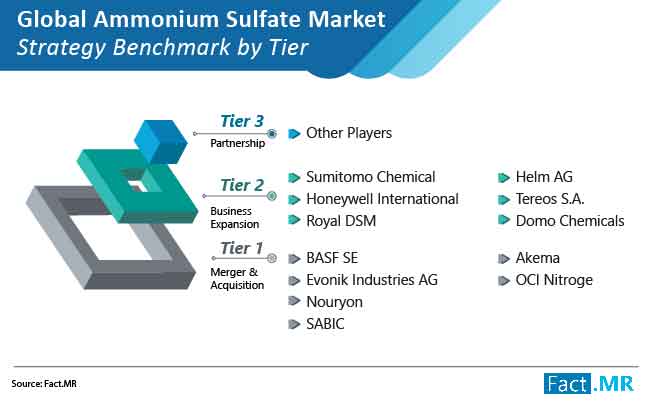 To get in-depth and granular insights on your competition in the ammonium sulfate market, ask an analyst here
Global Ammonium Sulfate Market – Scope of the Report
The following report provides forecast and analysis of the global ammonium sulfate market along with the historical data of 2014, estimated data 2019 and forecast data up to 2029 in terms of value (US$ Mn) and volume (Tons), according to a Fact.MR study. The research propounds critical trends that are currently influencing growth within the global ammonium sulfate market along with several macro-economic indicators. This newly published and insightful report on ammonium sulfate sheds light on key dynamics, and their impact on the overall value chain from suppliers to end-users, which are expected to transform the future of the global ammonium sulfate market.
The report also comprises the study of current issues with end users and opportunities for ammonium sulfate. It also contains value chain analysis, including the key market participants. To provide users of this report with a comprehensive view of the market, we have included a detailed competitive analysis about the key players involved in the market and strategic overviews. The dashboard included in the report provides a detailed comparison of ammonium sulfate manufacturers on parameters such as total revenue, product offerings, and key strategies. A list of key companies operating in the ammonium sulfate market provided in the report adds to the credibility of this exhaustive research study.
Global Ammonium Sulfate Market: In-Depth Assessment on Key Segments
The global ammonium sulfate market is segmented on the basis of form, application and region.
| | | |
| --- | --- | --- |
| Form | Application | Region |
| Solid | Fertilizers | North America |
| Liquid | Pharmaceuticals | Latin America |
| | Food & Feed Additives | Europe |
| | Water Treatment | East Asia |
| | Others | South Asia & Oceania |
| | | Middle East & Africa |
This taxonomy and the detailed TOC prepared are confidential and intended exclusively for the individual or entity with whom it is being shared. Reading, disseminating, distributing, or copying this to any party other than addressee(s) is unauthorized and prohibited.
Country-specific assessment on demand for ammonium sulfate has been provided for each regional market, along with the market size valuation and forecast price point assessment, price index and impact analysis of key regional and country-wise dynamics, which were obtained through quotes from numerous ammonium sulfate manufacturers, experts, and suppliers. Y-o-Y growth projections have also been offered on all regional markets incorporated in the report. Moreover, future trends, growth prospects, and other possibilities related to the market have been answered in the report.
The report provides company-level market share analysis, which has been derived on the basis of the company's annual sales and segmental revenue in all the target end-use industries. The market has been forecasted based on constant currency rates. The report provides detailed competitive and company profiles of key participants operating in the global ammonium sulfate market. Some of the major competitors operating in the ammonium sulfate market are BASF SE, Evonik Industries AG, Nouryon, SABIC, Akema, OCI Nitrogen and others.
Global Ammonium Sulfate Market: Research Methodology
A number of primary and secondary sources were consulted during the course of the study. Secondary sources include Factiva, Morningstar and Hoovers, and company annual reports and publications. Comprehensive interviews have been conducted by our analysts, and the intelligence and insights obtained have been used for validating the information gained through secondary research. The report also includes a description of assumptions and acronyms utilized for research purposes. Data gathered has been validated using the triangulation method to offer useful quantitative and qualitative insights into the ammonium sulfate market.
A short market viewpoint offered in the report elucidates the macro-economic aspects that influence the growth of the ammonium sulfate market, which includes global GDP growth rate, various industries growth rate, such as chemical & materials, fertilizers, pharmaceuticals, food & feed additives, water treatment and others. This report serves as an authentic resource of intelligence on the ammonium sulfate market, enabling the readers to take fact-based decisions on the future direction of their businesses.
Fact.MR offers custom research services that help clients to get specific research solutions
We are committed towards customer satisfaction and quality service.
---
Our Clients

Ammonium Sulfate Market Forecast, Trend Analysis & Competition Tracking - Global Market Insights 2019 to 2029