Automated Guided Vehicle Market Exhibits Stupendous 12.5% CAGR Through 2030
Superior features such as enhanced production capacity, reduced labor costs, and standardization of product quality are generating demand for automated guided vehicles. Manufacturers across industries are leveraging industry 4.0 automation technologies to capitalize on the uptake in product demand from developing economies. The global automated guided vehicle market will grow more than three-fold during the forecast period (2020 - 2030). With increasing competition across industry verticals, manufacturing organizations will continue to increase their automated guided vehicle fleet. Disruptive products from new entrants and small & medium sized players are forcing major players to adopt automated guided vehicles that increase efficiency of large scale operations.
Lithium Ion Emerges as Top Revenue Generator
On the basis of operating battery type, the market is segmented into lead battery, lithium ion battery, nickel based battery, and others. Batteries play a crucial role in automated guided vehicle form factors, and durability. Lead battery accounts for a lion's share of more than 65% of the total market value. Low cost of procurement, good reversibility, and stable voltage output of lead batteries will drive demand for this segment. However, nickel based batteries exhibit the highest growth rate of ~14% CAGR during the forecast period. Higher energy density coupled with reduced carbon emissions contribute to the growth of this segment.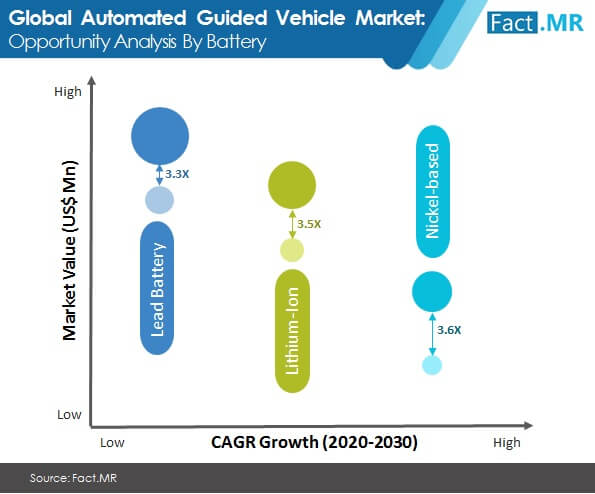 To know more about the automated guided vehicle market, request for a report sample here
Europe Garners Highest Demand for Automated Guided Vehicles
Europe accounts for a majority share of more than ? of the total market value. This can be attributed to pervasive industrial automation across industry verticals coupled with increasing demand for product quality standards. Shifting consumer preference for smart devices and convenient door-step delivery is driving the demand for automated guided vehicles such as delivery drones, and warehouse cobots. Presence of prominent robotics research and development institutions in North America poise the region as a high-growth potential region. This is furthered by soaring infection rates of COVID-19 thus pressing many of the automated guided vehicles into service.North America holds the second largest share of over 23% of the total market value. The region will continue to generate remunerative growth opportunities with a stellar 11% CAGR through 2030.
Strategic Expansion - Key Growth Strategy
Market players are forging strategic partnerships to gain a competitive edge in the automated guided vehicles market. Major players that shape the competitive landscape are, but not limited to, Daifuku, JBT Corporation, Teradyne Inc, Murata Machinery Ltd., Tompkins Robotics, KION Group, KUKA, Toyota Industries, Hyster-Yale Materials Handling, Oceaneering International, E&K Automation, Kollmorgen, Seegrid Corporation, and SSI Schafer. Here are few eminent strategic partnerships from market players:
In August 2019, Murata Machinery, Ltd., a material handling solutions provider, entered into a partnership with Alert innovation (U.S.). The partnership aims to transform grocery retail by developing innovative automated guided vehicle systems for commercializing material handling automation.
In October 2019, Tompkins Robotics and PULSE Integration entered into a partnership to engineer advanced material handling, and system integration solutions.
In November 2019, Teradyne Inc. acquired AutomGuide Mobile Robots, a global provider of mobile robotics solutions to enhance their production facilities by introducing autonomous mobile robots in Teradyne's manufacturing, warehouse, and logistics operations.
In October 2019, Shopify Inc., the Canadian eCommerce multinational, completed the acquisition of 6 River systems Inc., a global fulfillment solutions provider to enhance Shopify's Fulfillment services.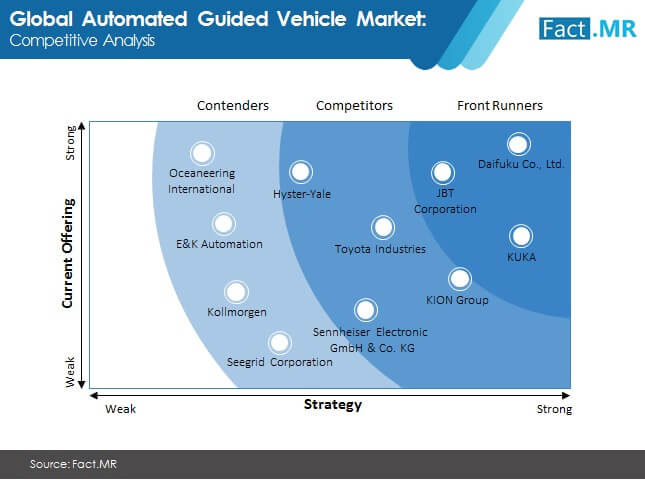 Get exclusive insights on competition landscape of automated guided vehicles market by asking an analyst here
COVID-19 Impact
The COVID-19 outbreak has exposed several challenges for the automotive sector. However, more than 80 percent of the world's auto supply chain is connected to China
According to Fact.MR, automated guided vehicle market is expected to gain traction in 3Q of 2020. Manufacturers with heavy footprints in china will witness a lower impact than others, as china is slowly starting to recover already. On the other hand many companies are using the COVID-19 pandemic crisis to devise ingenuous solutions to enhance uptake of automated guided vehicles.
Automated guided vehicles are being launched in hospitals to care for COVID-19 patients, thus reducing risk of disease transmission among healthcare workers. Towards this, prototypes of automated guided vehicles have been designed to deliver food, drugs and medical supplies to afflicted patients. Seeing their high utility, many companies are now being contracted to produce automated guided vehicles en masse. Most of these will be remotely controlled through the cloud. This will give an uptick to sales of automated guided vehicles in the near term.
Global Automated Guided Vehicle Market – Scope of the Report
The following report provides forecast and analysis of the global automated guided vehicle market along with the historical data of 2015, estimated data 2020 and forecast data up to 2030 in terms of value (US$ Mn) and volume (Units), according to a Fact.MR study. The research propounds critical trends that are currently influencing growth within the global automated guided vehicle market along with several macro-economic indicators. This newly published and insightful report on automated guided vehicle sheds light on key dynamics, and their impact on the overall value chain from suppliers to end-users, which are expected to transform the future of the global automated guided vehicle market.
The report also comprises the study of current issues with end users and opportunities for automated guided vehicle. It also contains value chain analysis, including the key market participants. To provide users of this report with a comprehensive view of the market, we have included a detailed competitive analysis about the key players involved in the market and strategic overviews. The dashboard included in the report provides a detailed comparison of automated guided vehicle manufacturers on parameters such as total revenue, product offerings, and key strategies. A list of key companies operating in the automated guided vehicle market provided in the report adds to the credibility of this exhaustive research study.
Global Automated Guided Vehicle Market: In-Depth Assessment on Key Segments
The global automated guided vehicle market is segmented on the basis of vehicle type, navigation technology, battery, application, end use and region.
| | | | | | |
| --- | --- | --- | --- | --- | --- |
| Vehicle Type | Navigation Technology | Battery | Application | End Use | Region |
| Tow Vehicles | Laser Guidance | Lead Battery | Transportation | Automotive | North America |
| Unit Load Carriers | Magnetic Guidance | Lithium-Ion Battery | Storage | Manufacturing | Latin America |
| Pallet Trucks | Inductive Guidance | Nickel-based Battery | Distribution | Food & Beverages | Europe |
| Assembly Line Vehicles | Optical Tape Guidance | Others | Assembly | Aerospace | East Asia |
| Forklift Trucks | Vision Guidance | | Packaging | Healthcare | South Asia & Oceania |
| Other Types | Others | | Waste Handling | Logistics | Middle East & Africa |
| | | | | Retail | |
This taxonomy and the detailed TOC prepared are confidential and intended exclusively for the individual or entity with whom it is being shared. Reading, disseminating, distributing, or copying this to any party other than addressee(s) is unauthorized and prohibited.
Country-specific assessment on demand for automated guided vehicle has been provided for each regional market, along with the market size valuation and forecast price point assessment, price index and impact analysis of key regional and country-wise dynamics, which were obtained through quotes from numerous automated guided vehicle manufacturers, experts, and suppliers. Y-o-Y growth projections have also been offered on all regional markets incorporated in the report. Moreover, future trends, growth prospects, and other possibilities related to the market have been answered in the report.
The report provides company-level market share analysis, which has been derived on the basis of the company's annual sales and segmental revenue in all the target end-use industries. The market has been forecasted based on constant currency rates. The report provides detailed competitive and company profiles of key participants operating in the global automated guided vehicle market. Some of the major competitors operating in the automated guided vehicle market are Daifuku, JBT Corporation, KION Group, KUKA, Toyota Industries, Hyster-Yale Materials Handling, Oceaneering International, E&K Automation, Kollmorgen, Seegrid Corporation, SSI Schafer and others.
Global Automated guided vehicle Market: Research Methodology
A number of primary and secondary sources were consulted during the course of the study. Secondary sources include Factiva, Morningstar and Hoovers, and company annual reports and publications. Comprehensive interviews have been conducted by our analysts, and the intelligence and insights obtained have been used for validating the information gained through secondary research. The report also includes a description of assumptions and acronyms utilized for research purposes. Data gathered has been validated using the triangulation method to offer useful quantitative and qualitative insights into the automated guided vehicle market.
A short market viewpoint offered in the report elucidates the macro-economic aspects that influence the growth of the automated guided vehicle market, which includes global GDP growth rate, automotive, manufacturing, food & beverages, aerospace, healthcare, logistics and others. This report serves as an authentic resource of intelligence on the automated guided vehicle market, enabling the readers to take fact-based decisions on the future direction of their businesses
Fact.MR offers custom research services that help clients to get specific research solutions
We are committed towards customer satisfaction and quality service.
---
Our Clients

Automated Guided Vehicle Market Forecast, Trend Analysis & Competition Tracking - Global Market Insights 2020 to 2030