Demand for Minimally Invasive Therapies to Accelerate Arterial Stents Market Growth, Market to Experience Downturn due to COVID-19 Pandemic, Says Fact.MR
According to the American Heart Association, coronary heart disease is a leading cause of death in North America annually. Naturally, the need to seek timely treatment has gained traction in recent years. The increased burden of cardiovascular diseases has prompted patients to seek new trends in treatment.
To achieve long-term outcomes, patients are increasingly preferring minimally invasive surgical procedures. Stents are beneficial in this case to prevent restenosis after a heart surgery. Considering this trend, the arterial stents market is poised to leverage at a CAGR of 9.8% during the forecast period (2020-2025). The market is projected to expand almost twofold, reaching a value of US$ 17,887.9 Mn by 2025.
At the same time, stent production is anticipated to register a downturn, owing to increasing preference for treating COVID-19 patients. Non-emergency cardiac procedures will witness a decline, thus limiting the usage of arterial stents. However, complications arising out of COVID-19 infections shall be given top priority, thus sustaining growth of arterial stents.
Coronary Artery Stents to Maintain Hegemony, Femoral & Popliteal Artery Gaining Traction
Coronary Artery Stents are anticipated to acquire wide usage during the forecast period, accounting for more than three-fifth of the arterial stents market. A burgeoning number of patients with coronary artery diseases combined with affordability of coronary stents in developing nations are set to fuel growth. The segment is projected to grow almost twofold, reaching a value of US$ 11,669.4 Mn by 2025-end.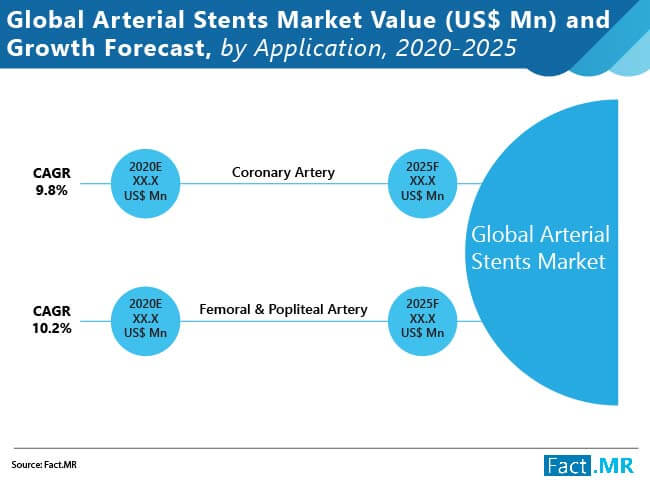 To know more about the arterial stents market, ask an analyst here
The Femoral & Popliteal Artery segment shows robust growth opportunity in the future. This is attributed to growing adoption of Percutaneous Coronary Intervention (PCI) procedures to correct femoral artery anomalies. A phenomenal CAGR of 10.2% is predicted for the Femoral & Popliteal Artery segment during the forecast period.
Europe to Remain in Lead, Asia-Pacific Registers Stellar Growth
Europe is anticipated to lay its suzerainty over the arterial stents market in the forecast period. The dominance of Europe is attributed to the strategic presence of key players in the interventional cardiology market. Projections indicate a market share of more than one-third and a robust CAGR of 9.6%. More than six out of ten patients opt for coronary artery stents, owing to the rising number of PCI procedures in hospitals.
Following Europe is Asia-Pacific, which promises to offer lucrative growth prospects for the arterial stents market. Market penetration by key players in emerging countries and affordability of arterial stents are anticipate to leverage the market in the Asia-Pacific. Over three-fifth of the arterial stent market is dominated by coronary stents. Anticipated CAGR for the Asia-Pacific Arterial Stents market is pegged at a whopping 10.3% during the forecast period. Projected valuation of the arterial stents market in Asia-Pacific is US$ 3,445.1 Mn in 2025.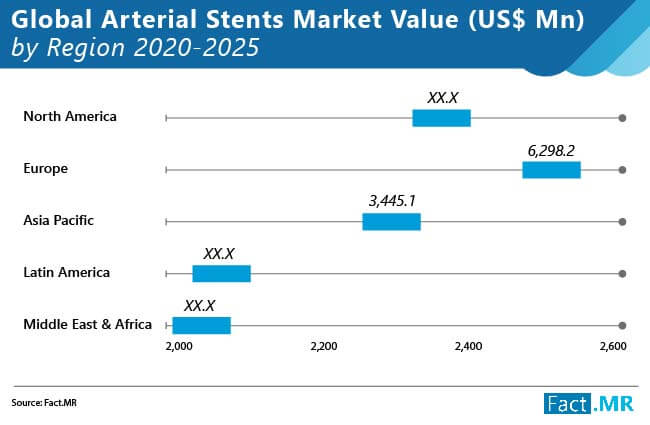 To get in-depth regional insights on the arterial stents market, request for a report sample here
Product Distribution to be Trump Card for Market Expansion
The global arterial stents market is highly fragmented, with the presence of more than 50 players. Out of these, three key players- Medtronic, Abbott Laboratories and Boston Scientific Corporation- account for three-tenth of the market share. Boston Scientific Corporation is the leading player amongst the others. Its product categories include coronary intervention and peripheral intervention.
Its products include Drug-eluting stents such as Epic, Express & Innova, Self-expanding Stents such as Synergy, Eluvia and Flexive and Bare Metal Stents like Rebel & Promus. A strong supply chain management and widespread distribution of products has provided Boston Scientific Corporation with a competitive advantage over other key players.
Abbott Laboratories, through its Abbott Vascular branch, offers a broad range of endovascular devices and cardiovascular stents. The products it manufactures include Xience Alpine and Xience Xpedition, which are Drug-eluting and Bare Metal Stents respectively, Absolute Pro and Omnilink which are Self-Expanding Stents and RX Acculink which is a Balloon-expanding Stent.
COVID-19 Market Insights:
The COVID-19 pandemic has affected several businesses to varying degrees. With cases of infection increasing every day, companies are compelled to resort to preventive measures, the most prevalent being work from home. As a consequence, production, assembly and supply-chains of several products have been impacted. With regard to arterial stents, their market share is anticipated to register a decline throughout the course of the pandemic. Market watchdog GlobalData concludes that the global atherectomy market, which includes arterial stents, is poised to witness a downturn as the number of non-emergency surgical procedures reduce. A prominent analyst at GlobalData commented that enhanced government directives and hospital guidelines in severely affected regions have restricted vascular procedures to life or limb salvaging cases. This leaves greater room for treating COVID-19 patients, as more hospital beds are available.
This rescheduling of vascular procedures is anticipated to create a backlog of patients in the future. To address this backlog, medical practitioners suggest lifestyle changes and oral medication to manage cardiac anomalies during this time period. However, cardiac anomalies arising out of COVID-19 infections such as arrhythmia, hypotension, tachycardia and concomitant cardiovascular diseases shall be given top priority. Key arterial stents manufacturers are also leaving no stone unturned to ensure the mitigation of the COVID-19 pandemic. Boston Scientific Corporation, for instance, is taking significant steps to reduce costs and strengthen its customer support in the aftermath of the pandemic. These include optimizing variable costs, including manufacturing and output, reduction in salaries of its chief executive officer and strategic reduction in discretionary spending. In addition, the company contributes to global COVID-19 mitigation efforts through monetary and supply donations, as well as providing manufacturing expertise and resources.
Arterial Stents Market- Scope of the Report
The recent study by Fact.MR on arterial stents market offers a 5-year forecast between 2020 and 2025. The study analyzes crucial trends that are currently determining the growth of arterial stents market. This report explicates on vital dynamics such as the drivers, restraints and opportunities for key market players along with key stakeholders as well as emerging players associated with the manufacturing of arterial stents. The study also provides dynamics that are responsible for influencing the future status of the arterial stents market over the forecast period.
A detailed assessment of arterial stents market value chain analysis, business execution, and supply chain analysis across the regional markets has been covered in the report. A list of prominent companies operating in the arterial stents market along with their product portfolio enhances the reliability of this comprehensive research study.
Arterial Stents Market: Report summary
The study offers a comprehensive analysis on diverse features including production capacities, demand, product developments, revenue generation and sales in arterial stents market across the globe.
A comprehensive estimate on arterial stents market has been provided through an optimistic scenario as well as a conservative scenario, taking into account the sales of arterial stents market during the forecast period. Price point comparison by region with global average price is also considered in the study.
Arterial Stents Market Segmentation
Fact.MR has studied the arterial stents market with detailed segmentation on the basis of product, application and region.
Product

Application

Region

Coronary Stents:

Bare Metal Stents

Drug-eluting Stents

Bioreabsorbable Stents

Others

Coronary Artery

North America

Peripheral Stents:

Self-expandable Stents

Balloon-expanding Stents

Others

Carotid Artery

Europe

Iliac Artery

Asia Pacific

Femoral & Popliteal Artery

Latin America

Others

Middle East & Africa
"This taxonomy prepared is confidential and intended exclusively for the individual or entity with whom it is being shared. Reading, disseminating, distributing, or copying this to any party other than addressee(s) is unauthorized and prohibited."
Arterial Stents Market: Analysis on market size evaluation
Arterial stents market has been analyzed for each market segment, in terms of value (US$ Mn).
Market estimates at global and regional levels for arterial stents market is available in terms of "US$ Mn" for value. A Y-o-Y growth contrast on prominent arterial stents market segments, along with market attractiveness evaluation has been incorporated in the report.
Arterial Stents Market: Inspected Assessment on Regional Segments
Key sections have been elaborated in the arterial stents report, which have helped to deliver projection on the regional markets. These chapters include the regional macros (political economic, and business environment outlook), which are expected to have a momentous influence on the growth of arterial stents market during the forecast period.
Country-specific valuation on demand for arterial stents has been offered for each regional market, along with the market scope estimate and forecast, price index, and impact analysis of dynamics of prominence in regions and countries. For all regional markets, Y-o-Y growth estimates have also been incorporated in the report.
Detailed breakup in terms of value for emerging countries has also been included in the report.
Arterial Stents Market: In-Depth Analysis on Competitive Landscape
The report sheds light on the leading manufacturers of arterial stents along with their detailed profiles. Essential and up-to-date data information related to the market performers, who are principally engaged in the production of arterial stents, has been brought with the help of a detailed dashboard view. Market share analysis and comparison of prominent players provided in the report permits the report readers to take preemptive steps in advancing their businesses.
Company profiles have been included in the report, which includes essentials such as product portfolio, key strategies along with all-inclusive SWOT analysis on each player. Company presence is mapped and presented through the matrix for all the prominent players thus providing the readers with actionable insights, which helps in thoughtfully presenting market status, and predicting the competition level in Arterial stents market. Prominent manufacturers with established market presence in global arterial stents market are Abbott Vascular (Abbott Laboratories), Boston Scientific Corporation, Medtronic, Cordis Corporation, Lifetech Scientific, C.R. Bard, Inc. (BARD Peripheral Vascular), BIOTRONIK AG and Biosensors International Group, to name a few.
Fact.MR offers custom research services that help clients to get specific research solutions
We are committed towards customer satisfaction and quality service.
---
Our Clients

Arterial Stents Market Forecast, Trend Analysis & Competition Tracking - Global Market Insights 2020 to 2025