Body Composition Analyzers Market
Body Composition Analyzers Market Analysis By Product (Bio-impedance Analyzers, Skinfold Calipers, Hydrostatic Weighing Equipment, Air Displacement Plethysmography, Dual Energy X-ray Absorptiometry & Others) By End-User & Region – Global Market Insights 2022 to 2026
Analysis of Body Composition Analyzers market covering 30 + countries including analysis of US, Canada, UK, Germany, France, Nordics, GCC countries, Japan, Korea and many more
Body Composition Analyzers Market Outlook (2022-2026)
The global body composition analyzers market stands at US$ 624 million in 2022 and is expected to expand at a high CAGR of 8% to reach US$ 849 million by the end of 2026.
Revenue from the sales of hydrostatic weighing equipment is expected to reach US$ 145 million by 2026.
Report Attributes

Details

Body Composition Analyzers Market Size (2022E)

US$ 624 Million

Forecasted Market Value (2026F)

US$ 849 Million

Global Market Growth Rate (2022-2026)

8% CAGR

U.S. Market Value (2022)

US$ 279 Million

China Market Value (2026)

US$ 94 Million

Key Companies Profiled

AccuFitness, LLC
Beurer GmbH
Bodystat Limited
COSMED srl
GE Healthcare
Hologic, Inc.
InBody Co., Ltd
Maltron International Ltd.
Omron Corporation
RJL Systems, Inc.
Seca GmbH&Co. KG
Selvas Healthcare lnc.
Tanita Corporation
Know thy Competitors
Competitive landscape highlights only certain players
Complete list available upon request
Body Composition Analyzer Demand Analysis (2017-2021) Vs. Market Forecasts (2022-2026)
Body fat, muscle, and bone mass are measured by a procedure called body composition analysis. It provides an accurate assessment of body fat percentage in relation to lean body mass. It is crucial to assess body composition to identify the problems related to high or low body fat levels.
Body fat analyzer equipment is used to calculate body fat and non-fat mass, as well as to analyze proteins, minerals, and water.
These analyzers are frequently employed in health clubs, hospitals, and academic and research facilities. Some of these technologies perform analyses that go beyond merely body fat by looking at body fluids, giving a better picture of the patient's present state of health.
Some of the most popular methods for determining body composition include skin fold calipers testing, biological impedance analysis, and body mass index. These systems evaluate many different variables, such as fat mass, waist-to-hip ratios, bio-impedance analysis, free mass, lean body weight, and basal metabolic rate.
The various techniques and systems employed exhibit notable variations in accuracy, usability, and cost, with each one of them characterized by the existence of strengths and limitations.
Furthermore, it aids in the examination of cumulative variations in body composition over a certain time frame. Also, it was used to assess the likelihood of developing specific illnesses, such as abdominal obesity and measurements of skin folds.
The World Health Organization (WHO) reported in 2017 that between 1975 and 2016, the prevalence of obesity tripled globally.
Increase in the number of obese people worldwide, rising health and fitness awareness among people, expanding government initiatives to promote physical fitness, and technological improvements can all be attributed to the growth of the overall market for body composition analyzers.
Expanding at a CAGR of 8%, the global body composition analyzers market is projected to increase to a valuation of US$ 849 million by 2026, says Fact.MR, a market research and competitive intelligence provider.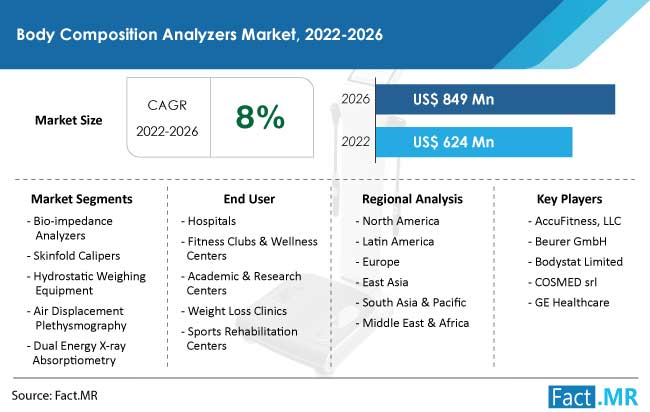 What's Benefiting Body Composition Companies in Boosting their Revenue Generation?
"Rising Craze for Fitness among All Generations Driving Body Composition Analyzer Machine Sales"
The primary factor propelling the global body composition analyzers market is the rapid rise in the obesity population due to sedentary lifestyles and unhealthy eating habits. The prevalence of obesity and other metabolic diseases has increased awareness of the value of health and wellness among people.
As a result, they have been encouraged to sign up for health clubs and exercise facilities to reduce weight. Since they constantly evaluate people's body composition using body composition analysis technology, these facilities are contributing to the body composition analyzers industry's expansion.
"High Demand for Body Composition Analyzer Machines from Hospitals Due to Increasing Osteoporosis Patients"
Osteoporosis is typically diagnosed in hospitals using body composition analyzer machines. In this application, Dual energy X-ray absorptiometry (DEXA) is used to measure bone density, diagnose osteoporosis, and evaluate the risk of fractures. Osteoporosis is becoming more common, hence DEXA will probably be utilised more frequently in hospitals as a result.
Furthermore, body composition analysis is increasingly being included in wellness and patient care programs at hospitals all around the world. Such advancements are anticipated to encourage the growth of this end-user sector over the coming years.
"Rising Number of Fitness Clubs & Academic Institutions for Weight Loss"
People's increased interest in health and fitness has led to a sharp increase in the number of fitness clubs in recent years. Body composition analyzers in gyms and wellness centers not only assess whole body composition to maintain health but also measure body fat to aid in weight loss.
Academic and research institutions carry out several studies to assess and appreciate the reliability of different body composition analyzers. Over the years, research has established that a person's body composition is an important aspect of their overall fitness.
As a result, certain research initiatives are concentrating on using pertinent body composition data to prevent obesity and the disorders that go along with it.
"High Adoption of Body Composition Analyzer Machines at Home on Back of Technological Advancements & Easy to Use Application Process"
A body composition analyzer can now be utilized at home due to advancements in technology and simplicity of use. Measuring your fat percentage is a crucial weight loss technique.
Body composition analyzer use by home users has been facilitated by the improvements of equipment that provide total body composition analysis without the need for professional help.
Body composition measurements are provided by bio-impedance analyzers, including BMI, BMR, lean body weight, total body water, and many others.
In addition, rising health club memberships and a general increase in health consciousness are anticipated to support the growth of the body composition analyzers market.
"High Investments in Advancement of Bio-electrical Impedance Analysis Equipment by Governments of Various Nations"
A non-invasive technology called bio-electrical impedance analysis (BIA), which is utilized by medical professionals to calculate body fat percentage, has also been developed by industry participants. They have also designed ANT+ and Bluetooth wireless BCA with double displays.
In addition, respective governments around the globe are highly investing in upgrading healthcare infrastructure in response to the (COVID-19) coronavirus's ongoing spread, which is raising demand for medical equipment.
More Insights, Lesser Cost (-50% off)
Insights on import/export production,
pricing analysis, and more – Only @ Fact.MR
What is Impeding Sales Growth of Body Composition Analysers Market?
"High Equipment Cost & Inaccuracy of Some Devices May Hamper Sales of Body Composition Analyser Machines"
The market's potential growth, however, may be constrained by high equipment costs and the inaccurate results of various analyzers. An accurate body composition analyzer will determine a person's risk of developing a particular condition, such as obesity.
The results may be incorrect because the researcher's body fat scale does not use an accurate formula to assess BFP. However, it is anticipated that throughout the forecast period, the market expansion will be constrained by variations in the accuracy of various analyzers and higher manufacturing costs.
Which Regions are Driving High Demand for Body Composition Monitor Devices?
"North America Profitable Region for Body Composition Companies Due to Rising Fitness Centers & Introduction of Innovative Technologies"
The body composition analyzers market is predicted to be dominated by the North American region. Numerous variables, including rising obesity rates, more government funding, and an increase in the availability of health clubs and fitness centers, have been cited as contributing to the region's market expansion.
Furthermore, the introduction of innovative technologies in the region is fostering further market growth.
For instance, InBody USA introduced the InBody 970 device in January 2020. The tool combines cutting-edge technology to classify and examine total body water and abdominal fat.
Followed by North America, Europe is expected to account for a high market share during the forecast period. This is due to the advanced healthcare infrastructure, the rising craze for fitness, and the adoption of advanced technologies.
The major factor propelling the Asia Pacific body composition analyzers market is the prevalence of inactive lifestyles and unhealthy eating behaviours.
Furthermore, as obesity and other immune disorders have grown more common in the region, many individuals have become more conscious of the value of health and wellbeing. To lose weight, individuals are therefore more likely to join gyms and workout facilities, which will directly promote the sales of body composition analyzer machines.
Country-wise Analysis
Why is the Market for Body Composition Analyzers Flourishing in the U.S.?
"Majority of People Adopting Fitness Trend & High Demand for Body Fat Analyzer Tools"
The United States market for body composition analyzers is valued at US$ 279 million in 2022.
According to data from the Center for Chronic Disease Prevention (CDC) released in May 2022, obesity's anticipated yearly medical cost in the United States in 2019 was close to US$ 173 billion. Adults with obesity had medical costs that were US$ 1,861 more than those for adults who were in a healthy weight range.
Higher intake of fast food and less physical exercise has contributed to the rising trends in obesity. The need for body fat analyzer tools and machines is expected to increase as a result of the high fitness need, which is especially pronounced in metropolitan areas.
What is Supporting Mexico Body Composition Analyzers Market Growth?
"Rising Cases of Obesity Promoting Sales of Body Composition Analyzer Devices"
Approximately 73% of Mexicans are overweight, according to research released by the Organisation for Economic Co-operation and Development (OECD) in January 2020 titled "Launch of the Study: "The Heavy Burden of Obesity: The Economics of Prevention." One of the OECD countries with the highest obesity rates is Mexico.
Furthermore, the biggest percentage of obese people 34% is morbidly obese. It is anticipated that the increasing rate of obesity in Mexico will increase demand for fitness and weight-tracking gadgets, which will in turn increase demand for body composition analyzer machines.
Category-wise Analysis
Which Product Type is Supporting Rapid Market Growth?
"Easy-to-Use & Ability to Find Multiple Parameters Driving Bio-impedance Analysis Demand"
A screening technology that is capable of measuring and accurately analyzing body composition and body fat is known as bio-impedance analysis (BIA). Moreover, it makes it possible to estimate the percentage of muscle tissue, the percentage of hydration, the weight of the bones, the metabolic rate, and the level of fitness.
Because of its easy use process and ability to track different parameters, bio-impedance analysis is becoming more and more popular. Since BIA measures the resistance to current flow as it moves through the body, it may estimate the amount of body water, from which body fat can subsequently be computed using specialized software.
Devices for bio-impedance analysis are produced by numerous businesses, including Tanita and Zurich Instruments AG.
For instance, the BF679W, one of Tanita's premier products, can be used to gauge a patient's bio-impedance. This can then be used to calculate body fat percentage, visceral fat, muscle mass, and muscle quality.
Furthermore, market players are introducing new products that are greatly aiding market expansion.
For instance, Inbody USA officially unveiled the InBody 970 at CES Las Vegas in January 2020. The InBody 970 and the Yscope are working together to analyze and classify total body water and abdominal fat using innovative and proprietary technologies.
Don't Need a Global Report?
save 40%! on Country & Region specific reports
Competitive Landscape
There are several significant body composition companies in the fiercely competitive body composition analyzers market. In addition to numerous businesses creating innovative goods, body composition analyzers market players are also fostering technological improvements and business expansions through mergers and acquisitions.
Withings introduced a smarter scale that can measure from head to toe, in January 2022. The updated Body Scan from Withings updates the scale's otherwise familiar appearance with a few quirky new features.
Body Composition Analyzers Industry Research Segmentation
By Product :

Bio-impedance Analyzers
Skinfold Calipers
Hydrostatic Weighing Equipment
Air Displacement Plethysmography
Dual Energy X-ray Absorptiometry
Others

By End User :

Hospitals
Fitness Clubs & Wellness Centers
Academic & Research Centers
Weight Loss Clinics
Sports Rehabilitation Centers
Others

By Region :

North America
Latin America
Europe
East Asia
South Asia & Oceania
MEA
- FAQs -
Demand for body composition analyzer machines is expected to expand at a CAGR of 8% from 2022 to 2026.
Worldwide body composition analyzer device sales are currently valued at US$ 624 million.
The global market for body composition analyzers is predicted to reach US$ 849 million by 2026.
North America and Asia Pacific are expected to be lucrative markets for body composition analyzer providers.
The body composition analyzers market's major trend is advancements in body composition analyzers, such as wireless technology and artificial intelligence (AI), which would broaden the scope of clinical indications.