Frozen bakery products include cakes, pancakes, doughnuts, etc. these products have a very limited shelf-life, hence are not purchased in a large quantity by customers. Storage of frozen bakery products at a proper temperature is necessary to ensure safety and to reduce wastage.
A well-balanced diet depends on various types of food consumed. Bakery products available in sweet, unsweetened and filled format also forms an important part of the well-balanced diet. However, the frozen bakery products including cakes, pastries, cookies, pancakes, bread, muffins, etc., have a very limited shelf-life and are prone to microbiological spoilage by molds, yeast, and bacteria. Hence, people like to have it fresh or buy it in a very less quantity. Meanwhile, rising health concerns, increasing obese population and rising problem of childhood obesity are some of the factors hampering the growth of frozen bakery products across the globe.
However, baking establishments are focusing on offering more healthy products by including natural sweeteners, organic products. Most of the bakery product manufacturers have also started offering fat-free and cholesterol-free frozen bakery products.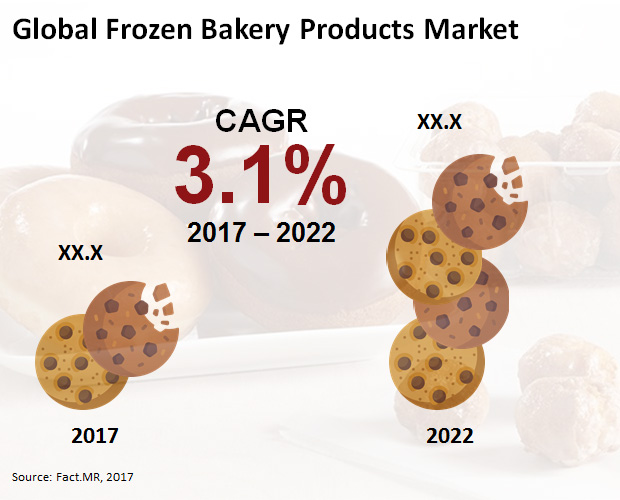 According to a study by Fact.MR, the global frozen bakery products market is projected to bring in US$ 21,891.6 million revenues by the end of 2022. The market is anticipated to witness sluggish growth. Increasing number of people becoming health conscious are moving towards more healthy options such as fruits and vegetables.
Market Taxonomy
| | | |
| --- | --- | --- |
| Product Type | Sales Channel | Sales Format |
| Bread | Modern Trade | Fresh |
| Rolls | Traditional Grocery Store | Pre-Packed Baked |
| Pancakes | Convenience Stores | Pre-Packed Part-Baked |
| Muffins | Online Channels | |
| Pound Cakes | Direct Sales | |
| Pizza Crust | Other Retail Formats | |
| Donuts | | |
| Pastries | | |
(Additional information, including cross-sectional data and country-wise analysis & forecast is available in the report)
Pizza Crust – Top-Selling Product
The pizza crust is anticipated to be one of the top selling products in the global frozen bakery products market during 2017-2022. Sales of pizza crust are expected to bring in nearly US$ 4,500 million revenues by 2022 end. Although bread as a frozen bakery product is projected to create an incremental opportunity of over US$ 600 million during the forecast period.
High Sales through Modern Trade
Accounting for more than one-fourth of the revenue share, modern trade is anticipated to emerge as one of the most lucrative sales channels. Towards the end of 2022, modern trade is expected to reach close to US$ 6,900 million revenues. Meanwhile, direct sales channel is projected to be the second biggest sales channel for frozen bakery products.
Fresh Frozen Bakery Products to Account for Maximum Revenue Share
Pre-packed baked frozen bakery products, the fresh frozen bakery products will gain nearly two-third of the revenue share by the end of 2017. By 2022 end, the sales of fresh bakery products will reach nearly US$ 14,800 million revenue. Increasing customer preference for freshly baked products is driving the demand for fresh frozen bakery products. While the pre-packed baked frozen bakery products are expected to account for more than one-fourth of the revenue share by the end of 2017.
Competition Tracking
The report also profiles companies that are expected to remain active in the expansion of global frozen bakery products market through 2022, which include Cole's Quality Foods, Inc., General Mills, Inc., Flowers Foods, Europastry, S.A., Barilla Holdings Spa, General Waffel Manufactory, Vandemoortele NV, American Desserts, Associated British Foods plc, Bridgford Foods Corporation, Premier Foods plc, Cargill Incorporated, Conagra Brands, Inc., Alpha Baking Company Inc., Kellogg Company, Europastry, S.A., Lantmannen Unibake International, General Mills Inc., Grupo Bimbo S.A.B. de C.V., and Aryzta AG.
Request research methodology of this report.
Note: The insights mentioned here are of the respective analysts, and do not reflect the position of Fact.MR
Frozen bakery products are the processed foods, hence they are prone to chemical, microbiological and physical spoilage. Moreover, the shelf-life of these products is also very less. The consumption of bakery products is also declining as the increasing number of people are becoming health conscious. Meanwhile, rise in childhood obesity is also resulting in low consumption. However, bakery products manufacturers have started using organic ingredients and are also using natural sweeteners. This report, published by Fact.MR, provides in-depth analysis of the global frozen bakery products market for the forecast period 2017-2022, and offers key insights about future market direction.
Scope
The scope of Fact.MR's report is to analyze the global frozen bakery products market for the forecast period 2017-2022 and provide readers an unbiased and accurate analysis. Frozen bakery products manufacturers, stakeholders, and suppliers in the global food & beverage sector can benefit from the analysis offered in this report. This report offers a comprehensive analysis, which can be of interest to leading trade magazines and journals pertaining to frozen bakery products.
Summary
The report commences with a brief information of the global frozen bakery products market. This executive summary sets the tone for the rest of the report, providing users the scope of the report. The executive summary includes important facts and statistics on the global frozen bakery products market.
Overview
The next section offers an overview of the global frozen bakery products market. This comprises an introduction to the market, along with a standard definition of the product – frozen bakery products. In this section, market value and year-over-year growth is offered to the readers. Year-over-year growth provides readers with a broader view of growth patterns over the forecast period.
The report's succeeding section focuses on drivers, restraints and key trends from macroeconomic, demand, and supply perspectives. Impact analysis of weighted average model-based growth drivers is contained in the report for better provision of decision-making insights to clients.
In order to offer readers with up-to-date information about the latest advancements in the global frozen bakery products market, the report provides updates about market opportunities, which can benefit leading manufacturers of frozen bakery products. With continuous evolution of the food & beverage sector, keeping a record of latest developments and trends is fundamental for frozen bakery products manufacturers to formulate key business strategies. Detailed insights about raw material sourcing, supply chain, pricing analysis, list of distributors, and cost structure are provided in this section.
Considering the broad scope of the global frozen bakery products market, the Fact.MR report offers in-depth and segment-wise analysis along with the forecast. The global frozen bakery products market is segmented into- product type, sales channel, sales format and region. The report also offers detailed country-wise forecast on all the major parameters.
The report's last section comprises of the global frozen bakery products market competitive landscape, to provide readers with the dashboard view of company analysis and market players. This competitive intelligence is based on the providers' categories across value chain, and their presence in the global frozen bakery products market.
Research Methodology
Fact.MR is committed to offer unbiased and independent market research solutions to its clients. Each market report of Fact.MR is compiled after months of exhaustive research. We bank on a mix of tried-and-tested and innovative research methodologies to offer the most comprehensive and accurate information. Our main sources of research include,
Primary research
Secondary research
Trade research
Focused interviews
Social media analysis
Fact.MR offers custom research services that help clients to get specific research solutions
We are committed towards customer satisfaction and quality service.
---
Our Clients

Frozen Bakery Products Market Forecast, Trend Analysis & Competition Tracking – Global Market insights 2017 to 2022