Medical Holography Market Outlook (2023 to 2033)
The global medical holography market is estimated to boom at a CAGR of 32% from 2023 to 2033. In 2023, the market is valued at US$ 1 billion and is thus expected to reach a size of US$ 16 billion by the end of 2033.
Demand for advanced research fields such as drug discovery and clinical diagnostics to analyze trace components is increasing globally. To fulfill this rising demand, the biomedical research field provides applications in medical services with the help of advanced research institutions and research laboratories, for which medical holography technologies are in high demand.
Medical holography is a special technology that makes it possible to view medical images in an incredibly realistic way. The technology offers performance enhancements over conventional methods of understanding human anatomy and is used for extremely high-resolution imaging of internal body components and living biological specimens.
Phase-contrast imaging and dynamic live cell imaging are two research pursuits that extensively utilize holography products, which is one of the reasons for market growth. The holographic detection approach is also less intrusive, which prevents cell deformation during inspection processes and makes it one of the research community's top options.
Holography in the medical field extensively offers new insights to the doctor and other medical professionals before performing the medical intervention. One of the main uses for medical holography is surgical planning because it gives surgeons a better understanding of the organs and tissues and enables them to check for cavities and abnormalities in the internal organs. Due to its non-contact high medical imaging and measurement capabilities, the holographic display expands the capacity to understand the images.
Medical holography is widely used in the medical field to map the inside and outside of a patient's body, visualize the human skeleton, recognize abnormal growths or diagnose any uncertain cancerous anomalies, view the human skeleton, and teach medical schools how to design and develop artificial bones, joints, and prosthetic limbs.
Growing infrastructure of the biotechnology industry for research and development as well as consumers' rising inclination for minimally invasive procedures will be major drivers of the medical holography market during the forecast period.
One of the top causes of death worldwide has been identified as heart disorder. Doctors choose non-invasive techniques for procedures including cardiac bypass, valve surgeries, and modification of aneurysms since they reduce hospital stays and have quicker recovery times than conventional approaches.
Cardiologists use 3D holography screens because they offer a better view than 2D screens, allowing clinicians to better understand the many components of the heart. Holography post-heart surgery might also assist them in understanding the efficacy of the procedure.
Report Attributes

Details

Medical Holography Market Size (2023)

US$ 1 Billion

Projected Market Value (2033)

US$ 16 Billion

Global Market Growth Rate (2023 to 2033)

32% CAGR

Market Share of Holographic Displays

70%

Key Companies Profiled

IMRIS
EchoPixel Inc.
Integraf LLC
EON Reality Inc.
Nanolive SA
RealView Imaging Ltd.
Fonar Corporation
Promaxo, Inc.
What is Paving the Way for Medical Holography System Providers?
"Advancements in Medical Holographic Imaging Techniques"
One of the most promising instruments for the medical sector has recently been the development of holography. Research in life sciences, medicine, and medical education have all benefited from the expansion of holographic technology.
Holography helps people retain more information compared to traditional learning strategies. Therefore, 3D visualization through holographic products offers an engaging and interactive learning environment. Key market participants are concentrating on producing holographic prints and holography software to be used for medical teaching and training applications since structural biology is becoming more of a focus in medical schools.
"Growing Acceptance of 3D Imaging Techniques"
The diagnostic imaging industry has evolved considerably, from bedside monitoring to high-end digital scanning. The increasing healthcare burden globally has generated a demand for advancements in medical imaging from two-dimensional to three-dimensional scanning. The upcoming four-dimensional technique is also anticipated to further streamline diagnostic imaging capabilities.
Examples of technological advancements in medical holographic imaging, which are anticipated to drive the market during the forecast period include virtual reality imaging, live 3D imaging that allows rapid and easier diagnosis of cancer, and holography microscope that detects cancer in the initial stage and helps doctors design the course of the treatment.
"Rise in R&D Activities by Major Pharmaceutical & Biotechnology Companies"
It is anticipated that the basis of biomedical research initiatives will grow as a result of an increase in R&D activities by major pharmaceutical and biotechnology companies. The need for medical holography would be sparked by emerging technology advancements, such as the use of advanced pico-like projectors and miniature light-emitting diodes to deliver high-definition holographic images.
Holographic visualization and interaction technologies have made it possible to do less invasive surgeries, improving the safety profile. Better patient outcomes as a result of the technology are likely to increase patient and physician preference for it over the coming years.
Don't Need a Global Report?
Save 40% on Country & Region specific reports
What is Restraining Global Demand for Medical Holography Devices?
"High Computational Cost of Processing Holograms and Lack of Qualified Personnel"
The method of creating holograms is incredibly expensive. The high computational cost of processing holograms is hampering market growth. Pricing trends indicate that It would be possible to create holographic microscopes at cheaper costs over the coming years due to the development of rapid image-processing computers and low-cost semiconductor lasers.
Furthermore, one of the greatest obstacles to the widespread use of holography in the medical field is the lack of qualified personnel. Market expansion of the medical holography business will face further difficulties due to technological limitations and less effective projection in direct sunlight.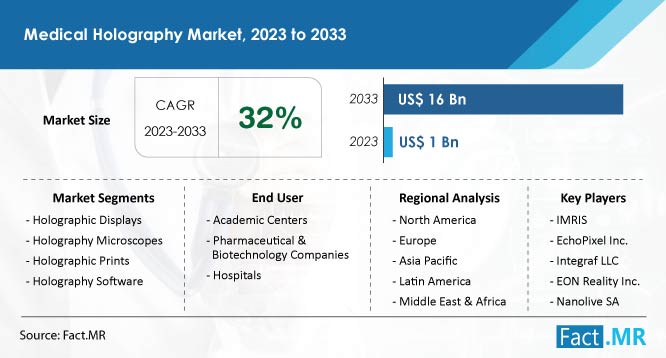 Why is North America Dominating the Global Medical Holography Market?
"Early Penetration of Latest Technologies in Medical Field in North America"
North America accounts for 50% share of the global market. Early penetration of the latest technologies in the medical field and considerable research and development activities are primary factors driving market growth in North America. The market is expanding as a result of factors, including the growing geriatric population, new developments in holographic imaging systems, and huge demand for personalized medicines.
More Insights, Lesser Cost (-50% off)
Insights on import/export production,
pricing analysis, and more – Only @ Fact.MR
Country-wise Insights
What is Fueling the Demand for Medical Holography in the United States?
"Increasing Need for Effective Diagnostic Imaging Services in the Country"
Key market players in the United States are concentrating on creating and releasing new products, which might stimulate market expansion. The increasing need for effective diagnostic imaging services, a rise in the local supply of holographic products, and growing awareness about the advantages of medical holography over conventional imaging methods are supporting market expansion in the country.
Why are Medical Holography Instrument Sales Booming in Germany?
"Huge Demand for Non-invasive & Radiation-free Diagnostic Methods"
The market in Germany is being driven by the applications of medical holography systems in different chronic disease conditions such as cancer and cardiac diseases. Market growth is attributed to the rising demand for non-invasive and radiation-free diagnostic methods, increasing investments in medical inventions, the presence of well-known medical device companies, and a huge patient base.
How is Japan Aiding Market Growth in Asia Pacific?
"Growing Preference for Holographic Methods in Educational Sector"
The market in Japan is anticipated to rise significantly throughout the forecast period due to increased financing by healthcare organizations, a growing preference for holographic methods in the educational sector, and the rising prevalence of infectious diseases. The market is driven by a rise in marketing activities by manufacturers to advertise their products and increasing government initiatives for the development of medical infrastructure.
Category-wise Insights
Why are Holographic Displays Most Widely Utilized?
"Holographic Displays Used for Enabling Interlinking of Various Sources & Images"
Based on product, the market is divided into holographic displays, holography microscopes, holographic prints, and holography software. Holographic displays account for 70% share of the global market due to their growing adoption in medical holography technologies.
A holographic display has the potential to have an impact on the field of medical imaging and image-guided therapies, particularly for the visualization and appropriate guidance during minimally invasive and non-surgical interventions. Researchers and doctors are predicted to use these products more widely for biomedical research and instructional purposes as a result of ongoing advancements and alterations to these displays, such as the addition of laser, electro-holographic, and piston-based displays.
Holographic displays are used for enabling the interlinking of various sources and images. Holographic microscopes are valuable resources for surgical treatments and diagnosis in many pathologies as these provide the ability to visualize minute and important anatomical structures.
Which Application Will Emerge as Key Market Contributor?
"Surging Need for Real-time Monitoring of Active Cells Driving Demand for Medical Holography Devices in Biomedical Research"
The market is divided into medical imaging, medical education, and biomedical research based on application. Medical holography devices are primarily utilized in biomedical research.
Medical holography is used to create 3D holograms of different cells, tissues, and organs so that researchers can examine them from a variety of perspectives. This application enables researchers to examine the impact of various medications on the body organs of patients. Due to increasing technology integration in the healthcare industry, the market is expected to rise steadily.
Holography microscopes have many uses in biomedical research, including non-invasive fluid tomography analysis, defect inspection, and real-time monitoring of active cells. They offer the best options for conducting experiments involving living cells such as cytotoxicity assays. They are employed in early drug discovery processes, such as cell death assays for the toxicological characterization of bioactive substances and the identification of cytotoxic agents in the study of cancer.
Medical holography technology is also utilized to assess clinically significant RBC characteristics. Medical holography is becoming more popular in the biomedical research field because of its several advantages, including label-free cellular function monitoring and high-resolution, non-invasive, and real-time imaging.
Know thy Competitors
Competitive landscape highlights only certain players
Complete list available upon request
Competitive Landscape
Major market participants are concentrating on technological advancements, quality control, and improving the material quality used in the production of medical holography devices following safety regulations to minimize the environmental impact. Leading companies are creating 3D kits for surgeons and medical students so they may perform operations and dissections without using actual bodies and organs. Key business tactics used by top medical holography device providers include product launches, supply chain management, enhancing product standards, joint ventures, and regional growth.
A new generation of medical visualization software called True3D Viewer was introduced by Echopixel, a rising leader in the medical holography sector. Anatomical information from patients is transformed by this program into fully interactive, three-dimensional virtual reality representations. These developments have increased the use of medical holography in healthcare research, hospital instruction, and medical education.
The Bruker Corporation released the NeuraLight 3D Ultra module to facilitate advanced neurology and optogenetics research applications on Bruker's ultima multiphoton microscopes.
Key Segments of Medical Holography Industry Research
By Product :

Holographic Displays
Holography Microscopes
Holographic Prints
Holography Software

By Application :

Medical Imaging
Medical Education
Biomedical Research

By End User :

Academic Centers
Pharmaceutical & Biotechnology Companies
Hospitals

By Region :

North America
Europe
Asia Pacific
Latin America
Middle East & Africa