Industrial Trucks Market Outlook and Forecast
The global industrial trucks market is fragmented and is slated to grow at a value CAGR of 6% over the forecast period (2020-2030). Industrial trucks are utilized to transport material within factories or warehouse premises. Unfortunately, the COVID-19 pandemic has hugely affected the survival of micro, small, and large-scale manufacturing operations, resulting in reduced sales of industrial trucks. According to Fact.MR's research, the market is set to lose sales worth two-lakh units by the end of 2020 as compared to 2019. However, speedy resumption of manufacturing activity is foreseen to spike sales of industrial trucks to the tune of US$ 37 Bn by the end of 2030.
Industrial Trucks Market Analysis by Product
Counterbalanced lift trucks will stay in the vanguard by contributing 20% of global revenue. These trucks are mainly utilized in every industry vertical to lift heavyweights. Most micro industries and smaller firms are still utilizing manual industrial trucks for lifting weights because of their significantly lower price. In addition, large enterprises are rapidly adopting automated technologies to reduce their workforce and increase their productivity. Moreover, automated guided vehicle are being utilized in industries to reduce utility cost and increase workplace safety. As a result, the automated guided vehicles (AGV) segment is projected to grow at a stellar CAGR of 15%. Value pool for this segment is pegged at a staggering US$ ~4 Bn through 2030.
Industrial Trucks Market Analysis by Power Source
Electric trucks will foray aggressively in the market and are estimated to grow at a CAGR of 9% through the forecast time frame. Over the last few years, the deployment of electric vehicles has been growing rapidly, particularly for industrial trucks. Also, a seismic shift has been witnessed among end-users towards electric trucks owing to their multiple benefits such as smooth and noiseless operation, lower maintenance and reduced emissions. However, smaller enterprises show divergent preferences with high reliance on IC engines and manual industrial trucks. This is also due to the unaffordability of electric trucks.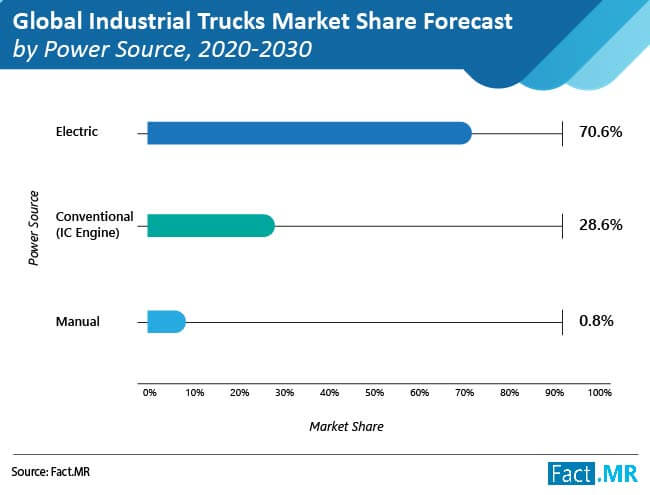 To access our intuitive COVID-19 impact insights on the industrial trucks market, ask an analyst here
Industrial Trucks Market Analysis by Region
Europe holds the largest share in the global industrial trucks market followed by North America and the Asia Pacific. Owing to the extensive utilization of industrial trucks in the manufacturing and construction industry, Europe & East Asia contribute around 60% to the global revenue. Further, the East Asian industrial trucks market is estimated to grow two-fold through the forecast period. This is attributed to a boom in the construction industry and acclerated demand for luxury vehicles and ramped up production.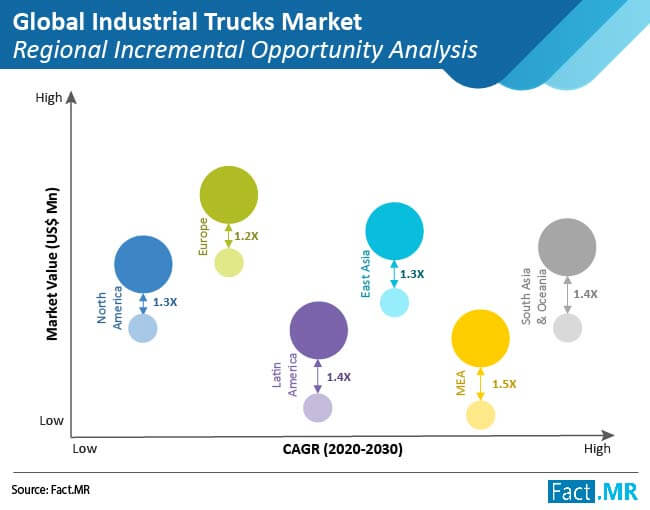 To get the latest regional assessment on the industrial trucks market, request for a report sample here
COVID-19 Market Insights
Globally, various governments are joining hands to stop the further spread of the virus. Countries such as the United States, India, South Korea, Germany, Italy, and Japan are the worst affected among the major industrial trucks consumers. Today, the COVID-19 outbreak has exposed several challenges within the industrial trucks market as well as related product companies. However, close to 40% of the world's industrial trucks supply is connected to Europe. In the first quarter of 2020, the industrial trucks sales in European countries plunged by 25%, directly affecting global revenue. According to Fact.MR research, going by the optimistic scenario, the industrial trucks market will experience a V-shaped recovery curve in Asian, European, and American countries.
Analyst's Viewpoint:
"Due to the COVID-19 effect, shortfalls on the demand side are compelling factories to cease their operations. As a result, industrial trucks sales volume is expected to decline in the coming 3-4 months, curtailing the earnings of industrial trucks manufacturers during that time."
Global Industrial Trucks Market: Scope of the Report:
The recent global industrial trucks market report by Fact.MR offers a 10-year forecast from 2020 to 2030. The report elaborates on the key drivers, restraints, opportunities and threats to the expansion of the global industrial trucks market. A detailed segmental analysis, based on product, power source, capacity, and end use, has been provided in the report.
Regional analysis in terms of supply chain analysis, business execution and market value analysis provides an in-depth perspective about the future scope of the global industrial trucks market. In addition, a separate section on market structure has also been provided. The section provides a detailed analysis of key market players and the strategies for expansion in the industrial trucks market.
Industrial Trucks Market - Scope of the Report
Fact.MR recently published a market study on the global market for industrial trucks. The study provides detailed assessment on the key market dynamics, including drivers, trends, opportunities, restraints, and detailed information about the industrial trucks market structure. The market study presents exclusive information about how the industrial trucks market will grow during the forecast period of 2020-2030.
Key indicators of market growth, which include Year-on-Year (Y-o-Y) growth of the market, value chain, supply chain analysis, and Compounded Annual Growth Rate (CAGR) are explained in Fact. MR's study in a comprehensive manner. This information can help readers understand the quantitative growth prospects of the industrial trucks market in the forecast period.
The study is relevant for stakeholders in the industrial trucks market, including manufacturers, suppliers, distributors, and investors, and can help them in developing appropriate strategies to grow in the market. Stakeholders in the industrial trucks market, investors, industry experts, researchers, and journalists, as well as business researchers can leverage the information and data presented in the Fact.MR study.
The study also includes statistics as well as facts related to macro as well as microeconomic factors that are impacting developments in the industrial trucks market. It also offers actionable insights based on future trends in the industrial trucks market. Furthermore, small businesses and new entrants in the industrial trucks market can make use of the information presented in this study, based on which, they can make appropriate business decisions in order to gain momentum in the market.
Key Segments of the Industrial Trucks Market
Fact.MR's study on the industrial trucks market offers information divided into four important segments - product, power source, capacity, end use and regional analysis. This report offers comprehensive data and information about important market dynamics and growth parameters associated with these categories.
Product

Power Source

Capacity

End Use

Region

Hand Truck

Two-Wheeled Hand Truck
Dolly
Floor Hand Truck

Electric

Below 2.5 Tons

Logistics

North America

Pallet Jack

Manual Pallet Jack
Powered Pallet Jack

Conventional (IC Engine)

Below 2.5 Tons

Retail

Latin America

Walkie Stacker

Manual Walkie Stacker
Powered Walkie Stacker

Manual

Above 5 Tons

Manufacturing

Food & Beverages
Automotive
Pharmaceutical
Chemical
General Manufacturing
Aerospace & Defence

Europe

Pallet Truck

East Asia

Platform Truck

Walkie Platform Truck
Rider Platform Truck

South Asia

Counterbalanced Lift Truck

Sit-Down Counterbalanced Lift Truck
Stand-Up Counterbalanced Lift Truck

Oceania

Reach Truck

MEA

Turret Truck

Operator-Down Turret Truck
Operator-Up Turret Truck

Order Picker

Sideloader

Tow Tractor

Personnel And Burden Carrier

Automatic Guided Vehicle (AGV)

Tow AGV
Unit Load AGV
Unit Load AGV
Light Load AGV
Fork AGV
Key Questions Answered in the Fact.MR Industrial Trucks Market Report
Which regions will continue to remain the most profitable regional markets for the industrial trucks market players?
Which factors will induce a change in the demand for industrial trucks during the assessment period?
How will changing trends impact the industrial trucks market?
How can market players capture the low-hanging opportunities in the industrial trucks market in developed regions?
Which companies are leading the industrial trucks market?
What are the winning strategies of stakeholders in the industrial trucks market to upscale their position in this landscape?
Industrial Trucks Market: Research Methodology
In Fact.MR's study, a unique research methodology is utilized to conduct extensive research on the growth of the industrial trucks market, and reach conclusions on future growth parameters of the market. This research methodology is a combination of primary and secondary research, which helps analysts ensure the accuracy and reliability of conclusions.
Secondary resources referred to analysts during the production of the industrial trucks market study include statistics from governmental organizations, trade journals, white papers, and internal and external proprietary databases. Analysts have interviewed senior managers, product portfolio managers, CEOs, VPs, marketing/product managers, and market intelligence managers, who have contributed to the development of this report as a primary resource.
Fact.MR offers custom research services that help clients to get specific research solutions
We are committed towards customer satisfaction and quality service.
---
Our Clients

Industrial Trucks Market Forecast, Trend Analysis & Competition Tracking - Global Market Insights 2020 to 2030