Truck and Bus Radial Tire Market
Truck and Bus Radial Tire Market Analysis By Application (Trucks, Buses), By Sales Channel (OEMs, Aftermarket) & By Region - Global Market Insights 2023 to 2033
Analysis of Truck and Bus Radial Tire Market Covering 30+ Countries Including Analysis of US, Canada, UK, Germany, France, Nordics, GCC countries, Japan, Korea and many more
Truck and Bus Radial Tire Market Outlook (2023 to 2033)
According to the latest Fact.MR industry analysis, the global truck and bus radial tire market stands at US$ 16.77 billion in 2023. Worldwide demand for truck and bus radial tires is predicted to increase at a CAGR of 6% and reach US$ 30.03 billion by 2033-end.
Truck and bus radial tires (TBR) are heavy-duty tires designed specifically for commercial vehicles such as trucks and buses. These tires play a critical role in ensuring safety, performance, and efficiency on the road, considering the demanding nature of their applications.
Truck and bus radial tires come with advanced radial ply technology, offering superior performance and durability compared to bias ply tires. The internal construction of TBR tires consists of cords that run perpendicular to the direction of travel, resulting in enhanced grip, braking capabilities, and wear resistance. These qualities make TBR tires highly suitable for various applications, including long-distance hauling, local transportation, and urban transit.
Global demand for TBR tires is increasing healthily due to favorable trade agreements and the presence of major commercial vehicle manufacturers in several developing countries. In Singapore, sales of TBR tires are flourishing due to the country's thriving industries, particularly in construction and logistics.
TBR tires are widely used in trucks and the demand for these tires is projected to expand at a CAGR of 6.3% during the forecast period.
Heavy-duty trucks are designed to transport substantial loads, whether it's goods, construction materials, or other heavy cargo. TBR tires are specifically engineered to handle these heavy loads and provide the necessary load-bearing capacity. Their strong construction and reinforced components such as steel belts and sturdy sidewalls help in bearing the weight of the truck and its cargo.
Transportation through trucks often encounters challenging environments and rough road conditions. TBR tires are designed to be highly durable and resistant to wear, cuts, and impacts. They can withstand the rigors of heavy-duty applications, ensuring a longer lifespan and reducing the frequency of tire replacements. This durability makes TBR tires a cost-effective choice for truck owners and operators.
Report Attributes
Details

Truck and Bus Radial Tire Market Size (2023E)

US$ 16.77 Billion

Forecasted Market Value (2033F)

US$ 30.3 Billion

Global Market Growth Rate (2023 to 2033)

6% CAGR

Germany Market Growth Rate (2023 to 2033)

7.6% CAGR

United States Market Growth Rate (2023 to 2033)

6.2% CAGR

China Market Value (2033)

US$ 7.75 Billion

Japan Market Value (2033)

US$ 2.43 Billion

India Market Value (2033)

US$ 2.46 Billion

Key Companies Profiled

Apollo Tyres
Balkrishna Industries Limited
Bridgestone Corporation
China National Tire & Rubber Co., Ltd.
Continental AG
Cooper Tire & Rubber Company
Giti Tire
The Goodyear Tire & Rubber Company
Hankook Tire & Technology Co. Ltd.
Kumho Tire Co., Inc.
MICHELIN
Nokian Tyres plc.
Pirelli & C.S.p.A.
Sumitomo Rubber Industries, Ltd.
Toyo Tire Corporation
Yokohama Rubber Industries Co., Ltd.
ZC Rubber
Prometeon Tyre Group S.R.L.
Don't Need a Global Report?
save 40%! on Country & Region specific reports
Which Aspects are Driving High Profits for Truck and Bus Radial Tire Manufacturers?
"Smart Tire Development Maximizing Profitability of TBR Tire Producers"
Tire manufacturers are pushing the boundaries of innovation, dedicating their efforts to the development of smart tires using state-of-the-art materials, technologies, and processes.
Continental AG, a renowned tire manufacturer, has spearheaded this movement by introducing groundbreaking technology concepts such as ContiSense and ContiAdapt. These advancements in tire technology aim to enhance both comfort and safety for users.
By employing these cutting-edge innovations, tire manufacturers can effectively utilize rubber compounds in tire production without compromising durability and reliability. Also, the market is witnessing a surge in popularity for smart tires and tires integrated with sensors, as these advanced features provide real-time monitoring and valuable insights.
Fleet owners are also increasingly equipping themselves with knowledge about maintenance schedules and tire conditions. This heightened awareness empowers them to proactively prevent vehicle breakdowns, leading to a significant positive influence on the development of the TBR tire market.
"Rising Investments in Public Transport Vehicles Creating Opportunistic Environment for Manufacturers of Truck & Bus Radial Tires"
As sustainable mobility is taking center stage, the reliance on public transport systems is flourishing like never before. Metro trains, buses, and carpools have become the backbone of our daily commutes, alleviating concerns about environmental pollution caused by individual car ownership.
Respective governments worldwide are wholeheartedly investing in the development of an extensive public transport infrastructure, igniting a remarkable surge in the demand for truck and bus radial tires. Moreover, as the production of electric vehicles, particularly buses, continues to soar, the TBR tire market finds itself propelled toward rapid growth.
What Restraints are Manufacturers of Truck & Bus Radial Tires Facing?
"Rising Demand for Specialized Tires Hampering Sales of Traditional Radial Tires"
Rapid technological advancements are expected to pose challenges before TBR tire producers. As electric and autonomous vehicles are gaining traction, they require specialized tires that differ from traditional radial tires. The transition to alternative propulsion systems and self-driving capabilities is projected to result in slower adoption of truck and bus radial tires in certain segments, potentially affecting sales growth.
"Price Volatility of Raw Materials Restraining Profit Margins of Producers"
Price volatility of essential raw materials such as rubber, steel, and chemicals creates various challenges such as manufacturing costs and profit margins. Fluctuations in their prices can significantly impact the profits of TBR tire manufacturers, requiring them to adapt and find ways to maintain profitability.
"Balancing Quality Requirements & Financial Pressures"
The TBR tire business operates within a regulatory landscape governed by stringent rules encompassing performance, safety, and quality requirements. While these regulations are vital for ensuring the reliability and safety of TBR tires, they can also impose additional costs and complexities, particularly for smaller producers.
Complying with these standards necessitates investments in research, development, and quality control measures, which are expected to create challenges for smaller players in the industry.
More Insights, Lesser Cost (-50% off)
Insights on import/export production,
pricing analysis, and more – Only @ Fact.MR
Why are More Start-ups Investing in the Truck and Bus Radial Tire Market?
"Sustainable Tire Solutions Gaining Traction in Market"
The tire industry is growing rapidly along with the automotive sector, offering potential growth opportunities for new entrants. As environmental consciousness continues to rise, there is an increasing demand for sustainable transportation options.
Newcomers are offering eco-friendly TBR tire solutions such as tires with lower rolling resistance or enhanced fuel efficiency, or tires made from renewable and recycled materials, which are attracting environmentally conscious customers to gain a competitive advantage in the market.
"Beyond Tradition: New Companies Exploring Alternative Materials in Pursuit of TBR Tire Excellence"
The interplay between raw material prices and regulatory compliance underscores the multifaceted nature of the TBR tire business. New manufacturers must carefully balance these factors to remain competitive while upholding required standards.
Striving for operational efficiency, exploring alternative materials, and seeking economies of scale are some strategies that newcomers employ to mitigate the impact of cost fluctuations and regulatory demands, thereby safeguarding their manufacturing costs and profit margins in the dynamic truck and bus radial tire market.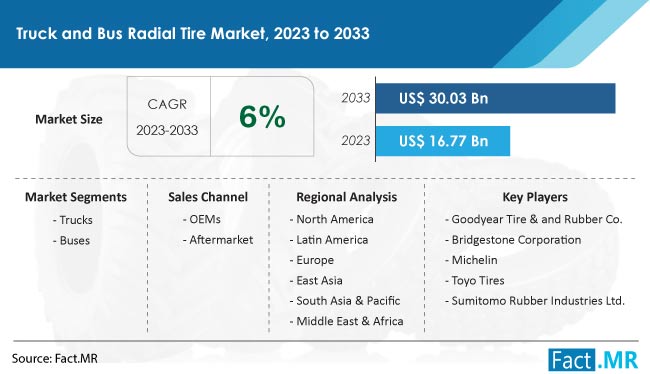 Country-wise Analysis
Why are Suppliers of TBR Tires Focusing on the United States?
"Increasing Freight Transportation Services Fueling TBR Tire Sales"
Demand for truck and bus radial tires in the United States is predicted to increase at a CAGR of 6.2% from 2023 and 2033 and is projected to reach US$ 7.60 billion by the end of the forecast period. This can be attributed to several factors, including the expansion of e-Commerce, increased freight transportation, and the replacement cycle of commercial vehicle tires.
As the e-Commerce sector continues to flourish, the demand for last-mile delivery services rises driving the need for reliable and durable TBR tires. Additionally, the growth in freight transportation due to economic development and trade activities further fuels the demand for TBR tires. The emphasis on fuel efficiency and environmental sustainability also drives the adoption of truck and bus radial tires with low rolling resistance.
Which Aspects are Propelling the Sales of Truck & Bus Radial Tires in Germany?
"Focus on Innovation, Quality, & Safety for Producing High-Performance TBR Tires"
In Germany, sales of truck and bus radial tires are anticipated to evolve at a CAGR of 7.6% over the next 10 years. The country's strong automotive industry, the well-developed logistics sector, and the extensive road network contribute to the consistent demand for TBR tires.
Germany's focus on quality, safety, and environmental standards ensures that TBR tires must meet stringent regulations, including those related to performance, traction, and rolling resistance. As a result, there is a continuous need for high-quality TBR tires that deliver excellent performance and durability. The shift toward sustainable mobility with an emphasis on reducing emissions and improving fuel efficiency further fuels the demand for TBR tires with advanced technologies.
Why is Demand for TBR Tires Increasing in Japan?
"Highly Advanced Public Transport Vehicles Driving Industry Expansion"
Sales of TBR tires in Japan are projected to reach US$ 2.43 billion by 2033.
Demand for truck and bus radial tires in Japan reflects the country's unique automotive landscape and transportation needs. Japan, known for its advanced automotive industry and efficient public transportation systems, experiences a relatively steady demand for TBR tires.
The country's focus on technological innovation, quality, and safety standards stimulates the demand for high-performance TBR tires. Japan's extensive railway network and well-developed public transport infrastructure result in a lesser dependency on individual car ownership, which is further boosting sales of truck and bus radial tires.
Know thy Competitors
Competitive landscape highlights only certain players
Complete list available upon request
Category-wise Analysis
Which Sales Channel is Beneficial for Producers of Truck and Bus Radial Tires?
"OEM Sales Channel Unlocking Potential Opportunities for TBR Tire Manufacturers"
Sales of TBR tires through OEM are predicted to expand at a CAGR of 6.1% through 2033 due to direct sales of tires to vehicle manufacturers for use as original equipment in new vehicles.
Vehicle manufacturers produce a large number of trucks and buses each year, and each vehicle requires a set of tires. This creates a stable and consistent demand for TBR tires, allowing manufacturers to plan their production and inventory more effectively.
Tire manufacturers often establish long-term contracts with vehicle manufacturers to supply tires for their vehicles. These contracts span several years and provide a reliable customer base for TBR tire manufacturers. This stability allows manufacturers to invest in research and development activities, optimizing their production processes and negotiating better pricing and terms.
Competitive Landscape
Global demand for truck and bus radial tires for heavy-duty vehicles is experiencing a significant increase. Prime TBR tire manufacturers are actively investing in the creation of specialized web portals and selling their tires through digital stores and third-party marketplaces to capitalize on revenue opportunities. Additionally, key market players are emphasizing the development of sustainable and smart tires as a means to expand their customer base.
As part of its mid-term business plan (2021-2023), Bridgestone Corporation announced in December 2021 the consolidation of its TBR tire manufacturing operations in China. The objective of this initiative is to enhance growth opportunities by strengthening the company's earning power and facilitating strategic investments for future expansion.
Key Segments of Truck and Bus Radial Tire Industry Research
By Application :

By Sales Channel :

By Region :

North America
Latin America
Europe
East Asia
South Asia & Oceania
MEA
- FAQs -
The global truck and bus radial tire market stands at US$ 16.77 billion in 2023.
The market for truck and bus radial tires is expected to reach US$ 30.03 billion by 2033.
Sales of truck and bus radial tires are forecasted to rise at a CAGR of 6% over the next 10 years.
Leading companies manufacturing TBR tires are Bridgestone Corporation, Michelin, and Toyo Tires.
Demand for truck and bus radial tires in Germany is predicted to increase at a CAGR of 7.6% due to rapid innovations in the production of tires.