Vacuum Pumps Market
Vacuum Pumps Market Analysis by Pump Type (Positive Displacement, Dry, Centrifugal, Momentum, Regenerative Application Vacuum Pumps), by Lubrication (Dry, Wet Vacuum Pumps), by Mechanism (Gas Transfer, Gas Binding), by Pressure, by Flow, by Application & Regional Forecast 2022-2032
Analysis of Vacuum Pumps market covering 30 + countries including analysis of US, Canada, UK, Germany, France, Nordics, GCC countries, Japan, Korea and many more
Global Vacuum Pumps Market Outlook (2022-2032)
The vacuum pumps market has likely to garner a market value of US$ 719.09 Mn in 2022, anticipated to register a positive CAGR of 7% in the forecast period 2022-2032 and reach a value of US$ 1,415 Mn.
Report Attributes

Values

Expected Market Value in 2022

US$ 719.09 Mn

Projected Market Value in 2032

US$ 1,415 Mn

Global Growth Rate (2022-2032)

7% CAGR

Market Share of U.S

86%

Key Companies Profiled

Atlas Copco
Ebara Corporation
Busch Vacuum Solution
Edwards (Atlas Copco)
Leybold GmbH
ULVAC
Becker Pumps Corporation
Garder Denver Inc. (Ingersoll Rand)
Gebr. Becker GmbH
Pfeiffer Vacuum GmbH
KNF Neuberger Inc.
Sihi Group B.V (Flowserve)
Tuthill Corporation
Vooner FloGard Corporation
Growth in the semiconductor & electronics sectors is expected to be boosted by significant developments. In recent years, however, with the growth of smart cities and the proliferation of IoT applications, its scope has broadened considerably. At the same time, vacuum pumps are being extensively utilized in the fields of electronics and semiconductors, packaging, oil and gas, and chemical and petrochemical industries.
Don't Need a Global Report?
save 40%! on Country & Region specific reports
Revenue Analysis of Vacuum Pumps 2017-2021 vs. Market Outlook 2022-2032
Demand for vacuum pumps expanded at a CAGR of 5.2% in terms of value from 2017 to 2021. Due to numerous benefits such as evaporation, drying, filling, conveying, assembly, material handling, and many more, vacuum pumps have gained traction in recent years.
Amidst the COVID-19 pandemic, vacuum pumps uptake has risen significantly, as key healthcare providers and equipment manufacturers enhanced the production of suction pumps for mechanical ventilators. Due to logistics constraints, the ever-increasing demand for ventilators could not match the stock of vacuum pumps in the initial months of the COVID-19 pandemic. However, in the forthcoming months, this disequilibrium dissipated, allowing for the demand-supply gap to be filled. Several end-use industries generated exponential demand, including the healthcare and food & beverage domains.
The industrial manufacturing segment will continue to account for the largest market share of more than 10% in terms of value. In addition to manufacturing, electronics, semiconductors, chemicals, petrochemicals, packaging, oil and gas, mining, healthcare, and pharmaceuticals, the global packaging industry also includes the agriculture and food processing sectors. The steady growth of these sectors has raised the demand for vacuum pumps substantially, with the market projected to expand at a healthy CAGR of over 7% through 2032.
Will Semiconductors and Healthcare & Pharmaceutical Industries emerge as Frontrunners of Vacuum Pumps Demand?
The use of vacuum pumps is essential in the semiconductor industry to establish a highly-controlled environment with the complete absence of dust. The growth of the semiconductor and electronics industry has been prominent with their wide use in solar panels, and 4G and 5G network testing.
Furthermore, central vacuum systems that comprise vacuum pumps create suction during surgeries, and saw a surge in demand due to the advent of COVID-19; this indicated the rise of vacuum pump usage in the medical and healthcare industry.
During the pandemic, companies such as Gardner Denver Inc., Becker Pumps, KNF Neuberger, and Busch Vacuum facilitated a continuous supply of vacuum systems to the worst affected city Wuhan in China.
Due to the rapid growth in the semiconductor industry, dry vacuum pumps have seen a huge surge in demand, while liquid ring vacuum pumps find wide applications in the pulp and paper, as well as oil and gas sectors. The demand for energy-efficient pumps and clean vacuums is increasing in an effort to reduce the overall operation cost, supporting the development of dry vacuum pumps.
More Insights, Lesser Cost (-50% off)
Insights on import/export production,
pricing analysis, and more – Only @ Fact.MR
How is the Food & Beverage Industry Spurring Growth?
According to the Food and Drug Administration, human drugs and biologics must be packaged under stringent regulations of Container Closure Integrity Testing, as sensitive drugs require prevention from air and contamination. Hence, vacuum pumps are deployed for ensuring the aseptic packaging of food items and beverages. The MAP process allows the removal of air, particularly oxygen, to create a vacuum to prevent oxidation.
Rising demand for packaged food & beverages, along with stringent regulations enforced by governments with respect to food packaging, is driving the requirement for vacuum pumps. The rising number of working professionals, especially women, and rapid urbanization, are also key factors leading to the growth of the food & beverage industry, thereby increasing the need for vacuum pumps simultaneously.
The liquid ring vacuum pumps are extensively used in the preparation of many food and beverage products, including many laboratory products. In the food and beverage industry, the need to lift and hold objects before releasing them has greatly contributed to the increase in market demand for liquid vacuum pumps. Food and beverage industries around the world are growing steadily, and this has, in turn, helped drive the market demand for vacuum pumps for packing, mixing, and processing F&B products.
Country-wise Analysis
What's keeping the U.S. Market at the Forefront?
The U.S. is a rapidly evolving market for vacuum pump manufacturers and will attain a prominent market share of over 86% in terms of value in 2022, in North America. Rapidly evolving industrial manufacturing, electronics and semiconductor, oil and gas, chemical and petrochemical, and other industries, and an increase in business investments, are propelling growth in this country. As a result of the strong domestic chemical, oil & gas, semiconductor, and pulp & paper manufacturing bases, the U.S. market for vacuum pumps has grown significantly.
Increased oil and gas investment is also driving vacuum pump demand, especially in the United States. With the boom in shale gas production in the United States and the recent stabilization of oil prices, vacuum pumps are becoming more popular in the chemical and petroleum industries as well. The harsher conditions often associated with these applications result in low productivity, so oil and gas companies often replace their old equipment with upgraded models.
Growth continues to accelerate as the United States develops its energy production sector. For instance, FrostX introduced a freeze drier with the help of vacuum technology. FrostX freeze dryers feature ZEBRA rotary vane vacuum pumps from Busch Vacuum Solutions. With these vacuum pumps, which are robust and dependable, the pumping speed remains stable even at low-pressure levels. The vacuum pumps themselves produce very little noise and are very easy to service.
How is Innovation Playing a Key Role in Germany for Vacuum Pumps?
Germany, being Europe's largest market for vacuum pumps, followed by the U.K., is highly lucrative for manufacturers. Steady growth of healthcare and pharmaceutical, industrial manufacturing, electronics and semiconductors, and other industries, coupled with a rise in investments in technical innovation, is aiding growth in innovation.
The market in Germany is likely to expand at a CAGR of around 4.5% over the forecast period, owing to innovations in vacuum pumps, which are popularizing their use. Integration of smart sensors in vacuum pumps allows the recording and saving of operating data. These pumps will be deployed in industries where a high level of accuracy is required, such as pharmaceuticals and healthcare.
Why is China an Emerging Market for Vacuum Pump Manufacturers?
China has emerged as another lucrative market for vacuum pumps. Rising demand from vacuum pumps applications areas such as industrial manufacturing, electronics & semiconductors, healthcare & pharmaceuticals, and other sectors is fueling consumption in the country.
Constant 5G testing and usage of 5G has fueled the growth of the electronics and semiconductor industry. China is on the verge of becoming a leader in the electronics and semiconductor industry. Hence, value demand for vacuum pumps is expected to increase at a CAGR of more than 6% over the next ten years, in the country.
Additionally, the semiconductor industry sees China as the most promising market in the world. Increasing investments in the electronics sector, the semiconductor industry as well as the pharmaceutical industry will also be contributing to the growth of the dry vacuum pump market in China. A market share worth 45% is expected for the Chinese market.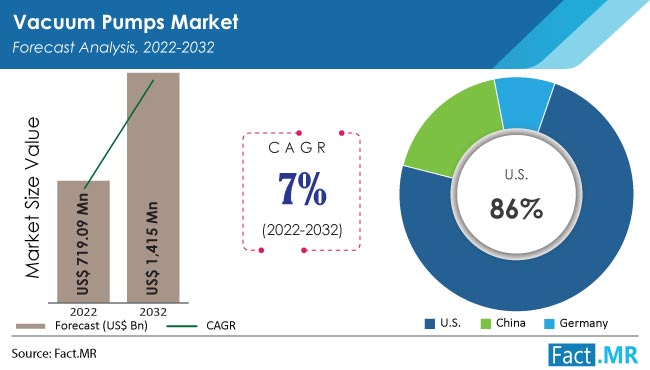 Category-wise Insights
What's Exhilarating Regenerative Vacuum Pump Propulsion in the Long Haul?
Upturning of wastewater treatment for the conservation of water brought forth the utilization of vacuum pumps that operated for longer hours without maintenance. According to Fact.MR, the segment is expected to garner a CAGR of 8% through 2032.
Regenerative vacuum pumps serve at high CFM capacities and provide moderate vacuum conditions suitable for pharmaceutical, pulp & paper, plastic, and printing industries. Accretion of packaging industries has necessitated contact-less operations ensuring the safety and hygiene of food & beverages and pills.
Dry Vacuum Pumps Promote growth owing to Low Oil Contamination
Based on lubrication-type dry vacuum pumps are forecast to reach US$ 360 Mn by 2032. This is attributed to oil contamination being a crucial factor in some application areas. This pump is able to deliver the best results by reducing the contamination from oils, chemicals, and other substances; therefore, ensuring that the product remains as pure as possible. Vacuum pumps for dry application can also be found in scientific equipment such as laser scanning microscopes.
However, maintenance for dry vacuum pumps differs slightly from wet vacuum pumps since oil changes are much less frequent and performance demands for dry vacuum pumps are greater. The unique pumping mechanism of dry pumps, despite their lower capacity than a comparable wet pump, has boosted their demand across industries such as food and beverage, pharmaceutical, and healthcare, among others.
Why are Chemical & Petrochemical Industries Generating High Demand?
Chemical & petrochemical industries operate to extract and capture light hydrocarbons that disperse from crude oil and prevent thermal degradation along with discoloration of the product. A CAGR of 7.5% is projected for this industry.
This unambiguous application solely requires the mediation of vacuum distillation carried out by vacuum pumps. An upsurge in general manufacturing, chemical & petrochemical, and pharmaceutical facilities soared the efficacy of vacuum pumps for evaporation and distillation functions.
Know thy Competitors
Competitive landscape highlights only certain players
Complete list available upon request
Competitive Landscape
The market is moderately fragmented in terms of the supply pie. Key players such as Atlas Copco, Gardner Denver, and Edwards (Atlas Copco) hold a majority of the market share and are key price controllers in the vacuum pump landscape.
In January 2022, Atlas Copco completed the acquisition of HHV Pumps Pvt. Ltd. The manufacturer specializes in the design and fabrication of vacuum pumps and systems used in a variety of industrial applications.
In August 2021, EDS introduced a new benchmark in the dry screw vacuum pump market. Designed for the most difficult chemical and industrial installations. With contaminant handling capabilities that are second-to-none even in harsh chemical and industrial environments, the EDS range is available in both air and water-cooled versions. A combination of simplicity, ease of maintenance, and high speed make the EDS range the perfect solution for harsh industrial and chemical applications.
Vacuum Pumps Market Report Scope
Attribute

Details

Forecast Period

2022-2032

Historical Data Available for

2017-2021

Market Analysis

MT for Volume
US$ Million for Value

Key Countries Covered

U.S
Canada
Mexico
Brazil
Germany
Italy
France
U.K.
Spain
Russia
BENELUX
China
Japan
South Korea
India
Thailand
Indonesia
Malaysia
Australia
GCC
South Africa
Turkey

Key Market Segments Covered

Pump Type
Pressure
Mechanism
Lubrication
Flow
Application
End-use Vertical
Region
Key Market Segments Covered in the Vacuum Pumps Industry Report
By Pump Type

Positive Displacement Vacuum Pumps

Liquid Ring Vacuum Pumps
Rotary Screw Pumps
Rotary Root Pumps

Dry Vacuum Pumps

Dry Screw Vacuum Pumps
Dry Scroll Vacuum Pumps
Dry Diaphragm Vacuum Pumps
Dry Clan & Hook Pumps
Others

Centrifugal Vacuum Pumps
Momentum Transfer Vacuum Pumps

Rotary Vane Vacuum Pumps
Turbo Molecular Vacuum Pumps

Regenerative Application Vacuum Pumps

By Lubrication

Dry Vacuum Pumps
Wet Vacuum Pumps

By Application

Vacuum Pumps for Assembly
Vacuum Pumps for Conveying
Vacuum Pumps for Dehydration/Drying
Vacuum Pumps for Engine Testing
Vacuum Pumps for Evaporation & Distillation
Vacuum Pumps for Filling
Vacuum Pumps for Holding/Chucking
Vacuum Pumps for Manufacturing
Vacuum Pumps for Material Handling
Vacuum Pumps for Thermoforming
Vacuum Pumps for Other Applications

By Mechanism

Gas Transfer Vacuum Pump
Gas Binding Vacuum Pump

By Pressure

Rough Vacuum Pumps (10.3 mbar-1 mbar)
Medium Vacuum (Pumps 1 mbar-10-3 mbar)
High Vacuum Pumps (10-3mbar-10-7 mbar)
Ultra-High Vacuum Pumps (10-7 mbar-10-12 mbar)
Extreme High Vacuum Pumps (less than 10-12 mbar)

By Flow

Vacuum Pumps Upto 85 ACFM
Vacuum Pumps Upto 150 ACFM
Vacuum Pumps Upto 550 ACFM
Vacuum Pumps Upto 1500 ACFM
Vacuum Pumps Upto 4500 ACFM
Vacuum Pumps Upto 8500 ACFM
Vacuum Pumps Upto 15000 ACFM
Vacuum Pumps Upto 17000 ACFM

By End Use Vertical

Vacuum Pumps for Aerospace & Defense
Vacuum Pumps for Automotive
Vacuum Pumps for Chemical & Petrochemical
Vacuum Pumps for Electronics & Semiconductors
Vacuum Pumps for Food & Beverage
Vacuum Pumps for Healthcare & Pharmaceuticals
Vacuum Pumps for Mining & Construction
Vacuum Pumps for Oil & Gas
Vacuum Pumps for Packing
Vacuum Pumps for Power Generation
Vacuum Pumps for Other End User Verticals
- FAQs -
As of 2022, the vacuum pumps industry is slated to be valued at US$ 719.09 Mn
By 2032, the vacuum pumps industry is expected to reach US$ 1,415 Mn, as per Fact.MR
According to Fact.MR, the global vacuum pumps market is expected to surge at a CAGR of 7%
From 2017-2021, demand for vacuum pumps expanded at a CAGR of 5.2%
The U.S is expected to account for 86% of global vacuum pumps demand in 2022
As per Fact.MR, the vacuum pumps industry is expected to surge at a CAGR of 4.5% in Germany
China is expected to contribute 45% of the total vacuum pumps market revenue