Over the past few years, an upsurge in the awareness about fitness & health among the global population is being witnessed, driven by the desire for better and healthy lifestyle. This has further spurred the interest of individuals in various sports, and softball is no exception. Growing interest in softball among the general public has created significant demand for softball equipment. Individuals currently seek tailored softball products that meet their expectations and needs, which in turn has led manufacturers of softball equipment to offer customized equipment. In addition to its association with health benefits, softball is now being viewed as a medium of social engagement, and outlet for personal accomplishment. In addition, several softball tournaments have been introduced, which in turn have proliferated the participation in the sport. Innovations in softball equipment including gloves and bats are further boosting their sales. However, a notable rise in adoption of counterfeit products is expected to be a major threat for companies in the softball equipment market, as sports equipment are highly vulnerable to persisting economic conditions worldwide. Counterfeit softball equipment have adverse effects on brand names and revenues generated in the market.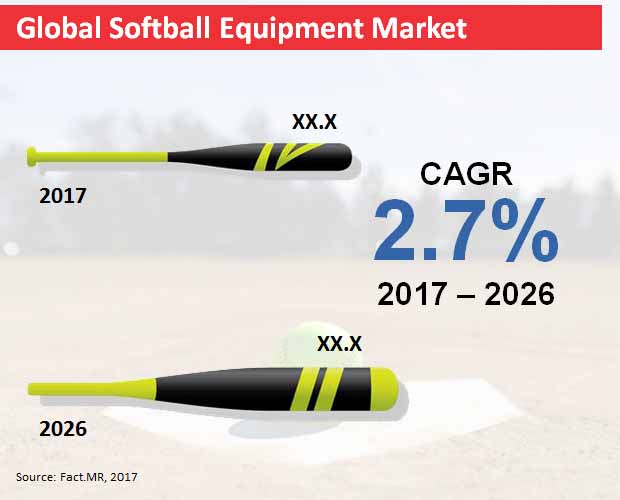 Fact.MR's recently published report envisages an average expansion for the global softball equipment market over the period 2017 to 2026. Worldwide sales of softball equipment are forecast to exceed US$ 550 Mn in revenues by 2026-end.
Market Taxonomy
| | | | |
| --- | --- | --- | --- |
| Region | Product Type | Sales Channel | Buyer Type |
| North America | Bat | Independent Sports Outlet | Individual |
| Latin America | Helmets | Franchised Sports Outlet | Institutional |
| Europe | Equipment Bag | Modern Trade Channels | Promotional |
| Japan | Gloves | Direct to Customer Brand Outlet | |
| APEJ | Accessories | Direct to Customer Online Channel | |
| MEA | | Direct to Customer Institutional Channel | |
| | | Third Party Online Channel | |
(Additional information, including cross-sectional data and country-wise analysis & forecast is available in the report)
North America to Remain Largest Market for Softball Equipment
High disposable incomes of the population in North American countries is expected to remain a major factor driving growth of the softball equipment market in the region. In addition, people in North America are increasingly becoming health-conscious and adopting measures to keep themselves fit as well as engaged in social activities, and softball is one of the popular means in catering to both these requirements. The female population in the region is also taking high interest in the sport. Driven by aforementioned factors, North America will continue to be the largest market for softball equipment.
Based on product type, softball bats are likely to lead the market in terms of revenues, with demand mainly driven by huge adoption of wooden softball bats by professional as well as amateur players. In addition, rising retail costs of softball bats are further complementing revenue generation through this product segment.
Third party online channel are projected to remain the fastest expanding as well as dominant sales channel for softball equipment during 2017 to 2026. Based on buyer type, individual buyers will account for the largest revenue share of the market over the forecast period.
Competition Tracking
The global market for softball equipment will continue to be dominated by few leading vendors competing in terms of market reach and product offerings. Competition in the market is expected to intensify in the upcoming years, with growing product extensions and shares of the vendors. These vendors are introducing innovative equipment for enhancing their product portfolio and increasing their market share through products such as softball bats with enhanced swing speed, lightweight gloves, and tracking technologies. Key players driving growth of the softball equipment market globally include Nike, Newell Brands Inc., Mizuno Corporation, Under Armour Inc., Phoenix Bat Company, Adidas, Amer Sports, Zett Corporation, Schutt Sports Inc., and Peak Achievement Athletics.
Note: The insights mentioned here are of the respective analysts, and do not reflect the position of Fact.MR
Expansion of the global market for softball equipment will continue to be influenced by factors such as surging awareness on fitness & health among general public, growing availability of customized baseball equipment, and development of innovative softball products such as gloves and bats. The report, compiled by Fact.MR, provides in-depth analysis of the global softball equipment market for the forecast period 2017-2026, and offers key insights about future market direction.
Scope
The scope of Fact.MR's report is to analyze the global softball equipment market for the forecast period 2017-2026 and provide readers an unbiased and accurate analysis. Softball equipment manufacturers, stakeholders, and suppliers in the global sporting goods & accessories industry can benefit from the analysis offered in this report. This report offers a comprehensive analysis, which can be of interest to leading trade magazines and sports journals.
Summary
The report commences with a brief information of the global softball equipment market. This executive summary sets the tone for the rest of the report, providing users the scope of the report. The executive summary includes important facts and statistics on the global softball equipment market.
Overview
The next section offers an overview of the softball equipment market. This comprises an introduction to the market, along with a standard definition of the product – softball equipment. In this section, market value and year-over-year growth is offered to the readers. Year-over-year growth provides readers with a broader view of growth patterns over the forecast period.
The report's succeeding section focuses on drivers, restraints and key trends from macroeconomic, demand, and supply perspectives. Impact analysis of weighted average model-based growth drivers is contained in the report for better provision of decision-making insights to clients.
In order to offer readers with up-to-date information about the latest advancements in the global softball equipment market, the report provides updates about market opportunities, which can benefit leading manufacturers of softball equipment. With continuous evolution of the sporting goods & accessories industry, keeping a record of latest developments and trends is fundamental for softball equipment manufacturers to formulate key business strategies. Detailed insights about raw material sourcing, supply chain, pricing analysis, list of distributors, and cost structure are provided in this section.
Considering the wide scope of the global softball equipment market and to offer in-depth insights, Fact.MR's report provides segment-wise analysis and forecast. The global softball equipment market has been categorized on the basis of buyer type, sales channel, product type, and region. This segmentation analysis is comprehensive, coupled with a detailed country-wise forecast provided on all parameters.
The report's last section comprises of the global softball equipment market competitive landscape, to provide readers with the dashboard view of company analysis and market players. This competitive intelligence is based on the providers' categories across value chain, and their presence in the global softball equipment market.
Research Methodology
Fact.MR is committed to offer unbiased and independent market research solutions to its clients. Each market report of Fact.MR is compiled after months of exhaustive research. We bank on a mix of tried-and-tested and innovative research methodologies to offer the most comprehensive and accurate information. Our main sources of research include,
Primary research
Secondary research
Trade research
Focused interviews
Social media analysis
Fact.MR offers custom research services that help clients to get specific research solutions
We are committed towards customer satisfaction and quality service.
---
Our Clients

Softball Equipment Market Forecast, Trend Analysis & Competition Tracking - Global Market insights 2017 to 2026