Skydiving Equipment Market
Skydiving Equipment Market Analysis By Product Type (Container or Harness Systems, Jumpsuits & Helmets, Canopies, Gloves, Altimeters, Goggles), By End User (Recreational Users, Professional Users), By Distribution Channel (Departmental Stores, Online Retail, Supermarkets) & By Region – Global Market Insights 2023 to 2033
Analysis of Skydiving Equipment Market Covering 30+ Countries Including Analysis of US, Canada, UK, Germany, France, Nordics, GCC countries, Japan, Korea and many more
Skydiving Equipment Market Outlook (2023 to 2033)
According to a study published by Fact.MR, the global skydiving equipment market stands at US$ 1.25 billion in 2023. Worldwide demand for skydiving equipment is forecasted to advance at a CAGR of 4% and reach a market value of US$ 1.86 billion by 2033. Growing popularity of adventure sports is projected to boost the demand for skydiving equipment across geographies over the next decade.
Many sports enthusiasts worldwide are seeking unique experiences, and this factor is predicted to offer lucrative opportunities for producers, suppliers, and retailers dealing in the global market. A significant increase in the consumers' disposable income in emerging and developed economies is projected to boost participation in recreational activities, including skydiving.
The industry is set to exhibit steady growth driven by increasing interest in adventure sports for unique experiences. Steady market expansion is expected due to several technological advancements, including the introduction of advanced safety features and parachute materials.
Several consumers are shifting to online sales with the growth of the e-commerce sector owing to the easy accessibility of skydiving-related products and convenience. Moreover, development of advanced materials in skydiving equipment is estimated to increase the profit margin of players.
Worldwide sales of container or harness systems are projected to expand at 4.7% CAGR and reach US$ 717 million by 2033.
Demand for skydiving equipment in China is predicted to rise at a CAGR of 6.9% and reach a market value of US$ 365 million by 2033-end.
Expansion of the tourism industry is projected to offer benefits for suppliers of skydiving equipment. Many popular tourist destinations around the world offer skydiving experiences as a means to generate revenue while attracting a broad tourist base.
The cost of skydiving equipment, particularly for high-quality gear, is substantial. This significant initial investment required to acquire all the necessary equipment is expected to restrict market expansion opportunities over the next decade.
Report Attributes
Details
Skydiving Equipment Market Size (2022A)
US$ 1.21 Billion
Estimated Market Value (2023E)
US$ 1.25 Billion
Forecasted Market Value (2033F)
US$ 1.86 Billion
Global Market Growth Rate (2023 to 2033)
4% CAGR
United States Market Value (2022)
US$ 310 Million
Sales of Container or Harness Systems (2033)
US$ 717 Million
Japan Market Growth Rate (2023 to 2033)
1.3% CAGR
Germany Market Growth Rate (2023 to 2033)
2% CAGR
Key Companies Profiled

Aerodyne Research, LLC
Velocity Sports Equipment
LB Altimeters
Sun Path Products, Inc.
Mirage Systems, Inc.
Skylark
United Parachute Technologies
Firebird
Wings
Rigging Innovation
Advanced Parachute Systems Ltd.
ChutingStar Enterprises Inc.
WINGSTORE
DZ Sports Ltd.
Don't Need a Global Report?
save 40%! on Country & Region specific reports
What's Positively Influencing the Sales of Skydiving Equipment?
"Growing Interest in Extreme Sports Pushing Sales of High-quality Equipment"
The surging popularity of adventure sports is predicted to lead to a remarkable uptick in the global industry. People are seeking activities contributing to the generation of adrenaline-pumping experiences in recent years. This fascination with adventure sports is predicted to usher in a new era for key manufacturers involved in the production of skydiving equipment.
The allure of multiple adventure sports lies in the challenges offered to respective participants and a palpable sense of exhilaration. For people who are seeking to push their mental and physical boundaries, skydiving stands out as an embodiment of daring exploration. The sheer freedom of plummeting through an open sky is an experience that creates an indelible mark on the minds of adventurers.
Growing interest in extreme adventure sports is leading to a steady influx of newcomers to the skydiving world. Many adventure enthusiasts who once were spectators or curious about sports are taking the plunge themselves. Therefore, the opportunity to create unforgettable memories is estimated to drive countless individuals to get hands-on experiences in skydiving.
As the traction for skydiving sports is increasing, there is a corresponding surge in the need for high-quality equipment. Participants are becoming mindful of investing in multiple reliable gears with safety being a paramount concern. This heightened emphasis on performance and safety is predicted to open up lucrative opportunities for players.
"Rising Popularity of Adventure Tourism Necessitating Production of Effective Safety Gear"
Skydiving destinations across the globe are becoming magnets for adventure-seeking travelers. These breathtaking locations are often nested amidst iconic landmarks or scenic coastal landscapes.
Rising popularity of adventure sports is one of the popular aspects of the tourism industry. Travelers do not limit themselves to conventional sightseeing and relaxation. They rather opt for activities that allow them to have an adrenaline-pumping experience and get immersed in natural beauty. This results in the growing attraction for skydiving, further generating demand for effective safety gear.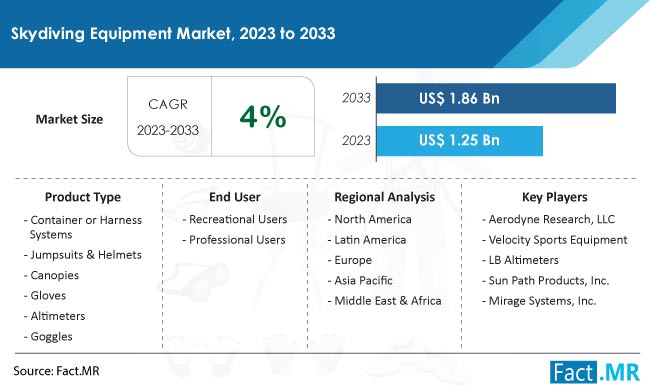 What is Hindering the Sales Growth of Skydiving Equipment?
"High Initial Cost of Skydiving Gear"
The allure of skydiving as an exhilarating sport is undeniable. However, the high initial cost of skydiving equipment is predicted to create a hurdle for potential enthusiasts. Skydiving requires essential gear, including altimeters, harnesses, and parachutes.
All skydiving equipment is essential to ensure a safe and enjoyable experience, but the substantial financial commitment needed to acquire quality gear is expected to present significant hurdles for individuals interested in the sport, potentially impeding market growth.
More Insights, Lesser Cost (-50% off)
Insights on import/export production,
pricing analysis, and more – Only @ Fact.MR
What Steps are Start-ups Taking to Boost Their Market Revenue Share?
"Significant Investments in Technological Advancements to Provide Cutting-edge Gear"
The skydiving equipment sector undergoes continuous enhancements and evolution driven by a relentless pursuit of technological advancements, emphasizing innovation, performance, and safety. Start-ups are consistently pushing their limits to provide increasingly reliable and safer equipment.
During the forecast period, these start-ups are set to bring about a more significant transformation by leveraging cutting-edge technologies and materials to produce skydiving gear that is not only safer but also more durable and lighter than current options.
Country-wise Insights
According to Fact.MR, a market research and competitive intelligence provider, the European region is predicted to hold 47.1% share of the global market revenue by the end of 2033. The presence of various large mountains and hills, increasing participation in multiple outdoor recreational activities, and rising tourist and adventure sports are some crucial factors that are fueling sales of skydiving equipment there.
Why Should Skydiving Equipment Companies Concentrate on the United States?
"Cultural Shift towards Adventure Sports"
The United States market reached US$ 310 million in 2022. The market is estimated to exhibit a significant surge in the popularity of outdoor recreational activities and adventure sports in the coming decade. The trend is predicted to mirror a cultural change in which individuals seek a departure from their daily routines in pursuit of exhilarating, adrenaline-fueled experiences.
Among a wide variety of adventure sports, skydiving is predicted to stand out as a popular choice for thrill enthusiasts. This burgeoning interest is predicted to result in a significant expansion of the market in the United States.
Which Countries in Europe are Attracting the Attention of Skydiving Equipment Suppliers?
"Presence of Popular Tourist Destinations and Scenic Landscapes in Germany"
The skydiving equipment market in Germany is forecasted to expand at a CAGR of 2% from 2023 to 2033.
Germany is renowned for its popular tourist destinations and stunning landscapes. It is emerging as a thriving hub for perspective skydivers. A unique fusion of adrenaline-pumping adventure and natural beauty is predicted to attract tourists, thus bolstering the demand for skydiving equipment. Local enthusiasts or visitors are eager to explore Germany from a new perspective and are thus projected to contribute to market expansion.
"Stringent Safety Regulations Governing Skydiving Operations in United Kingdom"
The United Kingdom has imposed safety regulations and standards to govern skydiving operations. These regulations are estimated to foster confidence and trust among participants. Continuous improvement of multiple safety standards and adherence to safety measures are anticipated to boost demand for certified and high-quality skydiving equipment to enhance the overall skydiving experience while ensuring the safety of skydivers.
Which Asia Pacific Markets are Drawing the Attention of Skydiving Equipment Manufacturers?
"Rising Number of Drop Zones and Skydiving Centers in China"
Sales of skydiving equipment in China are projected to rise at a 6.9% CAGR and reach US$ 365 million by 2033-end.
Rapid urbanization is leading to an era of modernization and development, thus resulting in the proliferation of state-of-the-art facilities and infrastructure. Drop zones and skydiving centers in China are forecasted to have a transformative effect on skydiving, making it more appealing and accessible to the urban populace.
"Increased Willingness to Spend on Leisure and Adventure Activities in Japan"
The Japanese market is predicted to advance at a slow CAGR of 1.3% through 2033.
A substantial portion of Japan's population comprises the middle-class segment, which is expected to play a pivotal role in reshaping the country's economic landscape. Rising incomes among different demographic groups are fueling increased spending on leisure activities as individuals seek novel and exhilarating experiences.
In this context, skydiving is anticipated to become a favored recreational pursuit aligning with the desires and aspirations of Japan's expanding middle-class population.
Know thy Competitors
Competitive landscape highlights only certain players
Complete list available upon request
Category-wise Insights
Global demand for container or harness systems is projected to increase at 4.7% CAGR and reach US$ 717 million by 2033 owing to their lightweight and comfortable design. Further, expansion of the e-commerce sector is estimated to contribute to the rising sales of skydiving equipment through online channels. Online platforms ensure timely delivery of products while offering a comparative analysis of the cost of respective equipment from the ease of one's home.
Which Type of Skydiving Equipment is Accounts for High Revenue Streams?
"Lightweight and Comfortable Design of Harnesses Driving Their Sales"
Based on product type, worldwide sales of container or harness systems are forecasted to increase at a CAGR of 4.7% and reach a valuation of US$ 717 million by the end of 2033.
Harnesses play a pivotal role in offering security to skydivers during jumps. Moreover, manufacturers are concentrating on comfortable and lightweight designs that offer the utmost safety without causing any hindrance to agility or movement.
Which Distribution Channel is Preferred for Purchasing Skydiving Equipment?
"Extensive Skydiving Gear Selection on Online Stores Driving Product Sales"
Online retail stores dedicated to skydiving equipment sales are gaining popularity worldwide because they offer a wide range of skydiving gear, including jumpsuits tailored to different body types. Furthermore, the increasing involvement of individuals in sports like parachuting, spanning both genders in developed countries such as Germany, the United States, and Canada, is further boosting the online sales of skydiving equipment.
Competition Landscape
Skydiving equipment manufacturers are adopting various strategies to attain certain goals, including management of supply chain systems, ensuring quality control of products, new developments, etc.
Prominent players in the skydiving equipment market are Aerodyne Research, LLC, Velocity Sports Equipment, LB Altimeters, Sun Path Products, Inc., Mirage Systems, Inc., Skylark, United Parachute Technologies, Firebird, Wings, Rigging Innovation, Advanced Parachute Systems Ltd., ChutingStar Enterprises Inc., WINGSTORE, and DZ Sports Ltd.
Segmentation of Skydiving Equipment Industry Research
By Product Type :

Container or Harness Systems
Jumpsuits & Helmets
Canopies
Gloves
Altimeters
Goggles

By End User :

Recreational Users
Professional Users

By Distribution Channel :

Departmental Stores
Online Retail
Supermarkets

By Region :

North America
Europe
Asia Pacific
Latin America
Middle East & Africa
- FAQs -
The global skydiving equipment market was valued at US$ 1.21 billion in 2022.
Sales of skydiving equipment in the United States reached US$ 310 million in 2022.
The market for skydiving equipment is valued at US$ 1.25 billion in 2023.
Worldwide demand for skydiving equipment is projected to increase at a CAGR of 4% from 2023 to 2033.
Global sales of container or harness systems are anticipated to reach US$ 717 million by 2033.
Demand for skydiving equipment in Germany is predicted to rise at 2% CAGR through 2033.
The skydiving equipment market is forecasted to reach US$ 1.86 billion by 2033.
The body releases adrenaline during skydiving. This hormone is well-known for improved performance, strength, and heightened senses.