Alpine Ski Equipment Market
Alpine Ski Equipment Market Analysis By Equipment Type (Alpine Skis, Alpine Boots, Alpine Bindings, Alpine Poles, Clothing & Helmets), By Sales Channel (Direct Sales, Franchised Stores, Specialty Stores, Online), By End User (Male, Female, Children), By Price (Economy, Mid-range, Premium, Super-premium) & By Region - Global Market Insights 2023 to 2033
Analysis of Alpine Ski Equipment Market Covering 30+ Countries Including Analysis of US, Canada, UK, Germany, France, Nordics, GCC countries, Japan, Korea and many more
Alpine Ski Equipment Market Outlook (2023 to 2033)
According to this study done by skilled analysts at Fact.MR, the global alpine ski equipment market is valued at US$ 1.83 billion in 2023 and is projected to reach US$ 2.46 billion by 2033. Worldwide sales of alpine ski equipment are forecasted to rise at a CAGR of 3% from 2023 to 2033.
Alpine ski equipment refers to the specialized gear and accessories designed for alpine skiing, a popular winter sport that involves descending snow-covered slopes using skis and ski poles. This equipment is essential for both safety and performance and plays a pivotal role in enhancing the overall skiing and snowboarding experience. Alpine ski equipment encompasses various components, including skis, bindings, boots, poles, clothing, safety gear, and accessories, all of which are tailored to meet the specific needs of skiers.
Ski resorts and tourism play a significant role in driving the demand for alpine ski equipment. Popular ski destinations attract tourists who often require rental equipment, which further boosts local demand. Skis are the primary tool for alpine skiing. They come in various shapes and sizes, each designed for different types of skiing, such as downhill, slalom, or freestyle. Modern skis often incorporate advanced materials and technologies for improved performance.
Among all alpine ski equipment types, alpine ski clothing apparel is generating high demand. Growing demand for alpine ski clothing can be attributed to the combination of functional and performance-related factors, as well as considerations for style, safety, and environmental responsibility.
Alpine skiing takes place in cold and often unpredictable mountain environments. As such, there is a high demand for ski clothing that provides warmth, insulation, and protection from the elements, including snow, wind, and low temperatures.
Ski clothing is designed for safety and comfort. Insulated jackets, pants, and base layers help skiers stay warm and dry, reducing the risk of hypothermia or frostbite during prolonged exposure to cold conditions. Ongoing advancements in textile technology are leading to the development of ski clothing with superior insulation, moisture management, and lightweight properties, further driving market growth.
Report Attributes
Details
Alpine Ski Equipment Market Size (2023E)
US$ 1.83 Billion
Forecasted Market Value (2033F)
US$ 2.46 Billion
Global Market Growth Rate (2023 to 2033)
3% CAGR
Leading Regional Market
Europe
Key Companies Profiled

Amer Sports Corporation
Newell Brands Inc.
Clarus Corporation
Fischer Sports GmbH
Skis Rossignol SAS
Head NV
Kneissl Tirol GmbH
Nordica S.p.A.
Burton
Newell Brands
Tecnica Group
Swix Sport
K2 Sports
Don't Need a Global Report?
save 40%! on Country & Region specific reports
What's Positively Influencing the Sales of Alpine Ski Equipment?
"Growing Ski Tourism and Rising Participation in Winter Sports"
Alpine ski equipment sales are influenced by the increasing popularity of winter sports, with alpine skiing at the forefront. This rise in popularity serves as a significant driver fueling the demand for ski products such as ski gear, skiing accessories, ski boots, ski bindings, ski helmets, ski goggles, ski jackets, ski pants, ski poles, ski tuning tools, and more across the globe. The appeal of winter sports is no longer limited to seasoned enthusiasts but is attracting a growing number of beginners eager to experience the thrill of skiing. This broadening base of participants is contributing to the growth of the alpine ski equipment market.
Ski tourism is another pivotal factor propelling snow sports equipment sales. Regions boasting well-established ski resorts have become magnets for tourists seeking winter adventures. These destinations offer not only pristine slopes but also a comprehensive skiing experience, including equipment rentals. This aspect of ski tourism is opening significant opportunities for alpine ski equipment manufacturers.
Tourists, especially those who ski occasionally, often rely on local rental services, thus creating a demand for high-quality rental equipment. Alpine ski equipment manufacturers and retailers are strategically positioning themselves within these ski resort ecosystems to tap into this lucrative niche.
"Integration of Smart Features into Ski Equipment for Enhanced Performance and Safety"
Ongoing innovations in ski equipment technology are expected to boost the sales of alpine ski equipment. Manufacturers of alpine ski equipment are constantly pushing the boundaries of design and engineering to meet a range of cutting-edge improvements that have caught the attention of skiers worldwide. Key technological advancements include the incorporation of lighter materials, enhanced bindings, and innovative ski designs. These innovations are expected to have a profound impact on skiers' experiences by significantly improving their performance and safety on the slopes.
Integration of advanced electronic features is also a recent trend in ski equipment technology. Ski equipment equipped with integrated technology such as GPS tracking, avalanche safety systems, and wearable devices is gaining remarkable attention, particularly among tech-savvy skiers. GPS tracking not only enables skiers to monitor their routes and performance but also enhances safety by providing real-time location information.
Avalanche safety features embedded in ski equipment including airbag systems and beacon transceivers are contributing to the growing appeal of these high-tech innovations. These systems are designed to aid in avalanche rescue efforts, providing skiers with an added layer of security when exploring avalanche-prone areas.
Wearable devices, such as smart helmets and goggles, are also gaining prominence. These intelligent accessories offer features such as integrated communication systems, heads-up displays, and even biometric monitoring, enhancing the overall skiing experience by providing real-time information and connectivity on the mountain. As these technological advancements continue to evolve and gain broader acceptance among skiers, they are poised to boost the profits of alpine ski equipment manufacturers during the next decade.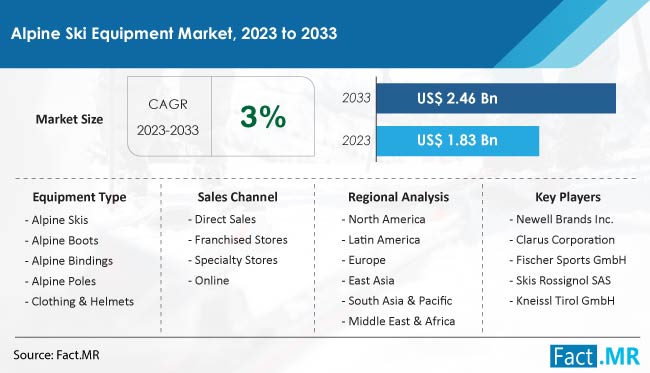 How is the Demand Growth for Alpine Ski Equipment Being Hampered?
"Seasonality-driven Sales and Inventory Management Challenges During Off-season"
Sales of alpine ski equipment exhibit a distinctive and pronounced seasonality pattern, with the majority of its sales concentrated during the winter months. Seasonality is a fundamental characteristic of the industry, driven by the fact that alpine skiing is a winter sport that is highly dependent on favorable weather conditions and snowfall. As a result, the market experiences a rise in demand leading up to and during the winter season when skiing enthusiasts and tourists flock to ski resorts and snow-covered slopes.
One of the primary challenges is related to inventory management. Manufacturers and retailers must accurately forecast demand to ensure they have an adequate supply of ski equipment ready for the peak season. Underestimating demand results in wasted chances for sales, while overestimating need can result in surplus inventory, tying up funds and storage space.
Cash flow management is another critical concern. During the off-season, when sales are minimal, businesses may struggle to cover operational expenses and maintain financial stability.
More Insights, Lesser Cost (-50% off)
Insights on import/export production,
pricing analysis, and more – Only @ Fact.MR
Which Strategies are Aiding New Alpine Ski Equipment Companies in Earning More?
"Emphasis on Product Innovation and Targeted Marketing"
New entrants in the alpine ski equipment market can thrive by focusing on product differentiation, quality, targeted marketing, pricing strategies, distribution partnerships, customer support, sustainability, inventory management, R&D, and feedback integration.
New companies should focus on developing innovative and differentiated ski equipment products by investing in research and development activities. This could involve introducing novel features, materials, or designs that set their products apart from existing offerings. Product differentiation can attract attention from discerning skiers looking for advanced equipment.
Effective marketing strategies are essential for new companies to create brand awareness and attract customers. Targeted marketing campaigns, especially through digital channels, can help them reach specific demographics within the skiing community. Social media presence, influencer partnerships, and content marketing can be particularly effective.
Country-wise Analysis
Alpine ski equipment sales are increasing healthily in Germany, the United States, and Japan due to factors such as innovations in equipment technology, growing interest in winter sports, proximity to ski destinations, and cultural shifts.
Fact.MR, a market research and competitive intelligence provider, reveals detailed information about key regional and national markets for alpine ski equipment suppliers.
How are Sales of Alpine Ski Equipment Evolving in Germany?
"High Sales of Ski Equipment Driven by Strong Tradition of Winter Sports"
Germany has a strong tradition of winter sports, and the increasing participation in skiing of both beginners and tourists is significantly driving sales of alpine ski equipment. Germans' passion for skiing is driving up the demand for high-quality alpine ski equipment.
Germany's reputation for precision engineering extends to the ski equipment sector. German manufacturers are known for their technological innovations, producing cutting-edge equipment that appeals to domestic and international skiers.
What is Driving the Adoption of Alpine Ski Equipment in the United States?
"Expanding Ski Culture and Diverse Ski Destinations in the Country"
Skiing is becoming a popular recreational activity in the United States, and this cultural shift is further driving the alpine ski equipment sales. Skiing is not limited to the traditional ski regions, with more people taking up the sport in various parts of the country.
The United States offers a wide range of ski destinations, from the Rocky Mountains to the Northeastern states. This diversity of ski regions and terrains is attracting skiers of all levels and preferences.
Why is Japan a Highly Popular Skiing Location in Asia Pacific?
"Rising International Tourism and Presence of High-quality Skiing Resorts"
Japan boasts world-class ski resorts in Hokkaido and other areas. The quality of these resorts, combined with reliable snowfall, attracts both local and international skiers, driving equipment sales.
Japan's ski resorts are increasingly popular among international tourists, particularly from neighboring Asian countries. Tourists often seek to rent or purchase ski equipment locally, contributing to sales growth.
Know thy Competitors
Competitive landscape highlights only certain players
Complete list available upon request
Category-wise Analysis
Specialty stores hold a distinct and prominent position as prime sales channels for alpine ski gear and equipment due to their excellent pre- and post-sales services.
Online platforms are also gaining popularity due to their convenient and discount-oriented shopping options. During the forecast period, online stores are also expected to contribute significantly to the sales of alpine ski gear and equipment.
Which Unique Qualities Make Specialty Stores Favorable for Alpine Ski Equipment Shoppers?
"Availability of Expert Guidance and Comprehensive Pre- and Post-sales Services"
Specialty stores are prime sales channels for alpine ski equipment because they offer a comprehensive and personalized shopping experience. Skiers benefit from expert guidance, high-quality products, fitting services, and ongoing support, creating a trusted and preferred destination for their skiing needs. The combination of knowledge, product range, and customer-centric services makes these stores integral to alpine ski equipment sales.
Specialty stores are staffed by experts who possess in-depth knowledge of alpine skiing and the equipment required. They can provide customers with valuable advice and recommendations tailored to their skill levels and preferences, ensuring that skiers make informed purchasing decisions.
Competitive Landscape
Leading alpine ski equipment companies are constantly investing in research and development activities to create innovative ski gear and equipment. This includes designing skis with advanced materials, optimizing bindings for safety and performance, and developing unique apparel and accessories. Differentiated products attract customers looking for the latest technology and features.
Responding to growing environmental concerns, many market players are adopting sustainable practices. This includes using eco-friendly materials, reducing waste in production, and implementing recycling programs.
In November 2021, Fischer Sports celebrated multiple victories in the alpine ski and boot categories, winning accolades such as SKI Magazine's Best in Test. Notable achievements include:

Ranger 94 FR WS leading the women's all-mountain segment.
Ranger 115 FR dominating the women's deep powder snow segment.
Key Segments of Alpine Ski Equipment Industry Research
By Equipment Type :

Alpine Skis
Alpine Boots
Alpine Bindings
Alpine Poles
Clothing & Helmets

By Sales Channel :

Direct Sales
Franchised Stores
Specialty Stores
Online

By End User :

By Price :

Economy
Mid-range
Premium
Super-premium

By Region :

North America
Latin America
Europe
East Asia
South Asia & Oceania
MEA
- FAQs -
The global alpine ski equipment market stands at US$ 1.83 billion in 2023.
By 2033, the market for alpine ski equipment is projected to reach US$ 2.46 billion.
Global sales of alpine ski equipment are forecasted to rise at a CAGR of 3% from 2023 to 2033.
Amer Sports Corporation, Newell Brands Inc., and Clarus Corporation are leading alpine ski equipment producers.
The millennial generation tops the target list in this market.
The United States, Canada, Switzerland, Norway, Spain, Germany, Austria, and Finland attract the most ski tourists.