Adequate packaging has a momentous impact in the processed and raw meat production industry as containers storing the meat are designed to prevent secondary contamination and deliver uncompromising rigidity. These "meatainers" are widely observed as stiff and large corrugated cardboard boxes that store meat for transportation from manufacturing unit to processing unit. Concurrent to the rising consumption of meat, the demand for meatainers has witnessed an extensive growth in the recent past. Leaders in the packaging industry are extending their product lines and foraying into the global meatainers market by offering heavy duty containers over a range of dimensions and meat storage requirements.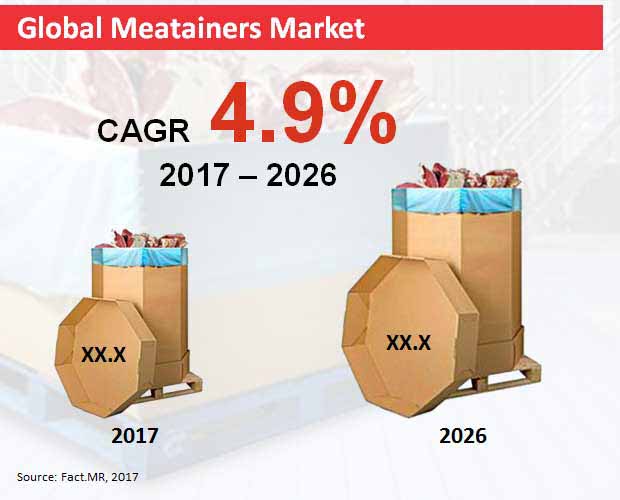 Fact.MR's take on the future of the global meatainers market expects a moderate growth in the coming years. While meatainers will remain a key commodity in meat & poultry packaging vertical, manufacturers fail to increase their profitability across these products. High strength and durability of meatainers is lowering their sales by exhibiting a low replacement rate. It has been estimated that by the end of 2026, nearly 500,000 tons of meatainers will be sold worldwide in the meat production & processing industry. The report further assesses that the global meatainers market will reflect moderate expansion at a CAGR of 4.9% in terms of value over the forecast period, 2017-2026.
Market Taxonomy
| | | |
| --- | --- | --- |
| Region | Meat Type | Sales Channel |
| North America | Beef | Online |
| Latin America | Chicken | Offline |
| Europe | Lamb | |
| Japan | Pork | |
| APEJ | Others | |
| MEA | | |
(Additional information, including cross-sectional data and country-wise analysis & forecast is available in the report)
Meatainers for Beef and Chicken Packaging to Represent Half of Global Market Volume throughout the forecast period
The study foresees a predominant use of meatainers in the packaging of raw beef and chicken. Through 2026, more than 50% of meatainers sold in the global market will used in packaging of chicken and beef. In order to keep the freshness of chicken and beef intact, manufacturers are using block-bottomed liners and specialty tape integrated banding in the manufacturing of corrugated boxes. Manufacturers are also increasing the security features by using high performance adhesive tapes, thereby lowering the risks of contamination. Such meatainers are also witnessing a growing use in pork packaging. The report estimates that the sales of meatainers for pork packaging will reflect a steady volume CAGR of 5.2% over the forecast period.
Online Sales of Meatainers to Register High Volume CAGR; Competition Tracking to Reflect Consolidated Presence of Packaging Giants
While meatainers are predominantly sold offline, soaring penetration of online vendors in the packaging landscape have diversified the traditional sales avenues for meatainers. In 2017, nearly 280,000 tons of meatainers were sold offline across the globe. Over the forecast period, online sales of meatainers are pegged to register rapid growth by reflecting a 6.1% CAGR in terms of volume. Prominent packaging companies such as Abbe Corrugated Pty. Ltd, Amazing Packaging Supplies, Orora Limited, Lyburn Supplies, Heathpak Ltd., Packaging Corporation Of America, WestRock Company, Smurfit Kappa Group PLC, DS Smith and International Paper Co. are active participants in the global meatainers market, capturing opportunities to soar and congruently balance the online and offline sales of their products. Furthermore, companies namely, Industrial Packaging Corporation, CoolSeal USA, Charta Packaging, Austcor Packaging
Standard Meat, Kruger Packaging, Robert Mann Packaging, Cano Container Corporation, Star Box Inc., Crown Packaging and Norampac Inc. are also viewed as key players in global meatainers manufacturing landscape. Their contribution to the expansion of the global meatainers market will be instrumental in the foreseeable future.
Note: The insights mentioned here are of the respective analysts, and do not reflect the position of Fact.MR
This report by Fact.MR provides valuable information for packaging companies and manufacturers of meatainers by offering an extensive forecast on the global meatainers market for the assessment period, 2017-2026. By addressing the key concerns of meatainer manufacturers and reflecting the impact of latest industry trends, the report delivers accurate forecast & analysis on the global meatainers market, and serves as a credible business documents for market players.
Insightful Forecast on Global Market for Meatainers
This forecast study comprises of a range of distinct sections and chapters that illustrate a microscopic segmentation of different aspects encompassing the production and sales of meatainers. Findings from the report indicate the potentials for expanding consumer bases and improving the exposure of meatainers in the global meat production industry. The impact of changing directives for production, storage and transportation of meat products has been weighed to estimate how meatainers can incur advancements in the coming years. Design trends, cost-effective production techniques and favorable industrial regulations have been disclosed to increase the profitability of meatainers.
By referring to the insights provided in this report, meatainer manufacturers can formulate effective ways to expand their businesses beyond conventional margins. Identifying the veiled opportunities in the global meatainer marketplace has been a challenge for market players, and analysis compiled in the report aims to disclose these avenues through actionable insights. Information has been directed to enable meatainer manufacturers in deciding the modifications feasible for long-term and profitable business growth.
Details on Information Assessment & Market Analysis
Considering the dwindling profitability of packaging products and the fluctuating prices of meat products, this report has generated datapoints on how market players can minimize risks. By revealing lucrative regions and countries for market expansion, this report can enable these companies in re-strategizing their global measures.
Authentic databases and constant dialogue with market players are the key sources of procurement baseline information for market size forecasting. This data is aggregated to create a framework on how the demand for meatainers will evolve in the near future. Statistical formulations and tested analytical techniques have been employed for forecasting the growth of global meatainers market across multiple parameters. Qualitative data has been infused with quantitative findings to bolster the accuracy of forecasted market size evaluations. Segmental and cross-segmental analysis is another highlighted refactoring of the data procured through primary and secondary research methodologies.
Comprehensive Breakdown of Competition Landscape
Leading companies in the global meatainers market have been profiled in this report. Companies can avail this study to assess their current market standings and understand opportunities for improving their reputation. Manufacturing challenges, supply chain complexities and pricing volatility have been addressed and analyzed to resolve the concerns of market players. Competitor analysis detailed in this report is of great value for emerging players in the global meatainers market. Profitable strategies of market leaders have been disclosed, providing first-hand information for nascent companies on how to leap over established market players.
The report also helps meatainer manufacturers in establishing trends by informing them on emerging developments in terms of design, material usage, application and functionality of meatainers. The scope of the report is to ensure that meatainer manufacturers can employ robust decisions in enhancing their business towards future market direction.
Fact.MR offers custom research services that help clients to get specific research solutions
We are committed towards customer satisfaction and quality service.
---
Our Clients

Meatainers Market Forecast, Trend Analysis & Competition Tracking - Global Market insights 2017 to 2026