PCR and Real-time PCR Molecular Diagnostics Market
PCR and Real-time PCR Molecular Diagnostics Market By Technology (Traditional PCR, Real-time PCR, Digital PCR), By Product (Instruments, Reagents, Consumables), By Application (Infectious Diseases Testing, Oncology Testing, Genetic Testing)- Global Market Insights 2020 to 2030
FACT5247MR
Sep-2021

List of Tables : 37

List of Figures : 85

170 Pages
PCR and Real-time PCR Molecular Diagnostics Market Overview
In recent years, uptake of polymerase chain reaction (PCR) molecular diagnostics has experienced substantial increase. PCR tests are highly effective in detecting pathogenic DNA for several contagious diseases. Efforts are underway to improve the scope of PCR and RT-PCR tests to discover treatments for life-threatening ailments.
The COVID-19 pandemic has especially bolstered prospects for the expansion of the PCR and real-time PCR molecular diagnostics market size. Various healthcare settings have deployed real-time (qPCR) and digital (dPCR) PCR tests to detect and diagnose possible cases. Its highly sensitive nature has led healthcare providers to adopt PCR tests on a large scale. On the back of such trends, the global PCR and real-time PCR molecular diagnostics market is set to reach new heights, surpassing an impressive revenue threshold in the coming decade.
Avail customized purchase options for your needs
PCR and Real-time PCR Molecular Diagnostics Market: Technology Insights
Real-time PCR tests are likely to retain lucrativeness, attributed to higher sensitivity, timely processing of test results, greater precision, and less prone to contamination, thereby limiting error margins. Uptake of RT-PCR tests has specifically surged amid the COVID-19 pandemic.
Likewise, digital PCR tests are acquiring traction, owing to increasing smart technology penetration across the healthcare sector. Digital PCR tests do not require calibration against standards, an aspect that is important for RT-PCR tests. Moreover, dPCR tests can also detect more samples as opposed to traditional PCR tests.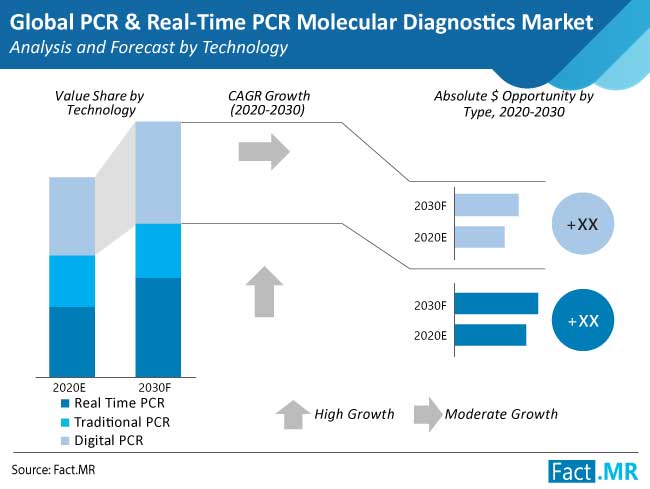 PCR and Real-time PCR Molecular Diagnostics Market: Application Insights
Testing for infectious diseases is likely to attain high growth, attributed to high prevalence of sexually-transmitted infections, respiratory infections, and hepatitis C and B, respectively. Immense traction is expected related to this for the PCR and real-time PCR molecular diagnostics market in the wake of the COVID-19 pandemic.
Simultaneously, oncology is touted to emerge as a key application area. Continuous innovations and technological breakthroughs are likely to enhance PCR molecular diagnostics in the detection, diagnosing, and treating cancers on a large scale. An impressive revenue share is projected for the segment in the global PCR and real-time PCR molecular diagnostics market.
An Adaptive Approach to Modern-day Research Needs
PCR and Real-time PCR Molecular Diagnostics Market: Product Insights
Consumables and reagents are likely to remain primary PCR molecular diagnostic products until 2030. The launch of new PCR testing kits in recent years to identify and detect pathogen presence across various end-use industries is uplifting their growth. In 2017, AOAC International granted approval to Bio Rad Laboratories' iQ-Check (Real-time PCR Kit) as the official Salmonella bacteria detection approach in the meat industry. This development has paved the way for future advanced meat pathogen detection techniques.
PCR and Real-time PCR Molecular Diagnostics Market: End Use Insights
Hospitals will remain the primary PCR molecular diagnostics technology end users, owing to high preference by patients to seek professional treatment. Hospitals possess the necessary qualified personnel capable of conducting such complicated tests and provide precise results. Recently, diagnostic labs and academic and research institutions have also been demanding advanced molecular diagnostics to streamline their research and testing capacities. These settings provide an ideal environment for technicians and students to acquaint themselves with the latest diagnostics technology through trial and error.
Interested to Procure The Data
Regional Outlook of PCR and Real-time PCR Molecular Diagnostics Market
Regionally, North America is expected to remain highly promising and hold a prominent PCR and real-time PCR molecular diagnostics market share, owing to multiple product launches and a burgeoning healthcare industry. Over the years, regulatory approvals by the FDA have expanded the scope of molecular diagnostics, encouraging vendors to flood the market with advanced PCR testing kits.
A high proportion of the geriatric population and consequent rise in chronic & infectious ailments has broadened growth prospects across Asia Pacific. Timely detection of HIV/AIDS, cancer, and hepatitis CandB have accelerated the need for adopting accurate RT-PCR testing kits across key countries.
PCR and Real-time PCR Molecular Diagnostics Market Trends
Elevated Burden of Infectious and Chronic Ailments: PCR and RT-PCR tests are finding significant ground amid increasing incidence of chronic and infectious diseases. According to WHO, cancer is the leading cause of frailty and deaths around the world, comprising nearly 10 million fatalities in 2018.
RT-PCR tests have therefore proven extremely useful in identifying numerous small tumor cells circulating within the human body. These tests assist in providing accurate prognosis and predict resistance, toxicity, or response to chemotherapy. Likewise, the test is also used to detect HIV/ADIS and Hepatitis C, respectively.
High Demand for Advanced Molecular Diagnostics: With increased complications of chronic and infectious ailments, demand for sophisticated diagnostic tools to address them has taken precedence. Timely detection is important to manage and stem further spread of diseases such as cancer. Clinical benefits such as enhanced sensitivity, broader application, and better turnaround times are accelerating the uptake of advanced molecular diagnostics. Based on this trend, demand for PCR and RT-PCR tests is likely to proliferate in the coming years, bolstering the growth of the PCR and real-time PCR molecular diagnostics market.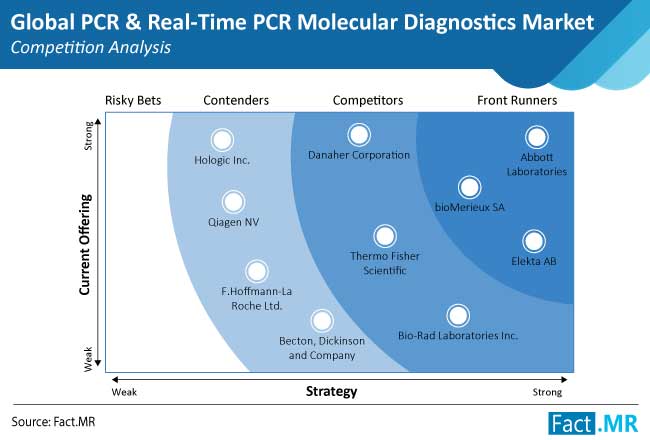 PCR and Real-time PCR Molecular Diagnostics Market: Prominent Players
These players rely on product launches, regulatory approvals, technological advancements, and adoption of advanced molecular diagnostics to remain afloat. Additionally, they also depend on collaborations with other players, governmental agencies, research institutes, and manufacturers to deepen their geographical presence. With the COVID-19 pandemic crisis looming large, manufacturers are directing all their resources towards developing advanced testing kits.
Abbott Laboratories, for instance, received an emergency use authorization (EUA) from the U.S. FDA to introduce its RealTime SARS-CoV-2 assay-based on PCR for qualitative nucleic acid detection.
In 2017, Danaher Corporation acquired ID Business Solutions Ltd. with the objective of expanding its life sciences business portfolio. Currently, the company is also accelerating PCR testing kit production for health organizations to address the COVID-19 pandemic.
In March 2020, Bio Rad Laboratories partnered with testing labs worldwide to develop and implement RT-PCR products for the detection of novel coronavirus. An extensive user of these products is the Assurance Scientific Laboratories in Birmingham, Alabama. It uses Bio-Rad's CFX384 Touch Real-Time PCR Detection Systems.
The Analyst's Viewpoint
"Global demand for PCR and RT-PCR diagnostics is anticipated to remain on an upward trajectory even in the post-pandemic scenario. This is largely the outcome of advancements in diagnostic sciences to discover more robust and advanced treatment approaches for multiple ailments."
Prolific Opportunities Lie Ahead due to COVID-19 Pandemic
The novel coronavirus pandemic has dramatically accelerated the PCR and RT-PCR molecular diagnostics market growth prospects. Manufacturers are accelerating testing kit production to cope with the exponentially surging number of positive cases around the world.
Various international agencies such as the World Health Organization, Food and Agricultural Organization, and a host of governmental and non-governmental organizations are lending monetary and policy support to nations to escalate the availability of PCR testing kits.
Real-time PCR testing is highly sensitive and specific, capable of delivering reliable diagnosis in as little as 3 hours. Error margins are significantly reduced as the entire testing process is conducted in a closed tube. Compared to alternative virus isolating isolation techniques, PCR and RT-PCR molecular diagnostics possess lower cross-contamination risks, providing accurate and precise results.
Moreover, PCR tests are much faster in terms of test results delivery. As such, the COVID-19 outbreak is accelerating the progress of the global PCR and real-time PCR molecular diagnostics market.
PCR and Real-time PCR Molecular Diagnostics Market: About the Report
Fact.MR has published an exclusive forecast report on the PCR and real-time PCR molecular diagnostics market from 2020 to 2030. The foremost objective of this report is to pitch insights on the market scenario, demand generators, and technological advancements in the PCR and real-time PCR molecular diagnostics market. Also, the study addresses key dynamics that are expected to diversify the sales and future prominence of the market.
The report begins with an executive overview, in which, product definition has been provided. The report further proceeds with the taxonomy of the PCR and real-time PCR molecular diagnostics market, elaborating on key segments. Also, the report outlines visionary insights on the dynamics of the PCR and real-time PCR molecular diagnostics market, including the drivers, restraints, opportunities, trends, and pricing analysis, along with key buying factors for PCR and real-time PCR molecular diagnostic kits.
PCR and Real-time PCR Molecular Diagnostics Market: Segmentation
Fact.MR has studied the PCR and real-time PCR molecular diagnostics market with detailed segmentation on the basis of technology, product, application, end user, and key regions.
Technology
Traditional PCR
Real-time PCR
Digital PCR
Product
Instruments
Reagents
Consumables
Application
Infectious Diseases Testing

HCV and HBV
Sexually Transmitted Infections
Hospital Acquired Infection
Respiratory Infections
Others

Oncology Testing
Genetic Testing
Others
End User
Hospitals
Diagnostic Laboratories
Academic and Research Centers
Others
Region
North America
Europe
Asia Pacific
Latin America
Middle East and Africa
"This taxonomy prepared is confidential and intended exclusively for the individual or entity with whom it is being shared. Reading, disseminating, distributing, or copying this to any party other than addressee(s) is unauthorized and prohibited."
Need an Exclusive Report for your Unique Requirement?
- Our Clients -