Grand Mal Seizure Treatment Market
Grand Mal Seizure Treatment Market Analysis By Drug Generation (First, Second, Third), By Drug Class (Barbiturates, Hydantoin, Phenyltriazine, Iminostilbenes, Benzodiazepines, Aliphatic Carboxylic Acids), By Diagnosis (Magnetic Resonance Imaging, Electroencephalogram, Blood Tests, Computed Tomography), By End User (Hospitals, Clinics, Academic and Research Centers), & By Region - Global Market Insights 2023 to 2033
Analysis of Grand Mal Seizure Treatment Market Covering 30+ Countries Including Analysis of US, Canada, UK, Germany, France, Nordics, GCC countries, Japan, Korea and many more
Grand Mal Seizure Treatment Market Outlook (2023 to 2033)
Expanding at a CAGR of 4.5%, the global grand mal seizure treatment market is expected to increase from a value of US$ 2 billion in 2023 to reach US$ 3.2 billion by the end of 2033.
Increasing worldwide prevalence of epilepsy, rising demand for effective treatment options, and growing awareness about the condition are the prime factors driving the growth of the grand mal seizure treatment market across the world.
According to the World Health Organization, epilepsy is one of the most common neurological disorders worldwide, affecting approximately 50 million people globally.
Grand mal seizures, also known as generalized tonic-clonic seizures, are a type of seizure that affects the entire brain and can lead to loss of consciousness, convulsions, and muscle stiffness. The treatment of grand mal seizures typically involves the use of antiepileptic drugs (AEDs) and other medications to control seizures.
When an epileptic seizure exhibits both tonic and clonic seizure characteristics, it is referred to as a tonic-clonic seizure. Tonic describes rigidity, whereas clionic describes rhythmic jerking. The tonic phase begins first and is characterized by tensed muscles, a cry or groan produced when air is forced through vocal cords, falling to the ground, and saliva that may contain some blood appearing on the tongue or the interior of the cheek.
After the tonic phase, the clonic phase occurs, during which the elbows, hips, and knees flex and relax in addition to the legs and arms starting to jerk rapidly and often. After a while, the shaking slows down and eventually stops. Generalized tonic-clonic seizures can happen to anyone of any age. It could be classified as a single occurrence or a persistent, recurrent illness (epilepsy). Some seizures are psychogenic, meaning they are brought on by mental health issues.
Barbiturate anticonvulsants are a class of medications made from barbituric acid that works by reducing central nervous system activity. Barbiturate anticonvulsants increase the inhibitory neurotransmitter gamma-aminobutyric acid's (GABA) activity, which prevents the discharge that would trigger a seizure. Barbiturates enhance GABA's efficacy by facilitating GABA-mediated chloride channel opening. All types of seizures, except for absence seizures, are treated using barbiturates.
Report Attributes

Details

Grand Mal Seizure Treatment Market Size (2023E)

US$ 2 Billion

Forecasted Market Value (2033F)

US$ 3.2 Billion

Global Market Growth Rate (2023 to 2033)

4.5% CAGR

Leading Regional Market

North America

Key Companies Profiled

Pfizer
Johnson & Johnson
UCB Celltech
Abbott Laboratories
GlaxoSmithKline
Novartis
Sanofi
Takeda
Teva Pharmaceutical
Shire Pharmaceuticals Limited
Don't Need a Global Report?
save 40%! on Country & Region specific reports
Which Market Trends are Benefitting Grand Mal Seizure Treatment Providers?
"Neurostimulation, Deep Brain Stimulation, & Gene Therapy Fruitful Innovations in Grand Mal Seizure Treatment"
Grand mal seizures are a common type of seizure experienced by individuals with epilepsy, which is driving the demand for effective treatment options. The risk of seizure is expected to increase with the growing rate of the population worldwide.
Advancements in medical technologies are also expected to play a major role in the future of the grand mal seizure treatment market. Innovative therapies and devices such as neurostimulation devices, deep brain stimulation, and gene therapies are in development and hold promise for the future treatment of epilepsy and grand mal seizures.
According to National Center for Biotechnology Information, a gene therapy called ADVM-022 was effective in reducing seizure frequency in patients with epilepsy.
"Personalized Medicines to Take Center Stage in Grand Mal Seizure Treatment"
The market is also experiencing a growing focus on personalized medicine in the treatment of epilepsy and grand mal seizures. This approach involves tailoring treatments to individual patients based on their unique genetic, clinical, and lifestyle factors. This personalized approach has the potential to improve treatment outcomes and reduce the risk of adverse side effects.
"Grand Mal Seizure Treatment Research Leading to Improved Antiepileptic Drugs"
Pharmaceutical companies are investing heavily in research and development activities to develop new medications and therapies for grand mal seizures. This includes the development of new antiepileptic drugs (AEDs) with improved efficacy and fewer side effects, as well as the repurposing of existing drugs for the treatment of epilepsy.
The increasing use of telemedicine and digital health technologies is expected to have a significant influence on the developments in the grand mal seizure treatment market. These technologies enable remote monitoring of patients, personalized treatment planning, and better communication between patients and healthcare providers.
"Collaborative Efforts Driving Higher Awareness"
Continuous cooperation of numerous organizations, institutions, and governments in the fight against the stigma associated with epilepsy and seizures has resulted in higher awareness and a corresponding growth in demand for treatment.
For instance, to 'bring the disease out of the shadows', World Health Organization (WHO), International League Against Epilepsy (ILAE), and International Bureau for Epilepsy (IBE) collaboratively launched a global campaign against epilepsy.
The WHO Programme on Reducing Epilepsy Treatment Gap and the Mental Health Gap Action Programme (mhGAP) were successful in accomplishing these goals in Ghana, Mozambique, Myanmar, and Vietnam. These programs seek to increase the ability of primary care and non-specialist healthcare providers in the community to recognize, treat, and monitor epilepsy patients. These 4 pilot programs have improved access to epilepsy care, adding around 6.5 million individuals to the care list.
Why is Demand for Grand Mal Seizure Treatment Solutions Sluggish in Developing Countries?
"Stigma & Discrimination Restraining Patients from Reaching Out for Proper Care"
In numerous regions of the world, stigma, prejudice, misinformation, and fear dominates mental health in patients with epilepsy and seizures, while stigma and discrimination commonly affect individuals and their families who have epilepsy. The stigma associated with this disease, which is still present in many developing and poor countries, affects patients' quality of life. Some patients may be deterred from seeking treatment because they don't want to be associated with their illness due to the stigma attached to it.
According to WHO, about 80% of individuals with epilepsy reside in countries with low or middle incomes, and 75% of patients do not receive adequate care, which is a significant problem impeding the market size for epilepsy treatment solutions.
More Insights, Lesser Cost (-50% off)
Insights on import/export production,
pricing analysis, and more – Only @ Fact.MR
Is the Grand Mal Seizure Treatment Market Opportunistic for New Companies?
"Partnering Key to Profitability in the Long Run"
Entering the grand mal seizure treatment market can be challenging for new companies, but several strategies can help them succeed in this field:
Developing innovative treatments that address unmet needs can help new companies stand out in the market. For example, new treatments that have fewer side effects, faster onset of action, or better efficacy can be attractive to patients and healthcare providers.
Partnering with established companies can help new companies gain access to resources and expertise that they may not have on their own. This can include funding, research and development capabilities, and marketing expertise.
Building strong relationships with healthcare providers can help new companies gain access to patients and build credibility in the market. This can include educating healthcare providers about new treatments and providing support services to help them better manage their patients. Together both can take initiatives regarding awareness about seizures and their treatment, which may aid in increasing the sales of grand mal seizure treatment technologies.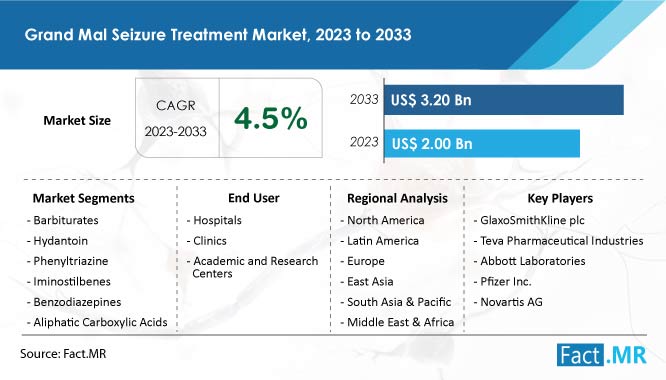 Country-wise Analysis
Why is the United States a Leading Market for Grand Mal Seizure Treatment Solutions?
"New Seizure Drugs, New Hope - Market Participants Introducing Innovative Treatments"
Rising prevalence of epilepsy, growing awareness about grand mal seizure and its treatment, and the introduction of new drugs by market participants are all boosting sales of grand mal seizure drugs in the United States.
Sales are also growing due to the presence of medications for various elderly groups. For instance, the FDA granted UCB Celltech's application to expand the approved use for BRIVIACT (brivaracetam) CV tablets, injection, and oral solution, to include the treatment of partial-onset seizures among individuals as young as 30 days old in August 2021.
For the first time, paediatric patients who cannot receive BRIVIACT orally now have access to the IV formulation of the drug. One of the first IV formulations to be authorized for the treatment of partial-onset seizures in children aged one month and older is this one.
In the United States, numerous organizations are working together to increase public knowledge about epilepsy. For instance, Purple Day, also known as Epilepsy Awareness Day, is observed yearly on March 26 to reduce stigma and raise public knowledge of this brain illness.
How are Technological Advancements Uplifting the Sales of Grand Mal Seizure Treatment Technologies in Germany?
"Wearable Sensing Devices Transforming Seizure Management"
Growing cases of seizure, the presence of key market players, and the existence of advanced healthcare facilities are boosting demand for generalized tonic-clonic seizure drugs in Germany.
Advancements in technologies are also benefitting the German market. There are now numerous wearable gadgets that can identify seizures, record seizure information, and notify carers. Furthermore, wearable technologies may provide accurate seizure probability estimates, giving persons with epilepsy the chance to take quick-acting medications or alter their routines in advance of a seizure. As a result, wearable sensing devices are becoming more widely used in both the general public and in medical settings.
What is Benefitting Manufacturers of Grand Mal Seizure Treatment Products in India?
"Market with Potential - High Demand for MRI Equipment Gives Chance for Local Manufacturers to Compete"
India currently holds a major position in the Asia Pacific market for grand mal seizure treatment solutions. Rising developments in the production of seizure treatment & diagnosis machines are aiding market growth in the country.
The director of the Inter-University Accelerator Centre (IUAC) reportedly indicated in press reports from September 2022 that India has 1.5 MRI machines per million people.
In comparison, developed countries have more than 10 MRIs per million inhabitants.
This demonstrates the high demand for MRI equipment in India throughout the course of the projection period. This need gives local manufacturers and other major players the chance to offer MRIs at competitive pricing.
Know thy Competitors
Competitive landscape highlights only certain players
Complete list available upon request
Category-wise Analysis
Which Type of Drug is Widely Popular for Seizure Treatment?
"Second-Generation Drugs Preferred Choice for Treatment"
Second-generation drugs for grand mal seizure such as anti-epileptic medications are anticipated to hold the major market share due to their several important benefits, such as fewer adverse events that could be life-threatening, reduced interactions between drugs, and a less detrimental effect on cognitive functioning. The rising cases of seizures worldwide are expected to boost sales of second-generation drugs during the forecast period.
Introduction of second-line medications for the treatment of epilepsy by the various market participants is also accelerating the development of the market.
Dr. Reddy's Laboratories introduced Vigabatrin tablets, an antiepileptic medication, on the United States market in February 2021 after gaining permission from the United States Food and Drug Administration.
Competitive Landscape
Top companies in the grand mal seizure treatment market are making significant investments in R&D operations to develop novel and cutting-edge grand mal seizure medications. This improves their competitive position and accelerates the growth of their revenue.
The USFDA approved the lacosamide injectable ANDA application from Indoco Remedies in April 2022. Partial-onset seizures in patients older than 17 years are treated with anticonvulsant medicine in a single-dose vial.
Key Segments of Grand Mal Seizure Treatment Industry Research
By Drug Generation :

By Drug Class :

Barbiturates
Hydantoin
Phenyltriazine
Iminostilbenes
Benzodiazepines
Aliphatic Carboxylic Acids

By Diagnosis :

Magnetic Resonance Imaging
Electroencephalogram
Blood Tests
Computed Tomography

By End User :

Hospitals
Clinics
Academic and Research Centers

By Region :

North America
Latin America
Europe
East Asia
South Asia & Oceania
MEA
- FAQs -
The global grand mal seizure treatment market stands at US$ 2 billion in 2023.
Worldwide demand for grand mal seizure treatment products is expected to reach US$ 3.2 billion by 2033.
Revenue from grand mal seizure treatment solutions is predicted to increase at a CAGR of 4.5% from 2023 to 2033.
Johnson & Johnson, UCB Celltech, and Abbott Laboratories are leading market players in this space.
North America is currently dominating the global market for grand mal seizure treatment solutions.