Radiation Proctitis Treatment Market
Radiation Proctitis Treatment Market, Forecast, Trend, Analysis & Competition Tracking - Global Market Insights 2021 to 2031
FACT5281MR
Apr-2021

List of Tables : 28

List of Figures : 52

170 Pages
About the Report
The global radiation proctitis treatment market is expected to progress at a healthy CAGR of around 7% from 2021 to 2031. Demand for acute radiation proctitis treatment is high, while over the coming years, the need for chronic radiation proctitis treatment is expected to increase significantly.
Radiation proctitis treatment is grabbing eyeballs, with major healthcare providers and companies augmenting their R&D capacities to introduce highly advanced treatment approaches. Moreover, increasing hospitalization rates due to major types of cancers is inclining the deployment of radiation therapy, leading to the emergence of conditions such as ulcerative colitis.
Manufacturers are primarily emphasizing on chronic radiation proctitis treatment, given the high prevalence rates attributed to repeated radiation therapy sessions undergone by cervical and prostate cancer patients. Manufacturers are touting key approaches, including hyperbaric oxygen therapy (HBOT), to address this growing problem, yielding major benefits.
In its new study, consulting firm Fact.MR offers insights about key factors driving demand for radiation proctitis treatment. The report tracks global sales in 20+ high-growth markets, along with analyzing the impact COVID-19 has had on the healthcare domain in general, and radiation proctitis treatment demand in particular.
Historical Trends Vs. Future Growth Projections
As the global burden of cancer increases, patients are seeking highly effective therapeutic approaches, including chemotherapy and radiation treatment. A series of clinical trials were initiated in the past to verify the efficacy of numerous therapeutic approaches, leading to a significant incline. As of 2019, the market surpassed US$ 300 million.
During the COVID-19 pandemic, the market experienced significant development, especially with regard to enhancing availability of hyperbaric oxygen therapy (HBOT), as it hyperoxygenates the blood to inhibit possible inflammation of muscles and tissues. However, a blip was experienced in the initial phases, attributed to postponement of elective surgical procedures.
According to Fact.MR's projections, prospects appear largely optimistic for 2021. Long-term prospects also appear healthy, with a projected CAGR of around 7% for the next ten years, and a market valuation of nearly US$ 750 million for 2031.
Know More Details About the Report
How is Rising Pelvic Cancer Burden Stimulating Demand for Radiation Proctitis Treatment?
According to the World Health Organization, cervical cancer is the most prevalent type of pelvic cancer, with an estimated 570,000 women being diagnosed as of 2018. By 2020, this number rose to over 600,000, representing 6.5% of all female cancers. Cervical cancer is the most common cancers among women across more than 30 low- and middle-income countries, mostly in sub-Saharan Africa.
Consequently, various therapeutic approaches have been introduced to address this ever-widening problem. Amongst all, radiation therapy is the most extensively deployed, both, as a part of the main treatment as well as to treat its recurrence. The most commonly relied-upon treatments include external beam radiation and brachytherapy.
External beam therapy deploys X-rays at the cancer site, albeit with a much stronger radiation dosage. However, prolonged exposure to such radiation heightens the risk of developing ulcers or lesions in the pelvic area, especially near the rectum, leading to the development of proctitis at these sites, thus fueling demand for its treatment across key regions.
Why is Hyperbaric Oxygen Therapy Poised to Generate New Opportunities?
Hyperbaric Oxygen Therapy (HBOT) is an adjunctive therapy used to treat several conditions, including radiation proctitis and enteritis. During treatment, patients breathe 100% oxygen while inside a pressurized treatment chamber. This causes the blood to become hyperoxygenated, thereby promoting angiogenesis, collagen synthesis, epithelialization, and improved leukocyte function.
HBOT is being touted as one of the few highly effective treatments for patients with severe radiation-induced symptoms, including proctitis and cystitis with bleeding. Although existing evidence provides highly limited data regarding its efficacy, clinicians are optimistic about its future application potential, with existing clinical trials attempting to establish some concrete proof.
Presently concluded HBOT trials have established that healing responses in patients with refractory radiation proctitis yielded an absolute risk reduction of 32%, with other medical management requirements discontinued and the need for advanced interventions largely avoided.
Avail customized purchase options for your needs
How are Alternative Non-oral Therapeutic Approaches Widening Growth Prospects?
Besides oral drug therapies, prominent companies and healthcare providers are offering a slew of alternative treatment approaches, including remedial laser techniques to address cases of continuous rectal bleeding. Moreover, formaldehyde administration prior to surgical therapy is also being considered. During a clinical trial, a 4% formalin was administered to 20 patients with clinical and proctoscopic evidence of radiation proctitis.
This treatment involved direct administration into the rectum, with highly positive results. A complete resolution of symptoms was achieved in all the patients. Moreover, healthcare professionals are conducting a descending or transverse colostomy for patients when surgery is required. Companies in the radiation proctitis treatment market are increasing the availability of intraperitoneal injections of formalin.
Other novel methods such as cold therapy and radiofrequency ablation (RFA) are grabbing the attention of healthcare providers. Colostomy is gaining prominence as an effective and safe procedure for treating rectal ulcer of chronic radiation proctitis patients. Colostomy helps control rectal bleeding and effectively relieve pain in patients.
Will High Cost of Hyperbaric Oxygen Therapy Restrain Market Growth?
Cost is one of the major factors that influences the selection of treatment. Hyperbaric oxygen therapy is one of the few treatments for patients with severe radiation-induced symptoms, which include proctitis and cystitis with bleeding.
Currently, hyperbaric oxygen therapy is expensive, and therefore, low- and middle-income patients are unable to afford it, despite significant therapeutic effects. This might act as a major restraint for the growth of the radiation proctitis treatment sector.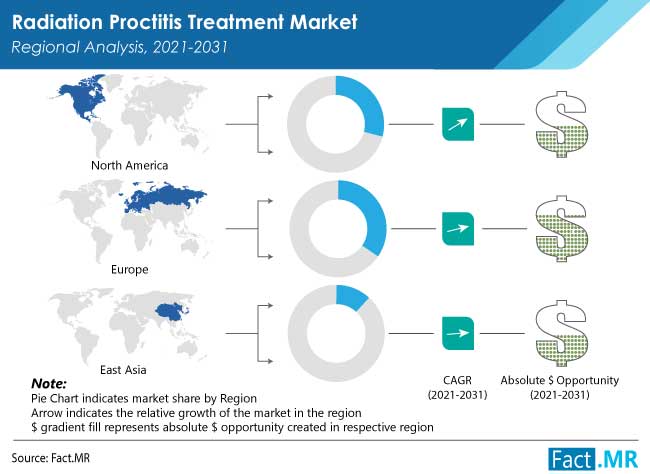 An Adaptive Approach to Modern-day Research Needs
Country-wise Analysis
Why is Demand for Radiation Proctitis Treatment High in the U.S.?
According to the National Center for Biotechnology Information, radiation therapy is extensively utilized for pelvic malignancies, including prostate cancer, colorectal cancer, and cervical cancer. In spite of advances in radiation science, nearly 75% of patients suffer from acute radiation proctitis, with up to a fifth experiencing chronic symptoms.
It is estimated that more than 200,000 patients undergo radiation therapy across the U.S. for abdominal, pelvic, and retroperitoneal malignancies, including but not limited to, prostate cancer, bladder cancer, gynecologic cancers, rectal cancers, and lymphoma. An estimated 1.5 to 2 million cancer survivors suffer from radiation induced intestinal tract dysfunction. Several gastrointestinal symptoms have been observed in over 30% of the patients.
Based on these aforementioned trends, the scope for radiation proctitis treatment across the country has increased manifold. Opportunities abound for manufacturers in the hyperbaric oxygen treatment domain. Sechrist Industries Ltd. is a prominent manufacturer of this technology, offering such product ranges as the Model 4100H, 3600H, 3300H, and 2800 pneumatic hyperbaric oxygen chambers. In the future, this technology has tremendous potential to address a majority of radiation proctitis cases, leading to the generation of multiple revenue streams.
Why is Cervical Cancer Treatment Heightening U.K.'s Growth Prospects?
The UK radiation proctitis treatment market is highly reliant on growing cervical cancer treatment. According to Cancer Research UK, between 2015 and 2017, on average each year around a tenth of new cases (9%) were in females, aged above 75 years. It is the 14th most common cancer in females, accounting for 2% of total cancer cases.
Over the years, major technological advancements have ushered in highly sophisticated treatment approaches, including radiotherapy, which account for 40% of the total cancer treatment across the UK. As it uses high energy x-rays to kill cancer cells, it is highly preferred as a part of the main treatment. However, this approach also has numerous side effects.
Symptoms such as diarrhea, bladder inflammation, vaginal bleeding, sore & red skin and fatigue are commonplace, as are some long-term changes such as early menopause and skin changes, along with irritation of the rectum. Hence, manufacturers are expected to increase their foray in this region in the long-run forecast period.
Will Increasing Healthcare Expenditure Drive the Market in Germany?
According to The Economist Intelligence Unit, Germany accounts for the highest healthcare expenditure of over 11% in the European Union (EU), and the 2nd highest in terms of per capita spending. As of 2019, healthcare expenditure in Germany amounted to € 410.8 billion. This figure rose by € 19.3 billion, or 4.9% in 2021.
A substantial part of this budgetary allocation has been directed towards funding extensive cancer research and diagnostics approaches. Majority of these approaches involve conventional methodologies, including surgery, chemotherapy, radiation therapy, as well as targeted therapy, immunotherapy and other progressive directions of oncology for a variety of cancers.
Unfortunately, the increasing reliance on radiotherapy has elevated incidences of radiation proctitis. Hence, several medications have been approved for the treatment of ulcerative colitis, a common manifestation of radiation proctitis. The most recommended first-line treatments for mild to moderate ulcerative colitis include anti-inflammatory 5-aminocsalicyclic acid (5-ASA) preparations containing sulfasalazine, mesalazine or olsalazine.
Category-wise Insights
How is Chronic Radiation Proctitis (CRP) Treatment Fueling Market Expansion?
Although treatment for acute radiation proctitis remained dominant, attributed to a high prevalence rate (20%), chronic radiation proctitis treatment is anticipated to witness significant momentum in the forthcoming decade. While acute side effects manifest up to 3 months post treatment, chronic ones usually occur 3-6 months, or even years later post radiation therapy.
Medical therapy involving use of high amifostine and sucralfate has proven to be quite effective in imparting a protective barrier against the early and late short-term effects of radiation therapy. Moreover, research has concluded that use of synbiotics and microbiotics can be used to manipulate intestinal flora to prevent and treat CRP. Sun Pharmaceutical Industries is amongst the leading manufacturers of amifostine drug candidates.
Why is Oral Therapy Radiation Proctitis Treatment Expected to Remain the Most Preferred?
By treatment, oral radiation proctitis therapy is expected to remain dominant, attributed to its non-invasive nature. Amongst all oral treatment option, anti-inflammatory drugs consumption is expected to be the most widespread. Sulfasalazine, balsalazide and mesalazine are some important anti-inflammatory drugs deployed to treat radiation proctitis.
A number of regional level manufacturers offering anti-inflammatory treatment. These include Valens Molecules (sulphasalazine), PharmaZell (balsalazide), Surya Life Sciences (mesalazine), Jiangsu RUIKE (sulphasalazine), Corden Pharma (sulphasalazine) and BEC Chemicals (mesalazine) to name a few. These ingredients prove highly effective in scavenging oxygen radicals and inhibition of bacterial flora.
Have a report related query? Speak to us directly
Competitive Landscape
The global radiation proctitis treatment market appears significantly fragmented, attributed to the presence of a large number of global and regional level manufacturers. Primary expansion strategies involve releasing new radiation proctitis treatment products, leveraging partnerships & collaborations, scrambling for regulatory approvals and acquisition of other players.
In December 2019, Amneal Pharmaceuticals Inc. entered into a definitive agreement wherein it acquired a 65.1% majority interest in AvKARE and its related affiliate doing business as R&S Northeast, valued at over US$ 300 million. The addition of AvKARE has enabled Amneal to diversify its business across the U.S. federal healthcare market.
In December 2020, Pfizer Inc. and Myovant Sciences announced a collaboration to develop and commercialize relugolix- a once-daily, gonadotrophin-releasing hormone (GnRH) receptor antagonist. The drug candidate is scheduled to be made available for oncology and women's health across the US and Canadian markets. The companies will jointly produce and commercialize ORGOVYXTM for advanced prostate cancer and to further women's health.
Recently, in April 2021, Sanofi SA acquired Kiadis Pharma, a clinical-stage biopharmaceutical company developing next generation off-the-shelf NK cell-therapies. This acquisition is another milestone in Sanofi's emerging presence in the immuno-oncology sector. The company is likely to own around 95.03% of the issued outstanding share capital on a fully diluted basis.
Report Scope
Attribute

Details

Forecast Period

2021-2031

Historical Data Available for

2016-2020

Market Analysis

US$ Mn for Value & '000 Units for Volume

Key Regions Covered

North America
Latin America
Europe
Asia-Pacific
Middle East & Africa

Key Countries Covered

US
Canada
Brazil
Mexico
Germany
UK
France
Italy
Spain
Japan
China
India
Australia & New Zealand
GCC
South Africa

Key Segments Covered

Key Companies Profiled

Allergan Plc.
Teva Pharmaceutical Industries Ltd.
Amneal Pharmaceuticals Inc.
Pfizer Inc.
Mylan Inc. (Viatris)
Sanofi SA
Johnson & Johnson (Johnson & Johnson Consumer Inc.)
Sun Pharmaceutical Industries Ltd.
Environmental Tectonics Corporation
Sechrist Industries Ltd.

Customization & Pricing

Available upon Request
Key Market Segments
Indication

Acute Radiation Proctitis
Chronic Radiation Proctitis

Therapy

Oral Therapy

Antidiarrheal
Anti-inflammatory Agents
Others

Ablative Procedures
Hyperbaric Oxygen Therapy
Formalin
Surgery

Region

North America (US and Canada)
Latin America (Brazil, Mexico and Rest of LATAM)
Europe (Germany, UK, France, Spain, Italy and Rest of Europe)
Asia-Pacific (Japan, China, India, Australia & New Zealand and Rest of APAC)
Middle East & Africa (GCC, South Africa and Rest of MEA)
Radiation Proctitis Treatment Market- Scope of Report
A recent study by Fact.MR on the radiation proctitis treatment market offers a 10-year forecast for 2021 to 2031. The study analyzes crucial trends that are currently determining the growth of the market. This report explicates on vital dynamics, such as the drivers, restraints, and opportunities for key market players along with key stakeholders as well as emerging players associated with offering radiation proctitis treatment.
The study also provides the dynamics that are responsible for influencing the future status of the market over the forecast period. A detailed assessment of value chain analysis, business execution, and supply chain analysis across regional markets has been covered in the report.
A list of prominent companies operating in the radiation proctitis treatment market, along with their product portfolios, enhances the reliability of this comprehensive research study.
Report Summary
The study offers comprehensive analysis on diverse features, including production capacities, demand, product developments, revenue generation, and sales of radiation proctitis treatment solutions across the globe.
A comprehensive estimate on the market has been provided through an optimistic as well as a conservative scenario, taking into account the sales of radiation proctitis treatment solutions during the forecast period. Price point comparison by region with global average price is also considered in the study.
Market Segmentation
Fact.MR has studied the radiation proctitis treatment market with detailed segmentation on the basis of indication, therapy, and region.
Indication

Acute Radiation Proctitis Treatment
Chronic Radiation Proctitis Treatment

Therapy

Oral Therapy

Antidiarrheal
Anti-inflammatory Agents
Others

Ablative Procedures
Hyperbaric Oxygen Therapy
Formalin
Surgery

Region

North America
Europe
Asia Pacific
Latin America
Middle East & Africa
"This taxonomy prepared is confidential and intended exclusively for the individual or entity with whom it is being shared. Reading, disseminating, distributing, or copying this to any party other than addressee(s) is unauthorized and prohibited."
Key Questions Answered in Report
Which are the most lucrative markets for radiation proctitis treatment?
Which factors will impact the growth of the market?
How will changing trends impact the strategies of market players?
How can market players capture the low-hanging opportunities across regions?
Which companies are leading the radiation proctitis treatment industry?
What are the winning strategies of stakeholders in the market?
Analysis on Market Size Evaluation
The market has been analyzed for each market segment in terms of volume ('000 Units) and value (US$ Mn).
Market estimates at global and regional levels for radiation proctitis treatment are available in terms of "US$ Mn" for value and in "'000 Units" for volume. A Y-o-Y growth contrast on prominent market segments, along with market attractiveness evaluation, has been incorporated in the report. Furthermore, absolute dollar opportunity analysis of all the segments adds prominence to the report. Absolute dollar opportunity plays a crucial role in assessing the level of opportunity that a manufacturer/distributor can look to achieve, along with identifying potential resources, considering the sales and distribution perspective in the global radiation proctitis treatment market.
Inspected Assessment on Regional Segments
Key sections have been elaborated in the report, which have helped deliver projections on regional markets. These chapters include regional macros (political, economic, and business environment outlook), which are expected to have a momentous influence on the growth of the radiation proctitis treatment market during the forecast period.
Country-specific valuation on demand for radiation proctitis treatment has been offered for each regional market, along with market scope estimates and forecasts, price index, and impact analysis of the dynamics of prominence in regions and countries. For all regional markets, Y-o-Y growth estimates have also been incorporated in the report.
Detailed breakup in terms of value & volume for emerging countries has also been included in the report.
In-depth Analysis on Competitive Landscape
The report sheds light on leading manufacturers of radiation proctitis treatment solutions, along with their detailed profiles. Essential and up-to-date data related to market performers who are principally engaged in the production of radiation proctitis treatment products has been brought with the help of a detailed dashboard view. Market share analysis and comparison of prominent players provided in the report permits report readers to take preemptive steps in advancing their businesses.
Company profiles have been included in the report, which include essentials such as product portfolios and key strategies, along with all-inclusive SWOT analysis on each player. Company presence is mapped and presented through a matrix for all the prominent players, thus providing readers with actionable insights, which helps in thoughtfully presenting the market status, and predicting the competition level in the radiation proctitis treatment market. Prominent companies operating in this space include Allergan Plc., Teva Pharmaceutical Industries Ltd., Amneal Pharmaceuticals Inc., Pfizer Inc., Mylan Inc. (Viatris), Sanofi SA, Johnson & Johnson (Johnson & Johnson Consumer Inc.), Sun Pharmaceutical Industries Ltd., Environmental Tectonics Corporation, and Sechrist Industries Ltd., among others.
Research Methodology
In Fact.MR's study, a unique research methodology is utilized to conduct extensive research on the growth of the radiation proctitis treatment market, and reach conclusions on the future growth parameters of the market. This research methodology is a combination of primary and secondary research, which helps analysts ensure the accuracy and reliability of the drawn conclusions.
Secondary resources referred to by analysts during the preparation of the market study include statistics from governmental organizations, trade journals, white papers, and internal and external proprietary databases. Analysts have interviewed senior managers, product portfolio managers, CEOs, VPs, marketing/product managers, and market intelligence managers, all of whom have contributed to the development of the research report as a primary resource.
Need an Exclusive Report for your Unique Requirement?
Talk Show:
The Rise of Intelligent Packaging
Personalized, Connected and Sustainable
November 18, 2021
11:00-11:45 AM PST (USA & Canada)
This is a LIVE session


- Our Clients -

- Evaluate How Fact.MR's Report Can Help. -
Is the market research conducted by Fact.MR?
Yes, the report has been compiled by expert analysts of Fact.MR, through a combination of primary and secondary research. To know more about how the research was conducted, you can speak to a research analyst.
What research methodology is followed by Fact.MR?
Fact.MR follows a methodology that encompasses the demand-side assessment of the market, and triangulates the same through a supply-side analysis. This methodology is based on the use of standard market structure, methods, and definitions.
What are the sources of secondary research?
Fact.MR conducts extensive secondary research through proprietary databases, paid databases, and information available in the public domain. We refer to industry associations, company press releases, annual reports, investor presentations, and research papers. More information about desk research is available upon request.
Who are the respondents for primary research?
Fact.MR speaks to stakeholders across the spectrum, including C-level executives, distributors, product manufacturers, and industry experts. For a full list of primary respondents, please reach out to us.
Is a sample of this report available for evaluation?
Yes, you can request a sample, and it will be sent to you through an email.