Medical Radiation Shielding Market Outlook (2022-2027)
The global medical radiation shielding market is currently valued at US$ 1.3 billion and is expected to expand at a CAGR of 5% to reach US$ 1.7 billion by the year 2027.
Worldwide sales of MRI shielding products are predicted to rise at a CAGR of 6% from 2022 to 2027 and bring in revenue worth US$ 508 million by 2027.
Report Attributes

Details

Medical Radiation Shielding Market Size (2022E)

US$ 1.3 Billion

Forecasted Market Value (2027F)

US$ 1.7 Billion

Global Market Growth Rate (2022-2027)

5% CAGR

China Market Value (2027F)

US$ 289 Million

Share in Radiation Management Equipment Market (2022)

22.4%

Key Companies Profiled

ETS-Lindgren
Nelco, Inc.
Radiation Protection Products
MarShield
Ray-Bar Engineering Corp
Amray
Gaven Industries, Inc.
A&L Shielding
Global Partners in Shielding, Inc.
Veritas Medical Solutions LLC
Know thy Competitors
Competitive landscape highlights only certain players
Complete list available upon request
Medical Radiation Shielding Demand Analysis (2017-2021) Vs. Market Forecasts (2022-2027)
The utilization of medical radiation shielding products safeguards patients from harmful radiation exposure. Medical radiation shielding products can stop gamma and X-rays. The use of ionizing radiation in diagnostic medical procedures has the potential to cause damage to living tissue. Since they protect patients from radiation's harmful effects, medical radiation shielding systems are in high demand in this sector of the economy.
Three main types of radiation shielding materials-traditional lead shielding, lead composite shielding, non-lead, and lead-free shielding-all materials play a vital role in radiation protection. In radiologic applications such as MRI, X-rays, and other types of diagnostic imaging, radiation shielding is used for patient protection.
It is based on technology that enables non-lethal interaction between individuals. Medical radiation shielding was created from ecologically friendly materials in response to the requirement for radiation protection.
Rising prevalence of cancer and the rising need for nuclear radiation therapy for precise diagnosis are the main drivers of industry expansion. The medical radiation shielding market is predicted to develop at a substantial rate over the next 5 years.
Furthermore, it is anticipated that the growing number of diagnostic imaging facilities and the installation base for radiology equipment will boost the market size of medical radiation shielding. On the other hand, the high development potential in emerging markets has produced a wide range of opportunities for the medical radiation shielding market during the projected period.
According to Fact.MR, a market research and competitive intelligence provider, over the next five years, global sales of medical radiation shielding products are expected to increase at a CAGR of 5%.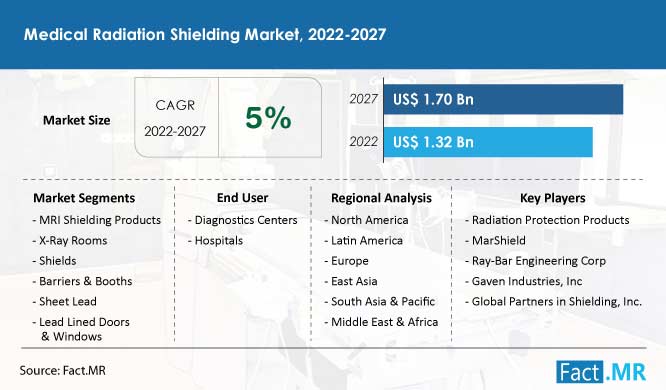 What is Driving Demand for Medical Radiation Shielding Products?
"High Need for MRI Shielding Products in Hospitals & Diagnostic Clinics"
Increased safety awareness among people working in radiation-prone environments and the rising prevalence of chronic disease are both contributing to the market's growth. Medical radiation shielding is also used in radiologic procedures including X-rays, MRIs, and other diagnostic imaging techniques.
The expansion of hospitals, installation base equipment, and diagnostic imaging centers is contributing to the expansion of the global market for medical radiation shielding. Medical radiation shielding is manufactured from eco-friendly materials based on the need for radiation protection. The market is being driven by a greater emphasis on creating new healthcare facilities and increasing access to state-of-the-art medical technology.
"Governments Worldwide Focusing on Healthcare Infrastructure Advancements"
Governments all over the world are investing a significant amount of funds in creating and enlarging their healthcare facilities as the burden of chronic illnesses continues to increase globally. Throughout the forecast period, this will continue to open up new growth opportunities for the medical radiation shielding market. Also, the rising acceptance of radiation therapy and nuclear medicine is helping the business expand.
"Increased Use of Nuclear Medicine & Radiation Therapy"
Radioactive radiation is released during the administration of nuclear drugs and radiotherapies, which can be dangerous for anybody operating in that setting. This is increasingly one of the main drivers of the market expansion for medical radiation shielding.
In addition to these elements, one of the main forces behind the expansion of the medical radiation shielding market is the spike in the number of nuclear energy plants, including a boost in the use of nuclear energy and growth in the use of radiation therapy.
Also, the market for medical radiation shielding is expanding due to a growing health-conscious population.
"Positive Impact of Advanced Technologies on Medical Radiation Shielding Market"
Globally, advanced technologies are being adopted by many different industries, and they are also being appropriated for use.
High-slice CT scanners, 4D & 5D ultrasound scans, and 7T MRI machines are a few examples of emerging technologies. To help with the prevention of illness, diagnosis, and treatment planning, the top companies in the global medical radiation shielding market are introducing next-generation diagnostic imaging technologies.
Manufacturers in the global medical radiation shielding market will be able to capture a sizable share of the market with the help of the introduction of such devices.
Automation is on the rise as a result of technical upgrades and improvements, which contribute to quicker ways that are more effective and efficient. This contributes to the generation of high-quality data that not only strengthens the patient-physician interaction but also draws more users to the technology, hence boosting market expansion overall.
More Insights, Lesser Cost (-50% off)
Insights on import/export production,
pricing analysis, and more – Only @ Fact.MR
Can Technological Advancements Actually Hinder Medical Radiation Shielding Market Growth?
"High Cost of Improved Medical Radiation Shielding Systems Slowing Down Sales Growth"
Adoption of advanced technologies in medical radiation shielding products increases their production cost, and thus, high investments in R&D and product improvements may hinder market growth.
Highly advanced medical radiation shielding products with high costs are not affordable by every medical facility, especially in developing nations, thus high cost of products lowers sales of medical radiation shielding systems.
Which are the Profitable Regions for Medical Radiation Shielding Device Suppliers?
"North America & Europe Profitable Market for Medical Radiation Shielding Due to Supportive Government Initiatives & Presence of Key Companies"
Due to supportive respective government initiatives for the development of healthcare infrastructure, a larger number of operational nuclear power plants, rising cancer incidence rates, and rising radiation safety awareness, North America accounts for a sizable portion of the global market for medical radiation shielding.
North America will continue to offer attractive prospects in the worldwide medical radiation shielding market, followed by Europe and the Asia Pacific. North America is a desirable hub for businesses involved in the medical radiation shielding industry since it is an established market.
Over the forecast period, the Europe medical radiation shielding market is anticipated to expand profitably. The existence of a significant number of major participants and the opportunistic attitude to new investments in the medical radiation shielding industry is responsible for this growth.
Furthermore, growing R&D spending in this region is expected to spur the development of cutting-edge innovations in the medical radiation shielding industry and contribute to the expansion of the industry's global share.
Taking the European DRL survey for adult x-ray imaging as an example, a project of the European Alliance for Medical Radiation Protection Research (EURAMED) sought to advance the optimization of radiation protection of patients in Europe by defining current clinical DRLs from a radiation protection perspective.
Furthermore, on February 3, 2020, EURAMED unveiled a cancer-fighting strategy that is heavily focused on enhancing the quality of life through prevention, early detection, diagnosis, and treatment. However, in the long run, this aspect will continue to be crucial for the ongoing demand for medical radiation shielding in Europe.
Over the forecast period, Asia Pacific would gradually take the lead due to market expansion in China and India. The adoption of medical radiation shielding technology in the Asia Pacific will also be fueled by the growing awareness of radiation safety and the increased funding for the healthcare industry.
Country-wise Analysis
How is the U.S. Market for Medical Radiation Shielding Progressing?
"High Rate of Disease Diagnosis & Treatment Driving Need for Medical Radiation Shielding Solutions"
North America's medical radiation shielding market is dominated by the United States. Revenue from rising R&D activities in the medical device and biotechnology industries is one of the reasons influencing the United States sizeable market share.
The U.S. healthcare system is renowned for its cutting-edge management and efficiency. The U.S. is an important nation in the medical radiation shielding market because it has the highest adoption rates for diagnosis and treatment among all the other nations in the North American region. Also, the presence of top companies helps to boost market growth.
Furthermore, the United States intends to raise public awareness of healthcare resources to reduce the hazards connected with radiation therapy.
What is Supporting Market Growth in China?
"Supportive Government Initiatives to Improve Nation's Healthcare Facilities"
China is predicted to be the most profitable market for medical radiation shielding in the Asia Pacific region. As per Fact.MR analysis, sales of medical radiation shielding products are expected to expand at a CAGR of 4.4% and reach US$ 289 million by 2027.
The market's growth can be linked to the numerous steps taken by the government to improve the country's healthcare system. Furthermore, it is anticipated that another factor boosting the market during the forecast period is the introduction of improved medical radiation shielding equipment.
For instance, in May 2022, a Chinese business called Imsight Technology, which creates digital radiography exams of the chest, released an AI system to provide a computer-aided tomographic diagnostic screening of lungs.
Category-wise Analysis
Why is Demand for Medical Radiation Shielding Solutions Increasing?
"High Demand for Diagnostics Shielding Solutions Due to Rising Cases of Chronic Diseases"
Medical staff often needs to stay in the examination room for diagnostic radiation procedures such as X-rays and other radiation exposures, where they are exposed to scattered radiation. Furthermore, radiation exposure on a regular basis causes a variety of negative effects.
To prevent the patients from being excessively exposed to X-ray radiation, X-ray equipment must be located in appropriately shielded rooms, also known as X-ray room shielding.
Radiation shielding made of lead glass and other forms of specialty glass is now considered to be essential for radiation protection.
Lead-containing glasses have strong gamma, X-ray, and neutron radiation absorption capabilities in addition to tunable mechanical, chemical, and optical properties.
Lead eye shields protect the patient's eyelids during radiation therapy. Thus, efficient radiation shielding products help in protection against electromagnetic radiation.
Lead aprons can be an excellent radiation protection head shield tool for protection from radiation in some situations, but other times a movable lead radiation barrier is needed to create a shielding barrier that covers the entire body. Tantalum and aluminium metals are also used in the production of radiation shielding products.
Also, the prevalence of chronic diseases is rising, and people will become more aware of the benefits of early detection and treatment, all of which will lead to an increase in the number of diagnoses and a further need for diagnostic radiation shielding.
The "Waste to Wealth" program was also put into practice by CSIR-AMPRI in March 2021 since the organisation has developed radiation shielding products using industrial waste as basic material.
Notably, a ground-breaking technique for turning industrial waste, notably red mud and fly ash, into lead-free, extremely effective shielding materials used to construct X-ray diagnostic and CT scanner rooms has been developed.
Thus, it is anticipated that all of the aforementioned variables will stimulate segment expansion during the projection period.
Don't Need a Global Report?
Save 40% on Country & Region specific reports
Competitive Landscape
New product introductions, mergers & acquisitions, and joint ventures are just a few of the industry participants' initiatives that are anticipated to boost overall market growth.
For instance, in February 2022, Mazowiecki Hospital's Interventional Cardiology division in Ostroleka, Poland, and Radiaction Medical Ltd. established new cooperation. The hospital now has the first system built in Europe to protect interventional cardiologists and nursing personnel from the potentially lethal effects of X-ray radioactive contamination due to the company's cutting-edge completely automated shielding technology.
Radiaction Medical Ltd. received 510(K) authorization from the Food and Drug Administration in April 2022 to commercialize its Radiaction Shield System in the U.S.
Segments of Medical Radiation Shielding Industry Research
By Product :

MRI Shielding Products
X-ray Rooms
Shields
Barriers & Booths
Sheet Lead
Lead Lined Doors & Windows
Others

By End User :

Diagnostics Centers
Hospitals
Others

By Region :

North America
Latin America
Europe
East Asia
South Asia & Oceania
MEA