DNA Probes based Diagnostics Market Insights
DNA probes are stretches of single-stranded DNA, utilized to identify the presence of complementary nucleic acid sequences (target sequences) by hybridization. Marked with a label like color or fluorescence, they allow researchers to detect a distinct sequence of DNA in a mixture. Firstly, the DNA sample is heated to separate the DNA strands after which the probe is applied.
The growing adoption of DNA probes in new disease identification has led to investments and foray of new players. Fact.MR, a global research and consulting firm, in its new report analyzes the DNA probes based diagnostics market in detail, offering comprehensive coverage on the key success factors.
Know thy Competitors
Competitive landscape highlights only certain players
Complete list available upon request
Historical and Future Outlook
DNA probes based technology is being extensively employed in diagnostics as well as in other fields such as micro-fabrication, data handling, molecular biology, instrumentation development, biological sample preparation, and surface chemistry.
As a result, the DNA probes based technology has gained immense popularity in last few years. During the period 2015-2019, DNA probes based diagnostics market has grown at nearly 4%.
Rising public awareness for this technology for prenatal diagnosis and carrier detection is growing rapidly and is expected to result in a significant increase in the demand for such services in the coming years.
Additionally, the rising penetration of automation in diagnosis tests is forecast to create lucrative growth opportunities for the global DNA probes based diagnostics market. During the period 2020-2030, the DNA-probes based diagnostics market is likely to grow at over 5%.
How is Rising Healthcare Spending Supporting Growth?
DNA probes based diagnostics market is presented with a lucrative expansionscope, attributed to burgeoning healthcare expenditure across countries.
The World Health Organization's Global Spending on Health: Weathering the Storm reportrevealed that global spending on reached US$ 8.3 Tn between 2000 and 2018 representing 10% of global GDP.
Findings reveal that out-of-pocket spending has persisted in low and lower-middle-income economies, representingover 40% of total health spending in 2018.This rising healthcare expenditure is augmenting the demand for DNA probes based diagnostics.
As countries converge on healthcare, the number of hospitals, clinics, and laboratories is rising.
According to EHealthinsurance, in 2019, there were 6000 hospitals in the US. In 2020, the count reached 6,146, according to the American Hospital Association. This is aggrandizing demand for DNA probes for various operations.
More Insights, Lesser Cost (-50% off)
Insights on import/export production,
pricing analysis, and more – Only @ Fact.MR
What is the Potential of DNA Probes in New Disease Identification?
W.H.O has declared that, presently, antibiotic resistance is among the biggest threats to global health.
New resistance mechanisms are developing and expanding globally, hampering the ability to treat general infectious diseases. Consequently, DNA probes based diagnostics are gaining immense popularity for their precise detection of these infections.
According to the Review on Antimicrobial Resistance, annual fatalities attributed to antimicrobial resistant infections will rise from the existing 700,000 to 10 million by 2050 unless preventive measures are effectively implemented.
DNA probes, therefore, are proving useful in accurate detection and diagnosis of infectious diseases.
Potential advantages include rapid detection and identification of infectious agents; ability to screen selected specimens using batteries of probes and detection of non-viable or difficult to culture organisms.
Players such as LGC Biosearch Technologies are active players manufacturing various ranges of DNA probes, including BHQplex CoPrimers and BHQplus Probes.
The Opportunity Created by Geriatric Population
Globally, the elderly population is rising due to declining fertility rates increased life expectancy. As people age, they experience several health issues. According to W.H.O, the world's population aged 60 years and older is expected to reach 2 Bn by 2050 which will be a rise from 900 Mn in 2015.
By 2050, 80% of all aged people will reside in low- and middle-income countries. Such predictions are pointing toward several growth opportunities for the DNA probes based diagnostics market. Apart from these, rising disposable income is also fueling the demand for DNA probes based diagnostics.
Don't Need a Global Report?
Save 40% on Country & Region specific reports
What are the Key Challenges for the Market?
While DNA probes have been a welcome development in the global healthcare industry, there are potential associated demerits which are likely to hamper future expansion of the market. In numerous instances, differentiation between species is problematic while using 16S rRNA sequences due to similarity.
The global standard library of rRNA sequences is constantly expanding and continuously being updated, making it difficult to dismiss possibilities of a random hybridization event between a specifically designed probe and an undesired target organism.
Apart from this, recombination between the marker and disease alleles, and incorrect pedigree data or non-paternity leads to erroneous diagnosis. These factors are hampering the growth of the market.
Country-wise Analysis
Why US Remains Key to Growth?
US is an attractive market for DNA probes based diagnostics. High incidence rate of genetic disorders in the country, leading to birth defects, developmental disabilities, and other metabolic syndromes are some of the factors attributable to the growth in the US.
Investments in pharmaceuticals and pharmacogenomics research and development are increasing. According to U.S. Investments in Medical and Health Research and Development, investment in medical and health research and development (R&D) rose by 27% in the five-year period from 2013 to 2017, which was led by industry and the federal government.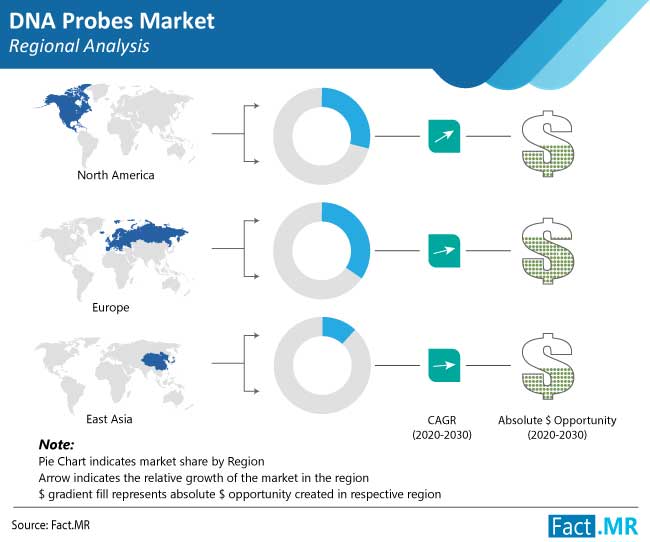 The Centers for Disease Control and Prevention (CDC), in the U.S., advocated that about 3% to 4% of newborns were born with genetic abnormalities in 2017.Besides, the rising cancer cases in the country are further increasing the demand for DNA probes based diagnostics.
According to the U.S. National Cancer Institute, in January 2019, there were 16.9 Mn cancer survivors in the U.S. The number of cancer survivors is forecast to reach 22.2 Mn by 2030. Increasing numbers of cancer survivors in the country are thus pointing towards the strengthening of market in the US.
Why is Consolidation in India Key?
India is a lucrative market, forecast to showcase notable growth in forthcoming years. The market in India is growing in terms of revenue generation due to the presence of supportive government initiatives which are leading to an increase in investments by key players and governments.
Increasing prominence of mergers and acquisitions in the healthcare sector are also supporting the growth of the market. According to the India Brand Equity Foundation (IBEF), the value of hospital merger and acquisition (M&A) jumped by a record 155% and reached US$ 1.09 Bn in 2019.
On September 23, 2018, the Government of India started the Pradhan Mantri Jan Arogya Yojana (PMJAY), to give health insurance worth US$ 7,124.54 to more than 100 Mn families every year. With rise population, the number of infectious and other diseases is also rising. Owing to this, the market in India is expected to grow at a significant rate in the coming years.
China to Provide Intense Competition to Global Companies
China is a growing market for DNA probes based market. According to the Centre for Economics and Business Research, China's economy is about to overtake the U.S's economy faster than previously in the coming years. As economic growth is inextricably linked with healthcare, an upward trajectory is anticipated in forthcoming years.
Besides, rising initiatives to strengthen healthcare sector is another factor stimulating the demand for DNA probes based diagnostics. In 2016, to handle crowded hospitals in a better way, the government initiated 13th Five-Year Plan (2016-2020) and its Healthy China 2030 strategy.
In April 2018, the State Council also passed guidelines to support internet-based healthcare that encourages medical institutions to promote internet-based technologies.
How is France Emerging as a Lucrative Market?
France is likely to emerge as a highly opportunistic market, chiefly due to rising healthcare expenditure. According to Eurostat, amongst other EU Member States, France had one of the highest healthcare expenditures relative to GDP in 2017.
Increasing incidence of infectious diseases is another reason behind the growth of the market. According to W.H.O, on 13 October 2020, the health authorities of France officially announced 13 laboratory-confirmed cases of Mayaro fever in French Guiana, France, which is likely to create several growth opportunities in coming years.
Besides, rising cases of infection and elderly population shall augment demand for DNA probes based diagnostics. Studies estimate that in the coming decades, the share of the French population that is aged 65 and older will rise steadily and will reach about 25% in 2030 and about 30% in 2050.
What are the Reasons behind the Growth of Market in Germany?
Germany is an attractive market for DNA probes based diagnostics. Eurostat projected the net healthcare expenditure in Germany at US$ 454.01 Bn in 2017, the highest among all European Union Member States.
According Visa Guide World, nearly 19.4 Mn citizens received in-patient treatment in 2017. The total that hospitals spent for in-patient treatments during 2017 was about US$ 112.33 Bn. According to the Federal Statistical Office, this expenditure increased by 3.9% compared to 2016 which was US$ 108.3 Mn. About 30% of healthcare expenditure in Germany is directly given to hospital services. Such activities in the country are support the growth of the market in Germany.
According to an OECD publication, recent reforms in healthcare spending, such as the one on long-term care (LTC) spending has generated white spaces for DNA probes market proliferation. The contribution has increased from 1% of gross income to over 3% presently. Additionally, there is a new evaluation instrument consisting of six modules.
What Prospects abound for the UK Market?
The UK is likely to generate substantial growth opportunities across the 2020-2030 forecast period. According to UK's Office for National Statistics (ONS), people aged 65 years and over in the UK are projected increase by 8.2 Mn in the next five decades.
Widening healthcare industry of the country is also augmenting the demand for DNA probes based diagnostics in the UK. ONS also stated that, in 2018 government-financed healthcare expenditure increased by 2.0%, while non-government healthcare financing increased by 7.6% due to a rise in out-of-pocket spending.
Apart from these, several government initiatives in the UK are benefitting the market. For instance, it was announced in September 2020 that US$ 39.37 Mn will be funded to develop revolutionary technological approaches to transform healthcare in the UK by 2050.
This initiative promotes ambitious R&D roadmaps and underlines commitment to back incredible scientists and researchers and investment in ground-breaking research to take the UK to the leading position with cutting-edge discoveries.
What is making Italy Emerge Stronger?
Italy is an important market for DNA probes based diagnostics. Its Servizio Sanitario Nazionale offers support to citizens for availing maximum hospital and medical benefits. Healthcare is considered a fundamental right in Italy, with the national health plans accessible to all, including overseas citizens.
Additionally, the World Health Organization ranks the Italian healthcare systems as the 2nd best in the world.
As population growth increases, the burden of genetic, chronic and infectious diseases is also increasing. The Italian National Institute of Statistics estimated a total of over 60 million people as of January 2019. The increase is due to immigration. Total number of foreign nationals grew by 43,480.
Category-wise Insights
Which is the Primary DNA Probes Application Area?
The infectious diseases segment is expected to witness a surge between 2020 and 2030. Growing cases of infectious diseases and the rising elderly population are the key factors behind the growth of this segment.
Apart from this, the cancer segment is also exhibiting significant growth. WHO stated that by 2030 between 10 and 11 Mn cancers will be diagnosed each year in low- and middle-income countries.
Additionally, between 2008 and 2030, the number of new cancer cases is anticipated to rise by more than 80% in low-income countries. Such a rise in cancer cases will directly augment the demand for DNA probes based diagnostics.
Competitive Landscape
With a rising elderly population and growing cases of infectious diseases and cancer, the DNA probes based diagnostics market is getting more competitive. The market is witnessing the entry of several newcomers. Consequently, established players are trying to hold their position by launching innovative products after comprehensive R&D.
For instance, BioMerieux conducted thorough research and developed ARGENE® Solution, which is a comprehensive automated solution devoted to centralized laboratories for the management of molecular biology tests to monitor viral infections in immune-compromised patients. It incorporatespolymerase chain reaction (PCR) technology with real-time NASBA® (Nucleic Acid Sequence-Based Amplification) technology.
Leading market players are also adopting key market strategies such as mergers and acquisitions to strengthen their positions. In 2011, Beckman Coulter was acquired by Danaher, a company that designs and produces medical, industrial, and commercial products and services.
DNA Probes based Diagnostics Market Report: Scope
Attribute

Details

Forecast Period

2020-2030

Historical Data Available for

2015-2019

Market Analysis

US$ Mn for Market Value

Key Countries Covered

Mexico
Argentina
Brazil
U.S.
Canada
Germany
Italy
France
U.K.
Spain
Russia
GCC Countries
South Africa
China
Japan
South Korea
India
Thailand
Malaysia
Indonesia
Australia
New Zealand

Key Segments Covered

Application

Key Companies Profiled

Abbott Laboratories
Beckman Coulter Inc.
Becton Dickinson & Company
BioMerieux
F Hoffmann-La Roche Ltd.
GE Healthcare Life Sciences
Luminex Corporation
Qiagen NV
Siemens Healthineers
Thermofisher Scientific Inc.

Report Coverage

Market Forecast
Competitive Landscape
Country-wise and Category-wise Insights
Key Trends
Key Challenges

Customization & Pricing

Available upon Request
DNA Probes based Diagnostics Market Segmentation by Category
By Application :

Infectious Diseases
Cancer
Genetic Predisposition
Identity/forensics
Others

By Region :

North America
Latin America
Europe
East Asia
South Asia
Oceania
Middle East & Africa (MEA)