Vocal Biomarkers Reforming Healthcare Diagnostics
Vocal patterns have been used by clinical psychologists and psychoanalysts for analyzing personality traits of patients, and helping creation of headway in clinical and medical investigations. Recent breakthroughs in the healthcare sector have led to the development of a unique diagnostic tool known as vocal biomarker, by combining the concept of biological markers with the aforementioned methodology to analyze personality traits.
These vocal biomarkers are deemed to have immense potential in diagnosing disease based on vocal cues. As part of ongoing breakthroughs, a group of researchers from the New York University Langone Medical Center is developing a machine learning-based artificial intelligence (AI) system that would be capable of analyzing various voice characteristics that include rhythm, tone, and pitch from patients.
Remote health monitoring potential of vocal biomarkers is also gaining high interest among researchers worldwide, For example, Beyond Verbal and Mayo Clinic have collaborated for discovering vocal patterns of patients suffering from coronary artery disease. A key concept backing the development is the impact of hardening of arteries on speech production. With advancements in technology, vocal biomarkers will soon be able to diagnose various diseases including certain cancers, Parkinson's disease, and heart conditions.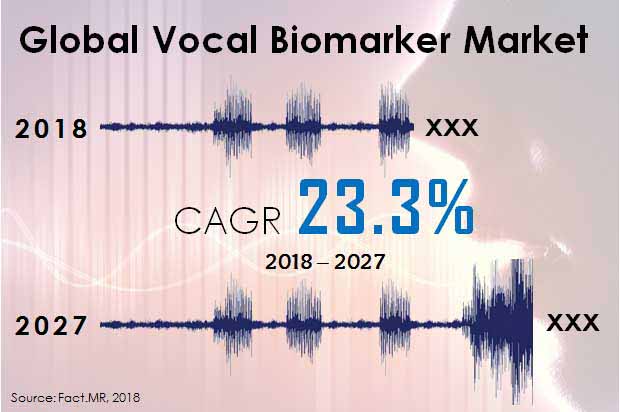 Leveraging Product Development to Enhance Collaboration
Product development prevails as an imperative strategy driving collaborating between leading companies and research institutes across various sectors, and healthcare is no exception, Apropos of vocal biomarkers, Beyond Verbal has developed "Beyond mHealth Research Platform", which aims at collaborating with universities, businesses, hospitals, and research institutes for collectively developing unique vocal biomarkers.
Another leading player, Sonde Health Inc., has introduced voice-based technology platform that enables diagnosing and monitoring various conditions and diseases. The company has collaborated with Massachusetts Institute of Technology (MIT) for licensing the technology. Such collaborations and developments will lead to better solutions and more accurate results for patients. It will further encourage researchers and institutions worldwide in collecting voice data for disease diagnostics and improving outcome of patients.
Virtual Private Assistants Enabling Voice-based Emotion Detection
Current digital world is making rapid transformations in the way people interact with technology and one another, with virtual private assistants taking on a personalized experience. As virtual private assistants such as Amazon's Alexa become more popular & useful and smarter, developers are focusing on providing them with additional tools that enable recognizing emotions. A prime example of such development is the cloud-based API engine by Beyond Verbal, which integrates with the virtual private assistants (VPAs).
The aim of Beyond Verbal's project is to enhance the sensitivity of one's connected home. Focus of this cloud-based API engine is directed toward eliminating VPAs' emotional blind spots, given that the vocal intonations in human communication represent 35-40% of emotions conveyed. Future developments of vocal biomarkers is likely to enable VPAs analyze voice for the specific health conditions, providing unique insights into remote health monitoring and personalized tech.
A recently compiled report of Fact.MR envisages the global vocal biomarker market to record a spectacular 23.3% CAGR between the forecast period 2018 and 2027. Revenues from global sales of vocal biomarkers are foreseen to surpass US$ 390 Mn by 2027-end. Beyond Verbal, Sonde Health, IBM Corporation, and other leading participants operating in the global vocal biomarker market have been profiled and analyzed in detail in the report.
Note: The insights mentioned here are of the respective analysts, and do not reflect the position of Fact.MR
Demand for vocal biomarkers is primarily driven by mounting incidences of neurological, psychological, and various other ailments that impact speech such as Parkinson's disease, depression, and attention deficit & disruptive behavior disorders. According to WHO, nearly 350 Mn individuals across the globe suffered from depression in 2016. The Parkinson's disease Foundation's estimates slated nearly 10 Mn patients with the disease worldwide in 2016. High prevalence of these disorders are expected to significantly rub off on demand and sales of vocal biomarkers.
Detailed Assessment on Vocal Biomarker Market
Fact.MR has recently published a new report on the global vocal biomarker market, which offers accurate forecasts on the market for the period between 2018 and 2027. This report is a definite source of information that imparts intelligence on recent market dynamics, industry trends, potential markets, technology developments & advancements, and product innovation coupled with extensive regional market coverage.
A comprehensive data analysis on the global vocal biomarker market is delivered in the report, in order to help the clients in gaining a competitive edge and attracting potential customers. The report further aid in better understanding of the industry structure, and offers evaluations on the competition intensity attractiveness. Business strategists can leverage the intelligence offered in the report regarding latest opportunities and trends impacting the market expansion to make fact-based decisions for their businesses.
Vocal Biomarker Market: Taxonomy and Segmentation Analysis
This report also offers a scrutinized study on the global market for vocal biomarker in terms of a segmentation analysis. The market has been divided into four key segments, namely, indication, end-user, technique, and region. These segments have been analyzed in detail, engulfing market forecasts and estimates at a country and regional level.
The segmentation analysis offered can be useful for the report readers in understanding probable opportunities and potential markets for the target product – vocal biomarker. A taxonomy table incorporated in the report illustrates all the market segments in a systematic manner as depicted below.
| Region | Technique | End User | Indication |
| --- | --- | --- | --- |
| North America | Frequency | Hospitals & Clinics | Psychiatric Disorders |
| Latin America | Amplitude | CROs | Respiratory Disorders |
| Europe | Error Rate | Academic and Research Center | Cardiovascular Disorders |
| Japan | Vocal Rise Or Fall Time | Other End User | Traumatic Brain Injury (TBI) |
| APEJ | Phonation Time | | Neurological Disorders |
| MEA | Voice Tremor | | Other Disorder |
| | Pitch | | |
| | Other Types | | |
(Additional information, including cross-sectional data and country-wise analysis & forecast is available in the report)
Vocal Biomarker Market: Competitive Landscape Assessment
In its concluding chapter, the report quantifies revenues share of prominent companies in the global vocal biomarker market, and offers an in-depth overview of the market's competitive scenario. A detailed description has been delivered on all the market players profiled in the report, which includes intelligence in terms of their company overview, key financials, product overview, past as well as latest developments.
A SWOT analysis has been offered on each market player incorporated in the report, along with information on their new product developments, and market expansion strategies such as collaborations and partnerships. The scope of the report is offer its readers with authentic information and insights on the global vocal biomarker market, to enable them in making better future decisions for growth of the businesses.
Fact.MR offers custom research services that help clients to get specific research solutions
We are committed towards customer satisfaction and quality service.
---
Our Clients

Vocal Biomarker Market Forecast, Trend Analysis & Competition Tracking - Global Market insights 2018 to 2027