Agriculture Robots Market
Agriculture Robots Market Analysis By Type (Unmanned Aerial Vehicles (UAVs), Milking Robots, Driverless Tractors, Automated Harvesting Systems, Other Robots), By Application (Dairy Farm Management, Inventory Management, Harvest Management, Irrigation Management, Soil Management, Others), By Farming Environment (Indoor, Outdoor), By End Use (Farm Produce, Dairy & Livestock, Crops) and By Region - Global Market Insights (2023 to 2033)
Analysis of Agriculture Robots Market Covering 30+ Countries Including Analysis of US, Canada, UK, Germany, France, Nordics, GCC countries, Japan, Korea and many more
Agriculture Robots Market Outlook (2023 to 2033)
The global agriculture robots market is projected to expand at 18% CAGR during the next ten years (2023 to 2033), thereby increasing from US$ 7.08 billion in 2023 to US$ 37.05 billion by the end of 2033.
Agriculture robots are the revolution in the agriculture industry. As the population is continuing to increase, worldwide demand for food also is growing at a fast pace. As a result, more farmers are shifting towards agriculture robots to reduce their dependency on manual labor and increase their yields to generate more revenue.
Agricultural robots address the need for greater efficiency, precision, and sustainability in farming practices, as well as solve challenges related to agricultural labor shortages. These include a diverse set of robotic agriculture machines and tools aimed at boosting productivity and lowering operational costs in the agricultural sector.
Significant Market Growth Drivers
Growing awareness of smart agriculture boosting farmer's adoption of autonomous farming robots.
Some governments are offering subsidies and initiatives to educate farmers about automated farming systems.
Agricultural robots excel in precise, efficient task execution and operate well in adverse weather, increasing productivity while reducing the dependency on manual labor.
These robots feature sensors and data analytics, providing farmers with accurate information on soil conditions, crop health, and resource management for precise and targeted responses.
The market has been rapidly expanding because of the rising demand for innovative agricultural solutions prompting the latest developments in the agriculture robots market. Opting for agricultural robots can boost profitability, sustainability, and competitiveness in today's agricultural landscape.
Report Attributes
Details
Agriculture Robots Market Size (2022A)
US$ 6 Billion
Estimated Market Value (2023E)
US$ 7.08 Billion
Forecasted Market Value (2033F)
US$ 37.05 Billion
Global Market Growth Rate (2023 to 2033)
18% CAGR
North America Market Share (2022)
38%
Europe Market Share (2022)
20%
Key Companies Profiled

AgJunction
AgEagle Aerial Systems Inc.
Kubota Agricultural Machinery India Pvt. Ltd
Harvest Automation
AGCO Corporation
Deere & Company
CNH Industrial NV
Lely
DeLaval
Deepfield Robotics
Naio Technologies
Monarch Tractor
Clearpath Robotics
Agrobot
Agribotix LLC
Blue River Technology
BouMatic Robots BV
Precision Hawk
GoPro, Inc.
Yamaha Motor Corporation
Trimble Inc.
Don't Need a Global Report?
save 40%! on Country & Region specific reports
What are the Key Factors Fueling the Demand for Agricultural Robots?
"High Need for Precision Agriculture to Increase Productivity"
Widespread adoption of precision agriculture practices is driving a surge in the demand for agriculture robots. Precision agriculture, which is distinguished by data-driven and technologically advanced farming techniques, greatly benefits from agricultural robots. These machines provide unrivaled precision and accuracy to tasks such as seeding, fertilizing, and crop management, thereby reducing resource waste. Furthermore, agricultural robots work tirelessly in a variety of weather conditions, dramatically increasing productivity, and lessening the dependency on manual labor, which is a critical factor in today's farming landscape.
Worldwide agricultural employment declined by 15% in the last decade, according to World Bank data.
Growth of the agriculture robots industry is pegged at an astounding CAGR of 18% between 2023 and 2033, compared to a CAGR of 16% from 2018 to 2022.
Agricultural robots also address labor shortages in this field and promote environmental sustainability by optimizing resource use. As a result, demand for agricultural robots is increasing, reshaping modern farming practices for greater efficiency and sustainability.
"Growing Popularity of Milking Robots in Agricultural Sector"
The agricultural robots market is poised for substantial development, primarily due to the increasing awareness and demand for milking robots. This cutting-edge technology not only simplifies the milking process but also has the potential to revolutionize the agricultural industry in a variety of ways.
One of the most significant benefits of milking robots is their ability to reduce labor costs. Traditional milking methods frequently necessitate the use of a dedicated labor force, which can be both time-consuming and costly. Furthermore, milking robots have demonstrated the ability to increase milk yield. The efficiency and precision of these machines ensure that every milking session is optimized for maximum milk extraction. Profits of farmers could rise as a result of this increase in productivity. These innovative systems promise cost savings, increased milk yield, and improved operational efficiency, ultimately contributing to modern agriculture's overall advancement.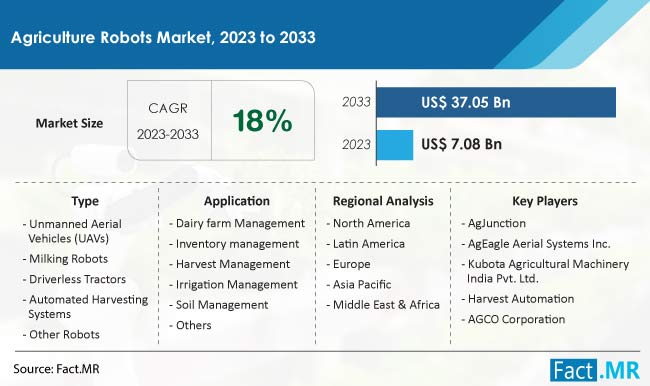 What's Working against the Demand Growth for Agriculture Robots?
"High Agriculture Equipment Cost and Data Privacy Issues"
Data privacy and security, as well as affordability, are two critical aspects of the agricultural technological adoption challenge. In an increasingly digitized farming landscape, protecting sensitive information such as crop yields and soil data is critical to protecting farmers from potential data breaches and misuse. Concurrently, the cost of modern agricultural technologies remains a significant barrier, particularly for small-scale and subsistence farmers.
High initial costs for precision farming equipment, data analytics tools, and reliable internet access can deter product adoption. Addressing these challenges requires striking the right balance between ensuring strong data privacy safeguards and making innovative technology more accessible and cost-effective for all farmers. This is encouraging governments, organizations, and the private sector to work together to develop solutions that democratize technology, improve security, and enable farmers to reap the benefits of digital agriculture without jeopardizing their privacy or financial stability.
More Insights, Lesser Cost (-50% off)
Insights on import/export production,
pricing analysis, and more – Only @ Fact.MR
What Can Start-ups Do to Dive Into Robotic Technology In Agriculture?
"Offer Cost-effective and User-friendly Farming Solutions"
To break into the global agriculture market, start-ups need to stay abreast with the happenings in the market, identifying key trends in the agriculture robots industry and the challenges that farmers face. They should focus on a specific niche and develop innovative, user-friendly solutions that address farmers' pressing needs while working closely with agricultural experts and local communities for validation and customization.
Sustainability and affordability should be prioritized, along with an emphasis on adaptability and scalability. Building trust and cultivating long-term relationships to address the pressing needs of farmers, and iteratively improving products and services will position them for long-term success in a market that is critical to global food security and sustainability.
Country-wise Insights
Why is The United States a Leading Market for Smart Farming Solutions?
"Growing Adoption of Smart Farming and Producing High Yields"
North America accounted for a leading market share of 38% in 2022, led by the United States. To increase crop yields, the U.S. government is encouraging the use of agriculture robots such as unmanned aerial vehicles, driverless agricultural tractors, milking robots, automated harvesting systems, and smart farming, which is a crucial factor contributing to market growth in the country.
Manufacturers of agriculture robots are investing in research and development to provide cost-effective and highly efficient machines to farmers.
As per data released by the American Farm Bureau Federation, 56% of the farms in the United States have adopted agtech.
What Makes India a Key Market for Agricultural Robots in Asia Pacific?
"Rapidly Increasing Integration of Artificial Intelligence in Farming Practices"
Agricultural robots have increased productivity, eliminated labor-intensive activities, and encouraged sustainable farming practices. These agbots are changing the agricultural environment in India, from autonomous weeding to precision agriculture robots for seeding and harvesting. AI is being used to improve crop management, optimize resource utilization, and provide farmers with valuable insights for decision-making. Increasing application of robotics in agriculture is boosting the growth of the market in India.
Know thy Competitors
Competitive landscape highlights only certain players
Complete list available upon request
Category-wise Insights
Why is Demand for Milking Robots Rising across Regions?
"Less Dependency on Manual Labor and Maximizing Milk Collection"
Milking robots automatically attach and detach milk cups from cow udder. Cows are trained to go to milking stations, and the entire automated milking process is comfortable for them without any hassle. Milking robots are fitted with sensors that help farmers understand milk quality, yield, and cow health. This automation of the milking process saves the expenses of farmers on manual labor while also reducing time on individually milking cows.
Milking robotic systems promote high milk collection, which not only improves milk quality but also udder health. They enable farmers to monitor milk production and cow health, making them an important driver for sales in the agriculture robots market.
According to Lely, a global leader in milking robots, 5% of all dairy farms in the United States already use milking robots, and the number will soon reach 20% to 30%.
Why are Many Farmers Gravitating towards Harvest Management Systems?
"Early Detection of Ripe Crops and Reducing Waste Output"
Harvest management refers to the automation of crop harvesting using robotic systems equipped with sensors and computer vision to detect ripe crops, decrease labor costs, minimize waste, and optimize yields. These adaptable robots are combined with technology such as GPS, cloud computing, and remote monitoring to collect data for accurate decision-making and increased farm efficiency.
They move effectively within fields using GPS navigation and smart path planning, and their continuous operation capacity is especially beneficial during peak harvest seasons. These robots can adjust to different crop species, sizes, and maturity levels, making them adaptable instruments for modern farming operations that improve efficiency and crop quality.
Competitive Landscape
Partnerships between new firms and existing significant market players are stimulating innovation, which is critical at this time. Understanding the challenges that farmers at the grassroots face allows them to redefine the market and provide a holistic solution to modern agriculture. Market players are also reaching out to the various governments for support.
The European Union funded 'The Robs4Crops Project' with around US$ 9 million, which was launched in March 2021.
At the Ag Expo 2022, Naio Technologies debuted the Orio agriculture robot. Orio agriculture robot is a sustainable alternative to pesticide use that improves working conditions, soils, and data collection for smart farming.
John Deere exhibited a fully self-driving tractor at a press conference in January 2022, which includes cutting-edge technology such as a GPS navigation system and a TruSet-enabled chiseled plow.
AgJunction, AgEagle Aerial Systems Inc., Kubota Agricultural Machinery India Pvt. Ltd, Harvest Automation, AGCO Corporation, Deere & Company, CNH Industrial NV, Lely, and DeLaval are some of the top agricultural robotics companies.
Segmentation of Agriculture Robots Market Research
By Type :

Unmanned Aerial Vehicles (UAVs)
Milking Robots
Driverless Tractors
Automated harvesting Systems
Other Robots

By Application :

Dairy Farm Management
Inventory management
Harvest Management
Irrigation Management
Soil Management
Others

By End Use :

Farm Produce
Dairy & Livestock
Other Crops

By Farming Environment :

By Region :

North America
Europe
Asia Pacific
Latin America
Middle East & Africa
- FAQs -
The global agriculture robots market was valued at US$ 6 billion in 2022.
North America accounted for a market share of 38% in 2022.
The global market is estimated to be valued at US$ 7.08 billion in 2023.
Worldwide demand for agriculture robots is projected to rise at a CAGR of 18% between 2023 and 2033.
Revenue from the sales of agriculture robots is projected to reach US$ 37.05 billion by the end of 2033.
Agriculture robots have a wide range of applications such as monitoring crops, checking soil health, and planting seeds.