Anti-adhesion Products Market
Anti-adhesion Products Market Analysis, By Type (Synthetic, Natural), By Formulation (Film, Gel, Liquid), By Application (General / Abdominal Surgeries, Gynecological Surgeries), By End User (Hospitals, Ambulatory Surgical Centers), & By Region - Global Market Insights 2030
Analysis of Anti-adhesion Products Market covering 30 + countries including analysis of US, Canada, UK, Germany, France, Nordics, GCC countries, Japan, Korea and many more
Anti-adhesion Products Industry Outlook (2022-2030)
The global anti-adhesion products market is currently valued at around US$ 678.5 million and is anticipated to expand at a high CAGR of 7.5% to reach US$ 1.2 billion by 2030-end.
Global sales of synthetic anti-adhesions are predicted to rise at a CAGR of 8.5% over the next eight years. This can primarily be attributed to their cost-effectiveness, as synthetic anti-adhesion products are available at a low price compared to natural ones.
Adhesions are scars of sticky tissues that are formed inside the body and bind the internal organs and tissues together. This leads to internal organ obstruction, which, in turn, produces discomfort therein. Adhesions are developed after surgeries at the site of the operation as a part of the healing process, but they have the potential to spread to other parts of the body, posing difficulties.
Anti-adhesion therapy and anti-adhesion immunity aim to lessen contact between host tissues and pathogens by preventing or reversing the infectious agent's ability to adhere. It is well known that intestinal, oral, and respiratory bacteria adhere to one another to colonise and eventually cause disease.
Furthermore, when bacteria adhere to surfaces, they develop a noticeably stronger resistance to being removed by typical cleaning mechanisms as well as to being killed by conventional immune factors, bacteriolytic enzymes, and antibiotics. Such bacteria are more adept at obtaining nutrition, which strengthens their capacity to endure and infect the host.
As a result, the adherent condition is beneficial for bacterial survival and an important stage in pathogenesis. Therefore, the disease should be treated by preventing adhesion at an early stage after the host has been exposed to pathogens.
Adhesions are developed after surgical procedures. In clinics, a variety of anti-adhesion products are being used. Hyaluronic acid gel, an anti-adhesion gel barrier, is currently being used widely.
Hyaluronic acid, a lubricant found naturally in joints, can help prevent adhesions by mechanically segregating the peritoneal surfaces. One of the most popular materials for avoiding adherence in clinical applications is oxidized regenerated cellulose (ORC).
Johnson & Johnson created Evicel, a type of "Fibrin Glue," a two-constituent product composed of naturally occurring molecules obtained from human blood. The main purpose of it is to control bleeding during surgeries.
The market for anti-adhesion products is expected to be driven by the growing awareness of the medical symptoms and indicators of adhesions among both doctors and patients. The introduction of anti-adhesion products, such as hyaluronic acid, as well as the rising volume of surgical procedures, is expected to fuel the growth of the anti-adhesion products market from 2022 to 2030.
Several kinds of surgeries performed in medical disciplines is a major driver for the anti-adhesion products market. Among these operations include orthopedic, gynaecological, cardiovascular, general abdominal, and other procedures. The market is expected to grow as a result of the ageing population who are more prone to injuries and accidents, as well as the rise in sports-related injuries among youngsters and adults.
Also, manufacturers of anti-adhesion products are expected to benefit from a large target patient pool, a steady increase in chronic disorders, and patients who need adhesion barriers during surgical procedures.
Adhesion promoters are also commonly employed in the design and production of a variety of products. The efficiency and efficacy of adhesion, as well as its qualities or ingredients, are what drive the market for adhesion promoters.
Report Attributes

Details

Anti-adhesion Products Market Size (2022E)

US$ 678.5 Million

Forecasted Market Value (2030F)

US$ 1.2 Billion

Global Market Growth Rate (2022-2030)

7.5% CAGR

China Market Value (2030F)

US$ 287.4 Million

China Market Growth Rate (2022-2030)

11.3% CAGR

Key Companies Profiled

Anika Therapeutics, Inc.
Baxter International Inc.
Ethicon Inc.
FzioMed, Inc.
Integra LifeSciences Holdings Corporation
Magen OrthoMed Ltd.
MAST Biosurgery AG
Sanofi SA
Know thy Competitors
Competitive landscape highlights only certain players
Complete list available upon request
What Awaits Manufacturers of Anti-adhesion Products?
"Rising Prevalence of Small Bowel Obstruction Disorder Driving Sales of Anti-adhesion Solutions"
Patients and doctors are more concerned about post-operative adhesions following pelvic and abdominal operations.
According to Cellmid Limited's most recent publication, for instance, which developed the midkine antibody for the treatment of adhesions, 95% of abdominal procedures eventually result in difficulties brought on by tissue adhesions, and 6% of cases result in readmission.
Small bowel obstruction (SBO) is most often and seriously caused by intra-abdominal adhesions, and surgical adhesions are involved in 65-75% of instances of SBO.
According to study findings from the Department of Surgery at the University of Calgary, adhesions account for 5.7% of hospital readmissions in Canada, and 3.8% of those require surgical treatment.
Investing in business non-organically has been the defining feature to bring strong business growth. The majority of key players in the anti-adhesion products market are following this trend, which directly contributes to revenue growth, product portfolio expansion, and presence and distribution network expansion across various geographies.
Anti-adhesion solutions reduce the occurrence of adhesion and the occurrence of adhesion minor intestinal obstruction in both open and laparoscopic surgeries.
"High Treatment & Product Costs May Hinder Anti-adhesion Sales"
In most emerging nations, the market for anti-adhesion products is likely to experience slow growth due to the high cost of surgical procedures and anti-adhesion solutions utilised during or after treatment.
Despite being aware of the damaging effects of adhesion, surgeons are hesitant to use anti-adhesion products since there is a paucity of reliable clinical data proving the safety and effectiveness of commercially available anti-adhesion solutions.
Anti-adhesion products' efficacy and safety issues might make it difficult for companies to get marketing licenses for their products. Additionally, over the past few years, licensed anti-adhesion products have also been taken off the market due to insufficient clinical findings.
Over the anticipated period, all of these variables are anticipated to restrain the market's expansion for anti-adhesion products.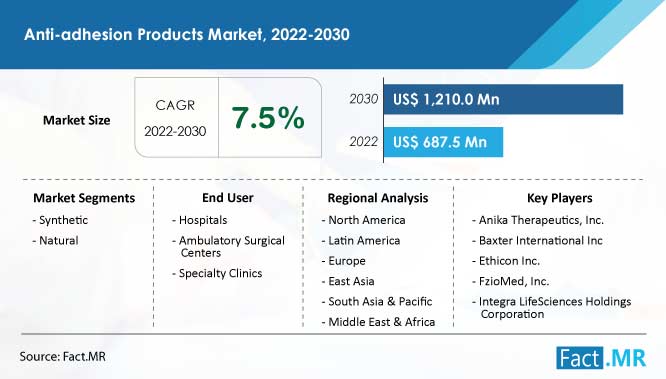 How is the Market Evolving for Newcomers?
"New Market Entrants Developing Improved Anti-adhesion Solutions"
The anti-adhesion products industry offers several progress opportunities to producers. As a result, a lot of startups have started hitting the market with innovative and cutting-edge products and solutions.
For the development of anti-adhesion solutions to prevent post-surgery adhesion issues, SciVision Biotech Inc., a Taiwan-based company, recently invested in PROTAHERE absorbable adhesion barrier research.
More Insights, Lesser Cost (-50% off)
Insights on import/export production,
pricing analysis, and more – Only @ Fact.MR
Why is North America the Most Prominent Market for Anti-adhesion Products?
"North America Dominates Due to Presence of Key Players & Advancements in Healthcare Technologies"
The global market for anti-adhesion products is dominated by North America. The North American market is propelled by expanding healthcare innovations and technologies. Another contributing element is the concentration of important players.
A promising target market,the Asia Pacific, is anticipated to develop at the highest CAGR during the projection period. Asia Pacific has a significant percentage of elderly population, which contributes to an increase in surgical operations and adhesion problems. Increase in patients with various cardiovascular disorders and abdominal issues is one of the main drivers of the Asia Pacific anti-adhesion products market.
As fast-food habits become more prevalent, the chances of surgeries are increasing in nations such as Brazil, South Africa, the United Arab Emirates, Germany, the United Kingdom, and France, creating room for the market for anti-adhesion products to develop in Latin America, the Middle East, and Europe, respectively, in the coming years. However, due to the safety concerns with these treatments, the Europe market has stopped utilising anti-adhesion products and has instead switched to various forms of sealants.
Country-wise Analysis
What Makes the U.S. a Strong Market for Anti-adhesion Products?
"Rising Cases Related to Surgical Operations Driving Demand for Anti-adhesion Products"
The North American market is led by the United States, and this trend is anticipated to continue during the forecast period. Every year, more than 9 lac cardiac operations are carried out in the United States.
The market for cardiac surgery in the United States is expanding quickly due to the advancement of many underlying procedures, and this is anticipated to have a substantial positive impact on the market for anti-adhesion products.
Similarly, there are more sporting activities and participants in the United States than in other countries, which raises the likelihood of injuries necessitating surgeries. Therefore, the use of anti-adhesion products is increasing here and will continue to do the same in the coming years.
How is the Market for Anti-adhesion Products Progressing in India?
"Rising Prevalence of Chronic Diseases Fuelling Demand for Anti-adhesion Solutions"
India currently holds the largest market share in the Asia Pacific market, and it is expected to continue to develop in the coming years.
The nation's rapidly ageing population, the epidemiological shift from infectious to chronic diseases, rising life expectancy, the expansion of private hospitals in rural areas, and the rising demand for surgical interventions are all factors driving the anti-adhesion products market growth.
Category-wise Analysis
Why are Synthetic Anti-adhesion Products Widely Preferred?
"High Availability & Cost-effectiveness of Synthetic Anti-adhesion Products"
The market for anti-adhesion products is divided into two types of products: synthetic adhesion barriers and natural adhesion barriers.
Demand for synthetic anti-adhesion products is expected to increase at a CAGR of 8.5% from 2022 to 2030, and reach US$ 718.6 million by 2030.
Due to their high bioresorbable and biocompatible qualities, synthetic anti-adhesion products account for the biggest market share. The cost-effectiveness of synthetic adhesion barriers boosts their sales. Moreover, the availability of commercial synthetic anti-adhesion products is principally responsible for its growth. The segment may be further subdivided into polyethylene glycol, regenerated cellulose, hyaluronic acid, and others.
It has been established via numerous meta-analyses-based multinational studies that PEG-based anti-adhesion products considerably reduce the occurrence of adhesions post-gynaecological surgeries. Hyaluronic acid and regenerated cellulose, two more product types are also anticipated to expand significantly during the projection period.
Which Formulation Type Has Gained Immense Popularity?
"High Sales of Gel Formulations Due to Their Effectiveness, Safety, & Simplicity to Use"
Based on formulation the market is further segmented into film formulation, gel formulation, and liquid formulation.
Due to the rising need and effectiveness of the formulation, it is predicted that the market for gel type formulations would increase at a considerable CAGR between 2020 and 2030.
The benefits of gel anti-adhesions, including their cost, resorbability, simplicity of use, and safety, are principally responsible for their rapid growth. Furthermore, expanding use of gels in various procedures such as tendon, carpal tunnel, joint, or peripheral surgeries is anticipated in the coming years.
Don't Need a Global Report?
save 40%! on Country & Region specific reports
Competitive Landscape
By combining their products in affordable packages, manufacturers compete on price. Market dynamics are changing due to the increasing awareness of anti-adhesions. By making considerable investments in companies that research anti-adhesion solutions, large manufacturers are beginning to expand their businesses.
Baxter International Inc., a market leader in medical supplies, purchased Seprafilm Adhesion Barrier and related assets from Sanofi A in December 2020. The purchase was a calculated strategic move to expand their line of adhesion barrier solutions.
Segmentation of Anti-adhesion Products Industry Research
By Type:

Synthetic

Polyethylene Glycol
Hyaluronic Acid
Regenerated Cellulose

Natural

Collagen & Protein
Fibrin

By Formulation:

By Application:

General/Abdominal Surgeries
Gynecological Surgeries
Others

By End User:

Hospitals
Ambulatory Surgical Centers
Specialty Clinics
Others

By Region:

North America
Latin America
Europe
East Asia
South Asia & Oceania
MEA
- FAQs -
Currently, the global anti-adhesion products market is valued at US$ 678.5 million.
Sales of anti-adhesion products are expected to progress at a CAGR of 7.5% through 2030.
The global anti-adhesion products market is predicted to reach US$ 1.2 billion by 2030.
Demand for synthetic anti-adhesion products is expected to increase at a CAGR of 8.5% and reach US$ 718.6 million by 2030.
Sales of anti-adhesion products in China are expected to rise at a CAGR of 11.3% and reach US$ 287.4 million by 2030.