Bank Kiosk Market
Bank Kiosk Market Analysis By Component (Hardware, Software, Services), By Type (Single-function Kiosks, Multi-function Kiosks, Virtual Video Teller Machines), By Deployment (Rural, Urban, Metropolitan), By Location (On-site, Off-site), By Application (Automated Teller Machines (ATMs), Video Teller Machines (VTMs), Self-service Kiosks), By End User (BFSI, Government, Individuals) & By Region – Global Market Report 2023 to 2033
Analysis of Bank Kiosk Market Covering 30+ Countries Including Analysis of US, Canada, UK, Germany, France, Nordics, GCC countries, Japan, Korea and many more
Bank Kiosk Market Overview (2023 to 2033)
The global bank kiosk market size is valued at US$ 18.5 billion in 2023 and is projected to expand at a CAGR of 15% to reach US$ 80 billion by 2033-end, according to a new study by experienced analysts at Fact.MR.
A bank kiosk is an automated self-service gadget that provides consumers with a variety of banking services without requiring human assistance. Bank kiosk machines are an integral part of modern banking infrastructure, offering efficiency and flexibility to both customers and financial institutions.
The importance of kiosks is underscored by their capacity to deliver convenience, accessibility, and cost-efficiency to customers. Kiosks are positioned to continue playing a crucial role in the banking sector given the rising demand for quick and user-friendly banking services. Computerized self-service kiosks known as interactive kiosks allow customers to interact with them to access information, execute transactions, or carry out a variety of tasks. Interactive kiosks typically use touchscreens or other user interface technology.
Demand for bank kiosks will rise throughout the study period as more countries emphasize innovations and expansions being carried out by smart city and digitization projects. The rising demand for self-service security applications is one of the main causes that is boosting the demand for bank kiosks. In addition, factors such as growing government initiatives for the implementation of bank kiosks are driving the demand for them.
Retail banking kiosks are designed to provide customers with convenient access to a variety of banking services and transactions without the need for direct assistance from bank staff.
The open data and payments technology from Moneyhub was chosen by electronics maker Samsung in March 2022 to enable open banking payments at retail self-service point-of-sale kiosks. The agreement, according to Samsung and Moneyhub, is the first of its kind. It aims to provide new payment options to businesses, such as quick-service restaurants, retail stores, stadium events, and other hospitality-related sites.
Report Attributes
Details
Bank Kiosk Market Size (2022A)
US$ 16 Billion
Estimated Market Value (2023E)
US$ 18.5 Billion
Forecasted Market Value (2033F)
US$ 80 Billion
Global Market Growth Rate (2023 to 2033)
15% CAGR
Asia Pacific Market Growth Rate (2023 to 2033)
16.5% CAGR
North America Market Share (2023)
31% CAGR
United States Market Growth Rate (2023 to 2033)
14.5% CAGR
BFSI Segment Share (2023)
41.5% CAGR
ATM Segment Share (2023)
35%
ATM Segment Growth Rate (2023 to 2033)
14% CAGR
Off-site Segment Share (2023)
53.5%
Hardware Segment Share (2023)
40.6%
Metropolitan Segment Growth Rate (2023 to 2033)
13% CAGR
Key Companies Profiled

NCR Corporation
Diebold Nixdorf
Incorporated
Nautilus Hyosung America, Inc.
OKI Electric Industry Co. Ltd.
Euronet Worldwide, Inc.
Brink's, Inc.
Azkoyen Group
Don't Need a Global Report?
save 40%! on Country & Region specific reports
What is Behind the Increasing Need for Bank Kiosk Devices?
"Convenience and Efficiency Factors of Self-Service Banking Kiosks"
Self-service banking kiosks typically allow users to check account balances, make deposits and withdrawals, move money between accounts, print account statements, and even submit loan or credit card applications.
Rise in the demand for self-service in several security-related financial applications, the improved customer services provided by interactive kiosks, the decline in overall operational costs, and increased adoption in several developing countries, including India, China, and Japan, among others, are some of the factors that have contributed to bank kiosk market growth.
To provide consumers with quick access to crucial financial services outside of regular banking hours, these kiosks are strategically positioned in bank branches, ATM locations, or other convenient locations. They want to make customers' banking experiences more convenient while also cutting down on wait times. Self-service banking kiosks frequently have intuitive user interfaces, touchscreens, card readers, and receipt printers to let customers have a quick and easy time banking.
"Integration of Financial Kiosks with Banking Systems and Software Applications"
Financial kiosk solutions refer to technology-driven systems and services designed to revolutionize and streamline various financial processes within the banking and financial services sector. These solutions encompass a range of self-service kiosk devices, software applications, and integrated technologies aimed at enhancing the overall banking experience for both customers and financial institutions.
Financial kiosk solutions rely on robust software applications that power the interactive interface of the kiosk. These applications are designed to ensure a user-friendly experience, guide customers through their transactions, and provide secure access to their accounts and financial services.
Financial kiosk solutions are integrated with the bank's core systems, ensuring real-time access to account information and transaction processing. This integration allows for seamless updates and synchronization of customer data and banking services.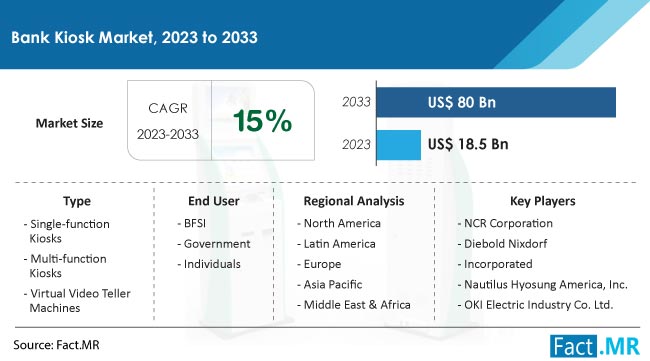 What Challenges are Encountered by Bank Kiosk Manufacturers?
"High Installation Costs and Maintenance Expenses"
The initial setup and installation costs for bank kiosks, including hardware, software, and infrastructure, can be substantial. This can be a barrier, especially for smaller banks or financial institutions with limited budgets.
Bank kiosks require regular maintenance to ensure their proper functioning and security. These maintenance costs can add up over time, affecting the overall cost-effectiveness of kiosk deployment.
"Adverse Effects of Technological Obsolescence and Security Concerns"
Rapid advancements in technology can lead to the quick obsolescence of bank kiosk hardware and software. Keeping up with these technological changes and ensuring compatibility with new systems can be challenging and costly.
As kiosks handle sensitive financial data and transactions, they are susceptible to security threats such as hacking, skimming, and data breaches. Ensuring robust security measures to protect customer information is a constant challenge.
More Insights, Lesser Cost (-50% off)
Insights on import/export production,
pricing analysis, and more – Only @ Fact.MR
Country-wise Insights
This section delves into the revenue generated by prominent countries, with China and the United States emerging as key markets.
What Notable Progressions Have Occurred in the Market in China?
"Emerging Trends of Cutting-edge Financial Solutions with Growing Role in Fintech and Innovative Banking Solutions"
The Asia Pacific bank kiosk market is predicted to exhibit significant growth over the course of the projected period, with a CAGR of 16.5%. The market in APAC is projected to grow at the fastest rate throughout the anticipated time frame. Governments in this region are aggressively promoting the growth of the Fintech industry and implementing cutting-edge financial solutions. The main reason for the rising use of Fintech solutions is to draw in international entrepreneurs and advance the banking industry, particularly in China.
Retailers and other service providers are using kiosks more frequently in touristy locations in China, which is causing the market to grow. Visitors no longer face obstacles to information and communication thanks to kiosk systems, which also make it easier for them to access services and display real-time updates.
Why is the United States a Profitable Market for Manufacturers of Bank Kiosks?
"Presence of Prominent Players and Infrastructural Developments"
In 2023, North America held the top position with 31% of global bank kiosk market share. The North American region owns highly developed infrastructure and invests significantly in extensive research and development activities. This positions the region as the leading contributor to revenue during the projected period.
The continuous expansion of ATMs and self-service kiosks, coupled with technological advancements in the United States, is anticipated to drive the bank kiosk market growth during the forecast period. Market leaders are placing a strong emphasis on automating various functions to improve operational efficiency, further boosting this growth.
Between 2023 and 2030, the bank kiosk market in the United States is projected to expand at 14.5% compound annual growth rate (CAGR).
The United States is poised to maintain its leadership throughout the forecasted period, driven by factors such as convenience, accessibility, cost-efficiency, technological innovations, regulatory compliance, and evolving consumer preferences. As the desire for self-service banking solutions continues to rise, the bank kiosk market in the United States is anticipated to witness ongoing growth in the foreseeable future.
Category-wise Insights
This section presents a segmentation of the market by end user and application. BFSI and ATM are anticipated to command 71.3% and 41.5% of global bank kiosk market revenue share in 2023.
What Makes BFSI the Preferred Choice for Bank Kiosk Deployment?
"Enhancing Financial Institution Reach and Efficiency through Bank Kiosk Deployments"
The BFSI segment is projected to expand at 15% CAGR during the forecast period. Bank kiosks hold notable significance within the BFSI (Banking, Financial Services, and Insurance) sector, offering a multitude of advantages to both customers and financial institutions.
From the standpoint of financial institutions, these kiosks present an economical approach to extending their outreach and delivering services to clients without the necessity of investing in costly physical branches. By deploying kiosks in high-traffic locations, financial institutions can access a broader customer base and provide services in regions where they might lack a physical branch presence. This enables financial institutions to enhance their market coverage, bolster brand recognition, and concurrently trim operational expenditures.
How is the ATM Segment Projected to Fare in This Market?
"ATMs Highly Popular for Convenience, Accessibility, and Efficiency Aspects"
The ATMs segment is predicted to expand at a CAGR of 14% between 2023 and 2033. Automated Teller Machines (ATMs) have revolutionized the banking sector by granting customers access to their bank accounts and facilitating a variety of financial transactions around the clock, all without the need for direct interaction with bank personnel.
ATMs are widely accessible in bank branches, shopping centers, airports, and other public locations. They offer customers a convenient, speedy, and secure means to perform tasks such as cash withdrawals, balance inquiries, fund transfers, bill payments, and even cash or check deposits. Moreover, ATMs alleviate the workload of bank tellers, enabling financial institutions to enhance customer service and boost operational efficiency.
Know thy Competitors
Competitive landscape highlights only certain players
Complete list available upon request
Competitive Landscape
Due to the presence of multiple companies, the market is fragmented and is expected to experience greater competition. The competition among these firms has increased as a result of major players investing considerably in research and development activities to incorporate cutting-edge technologies in bank kiosks utilized by many banking and financial organizations.
In November 2022, NCR Corp. expanded its partnership with Santander UK to oversee Santander's extensive network of over 1,700 ATMs in the United Kingdom. NCR will take responsibility for various aspects including ATM software, transaction processing, cash management, monitoring, help desk support, maintenance, and related tasks.
Key Segments of Bank Kiosk Market Research
By Component :

Hardware
Software
Services

By Type :

Single-function Kiosks
Multi-function Kiosks
Virtual Video Teller Machines

By Deployment :

By Location :

By Application :

Automated Teller Machines (ATMs)
Video Teller Machines (VTMs)
Self-service Kiosks

By End User :

BFSI
Government
Individuals

By Region :

North America
Latin America
Europe
Asia Pacific
Middle East & Africa
- FAQs -
The global bank kiosk market is estimated at US$ 18.5 billion in 2023.
Worldwide demand for bank kiosks is predicted to rise at a CAGR of 15% from 2023 to 2033.
Revenue from the sales of bank kiosks is projected to reach US$ 80 billion by 2033.
The United States is poised to hold a leading position with that market expanding at a CAGR of 14.5% through 2033.
The market in Asia Pacific is forecasted to advance at a CAGR of 16.5% CAGR from 2023 to 2033.
The hardware segment accounts for 40.6% market share in 2023.