Trencher Rental Market
Trencher Rental Market Analysis By Type (Self-Propelled and Tractor Mounted), By Mechanism (Rock Wheel and Chain or Ladder) and Region - Global Market Insights 2023 to 2033
Analysis of Trencher Rental Market Covering 30+ Countries Including Analysis of US, Canada, UK, Germany, France, Nordics, GCC countries, Japan, Korea and many more
Trencher Rental Market Growth Outlook (2023 to 2033)
The trencher rental market is estimated to reach a valuation of US$ 136.1 million in 2023 and further expand at a CAGR of 3.8% to reach US$ 197.7 million by the end of 2033.
A trencher is a machine used for digging trenches, which are narrow excavations in the ground. Hence, the demand for trenchers is directly linked to the demand for trenching activities. As construction and infrastructure projects increase, so does the need for trenching.
Renting trenchers offers flexibility in terms of project duration and equipment availability. Construction projects often have variable timelines, and renting allows contractors to access trenchers for specific periods as needed. Additionally, rental companies usually maintain a fleet of trenchers, ensuring that customers have access to equipment even during peak demand periods.
Report Attributes
Details

Trencher Rental Market (2022A)

US$ 131.2 Million

Estimated Market Value (2023E)

US$ 136.1 Million

Forecasted Market Value (2033F)

US$ 197.7 Million

Global Market Growth Rate (2023-2033)

3.8% CAGR

U.S. Market Share (2023)

24.7%

Germany Market Share (2023)

9.3%

United States Market Growth Rate (2023-2033)

4.0% CAGR

Market Share of Top 3 Countries

72.6%

Key Companies Profiled

BlueLine Rental
Herc Rentals
Neff Rental
Sunbelt Rentals
United Rentals
Don't Need a Global Report?
save 40%! on Country & Region specific reports
Comprehensive Analysis of the Trencher Rental Market
Factors such as urbanization, population growth, and the expansion of utility networks contribute to the growing demand for trenching services. As, trenchers are typically used for installing pipes, cables, irrigation systems, or drainage systems in construction, agriculture, and utility work. The trencher rental market is expected to grow with the growing construction and agriculture sectors.
Purchasing a trencher is a significant investment, and not all companies or individuals have the financial resources or the need for long-term ownership. Renting a trencher provides a cost-effective alternative, allowing users to access the equipment for specific projects without the burden of ownership costs.
Short Term (2023-2026): The growing construction industry drives trencher rental market growth by increasing the demand for trenching activities, creating a need for cost-effective and flexible equipment solutions, leading to an uptick in renting trenchers rather than purchasing them outright.
Medium Term (2026-2029): Mushrooming agriculture sector especially across emerging economies, coupled with supportive government initiatives, drives trencher rental market growth. Increased agricultural projects and policies promoting mechanization and modernization create a demand for trenchers, leading to the expansion of rental services as a cost-effective and accessible equipment solution.
Long Term (2029-2033): Efforts led by rental service providers to remain competitive in the market are likely to drive trencher rental market growth in the long run. By offering competitive rental rates, expanding their fleet of trenchers, providing excellent customer service, and adopting innovative rental models, providers attract more customers and sustain market growth over time.
According to Fact.MR, a market research and competitive intelligence provider, the market is projected to exhibit growth at 3.8% CAGR between 2023 and 2033.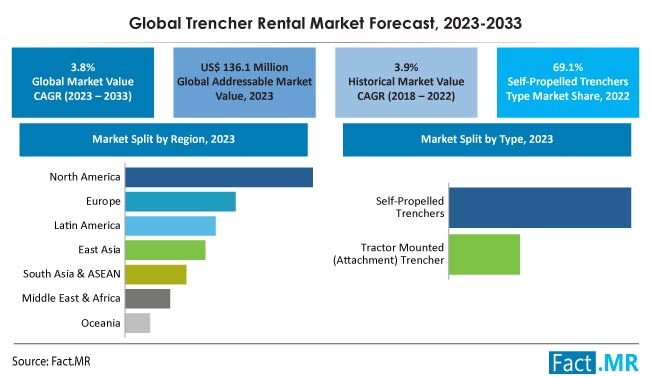 Market share analysis of trencher rental based on trencher type and region is illustrated briefly in the above image. Under the trencher type segment, the self-propelled trencher segment will dominate with 69.1% market share in 2023.
"Pullulating Mining Activities to Drive Trencher Rental Market in Coming Years"
The rise in electric vehicles (EVs) and renewable energy systems has significantly increased the demand for lithium, a key component in lithium-ion batteries. As a result, lithium mining operations have expanded to meet the growing demand. Trenchers are commonly used in such mining operations to extract lithium-rich ores from the ground efficiently.
Further, the mining of lithium often requires the development of infrastructure, such as roads, pipelines, and power transmission lines, to support the mining operations. Trenchers are essential in creating trenches for such developments. As the mining activities expand, the need for trenchers to dig trenches for infrastructure development also increases creating growth opportunities for the trencher rental service providers.
As trencher rental provides mining companies with scalability and flexibility in their operations. As lithium mining activities expand or shift to different locations, the rental market allows companies to easily adapt to changing requirements. Mining companies can also rent trenchers for specific projects or periods, avoiding the need for long-term ownership and maintenance commitments. Hence, the growing mining activities are likely to drive the demand for trencher rentals.
"Factors Restraining the Market Growth"
Trenchers are not the only equipment used for trenching purposes. There are alternative solutions available, such as excavators, backhoes, or other specialized machinery, which compete with trencher rentals. Depending on the specific requirements of a project, companies are likely to opt for such multipurpose alternatives instead of renting trenchers, likely to hamper trencher rental market growth.
Further, trenchers are specialized and expensive equipment, requiring significant investment for rental companies. The high initial costs of acquiring and maintaining trenchers limit the growth of the rental market. Some mining companies also find it more cost-effective to purchase their trenchers instead of relying on rentals, restraining the market growth.
Country-wise Insights
How Does the Growing Military and Defense Industry Drive Trencher Rental Market in the US?
The military and defense sector often requires the development of infrastructure, including bases, training facilities, and logistical support systems. Trenchers play a crucial role in digging trenches for various purposes, such as laying utility lines, constructing communication networks, installing underground facilities, and creating defensive fortifications. As the military expands and modernizes its infrastructure, the demand for trencher rentals is likely to increase.
In addition, the military and defense sector often operates within budget constraints. Renting trenchers allows military organizations to optimize their expenses by avoiding the substantial upfront costs associated with purchasing and maintaining specialized equipment. Trencher rentals offer flexibility in managing project-specific budgets, allowing military entities to allocate resources effectively and efficiently.
What Are the Trends That Have Impelled the Demand for Trencher Rental in China?
China is experiencing rapid urbanization and infrastructure development, including the construction of roads, railways, bridges, and utilities. Trenchers are essential for digging trenches to lay underground pipes, cables, and other infrastructure components. The ongoing infrastructure projects in China are driving the demand for trencher rentals to meet the excavation requirements efficiently.
The expanding utility and telecommunications infrastructure in China requires extensive trenching work. Trenchers are used to dig trenches for laying underground cables, fiber optics, and other utility infrastructure. The demand for trencher rentals has grown to support the expansion and maintenance of utility and telecommunications networks across the country.
Trencher rentals offer cost-effectiveness and operational efficiency to businesses in China. Renting trenchers eliminates the need for significant upfront investments, reduces maintenance costs, and allows companies to access specialized equipment when needed. These advantages have made trencher rentals an attractive option for construction, infrastructure, and utility companies in China.
More Insights, Lesser Cost (-50% off)
Insights on import/export production,
pricing analysis, and more – Only @ Fact.MR
Category-wise Insights
Why the Demand for Self-Propelled Trenchers Rental is Growing?
Self-propelled trenchers offer enhanced efficiency compared to other types of trenching equipment. Self-propelled trenchers are equipped with powerful engines and advanced hydraulic systems, allowing them to dig trenches fast and effectively. The self-propelled capability eliminates the need for manual pushing or towing, resulting in faster completion of trenching projects. As companies strive for improved productivity, the demand for self-propelled trencher rentals has increased.
Self-propelled trenchers are designed to tackle a wide range of soil conditions and terrains. They operate in various environments, including soft soil, hard ground, and uneven surfaces. Their adjustable digging depths and widths make them adaptable to different project requirements. The versatility and adaptability of self-propelled trenchers make them suitable for a variety of applications, driving the demand for rentals in industries such as construction, utilities, landscaping, and agriculture.
Which Application is Gaining Traction?
Trenchers are widely used in agriculture and forestry for land preparation and drainage purposes. They are utilized to create trenches for irrigation systems, subsurface drainage networks, and field leveling. As agricultural and forestry activities expand to meet the rising demand for food and wood products, the need for trenchers to efficiently prepare the land and manage water drainage increases, driving the demand for trencher rentals.
Renting trenchers provides accessibility to specialized equipment without the need for significant upfront investments. Agricultural and forestry operations often have seasonal or project-specific needs, making rentals a cost-effective option compared to purchasing and maintaining trenchers year-round. Rental contracts are tailored to specific durations, allowing farmers, foresters, and agricultural contractors to optimize costs while having access to the necessary trenching equipment creating trencher rental market growth opportunities.
Competitive Landscape
Prominent trencher rental service providers are BlueLine Rental, Compact Power Equipment Rental, Diamond Rental, Herc Rentals, Neff Rental, Sunbelt Rentals, Sunstate Equipment Co., and United Rentals.
Trencher rental market players adopt several growth strategies to remain competitive in the rental service market. Providing excellent customer service is crucial for rental companies to differentiate themselves in the market. Companies focus on delivering prompt responses to inquiries, offering flexible rental terms, ensuring timely equipment delivery and pick-up, and providing ongoing support during the rental period. Building strong customer relationships and addressing customer needs effectively help rental companies maintain a competitive edge in the trencher rental market.
Fact.MR has provided detailed information about the key rental service providers of trenchers, their total fleet, service portfolio, and revenue growth, in the recently published report.
Know thy Competitors
Competitive landscape highlights only certain players
Complete list available upon request
Segmentation of Trencher Rental Industry Research
By Type :

Self-Propelled
Tractor Mounted (Attachment)

By Mechanism :

Rock Wheel
Chain or Ladder

By Application :

Mining
Construction
Agriculture & Forestry
Marine & Sub Sea
Military & Defense
Other

By Region :

North America
Latin America
Europe
East Asia
South Asia & ASEAN
Oceania
MEA
- FAQs -
The trencher rental market is expected to be valued at US$ 136.1 million in 2023.
Worldwide demand for trencher rental is estimated to reach US$ 197.7 million by 2033-end.
During 2018-2022, the demand for trencher rental increased at 3.9% CAGR.
North America tops the trencher rental market, which is estimated to account for 27.0% market share in 2023.
Self-Propelled Trenchers is predicted to account for a 69.1% share of the global market in 2023.