Brush Hog Rental Market
Brush Hog Rental Market Analysis By Power Source (PTO (Power Take-Off) - Tractor and Self-Powered), By Cutting Width (Upto 6, 6-12 Feet, and Above 12 Feet) and By Region - Market Insights 2023 to 2033
Analysis of Brush Hog Rental Market Covering 30+ Countries Including Analysis of US, Canada, UK, Germany, France, Nordics, GCC countries, Japan, Korea and many more
Brush Hog Rental Market Growth Outlook (2023 to 2033)
Based on the analysis by Fact.MR, the global brush hog rental market is estimated to be valued at US$ 89.7 million in 2023 and it is expected to grow at a CAGR of 2.6% to reach US$ 116.0 million by the end of 2033.
A brush hog is primarily used in land clearing and vegetation management. It is generally used in agricultural settings, such as farms and ranches, to clear overgrown fields, pastures, and fence lines. It is also utilized in forestry and land development projects to remove unwanted vegetation and prepare land for construction. Additionally, municipalities and road maintenance crews employ brush hogs to maintain roadside vegetation and control weeds. On the back of diverse applications demand for the brush hog is likely to increase in the coming years.
Purchasing a brush hog and the heavy machinery required to operate it is expensive. Many individuals and businesses prefer to rent equipment instead of making a significant investment. The growing brush hog market means more demand for rentals, providing an opportunity for rental companies to meet the needs of customers who require occasional or temporary use of the equipment.
Report Attributes
Details

Brush Hog Rental Market Size (2022A)

US$ 87.5 Million

Estimated Market Value (2023E)

US$ 89.7 Million

Forecasted Market Value (2033F)

US$ 116.0 Million

Global Market Growth Rate (2023-2033)

2.6% CAGR

North America Market Share (2023)

28.0%

U.S. Market Growth Rate (2023-2033)

2.8% CAGR

Key Companies Profiled

Coates Hire
Cramo
CramoRent
Herc Rentals
Kennards Hire
Kiloutou
Loxam
Speedy Hire
Sunbelt Rentals
United Rentals
Don't Need a Global Report?
save 40%! on Country & Region specific reports
Comprehensive Analysis of the Brush Hog Rental Market
A brush hog, also known as a rotary cutter or a bush hog, is a heavy-duty cutting implement designed to clear dense vegetation, thick brush, and tall grass. It typically consists of a large, rotary blade attached to the rear of a tractor or other heavy machinery. The blade spins at a high speed, allowing it to cut through tough vegetation effectively.
Short Term (2023-2026): The growing agricultural industry, with its increasing demand for land clearing, pasture management, and field maintenance, is a key driver of the brush hog rental market. As farmers and ranchers seek efficient and cost-effective solutions, renting brush hogs provides them with the necessary equipment without the burden of ownership, contributing to the growth of the rental market.
Medium Term (2026-2029): Emerging economies witnessing growth in forestry and landscaping activities are driving the brush hog rental market. As these economies expand their infrastructure and urban development, there is a need for land clearing, maintenance, and vegetation management. Renting brush hogs offers a cost-effective solution to meet these demands, enabling businesses and contractors in emerging economies to access the necessary equipment without significant upfront investment.
Long Term (2029-2033): Market players' efforts to stay competitive in the brush hog rental market drive long-term market growth by improving service quality, and expanding offerings. These efforts attract a wider customer base, encourage repeat business, and create a positive industry reputation. As market players continually adapt to customer needs and deliver value-added solutions, the overall demand for brush hog rentals increases, propelling the sustained market growth.
On the back of the aforementioned facts, the brush hog rental market is anticipated to grow at a CAGR of 2.6% during the forecast period from 2023-2033, According to the Fact.MR, a market research and competitive intelligence provider.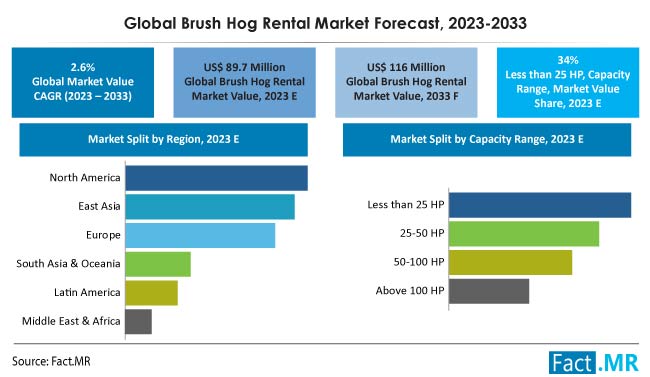 Market share analysis of brush hog rental based on capacity range and region is provided in a nutshell in the above image. Under the capacity range segment, the less than 25 HP sub-segment dominates with a 34% market share in 2023.
Market Dynamics Outlook
"Growing Agriculture Industry: Drives Brush Hog Rental Market"
The growing agricultural industry plays a significant role in driving the brush hog rental market growth. Brush hogs, also known as rotary cutters or bush hogs, are heavy-duty agricultural implements used for cutting and clearing thick vegetation, brush, and small trees. They are commonly employed in agricultural operations, land management, and property maintenance.
As the agricultural sector expands, there is a continuous need for land preparation, including clearing fields and removing unwanted vegetation. Brush hogs are effective tools for quickly and efficiently clearing large areas of land, making them indispensable for farmers and landowners. Renting brush hogs provides a cost-effective solution for short-term land preparation needs, leading to increased demand for rental services.
"Factors Restraining Brush Hog Rental Market Growth"
Acquiring and maintaining brush hog equipment involves significant upfront costs for rental companies. The initial investment required to purchase and maintain a fleet of brush hogs is a barrier to entry for new rental businesses or a constraint for existing ones. These costs limit the availability of rental services in certain areas, hindering market growth.
Brush hogs are heavy-duty equipment that undergoes wear and tear during use. Rental companies need to invest in regular maintenance and repairs to ensure the equipment's optimal performance and longevity. Equipment downtime due to maintenance or repair results in reduced availability and service interruptions, potentially impacting customer satisfaction and hindering market growth.
More Insights, Lesser Cost (-50% off)
Insights on import/export production,
pricing analysis, and more – Only @ Fact.MR
Country-wise Insights
Will the Growing Agriculture Industry in India Drive the Market?
With the growing population and demand for food, there is a continuous need to prepare land for agricultural activities. Further, agriculture in India involves various crop management practices, such as weed control, pest management, and crop residue management. Brush hogs are valuable tools for controlling weed growth, managing crop residues, and maintaining clean fields. Also, brush hogs are widely used for clearing fields, removing unwanted vegetation, and preparing the soil for planting. As the agriculture industry expands in India, the demand for brush hog rentals increases to efficiently clear and prepare large areas of land for cultivation.
Moreover, Indian agriculture is witnessing a shift towards mechanization, driven by the need for higher productivity and efficiency. Farmers are increasingly adopting modern agricultural equipment, including brush hogs, to streamline their operations. Renting brush hogs provides an affordable option for small and medium-scale farmers who may not have the resources to purchase such equipment outright, thereby driving the demand for rental services.
What Leads to Market Growth in China?
China's rapid urbanization and infrastructure development have led to increased demand for land clearing and vegetation management. As cities expand and new construction projects emerge, there is a need to clear vegetation and brush from construction sites, roadways, railways, and utility corridors. Brush hogs are efficient tools for such applications, driving the demand for rental services to cater to the growing commercial sector.
The rise of commercial complexes, residential communities, and public spaces in China has amplified the demand for landscaping and property maintenance services. Brush hogs play a crucial role in maintaining clean and well-manicured landscapes by clearing overgrown areas, managing vegetation, and enhancing the overall aesthetic appeal. Rental services provide cost-effective solutions for landscaping companies and property management firms to access brush hogs for their maintenance operations.
Category-wise Insights
Which Power Source is Gaining Traction?
PTO tractors are highly versatile machines that are used for a wide range of agricultural tasks, including operating brush hogs. The PTO system allows the tractor's engine power to be transferred to the brush hog's cutting mechanism, enabling efficient vegetation clearance. This versatility makes PTO tractors a preferred choice for brush hog rental services as they are utilized for multiple applications, such as plowing, tilling, and harvesting, in addition, to brush hogging.
Brush hogs are specifically designed to be compatible with PTO tractors, making them an ideal pairing. Rental companies often provide brush hogs that are designed to connect to PTO tractors, ensuring easy integration and operation. The compatibility between brush hogs and PTO tractors simplifies the rental process and enhances the overall efficiency of the equipment.
Which End-Use Industry to Support Market Growth during the Forecast Period?
Forestry operations often involve clearing vegetation, brush, and small trees to establish or maintain healthy forests. Brush hogs are effective tools for clearing underbrush, controlling invasive species, and managing vegetation in forestry settings. As the forestry industry expands, the demand for brush hog rentals increases to support land management and vegetation control efforts.
The forestry and landscaping industry requires land clearing and site preparation services for various projects. Whether it's preparing land for tree planting, establishing new landscapes, or creating green spaces, brush hogs are valuable tools for clearing vegetation and preparing the land. Rental services cater to the demand for equipment needed for short-term or project-based land clearing, promoting the growth of the brush hog rental market.
Know thy Competitors
Competitive landscape highlights only certain players
Complete list available upon request
Eminent Player's Key Stratagems
Eminent brush hog rental service providers are Coates Hire, Cramo, CramoRent, Herc Rentals, Kennards Hire, Kiloutou, Loxam, Speedy Hire, Sunbelt Rentals, United Rentals
Rental service providers are likely to enter into strategic partnerships, collaborations, or acquisitions with other businesses to expand their market reach and enhance service offerings. Companies collaborate with landscaping companies, construction firms, agricultural cooperatives, or property management companies to provide bundled services or exclusive rental arrangements. By leveraging partnerships, rental service providers access new customer segments and drive market growth through mutually beneficial collaborations or partnerships. Also, the acquisition is beneficial to support business expansion and widening customer portfolio.
For instance :
In November 2022, United Rentals, Inc. disclosed that it has signed a binding contract to buy the assets of privately held Ahern Rentals, Inc. for about US$ 2.0 million in cash.
Fact.MR has provided detailed information about the key rental service providers of brush hogs, their total fleet, service portfolio, and revenue growth, in the recently published report.
Segmentation of Brush Hog Rental Industry Research
By Power Source :

PTO (Power Take-Off)- Tractor
Self-Powered

By Cutting Width :

Up to 6
6--12 Feet
Above 12 Feet

By Capacity Range :

Less than 25 HP
25-50 HP
50-100
Above 100 HP

By End Use :

Agricultural
Forestry & Landscaping
Commercial/Professional
Residential

By Region :

North America
Latin America
Europe
East Asia
South Asia & Oceania
Middle East & Africa
- FAQs -
The global brush hog rental market was valued at US$ 87.5 million in 2022.
The regions included in the brush hog rental market study include North America, Latin America, Middle East & Africa, South Asia & Oceania, East Asia, and Europe.
Prominent players in the market are Coates Hire, Cramo, CramoRent, Herc Rental, Kennards Hire, Kiloutou, Loxam, Speedy Hire, Sunbelt Rentals, and United Rentals among others.
The market is expected to reach a valuation of US$ 116.0 million in 2033.
Forestry & landscaping end-use is expected to hold a significant position in the brush hog rental market accounting for 43.2% market share in 2023.