Bioinformatics Market
Bioinformatics Market Analysis By Product Type (Platforms, Services), By Application (Genomics, Proteomics, Transcriptomics, Chemoinformatics), By Sector (Medical Biotechnology, Agriculture Biotechnology, Animal Biotechnology, Academics) and By Region - Global Market Report (2024 to 2034)
Analysis of Bioinformatics Market Covering 30+ Countries Including Analysis of US, Canada, UK, Germany, France, Nordics, GCC countries, Japan, Korea and many more
Bioinformatics Market Outlook (2024 to 2034)
The global bioinformatics market size has been estimated at US$ 14.29 billion for 2024 and is forecasted to reach a valuation of US$ 50.25 billion by 2034, expanding rapidly at a CAGR of 13.4% over the next ten years. The market represents the dynamic convergence of biology and technology, offering critical tools and insights for comprehending complicated biological data. This rapidly developing discipline employs computational tools to decode, manage, and interpret massive amounts of biological data, especially genomic data, proteomics, and metabolomics.
Artificial intelligence (AI) and machine learning are set to play a crucial role in bioinformatics. These tools can automate data analysis, reveal trends in the bioinformatics market, and deliver insights that older methods may not provide. Single-cell sequencing technologies enable the study of individual cells, yielding previously impossible levels of clarity and insights. Data from genomes, proteomics, metabolomics, and other omics disciplines are predicted to be combined to provide complete knowledge of complicated biological processes.
Important Market Growth Drivers
Bioinformatics is critical for managing and interpreting the vast genetic datasets that are being generated. Demand for bioinformatics tools and services rises as a result.
Analyzing genetic data enables healthcare professionals to make data-driven treatment decisions, improving efficacy and lowering unwanted effects.
Bioinformatics is critical in the pharmaceutical sector for target identification, lead optimization, and clinical trial design.
Predictive analytics based on genetic data speeds up drug discovery, lowers development costs, and reduces clinical trial failures.
Bioinformatics is important in many areas of biological research, including gene expression analysis, protein-protein interaction investigations, and pathway analysis.
Bioinformatics technologies are used by researchers to derive valuable insights from complex biological data. There is an increasing demand for people with bioinformatics experience, yet there is a shortage of trained talent in this industry. Bridging this skills gap is critical for the continued growth of the market.
Report Attributes
Details
Bioinformatics Market Size (2023A)
US$ 12.6 Billion
Estimated Market Value (2024E)
US$ 14.29 Billion
Forecasted Market Value (2034F)
US$ 50.25 Billion
Global Market Growth Rate (2024 to 2034)
13.4% CAGR
North America Market Share (2023)
44.7%
Europe Market Growth Rate (2024 to 2034)
14.8% CAGR
Key Companies Profiled

PerkinElmer, Inc.
Biomax Informatics AG
Intrexon Bioinformatics Germany GmbH
Genedata AG
Agilent Technologies, Inc.
Dnanexus, Inc.
Seven Bridges Genomics Inc.
Agilent Technologies
Illumina Inc.
QIAGEN N. V.
Thermo Fisher Scientific Inc.
Dassault Systèmes
Don't Need a Global Report?
save 40%! on Country & Region specific reports
What is Pushing Global Demand for Bioinformatics?
"Rising Adoption of High-Throughput Sequencing Technologies"
Explosion of biological data created by high-throughput sequencing technologies, notably next-generation sequencing (NGS), is responsible for the existence and significance of the field. These technologies have transformed genomics research by enabling rapid, cost-effective, and comprehensive genome, transcriptome, and other biological entity sequencing. Bioinformatics provides a link for scientists and researchers to navigate the huge genomic landscape. It is required for genome assembly, variant calling, functional annotation, and comparative genomics.
Genomic technologies have improved our understanding of genetic diversity, disease causes, and evolutionary processes through the use of bioinformatics. The ongoing growth and advancement of genomic technology promise even larger datasets in the future, emphasizing the importance of bioinformatics in making sense of this gold mine of genetic information.
"Increasing Reliance on Bioinformatics in Research and Development Activities"
The pharmaceutical industry is in desperate need of new and cost-effective technologies to accelerate drug development, optimize lead compounds, and improve clinical trial outcomes. Bioinformatics provides sophisticated tools and methodologies for evaluating biological data, hence speeding the drug development workflow.
Bioinformatics in pharmaceutical R&D facilitates target discovery by sifting through massive databases to identify prospective therapeutic targets. It is crucial in lead optimization, assisting in the identification of the most promising drug candidates based on their interactions with biological targets. Bioinformatics supports clinical trial design by optimizing patient cohort selection and data analysis to improve trial outcomes. Bioinformatics minimizes the likelihood of late-stage failures by predicting medication interactions, toxicity, and efficacy. It enables pharmaceutical businesses to make data-driven decisions, favoring molecules with a greater chance of success.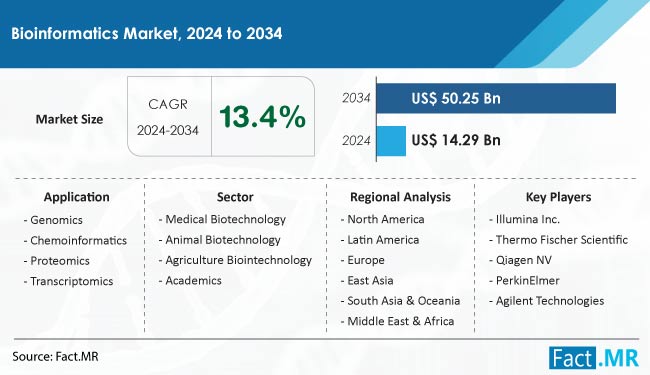 What is Hampering the Bioinformatics Market Worth?
"High Investment Cost Limiting Scope and Potential for Innovation"
Building and maintaining the required infrastructure, which includes powerful computer capabilities and data storage, necessitates significant financial resources. To handle the huge quantities created by genomics and other biological studies, high-performance computing clusters, storage solutions, and professional IT staff are required. Acquiring and maintaining cutting-edge bioinformatics software can be costly. For smaller research institutions, start-ups, and underfunded initiatives, the expense of procuring, installing, and maintaining bioinformatics tools can be a considerable barrier. This disparity in resource access can slow down the rate of innovation and research breakthroughs. The rapid advancement of bioinformatics technologies demands ongoing investment to remain competitive.
More Insights, Lesser Cost (-50% off)
Insights on import/export production,
pricing analysis, and more – Only @ Fact.MR
How Can New Companies Contribute to the Future of the Bioinformatics Industry?
"Start-ups Benefitting from Focus on User-centric Design and Data Security"
Start-ups can achieve a strategic advantage in the highly competitive and fast-expanding bioinformatics industry by focusing on specialization, promoting innovation, and forming strong relationships. They can supply unique answers and insights to a specific client's needs by becoming specialists in a specific sector of bioinformatics. Continuous R&D activities should support their pursuit of innovation, resulting in unique bioinformatics platforms or tools that stand out.
Prioritizing user-centric design, data security, and customer involvement also improves the customer experience and creates trust, while scalability ensures that their solutions can adapt to the changing demands of the market. Start-ups that remain agile, adopt changing technologies and use efficient marketing and branding tactics can maintain their place in the competitive bioinformatics scene and contribute to advances in this crucial field of science and technology.
Country-wise Insights
Fact.MR, a market research and competitive intelligence provider, reveals that North America is the leading region in the global market for bioinformatics business, with markets in Asia Pacific and Europe expanding at an impressive pace.
What are the Opportunities for Players in the Bioinformatics Business in the United States?
"Substantial Government Funding and Robust Biotechnology Sector"
North America accounted for 44.7% of the global bioinformatics market share in 2023 and is projected to expand at a CAGR of 12.7% over the forecast period. The United States is home to several prominent bioinformatics firms, research organizations, and academic centers, making it a focus for innovation and development.
Top companies in the bioinformatics market with headquarters in the United States include Thermo Fisher Scientific, Illumina Inc., and the Broad Institute, providing a competitive and inventive atmosphere.
Government initiatives and significant financing are essential in accelerating bioinformatics research and development. The National Institutes of Health (NIH) and the National Human Genome Research Institute (NHGRI) have continually committed large sums of money to genomics research, establishing the groundwork for the expansion of bioinformatics applications.
Investments enable cutting-edge research, the creation of cutting-edge tools, and the translation of discoveries into practical solutions for the healthcare and life sciences industries. Bioinformatics is essential to achieving precision medicine goals because it simplifies the analysis and interpretation of large datasets, ultimately leading to more tailored and effective patient care.
The burgeoning biotechnology instruments sector in the United States fuels the need for bioinformatics solutions. As bioinformatics becomes more important in genome research, personalized medicine, and drug discovery, the United States is poised to remain at the forefront of advancements in this interdisciplinary subject, contributing to its global expansion and innovation.
Which Factors are Responsible for the Development of the Bioinformatics Industry in India?
"Rapid Adoption of Bioinformatics in Healthcare Sector"
The market in Asia Pacific is projected to advance at a CAGR of 19% from 2024 to 2034. India has seen significant expenditures in genomics research and biotechnology. Government initiatives and funding have accelerated the growth of genomics and bioinformatics research institutions and biotech enterprises. This investment has resulted in a strong ecosystem for the application of bioinformatics.
With millions of genomes from various ethnic groups and genetic backgrounds, India is an excellent supply of data for bioinformatics research. This diversity not only aids in understanding genetic variations but also establishes India as a center for pharmacogenomics research, in which pharmaceuticals are tailored to the genetic makeup of an individual. Because bioinformatics tools and services are required for maintaining and interpreting genetic data, this adoption is anticipated to generate demand for them. As demand for bioinformatics solutions grows in India, the role of the country in defining the future of healthcare and life sciences through data-driven biology is poised to grow on a worldwide scale.
Know thy Competitors
Competitive landscape highlights only certain players
Complete list available upon request
Category-wise Insights
Based on application, the genomics segment is projected to grow at a significant pace through the forecast period. The medical biotechnology segment is forecasted to expand at a high-value CAGR of 9% through 2034.
Why Does the Services Segment Occupy a Leading Share of the Market?
"Bioinformatics Services Enabling Enterprises to Offer Tailored Solutions"
The bioinformatics services segment is forecasted to expand at a CAGR of 18% through 2034. Bioinformatics services provide a wide range of solutions adapted to the individual demands of research institutes, biotechnology and pharmaceutical services businesses, and healthcare providers. These services include data analysis, interpretation, and consulting to help clients make educated decisions in genomics, drug discovery, and customized medicine. The intricacy of biological data necessitates proficiency in handling and deriving valuable insights from it, underscoring the significance of services as a crucial component of the industry.
The bioinformatics services segment provides enterprises with flexibility and scalability. Unlike products, which are frequently one-size-fits-all, services can be tailored to solve specific research topics or issues. Bioinformatics services offer tailored solutions that can significantly accelerate research and development efforts, whether they are used by a genomics research team to analyze massive datasets or by a pharmaceutical business to optimize its drug discovery pipeline.
Bioinformatics is a rapidly evolving science, with new tools and approaches appearing all the time. Services providers are well-positioned to keep up with these developments, ensuring that their clients have access to the most up-to-date and effective solutions. This is especially useful in genomics, where technology such as next-generation sequencing is constantly evolving and necessitates current bioinformatics understanding.
Competitive Landscape
The competitive landscape of the market is distinguished by a dynamic interaction of established corporations, start-ups, and academic institutions. With their complete bioinformatics solutions, key firms such as Thermo Fisher Scientific, Illumina Inc., PerkinElmer Inc., BGI Group, and QIAGEN lead the market.
Thermo Fisher Scientific, a leader in life sciences solutions, provides a suite of bioinformatics tools for genomics research.
Illumina, best known for its DNA sequencing technology, augments its platforms with bioinformatics tools to aid in data processing.
PerkinElmer offers a wide range of genomics and life sciences software and services.
QIAGEN specializes in sample and assay technologies and provides bioinformatics solutions for data processing and interpretation.
Simultaneously, a thriving start-up environment is pumping new life into the market. These firms focus on specific aspects of bioinformatics, such as single-cell sequencing analysis, epigenetics, or structural bioinformatics, providing specialized solutions and tackling unique challenges. Their agility and innovative techniques give them a competitive advantage, allowing them to carve out distinct market areas.
Segmentation of Bioinformatics Market Research
By Product Type :

Bioinformatics Platforms
Bioinformatics Services

By Application :

Genomics
Chemoinformatics
Proteomics
Transcriptomics
Others

By Deployment :

Medical Biotechnology
Animal Biotechnology
Agriculture Biotechnology
Academics

By Region :

North America
Latin America
Europe
East Asia
South Asia & Oceania
Middle East & Africa
- FAQs -
Sales of bioinformatics solutions are calculated at US$ 14.29 billion for 2024.
North America accounted for 44.7% share of the global bioinformatics market in 2023.
Demand for bioinformatics solutions is projected to reach a market value of US$ 50.25 billion by 2034-end.
Revenue from the sales of bioinformatics solutions is projected to increase at a CAGR of 13.4% through 2034.
The European market is predicted to advance at a 14.8% CAGR through 2034.
The genomics application segment is predicted to expand at 11.85% CAGR from 2024 to 2034.