Bone Wax Market
Bone Wax Market Analysis By Material (Natural, Synthetic), By Product (Absorbable, Non-absorbable), By Application (Neurosurgeries, Orthopedic Surgeries, Thoracic Surgeries, Dental/Oral Surgeries), By End User and Region - Global Market Insights 2023–2033
Analysis of Bone Wax Market Covering 30+ Countries Including Analysis of US, Canada, UK, Germany, France, Nordics, GCC countries, Japan, Korea and many more
Bone Wax Market Outlook (2023–2033)
The global bone wax market is currently valued at US$ 75.6 million and is anticipated to evolve at a CAGR of 3% to reach US$ 101.6 million by the end of 2033.
Global demand for bone wax products from hospitals and specialty clinics is expected to increase at a similar CAGR of 3% from 2023 to 2033. A majority of cases related to bone wax surgeries are performed in hospitals and specialty clinics due to the presence of advanced tools, facilities, and skilled medical experts.
The high admissions of patients experiencing orthopedic disorders and fall injuries are boosting the sales of bone wax solutions.
During surgical procedures, bone wax a waxy material is used to aid stop bleeding from bone surfaces. It is typically formed of sterile beeswax mixture and softeners such as paraffin or petroleum jelly, and it is spread around the bleeding edge of the bone to block the holes and immediately stop the bleeding by the tamponade effect.
The most common kind of bone wax is provided in sterile sticks, and it typically needs to be softened before use. Additionally, bone wax stays at the site of implantation for a longer period since it is not soluble in bodily fluids. Blood and bone marrow have several channels in bone. Osseous haemorrhage, which occurs when a bone is cut surgically or cracked traumatically, can be challenging to manage, especially in the spine and sternum, which have extensive blood vessels. In orthopedic, thoracic, and neurological procedures, medically sterile bone wax is a crucial component for maintaining bone hemostasis. Bone glue is used to fix joints or fractures.
Bone wax is extremely hydrophobic and is not metabolised, therefore it is only slightly resorbed from the application site and has no impact on the pH of the contacting body fluids. The U.S. Food and Drug Administration (FDA) classifies bone wax as a Class 2 medical device, and it is often sold in sterile sticks or plates that come in an easy-to-open foil wrapper.
Absorbable and non-absorbable segment are two types of bone wax products. Rising cases of accidents, sports or recreational injuries, and arthroplasty procedures are increasing the demand for bone wax solutions.
For instance, according to a May 2022 report by the National Highway Road Safety Administration, in the U.S., the number of highway fatalities had increased by 10.5% from 2020.
In addition, it reported that there were 62% more fatalities on urban roads in March 2021 than there were in March 2020, an increase of over 5%.
WHO estimates that between 20 and 50 million people worldwide suffer from non-fatal injuries and continue to live with disabilities and amputations. The rate of traffic injuries is highest in Africa, whereas, it is lowest in European nations.
Report Attributes

Details

Bone Wax Market Size (2023 E)

US$ 75.6 Million

Forecasted Market Value (2033F)

US$ 101.6 Million

Global Market Growth Rate (2023–2033)

3% CAGR

Canada Market Growth Rate (2023–2033)

2.5% CAGR

China Market Growth Rate (2023–2033)

4% CAGR

Japan Market Growth Rate (2023–2033)

2% CAGR

Germany Market Growth Rate (2023–2033)

2% CAGR

Key Companies Profiled

ABYRX, Inc.
B. Braun Melsungen AG
Baxter International, Inc.
Bentley Healthcare Pvt. Ltd.
Futura Surgicare Pvt. Ltd. - Dolphin Sutures
GPC Medical Ltd.
Medline Industries, Inc.
Medtronic PLC
Surgical Specialties Corporation
WNDM Medical, Inc.
Don't Need a Global Report?
save 40%! on Country & Region specific reports
Why is Use of Bone Wax in Surgeries Gaining Popularity?
"Growing Cases of Accidents & Other Bone Surgical Procedures"
Rising cases related to orthopedic disorders, accidental fracture cases requiring surgeries, and bone disorders on a global scale, together with a sharp increase in the use of absorbable segment products in arthroplasty procedures, are the main reasons driving sales growth.
The World Health Organization (WHO) estimates that 305 million individuals worldwide suffer from musculoskeletal injuries as of 2021.
Additionally, it is projected that the prevalence of sports injuries including runners' knee, tennis elbow, hip bursitis, concussions, and other conditions will accelerate the acceptance of sports medicine.
A bioabsorbable bone hemostatic agent (BBHA) was shown to be safe in total knee arthroplasty procedures in the study "Efficacy and Safety of Bioabsorbable Bone Hemostatic Agent in Total Knee Arthroplasty: A Prospective Randomized Controlled Trial", issued in June 2021. However, more research is required to determine whether BBHA is effective in treating people with coagulation issues.
Therefore, the growth of the bone wax market is anticipated to be driven by the increasing rate of research and development projects examining the utility of bone wax in arthroplasty procedures.
Furthermore, a January 2022 study titled "Evaluation of Bone Wax Coated Bipolar Coagulation Forceps: Performance and Safety Assessment" discovered that bone wax melted by the thermal effect of bipolar electrocoagulation can attain more effective hemostasis and decrease the amount of bone wax in neurosurgical procedures linked to blood loss via emissary and diploic veins.
"Rising Demand for Synthetic Bone Wax Products"
Water-soluble polymers are used to make synthetic bone wax, which lessens associated difficulties during operations. Additionally, synthetic products have the same appearance and texture as natural bone wax.
Anti-inflammatory medications are transported using both synthetic and traditional bone wax to lessen inflammation at the surgical site. When compared to alternative bone hemostatic agents, these factors are anticipated to improve the acceptance of bone wax products.
"Dental Bone Wax Gaining Traction"
Bone wax works well, effectively, and safely to stop bleeding from the alveolus after tooth extractions and bone wax oral surgeries, even in people who are taking a long-term anticoagulant. There are no poisonous or dangerous components in the orthodontic wax.
For instance, in March 2022 report by the World Health Organization estimated that approximately 3.5 million people globally suffered from oral problems.
According to the same source, 60–90% of children suffer from dental caries.
The most common disease, according to Global Burden of Disease 2019, is untreated dental caries (tooth decay) in permanent teeth.
The use of digital technologies in dentistry is currently growing quickly, with applications covering everything from diagnosis to implant design, fabrication, and placement. Dental implant procedures are one of the specific areas of dentistry that have benefited from digital technologies. Thus, such aspects are positively influencing the market for bone wax.
More Insights, Lesser Cost (-50% off)
Insights on import/export production,
pricing analysis, and more – Only @ Fact.MR
What Challenges are Faced by Manufacturers of Bone Wax Products?
"Complications Associated with Bone Wax and Availability of Substitutes"
Since bone wax's invention, practical training has revealed several issues related to it, including the considerably reduced ability of bone to rebuild, the occurrence of infections, moderate-to-severe inflammation, foreign body reaction, and fibrous reaction.
Also, the presence of several bone wax substitutes is expected to hamper sales growth. Some of the substitutes on the market include fatty acid salts, gelatin paste, fibrin/collagen paste, glycolic or lactic acid/glycerol oligomers, partly deacetylated chitin hydrochloride, PEG/microfibrillar collagen paste, polydioxanone/natural oils, and polyorthoester.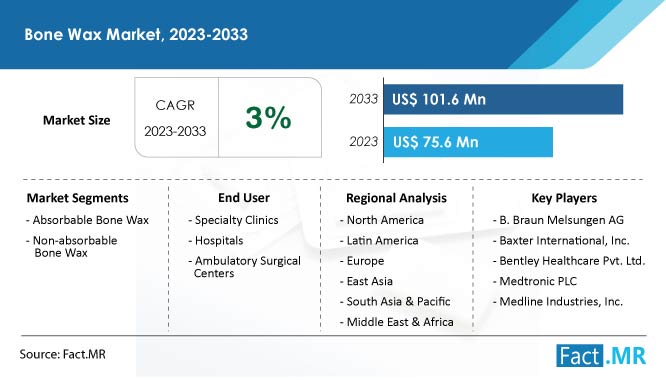 Country-wise Analysis
How is Demand for Bone Wax Products Evolving in the U.S.?
"Increasing Rate of Sports-related Injuries"
The U.S. currently dominates the North American bone wax market. This dominance is primarily due to the rising demand for bone wax in minimally-invasive surgical procedures, more public awareness about bone wax, growing cases of bone diseases, and increasing spending power on healthcare. Along with advantageous reimbursement and insurance policies covering expensive surgical treatments, an increase in the usage of recently introduced bone wax solutions is also anticipated to boost market growth over the projection period.
According to the National Safety Council's 2021 report, there were 229,974 injuries reported from ATVs, minibikes, mopeds, and other vehicles in 2020, 425,910 injuries from bicycles and accessories, 377,939 injuries from exercise and exercise equipment, 214,847 and 122,181 injuries due to basketball and football, and 217,646 injuries involving skateboards, scooters, and hoverboards.
In addition, the Brain Injury Research Institute estimates that between 1.6 million and 3.8 million injuries connected to recreation and sports occur annually in the United States as of 2021.
Thus, the high prevalence of sports-related injuries in the nation is anticipated to boost the demand for bone wax products.
What is Supporting the Sales of Bone Wax Products in the U.K. & Germany?
"Advancements in Dental Bone Wax Solutions and Presence of Leading Producers"
According to the United Kingdom National Health Service's 2020 data, tennis elbow is a prevalent ailment that affects 3% to 4% of the population or 4 to 7 instances per 1,000 people per year.
Over the coming years, sales growth in the U.K. market will be fueled by the adoption of cutting-edge dentistry methods and substantial funding for research into dental bone wax solutions.
Due to the increasing rate of the elderly population and advancements in orthopedic implant technologies as per prescribed safety regulations, Germany is currently leading the European market. The availability of cutting-edge medical facilities and the presence of major market competitors are driving the demand for sterile bone wax solutions.
Which are the Profitable Markets for Bone Wax Manufacturers in Asia Pacific?
"China & Japan Handsomely Leading Sales of Bone Wax Solutions Due to Rising Cases of Orthopedic & Dental Disorders"
The Asia Pacific region has become increasingly attractive for orthopedic surgeries on a worldwide scale due to low healthcare costs, a rapidly developing healthcare industry, advancements in technologies, better supply chain management, higher product standards, and lax government regulations for product approvals that help companies in the bone wax market to gain potential opportunities.
According to the International Osteoporosis Foundation (IOF), osteoporosis affects nearly 70 million Chinese over 50 and causes 687,000 hip fractures annually.
The primary cause of oral illnesses in Japan has been caries. Despite dental breakthroughs, tooth loss brought on by ageing is still a problem in Japan. Japan will see a super-ageing culture known as the "age of 100 years of life" over the coming years.
Category-wise Analysis
Why is Use of Bone Wax Solutions High in Orthopedic Surgeries?
"Rising Prevalence of Musculoskeletal Disorders"
Based on application, the bone wax products are segmented into neurosurgical procedures, orthopedic surgeries, thoracic surgeries, and dental/oral surgeries. During the forecast period, the demand for bone wax products from orthopedic surgeries is expected to register a significant revenue share.
The bone wax solution sales generated a sizable amount of revenue due to the rising prevalence of musculoskeletal ailments such as trauma, tumours, degenerative illnesses, congenital disorders, infectious diseases, and sports injuries.
According to a research study titled "Sports Participation and Injury Rates in High School Students: A Canadian Survey of 2029 Adolescents", which was published in July 2021, 889 participants out of 1,971 reported having sustained injuries in the previous year, with an incidence rate of about 45.10 per 100 students per year. The researchers concluded that the incidence rate of injuries caused by sports and recreational activities was greater in high school students, with 29% of teenagers reporting at least one injury.
Thus, rising cases of sport-related injuries are increasing the demand for orthopedic surgeries, which is subsequently boosting the sales of bone wax solutions.
Competitive Landscape and New Market Developments
The market for bone wax is moderately competitive. In terms of market share, some corporations are distributing goods while others are buying up products and forming alliances with other businesses to strengthen their market positions globally. Some of the key players in the bone wax market are B. Braun Melsungen AG, Johnson & Johnson, Medtronic PLC, Baxter International Inc, and Abyrx Inc.
For instance, Abyrx created the Montage, HemaSorb, and AHBP hemostatic bone putty products. To broaden its regional reach, the company has also teamed with SurgiCor.
Key Segments of Bone Wax Industry Research
By Material :

By Product :

Absorbable
Non-absorbable

By Application :

Neurosurgeries
Orthopedic Surgeries
Thoracic Surgeries
Dental/Oral Surgeries

By End User :

Specialty Clinics
Hospitals
Ambulatory Surgical Centers

By Region :

North America
Latin America
Europe
East Asia
South Asia & Oceania
MEA
- FAQs -
Global demand for bone wax is currently valued at US$ 75.6 million.
Worldwide sales of bone wax are expected to increase at a CAGR of 3% during the next 10 years.
The global bone wax market is projected to reach US$ 101.6 million by 2033.
The U.S. and Germany are leading markets for bone wax solutions.
B. Braun Melsungen AG, Johnson & Johnson, and Medtronic PLC and key manufacturers of bone wax.