Packaged Fresh Fruits Market
Packaged Fresh Fruits Market Analysis By Variety (Apples, Bananas, Peaches, Grapefruits, Mangoes, Oranges, Kiwis, Lemons, Pineapples, Pomegranates), By Nature (Organic, Natural, Conventional), By Distribution Channel (HoReCa, Retail Sales) & By Region - Global Market Insights 2023 to 2033
Analysis of Packaged Fresh Fruits Market Covering 30+ Countries Including Analysis of US, Canada, UK, Germany, France, Nordics, GCC countries, Japan, Korea and many more
Packaged Fresh Fruits Market Outlook (2023 to 2033)
The global packaged fresh fruits market is valued at US$ 13 billion in 2023 and is projected to reach US$ 22.64 billion by 2033. Worldwide sales of packaged fresh fruits are projected to rise at a CAGR of 5.7% through 2033.
Packaged fresh fruits refer to fruits that have undergone a processing and packaging stage before being made available for purchase. These fruits are carefully selected, washed, cut (if required), and packaged in a way that maintains their freshness, and quality, and extends their shelf life. The packaging is designed to protect fruits from damage, maintain their nutritional content, and ensure they reach consumers in optimal condition.
Packaged fresh fruits offer consumers a convenient and time-saving option. They eliminate the need for washing, peeling, or cutting, making them ready-to-eat or easily incorporable into meals and snacks. This convenience is particularly appealing to busy individuals and families who are seeking quick and healthy food choices. Wide varieties of fruits are packaged such as apples, bananas, peaches, grapefruits, mangoes, oranges, kiwis, lemons, pineapples, and pomegranates. Several varieties of fruits are also canned to preserve them for longer periods.
Global demand for packaged pineapples is forecasted to increase rapidly at a CAGR of 7.7% from 2023 to 2033.
Pineapples have a distinctive tropical flavor with a perfect balance of sweetness and acidity. Their refreshing taste appeals to a wide range of consumers, making them a popular choice for snacking, juicing, and incorporating into various recipes. They are also a good source of bromelain, an enzyme known for its anti-inflammatory properties. The nutritional profile of pineapples contributes to their appeal among health-conscious consumers.
Freshly packed pineapples offer versatility in terms of usage. They can be enjoyed as a standalone snack, added to fruit salads, used in smoothies, grilled for desserts, or incorporated into savory dishes such as stir-fries and salsas. This versatility expands their appeal and makes them a versatile ingredient in culinary applications. Pineapples are cultivated in different regions worldwide, allowing for year-round availability. This consistent supply enables consumers to enjoy fresh pineapples regardless of seasonal limitations, making them a reliable choice for satisfying cravings throughout the year.
Costa Rica is one of the largest exporters of pineapples globally. The country's favorable climate and fertile soil provide ideal conditions for pineapple cultivation. Costa Rican pineapples are known for their sweetness, juiciness, and high-quality standards.
The Philippines is another significant exporter of pineapples. The country has a long history of pineapple cultivation and produces a large quantity of both fresh and processed pineapples. Philippine pineapples are recognized for their vibrant flavor and aroma.
Report Attributes
Details

Packaged Fresh Fruits Market Size (2023E)

US$ 13 Billion

Forecasted Market Value (2033F)

US$ 22.64 Billion

Global Market Growth Rate (2023 to 2033)

5.7% CAGR

United Kingdom Market Growth Rate (2023 to 2033)

5.2% CAGR

United States Market Growth Rate (2023 to 2033)

6.6% CAGR

China Market Value (2033)

US$ 2.97 Billion

South Korea Market Value (2033)

US$ 747.08 Million

Japan Market Growth Rate (2023 to 2033)

2.7% CAGR

Key Companies Profiled

Great Value
Dole Foods
Del Monte
Kirkland Signature
Kroger
Simple Truth
Crunch Pak
Chiquita Bites
Kitchen 22
POM
Sundia True Fruit
Juicy Gems
Don't Need a Global Report?
save 40%! on Country & Region specific reports
Why is Demand for Packaged Fresh Fruits Increasing Steadily?
"Packaged Fresh Fruits Adding Flavor and Nutritional Value to Food Items"
Demand for packaged fresh fruits is increasing due to the growing recognition of their role in supporting immune development and reducing disease prevalence. Consumers are increasingly aware of the nutritional properties of fresh fruits and are seeking convenient options to incorporate them into their diets.
Packaged fresh fruits offer versatility, allowing consumers to unleash their creativity in using these products. Whether eaten raw, blended, or incorporated into various recipes, packaged fresh fruits can add flavor and nutritional value to beverages and food items. They provide consumers with the flexibility to pair them with other ingredients, catering to their desire for diverse and easily adaptable food options.
"Growing Trend of Fitness Stimulating Sales of Healthy Fruit Snacks"
As lifestyles are becoming more focused on work and convenience, people are adopting regular snacking habits. This trend is particularly prominent among millennials, who are increasingly health-conscious and seek snacks that not only provide energy but also meet various functional needs.
Packaged fresh fruits are gaining traction as a healthier fruit snack alternative to traditional snacks. These nutritious snacks are gradually replacing conventional options as many people are recognizing the benefits of incorporating fresh fruits into their snacking routines.
The rising millennial population is further propelling the demand for healthy snacking patterns, creating opportunities for packaged fresh fruits market players. With an increasing emphasis on wellness and the desire for quick, on-the-go snacks, the market for packaged fresh fruits is expected to grow significantly. The convenience, nutritional benefits, and compatibility with modern snacking habits position packaged fresh fruits as a favorable choice among health-conscious consumers.
Overall, the growing awareness of the immune-boosting properties of packaged fresh fruits coupled with consumers' desire for healthier and versatile food options and the ability to store fruits fresh for some period is driving the demand for fresh packaged fruits.
Which Factors are Restraining the Sales Growth of Packaged Fresh Fruits?
"Higher Prices of Packaged Fruits Compared to Non-packaged Fresh Fruits"
Packaged fresh fruits often have a higher price compared to whole fruits due to the additional processing and packaging costs involved. This higher price deters price-sensitive consumers from purchasing these products, especially when whole fruits are available at a lower cost.
"Increasing Consumer Preference for Whole Fresh Fruits"
While packaged fresh fruits are designed to have an extended shelf life, there is still a perception among some consumers that they may not be as fresh as whole fruits. This perception may lead consumers to prefer buying whole fruits and preparing them themselves to ensure maximum freshness.
Some consumers prefer consuming fresh fruits and they believe that packaged options cannot match the quality of freshly picked or locally sourced whole fruits. This preference for the perceived freshness of whole fruits is expected to negatively impact sales of packaged fresh fruits.
The use of packaging materials for fresh fruits contributes to environmental concerns, particularly regarding single-use plastics. Some environmentally conscious consumers avoid packaged fresh fruits due to the perceived negative impact on the environment, opting for bulk whole fruits instead.
More Insights, Lesser Cost (-50% off)
Insights on import/export production,
pricing analysis, and more – Only @ Fact.MR
What are the Strategies Adopted by New Manufacturers to Gain Higher Profits?
"Use of Sustainable Packaging Solutions and Effective Preserving Methods"
Owing to the growing awareness of environmental sustainability, newcomers are prioritizing eco-friendly packaging solutions. This includes using recyclable or biodegradable materials, reducing excess packaging, or exploring innovative packaging alternatives that minimize environmental impact.
Newcomers are sourcing high-quality fruits and highlighting their commitment to freshness and quality in their marketing efforts. Providing clear information about sourcing practices, the use of advanced preservation techniques, and quality control measures help to build trust among customers about the freshness and nutritional value of the packaged fruits.
"Start-ups Using Innovative Marketing & Branding Tactics"
Strong marketing and branding efforts are crucial to gain visibility and establish a presence in the market. This includes leveraging social media platforms, collaborating with influencers or nutritionists, highlighting the nutritional benefits of packaged fresh fruits, and sharing engaging content related to health, recipes, and snacking ideas. Building a strong brand image and conveying the value proposition effectively are expected to attract more customers and generate brand loyalty.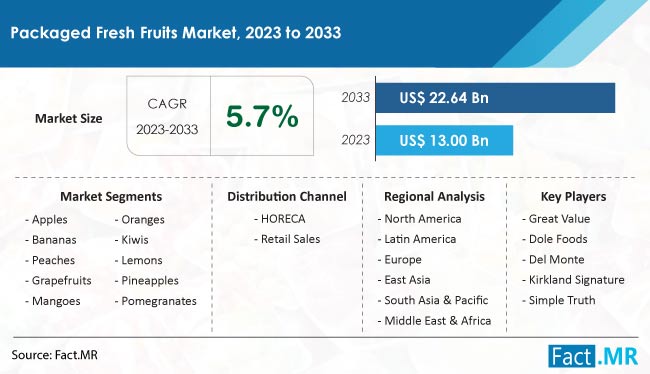 Country-wise Analysis
Why is Demand for Packaged Fresh Fruits Rising in the United States?
"Packaged Fresh Fruits–Healthier Snack Option for Busy Americans"
The United States market for packaged fresh fruits is forecasted to reach US$ 9.10 billion by 2033.
Rising number of health-conscious consumers in the United States are actively seeking nutritious food options. Packaged fresh fruits provide a convenient and readily available solution for individuals looking to incorporate healthy snacks into their daily routines.
The fast-paced lifestyle of Americans has led to an increase in demand for convenient and portable food options. Packaged fresh fruits cater to this need, offering a convenient snack that can be easily consumed on the go, whether at work, school, or during outdoor activities.
Why is the United Kingdom profitable for Suppliers of Packaged Fresh Fruits?
"Packaged Fresh Fruits Serving as Power Pack Nutritional Diet for Health-conscious Individuals"
Demand for packaged fresh fruits is forecasted to expand at a CAGR of 5.2% over the projected period.
The United Kingdom is witnessing a growing awareness of the importance of a healthy lifestyle and balanced diet. The millennial generation, known for their focus on health and wellness, significantly drives the demand for packaged fresh fruits. Millennials value nutritious and convenient food choices and their preferences are shaping the market in the United Kingdom.
What's Propelling the Sales of Packaged Fresh Fruits in China?
"Rising Popularity of Packaged Fresh Fruits as Healthy On-the-go Snacks"
Sales of packaged fresh fruits in China are valued at US$ 1.94 billion in 2023.
China's growing population and the rising spending power of the majority of individuals have led to a high demand for quality and healthy food options. Packaged fresh fruits are perceived as premium products and are sought after by consumers seeking premium snacking experiences.
Health and wellness trends are gaining significant traction in China, with consumers increasingly prioritizing their well-being. Packaged fresh fruits are seen as a convenient way to maintain a healthy diet, as they provide a nutritious and portion-controlled snack option.
China's urban population is characterized by hectic schedules and thus there is a rising preference for convenience food, which is contributing to the increasing demand for packaged fresh fruits. Chinese consumers value products that are easy to consume, especially for on-the-go snacking.
Know thy Competitors
Competitive landscape highlights only certain players
Complete list available upon request
Category-wise Analysis
Why is Demand for Organic Packaged Fresh Fruits Increasing Swiftly?
"Organic Packaged Fresh Fruits–Powerhouse of Nutrients, Vitamins, & Minerals"
Demand for organic packaged fresh fruits is expected to increase at a CAGR of 9.5% through 2033.
Global popularity of organic products is rising due to the multitude of benefits they offer. Consumers worldwide are increasingly drawn to organic-labeled products due to their potential to reduce public health risks, both for consumers and growers. The use of non-toxic chemicals, as well as inorganic fertilizers in the cultivation of organic fruits, creates a positive perception among consumers.
Research indicates that organic fruits surpass conventionally grown counterparts in terms of essential nutrients. They boast higher levels of vitamins, minerals, fiber, and other beneficial components, contributing to their nutritional superiority. Thus, all above-mentioned factors are fueling sales of organic fresh packaged fruits.
Competitive Landscape
Leading packaged fresh fruit producers are strategically emphasizing products with diverse claims to cater to evolving preferences of modern consumers. In an era of rapid urbanization and increasing literacy, consumers are becoming more conscious about the origin of the product they are purchasing. This heightened awareness has resulted in a well-informed consumer base seeking transparency like never before.
Consumers have a growing interest in understanding every step of product processing and the additives used to ensure the claimed quality. This increased scrutiny stems from a rising concern about the prevalence of diseases and a proactive approach to prevent such occurrences. Modern consumers prioritize transparency and traceability in the food they consume, driving the need for clear information about the product's origin and processing methods.
Dole Packaged Foods LLC introduced two useful product lines in July 2021, which are DOLE Fruitify and DOLE Essentials. Dole Essentials offers consumers a healthy and convenient snack choice such as pineapples, mandarin oranges, and mixed fruits to complement the company's well-liked line of fruits.
Key Segments of Packaged Fresh Fruits Industry Research
By Variety :

Apples
Bananas
Peaches
Grapefruits
Mangoes
Oranges
Kiwis
Lemons
Pineapples
Pomegranates

By Nature :

Organic Packaged Fresh Fruits
Natural Packaged Fresh Fruits
Conventional Packaged Fresh Fruits

By Distribution Channel :

By Region :

North America
Latin America
Europe
East Asia
South Asia & Oceania
MEA
- FAQs -
The global packaged fresh fruits market valuation stands at US$ 13 billion in 2023.
Sales of packaged fresh fruits are projected to reach US$ 22.64 billion by 2033.
Demand for packaged fresh fruits is forecasted to increase at a CAGR of 5.7% over the next 10 years.
Some of the leading companies supplying packaged fresh fruits are Dole Foods, Great Value, and Del Monte.
The market for packaged fresh fruits in China is forecasted to reach US$ 2.97 billion by 2033.