Caviar Market
Caviar Market Analysis, By Type (Sevruga, Osetra, Salmon, Sushi, Others), By Form (Fresh, Dried, Frozen), By Distribution Channel (Hotels & Restaurants, Airlines & Cruise Ships, Retail Stores, Others), By Application (Restaurants, Households), By Region – Global Market Insights 2023 to 2033
Analysis of Caviar Market Covering 30+ Countries Including Analysis of US, Canada, UK, Germany, France, Nordics, GCC countries, Japan, Korea and many more
Caviar Market Outlook (2023 to 2033)
Global demand for caviar is estimated at US$ 465 million in 2023 and is forecasted to increase at a CAGR of 7.6% through 2033. As such, the global caviar market is expected to reach a valuation of US$ 975 million by 2033-end.
Caviar is a food consisting of salt-cured roe of the family of Acipenseridae. This roe can be fresh or pasteurized. However, the process of pasteurization can help store caviar for a longer duration. Pasteurized caviar is available in multiple textures and is less perishable as compared to fresh variants.
Sevruga, beluga, and osetra are some popular types of caviar that are available around the world. It is generally found in restaurants and can be consumed domestically. Further, caviars are exotic cuisines that are experiencing increased demand due to the increasing consumption power of individuals.
In the past few years, the rapid penetration of multiple fishing companies across the globe to meet consumer requirements has significantly influenced the demand for caviar. As a luxury food item, caviar is consumed as an appetizer. However, some inexpensive caviars are present in the food industry and are consumed by beginners. They taste kind of fishy and are darker in color.
Caviar is a healthy food item, which is rich in B 12 vitamins, omega-3 fatty acids, and selenium. In addition, it can also be used for impotency. Thus, as a result, various pharmaceutical companies are making tablets, liquids, and capsules from their extracts.
With the assistance of technological advancements, the ovaries of female fish are extracted for the collection of eggs without killing them. Further, this method is gaining popularity and plays a significant role in increased sales of caviars. Prominent players across the globe are taking numerous efforts to match the rising consumer demand for caviar.
In recent years, the count of import as well as export activities is increasing at a noticeable rate because of rapid globalization. It further contributes to the global demand for caviar and thus bolsters revenue share. Increasing awareness related to the health benefits that are offered by caviar and its wide applications across the food industry is contributing to lucrative opportunities.
The per capita income of people from developing economies, including Brazil, India, and others, is increasing at a significant rate. This further increases the spending capacity of individuals on nutrient-rich products, such as caviar and its related products.
Report Attributes

Details

Caviar Market Size (2023)

US$ 465 Million

Forecasted Market Value (2033)

US$ 975 Million

Global Market Growth Rate (2023 to 2033)

7.6% CAGR

Canada Market Growth Rate (2023 to 2033)

6.8% CAGR

Germany Market Growth Rate (2023 to 2033)

4.9% CAGR

Key Companies Profiled

Agroittica Lombarda SpA
Sterling Caviar LLC
ATTILUS Caviar
California Caviar Company, LLC
Fortuna XXI
Midwest Caviar LLC
Russian Caviar House
Northern Divine Caviar
Don't Need a Global Report?
save 40%! on Country & Region specific reports
What is Stimulating the Demand for Caviar across the World?
"Rising Focus on Body Nutrition and Skin Health"
People across the globe are becoming aware related to the health benefits provided by caviars. They are a rich source of minerals and vitamins, such as omega 3. In addition, caviars are also used to promote healthy circulatory, nervous, and immune systems.
Rising consumer demand for luxurious foods along with better taste is fueling sales of caviar. Numerous consumers around the world consume caviar due to its health benefits. Iron, vitamin B12, etc. are some key nutrients that are contained in caviar. In addition, they are also helpful to boost the mental health of consumers.
Caviar is rich in adiponectin, which is helpful in healing consumers' wounds. Furthermore, the presence of omega-3 can also escalate skin health. Thus, based on multiple benefits related to the consumption of caviar, their demand is predicted to elevate in the coming years.
"Wide Applications of Caviar in Restaurants & Households"
Caviar has been popular in restaurants and households, where it is served as fine cuisine. There is an increased demand for caviar, which has lots of nutritional benefits but also tastes great. Thus, these factors propel the demand for caviar in the food & beverages industry.
Along with the food sector, caviar finds application in the cosmetics and personal care industry. It is high in antioxidants, which nourish, protect, and moisturize the skin. The moisturizing component of caviar helps to improve the texture of the skin. The cosmetics industry is bolstering the use of caviar for skin moisture while making it more silky and elastic.
"Booming Pharmaceutical Industry Fueling Demand for Caviar"
Multiple benefits of caviar are bolstering its application in the pharmaceutical industry. It is high in minerals and vitamins and provides the human body with various necessary nutrients, including B12, B6, A, E, and others. Omega-3 fatty acids, selenium, magnesium, and iron are also found in caviar, which aids in the maintenance of the immune, neurological, and circulatory systems.
Caviar is also reported to be one of the significant treatments for obesity and diabetes. Pharmaceutical corporations are requesting a noticeable share of global caviar production to assist consumers in overcoming various inadequacies. Further, it is extracted and used in the production of liquid medicines, capsules, and tablets.
What Could Possibly Restrict Consumption of Caviar?
"High Cholesterol and Reducing Population of Acipenseridae Fish Family"
Caviar contains comparatively high quantities of calories, sodium, and cholesterol, despite its high levels of vital fats, minerals, and vitamins. So, a modest serving size is recommended through regulations. Caviar is harmful to those who have an allergy to it and thus has the potential to result in allergic reactions.
Individuals are recommended to be extra cautious if they have fish allergies. Further, this allergy manifests itself in various ways, including swelling or rash on the tongue or neck. In addition, increased contamination of seas and rivers with toxic waste, slaughtering and illegal fishing, over-cultivation of sturgeon, and construction of hydroelectric dams are some possible factors that have negatively impacted the population of the Acipernseridae fish family.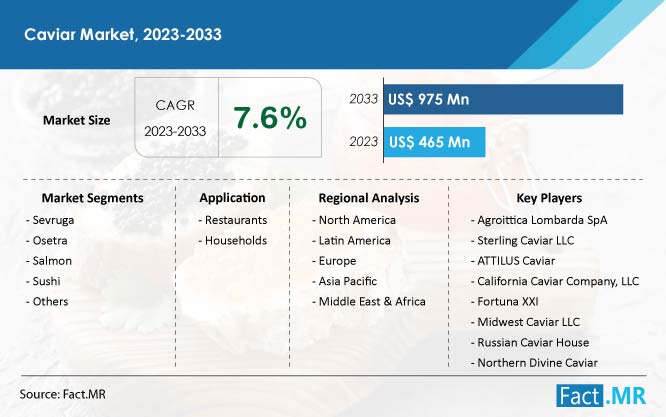 Will Asia Pacific Provide Growth Opportunities for Caviar Suppliers?
"Rising Consumer Awareness about Health Benefits of Caviar"
Asia Pacific holds a substantial position in the global caviar market, where China is predicted to account for a noticeable share. In recent years, there is a noticeable increase in the demand for osetra and sevruga. In addition, increasing revenue and a growing count of organized specialty and retail stores are attracting foreign investors to Asia Pacific.
Increasing awareness among consumers related to health and healthy food preferences has been shifting the interest of individuals toward these products. Caviar contains some essential nutrients and vitamins that play a noteworthy role to stabilize the immune system of the body, which can occur owing to improper food.
More Insights, Lesser Cost (-50% off)
Insights on import/export production,
pricing analysis, and more – Only @ Fact.MR
Country-wise Insights
Which Factors are Driving Caviar Demand in Japan?
"New Developments in Aquaculture"
Sales of caviar in Japan are estimated to expand at a CAGR of 4.1% through 2033. Rising consumer buying power and health benefits associated with caviar are accelerating their demand in Japan. Further, the expansion of distribution channels is also contributing to surging demand for caviar.
Key suppliers of caviar are taking efforts for new developments to increase their production.
For instance :
Miyazaki, a significant pig and beef meat producer in Japan, started looking into sturgeon farming with the hopes that Miyazaki's warn spring waters would be ideal for the production of caviar without causing any harm to aquaculture.
Will Caviar Gain Momentum in the United States?
"Developed Economy and High Consumer Spending Power – A Gamechanger"
Sales of caviar in the United States were valued at more than US$ 100 million in 2022. The reputation of caviar as a luxury item, developed economies, and high consumer spending power is estimated to contribute to revenue share. Further, caviar pate is high in phosphorus and vitamins that can aid to treat obesity and diabetes and thus contributing to their demand in the United States.
The presence of key companies in the United States is also contributing to the expansion of the industry. Moreover, the Canadian market is projected to expand at a noticeable CAGR of 6.8% during the forecast period from 2023 to 2033.
Which Factors are Contributing to the Increased Popularity of Caviar in Germany?
"Popularity of Online Shopping Driving Sales of Caviar"
Demand for caviar in Germany is anticipated to progress at a CAGR of 4.9% through 2033. The noticeable reason behind this growth is product acceptance and the increased spending power of Germans. Moreover, the growing trend of online shopping is also predicted to contribute to caviar sales.
Category-wise Insights
Why is Sevruga Gaining High Importance?
"Exception Flavor & Texture of Sevruga"
Sevruga, osetra, salmon, sushi, and others are segments of the global caviar market based on type. Among these, the sevruga segment is estimated to hold a noteworthy revenue share in the forecast period. Consumers give preference to these species of caviar due to their exceptional flavor and texture.
Further, the osetra segment is anticipated to expand at a CAGR of 8.3% through 2033 due to the economical price of these species compared to other options. These caviar species are available in different colors like green, black, yellow, and blue.
Why are Fresh Forms of Caviar Surging in Popularity?
"Growing Application of Fresh Caviar in Pharmaceutical Applications"
Based on caviar form, the global market is classified into fresh, frozen, and dried. Among these, fresh form of caviar is projected to hold a substantial share of the revenue due to its growing applications. Increased demand for fresh caviar in the pharmaceutical business, increasing health consciousness among individuals, low shipping costs, and growing knowledge about nutritional benefits are contributing to its increased demand.
Further, the rising use of dried caviar powder to sprinkle on seafood, pasta, potatoes, and scrambled eggs by fine dining enthusiasts is propelling their demand.
Which Application Accounts for a Substantial Market Share?
"Growing Usage of Caviar in Restaurants"
Based on application, the global caviar market is divided into restaurants and households. Between these two, caviar is used widely in restaurants to add nutrition to different food items and improve their taste. Consumers give preference to eatables that are served by chefs at restaurants who contain the expertise to prepare caviar delicacies.
Competitive Landscape
Increased investment by prominent players to strengthen their supply chain management system and provide quality products to end users is predicted to propel sales of caviar. In addition, these providers try to stick to imposed rules and regulations without causing any adverse environmental impacts.
For instance :
French Caviar House Petrossian, in 2021 expanded caviar operations in the United Kingdom. At present, the company is holding a new caviar laboratory on the outskirts of London in Chessington.
The Russian Caviar House Company, in 2020 relaunched itself in India. The company holds retail operations through The Fine Food Cellar, the company's gourmet brand, which provides unique products.
The key suppliers of caviar studied in the detailed research report include Agroittica Lombarda SpA, Sterling Caviar LLC, ATTILUS Caviar, California Caviar Company, LLC, Fortuna XXI, Midwest Caviar LLC, Russian Caviar House, and Northern Divine Caviar. The report on the caviar market has been published by Fact. MR, a market research and competitive intelligence provider.
Segmentation of Caviar Industry Research
By Type :

Sevruga
Osetra
Salmon
Sushi
Others

By Form :

By Distribution Channel :

Hotels and Restaurants
Airlines and Cruise Ships
Retail Stores
Others

By Application :

By Region :

North America
Europe
Asia Pacific
Latin America
Middle East & Africa
- FAQs -
The global caviar market is forecasted to expand at a CAGR of 7.6% through 2033.
Sales of caviar are expected to reach US$ 975 million by the end of 2033.
The global caviar market stands at US$ 465 million in 2023.
Demand for caviar in Canada is forecasted to advance at a CAGR of 6.8% through 2033.
Demand for caviar in the United States was more than US$ 100 million in 2022.
Agroittica Lombarda SpA, Sterling Caviar LLC, ATTILUS Caviar, California Caviar Company, LLC, Fortuna XXI, Midwest Caviar LLC, and Russian Caviar House are key suppliers of caviar.