Dry Mouth Relief Market
Dry Mouth Relief Market Analysis By Product Type (Sprays, Mouthwash, Gels, Lozenges), By Distribution Channel (Pharmacies, e-Commerce, Hypermarkets/Supermarkets) & By Region - Global Market Insights 2023 to 2033
Analysis of Dry Mouth Relief Market Covering 30+ Countries Including Analysis of US, Canada, UK, Germany, France, Nordics, GCC countries, Japan, Korea and many more
Dry Mouth Relief Market Outlook (2023 to 2033)
According to Fact.MR's research, the global dry mouth relief market valuation stands at US$ 2.79 billion in 2023 and is projected to reach US$ 5.23 billion by 2033. Worldwide demand for dry mouth relief products is forecasted to increase at a CAGR of 6.5% from 2023 to 2033.
Lack of saliva production in the mouth causes dry mouth conditions, also known as xerostomia. Saliva lubricates the mouth, helps in digestion, and guards against tooth decay, all of which are essential for maintaining oral health. Numerous painful symptoms and potential dental issues can result from inadequate saliva production by the salivary glands. The symptoms can be properly managed and treated with a variety of accessible treatments. Sprays, mouthwashes, gels, and lozenges are used in the treatment of xerostomia.
When natural saliva is insufficient, artificial saliva serves as a temporary substitute by moisturizing and lubricating the mouth. It not only helps in controlling oral bacteria but also aids in preventing illnesses and dental cavities. By alleviating dry mouth symptoms, artificial saliva can effectively mitigate health issues associated with this condition.
Oral sprays are widely used for dry mouth relief treatment as they provide quick and immediate relief from dry mouth symptoms. With just a few sprays, the moisturizing solution coats the mouth, providing instant lubrication and hydration. Oral sprays are portable and easy to use. They come in compact bottles that can be carried in a pocket or purse, allowing individuals to access relief whenever and wherever they need it. Sprays allow for targeted application, enabling individuals to direct the solution specifically to areas that feel the driest or most uncomfortable in their mouth. This targeted approach enhances the effectiveness of the spray in providing relief.
In a study titled 'Artificial Saliva in Diabetic Xerostomia (ASDIX): Double Blind Trial of Aldiamed Versus Placebo', published in July 2020, researchers concluded that the utilization of Aldiamed spray exhibited greater effectiveness in treating xerostomia in both type 1 and type 2 diabetes compared to a placebo. These findings highlight that oral sprays are indeed effective in addressing the symptoms of xerostomia, as supported by such studies.
Report Attributes
Details

Dry Mouth Relief Market Size (2023E)

US$ 2.79 Billion

Forecasted Market Value (2033F)

US$ 5.23 Billion

Global Market Growth Rate (2023 to 2033)

6.5% CAGR

Leading Regional Market

North America

Fast-emerging Regional Market

Asia Pacific

Key Companies Profiled

Johnson & Johnson Services, Inc.
Procter & Gamble
GlaxoSmithKline Plc
3M
Colgate-Palmolive
Sanofi
Mars, Incorporated
Bioxtra
Sunstar Suisse S.A.
Dr. Fresh
Xlear
Prestige Consumer Healthcare, Inc.
Oral Biotech
Therabreath
Mission Pharmacal Company
Wisconsin Pharmacal Company
Don't Need a Global Report?
save 40%! on Country & Region specific reports
Which Aspects are Driving Overall Growth of the Dry Mouth Relief Market?
"Autoimmune Disorders & Chronic Diseases Resulting in Dry Mouth Conditions"
Rising prevalence of chronic disorders such as diabetes, Sjögren's syndrome, HIV/AIDS, Parkinson's disease, autoimmune disorders, cancer treatment therapies such as chemotherapy & radiotherapy, and the rapidly growing geriatric population are boosting sales of dry mouth relief products. Xerostomia, a condition characterized by reduced salivary gland activity, is commonly experienced by elderly individuals.
Factors such as high medication usage, radiation therapy for the head and neck region, and chronic illnesses have been identified as potential causes of xerostomia in the elderly population.
Based on the World Population Prospect 2022, the global population of individuals aged 65 years or older was approximately 771 million in 2022. Projections suggest that this number will increase to 994 million by 2030 and 1.6 billion by 2050.
Based on data from the International Diabetes Federation, as of 2021, there are approximately 536.6 million individuals between the age of 20 and 79 suffering from diabetes worldwide. This number is projected to increase to 783.7 million by the year 2045. Dry mouth syndrome is commonly associated with diabetes.
According to a study titled 'Xerostomia, Salivary Flow, and Oral Health Status Among Saudi Diabetic Patients: A Comparative Cross-Sectional Study' published in the National Library of Medicine in November 2021, xerostomia was found to be one of the most commonly reported symptoms among individuals with diabetes. The occurrence of xerostomia in diabetic patients ranged from 12.5% to 76.4%. The study collected data from 50 diabetic patients in Saudi Arabia through a cross-sectional investigation, revealing that 52% of the control group and 60% of the diabetic participants experienced xerostomia. Consequently, the increasing prevalence of diseases associated with xerostomia is expected to boost the demand for dry mouth relief solutions during the projected period.
What are the Challenges Encountered by Manufacturers of Dry Mouth Relief Products?
"Easy Availability of Alternative Dry Mouth Treatment Options"
Demand for dry mouth relief products is hindered by various factors, including:
Herbal Treatments and Acupuncture: Alternative long-lasting dry mouth relief options such as home remedies for dry mouth, herbal remedies, and acupuncture offer non-pharmaceutical approaches to address dry mouth problems. These options limit the demand for dry throat treatment medications among individuals seeking dry mouth relief naturally or by holistic remedies.
Salivary Stimulants: Salivary stimulants include medications or specialized devices, which aim to enhance natural saliva production. These alternatives compete with artificial saliva products by offering different mechanisms to alleviate dry mouth symptoms.
Research and Development Activities: Ongoing research and development efforts focused on creating artificial salivary glands or saliva-stimulating pens for individuals with impaired salivary glands pose challenges to the growth of the dry mouth relief market. These innovative solutions provide potential alternatives to conventional dry mouth relief products.
More Insights, Lesser Cost (-50% off)
Insights on import/export production,
pricing analysis, and more – Only @ Fact.MR
What are the Strategies Adopted by Start-ups to Gain Profits in This Market?
"Product Innovation, Targeted Marketing, Partnerships, & Customer Feedback"
For new companies entering the dry mouth relief industry and aiming to earn more and establish a steady market position, the following strategies are beneficial :
Product Differentiation: Startups offer unique features or benefits in dry mouth relief products that set them apart from existing options. This includes innovative formulations, improved taste or texture, longer-lasting effects, and specialized packaging for convenience.
Targeted Marketing: Startups identify specific customer segments within the larger market and tailor their marketing efforts accordingly. They focus on highlighting the benefits of their products for particular demographics such as the elderly, individuals with specific medical conditions, or those seeking natural remedies.
Clinical Evidence: New entrants conduct and support research studies that demonstrate the efficacy and safety of their dry mouth relief products. Publishing the results in reputable journals or presenting at conferences can enhance credibility and build trust among healthcare professionals and consumers.
Collaborations and Partnerships: Start-ups are establishing partnerships with healthcare providers, dental professionals, and pharmacies to expand their distribution channels and gain access to a wider customer base. They are collaborating with influencers or key opinion leaders in the oral health industry to endorse their products and increase their brand visibility.
Customer Feedback and Continuous Improvement: New entrants are actively seeking feedback from customers and healthcare professionals to understand their experiences and expectations and incorporate those suggestions and insights into product improvements and innovation, catering to evolving needs of customers.
By implementing these strategies, newcomers are enhancing their market position, building a loyal customer base, and earning larger market shares.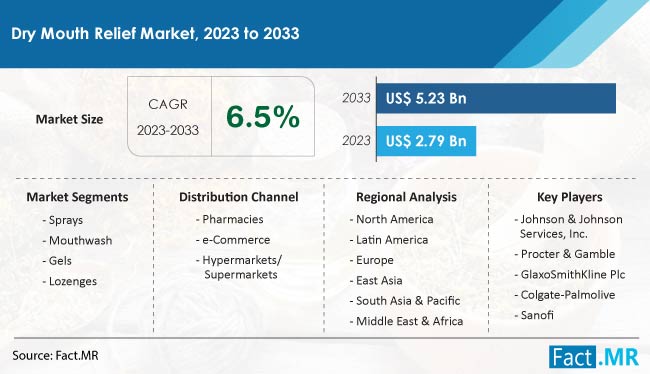 Country-wise Analysis
What is Aiding the Sales Growth of Mouth Relief Solutions in the United States?
"Rising Prevalence of Dry Mouth Condition and High Awareness about Oral Health"
Dry mouth relief product sales in the United States are increasing at a rapid pace. This can be attributed to several key factors. Firstly, due to the swiftly growing aging population, which is more prone to dry mouth conditions due to various medical conditions and consumption of multiple drugs. Secondly, there has been a growing awareness among the general population regarding the importance of oral health, leading to higher demand for dry mouth relief products.
Introduction of innovative products such as moisturizing dry mouth relief mouthwash, sprays, and lozenges specifically formulated to alleviate dry mouth symptoms are gaining popularity among American consumers as they provide effective relief and improved oral comfort.
How are Sales of Dry Mouth Relief Products Faring in the United Kingdom?
"Country Experiencing Strong Demand for Sustainable & Organic Dry Mouth Relief Solutions"
In the United Kingdom, demand for dry mouth relief products is evolving with a focus on providing comprehensive oral care solutions. The increasing prevalence of chronic diseases resulting in xerostomia is boosting dry mouth relief product sales.
The United Kingdom market is characterized by strong demand for natural and organic oral care products, stimulating dry mouth relief product manufacturers to develop sustainable and environmentally friendly solutions.
Manufacturers of dry mouth relief solutions are actively engaged in marketing campaigns and collaborations with dental professionals to raise awareness about the detrimental effects of dry mouth and promote the available relief options. The trend of personalized oral care is gaining traction in the United Kingdom, with companies offering tailored products based on individuals' specific needs, contributing to the dry mouth relief product sales growth.
Why is Japan a Key Market for Dry Mouth Relief Product Sales?
"Innovative Dry Mouth Relief Solutions Gaining Traction in the Country"
Dry mouth relief product sales in Japan are witnessing significant growth due to several factors unique to the country. Firstly, Japan has one of the most rapidly growing aging populations globally, leading to a higher prevalence of dry mouth conditions. Moreover, Japanese culture places a strong emphasis on oral hygiene, contributing to a higher demand for dry mouth relief products.
In response to the product demand, dry mouth relief solution manufacturers are introducing innovative products such as oral sprays, mouthwash, and chewing gums formulated with natural ingredients such as green tea extracts and xylitol. These products not only provide relief but also offer additional oral health benefits, aligning with the Japanese preferences for multi-functional products.
Know thy Competitors
Competitive landscape highlights only certain players
Complete list available upon request
Category-wise Analysis
Which is a Key Dry Mouth Relief Product Distribution Channel?
"Pharmacies Prime Distribution Channel Providing Convenience & Easy Accessibility"
Pharmacies are easily accessible to the general public, often located in residential areas or near healthcare facilities. This accessibility ensures that individuals seeking dry mouth relief products can easily find them without extensive travel or inconvenience. Furthermore, many pharmacies offer extended operating hours, allowing customers to obtain products at their convenience.
Pharmacies are staffed with knowledgeable pharmacists who can provide valuable guidance and recommendations to customers seeking relief from dry mouth symptoms, making them the most trustworthy mode for buying medications.
Competitive Landscape
To stay competitive, key players are investing in research and development activities to introduce innovative dry mouth relief products. This can include advanced formulations, long-lasting effects, improved taste, and the inclusion of natural or organic ingredients. By offering unique features and benefits, companies can differentiate their products and capture market attention.
In February 2021, Virginia Head and Neck Therapeutics, Inc. introduced Voutia, a groundbreaking solution for individuals plagued by xerostomia. This innovative, FDA-cleared device revolutionizes the way millions of people find relief from the discomfort and challenges associated with this debilitating condition. With its patented technology, Voutia provides continuous, targeted relief, offering an entirely new approach to managing xerostomia.
Key Segments of Dry Mouth Relief Industry Research
By Product Type :

Sprays
Mouthwash
Gels
Lozenges

By Distribution Channel :

Pharmacies
e-Commerce
Hypermarkets/Supermarkets

By Region :

North America
Latin America
Europe
East Asia
South Asia & Oceania
MEA
- FAQs -
The global dry mouth relief market valuation is estimated at US$ 2.79 million in 2023.
Demand for dry mouth relief products is projected to reach a market value of US$ 5.23 million by 2033.
Worldwide sales of dry mouth relief solutions are forecasted to rise at a CAGR of 6.5% from 2023 to 2033.
Johnson & Johnson Services, Inc., Procter & Gamble, GlaxoSmithKline Plc, and 3M are some of the leading companies in this market.
Asia Pacific is a rapidly emerging market due to the rising aging population and advancements in product development.