Edible Flakes Market
Edible Flakes Market Analysis By Nature (Conventional, Organic), By Type (Corn Flakes, Oat Flakes, Wheat Flakes, Rice Flakes, Others), By Distribution Channel (Convenience Stores, Hypermarkets, Supermarkets, Online Retailers, Others) and By Region – Global Market Report (2023 to 2033)
Analysis of Edible Flakes Market Covering 30+ Countries Including Analysis of US, Canada, UK, Germany, France, Nordics, GCC countries, Japan, Korea and many more
Edible Flakes Market Outlook (2023 to 2033)
Newly released data from Fact.MR, a market research and competitive intelligence provider, reveals that the global edible flakes market size is estimated at US$ 6.1 billion in 2023 and projected to reach US$ 12 billion by 2033, expanding at a high-value CAGR of 7% during the forecast period (2023 to 2033).
Edible flakes have arisen as a dynamic and inventive section of the global food market, catering to the ever-changing preferences and dietary choices of consumers globally. These adaptable culinary products, which are often manufactured from grains, cereals, or vegetables, go through a variety of processing procedures to become thin, crisp, and tasty flakes. In recent years, the market has seen tremendous expansion and diversity, owing to several important variables reflecting changing consumer lifestyles and needs.
Consumers are constantly looking for accessible and nutritious food options that fit their hectic schedules and health-conscious preferences. This need is perfectly being met by edible flakes, which provide a quick and easy way to incorporate healthy cereal flakes, fruits, and vegetables into one's diet. These flakes are widely used in breakfast cereals, granolas, snack bars, and even as yogurt or salad toppings, making them a flexible component for both classic and modern recipes.
Significant Market Growth Drivers
There is a wide variety of edible flakes on the market, including traditional alternatives such as corn and wheat flakes, as well as newer, health-focused variants such as whole-grain flakes, gluten-free cereal flakes, potato flakes, and organic flakes.
The global market has grown significantly, with North America, Europe, and Asia Pacific leading the way. Because of its enormous consumer base and evolving breakfast culture, the North American region is a key market.
Health-conscious consumers seeking nutritious and easy-to-prepare breakfast and snack options prefer edible flakes.
More consumers are adopting a greater quality of life, thereby increasing the demand for low-calorie, high-fiber, and nutrient-rich food options.
The COVID-19 pandemic increased consumer awareness of the significance of a healthy immune system, prompting them to seek out healthy food options, which benefitted manufacturers of edible flakes.
While the market looks promising, it confronts problems such as high competition, supply chain deviations, and worries about additives and preservatives. These problems, however, have compelled businesses to differentiate themselves through product quality, sustainability initiatives, and clean labeling.
Report Attributes
Details
Edible Flakes Market Value (2023E)
US$ 6.1 Billion
Forecasted Market Value (2033F)
US$ 12 Billion
Global Market Growth Rate (2023 to 2033)
7% CAGR
North America Market Share (2022)
34%
Europe Market Share (2022)
33%
Key Companies Profiled

The Hain Celestial Group Inc.
Nature's Path Foods Inc.
Nestlé S.A
Dr. August Oetker KG
Kellogg Co.
Bagrrys India Ltd
H. & J. Brüggen Kg
Quaker Oats Company
Patanjali Ayurved Ltd
PepsiCo Inc.
General Mills Inc
Marico Ltd
Aarrowhead Mills
GD Foods
Don't Need a Global Report?
save 40%! on Country & Region specific reports
What's Driving Consumer Desire for Edible Flakes?
"Being Health-conscious without Compromising on Taste"
Edible flakes widely come with health claims and functional benefits, which is the primary driver for market expansion. Manufacturers understand the significance of catering to health-conscious consumers. Many edible flakes are supplemented with vitamins, minerals, and other benefits, making them an appealing breakfast choice. Some companies, for example, emphasize the high fiber content in their flakes, which can aid digestion and promote a sense of full stomach, making them a good choice for weight-conscious consumers.
Some edible flakes contain probiotics, antioxidants, or particular vitamins that are touted for their possible health advantages. Cereals fortified with antioxidants, for example, are marketed for their ability to improve overall well-being and immunological health. These health claims and functional benefits appeal to consumers who place a high value on their health when making food decisions.
"More Consumers Seeking Guilt-free Binge Eating Driving Demand of Edible Flakes"
Edible flakes have progressed from being a breakfast staple to a popular snacking option throughout the day. Changes in consumer lifestyles are driving this transition, with many people adopting a more flexible eating routine. Consumers can now enjoy edible flakes, as a quick and easy alternative due to their single-serve and portable packaging.
Several manufacturers are adopting smaller serving sizes and snack-friendly packaging for their products in response to snacking trends. These bite-sized portions appeal to consumers on the go who want healthier alternatives to standard snack items such as biscuit-shortening flakes. The adaptability of edible flakes as a snack meal has opened up new business prospects and contributed to their long-term popularity.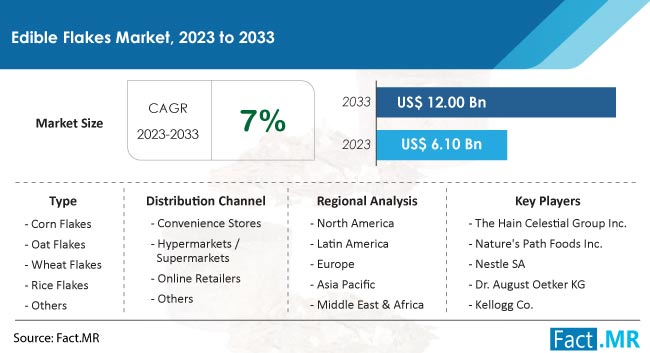 What are the Restraints at Play in the Market for Edible Flakes?
"Fluctuations in Raw Material Prices and Transportation Delays"
The current global supply chain is a complex network of interrelated suppliers, manufacturers, logistics providers, and distributors that ensures product delivery to customers on time. However, this complicated web is not immune to disruptions, which can have far-reaching effects on the edible flakes business. Natural disasters, trade conflicts, labor strikes, and even global health crises such as the COVID-19 pandemic can all cause supply chain interruptions. These disturbances can disrupt the flow of raw materials, alter production schedules, raise transportation costs, and generate market uncertainty.
To offset the impact of these disruptions and assure a consistent supply of ingredients for their goods, companies in the edible flakes business must utilize agile supply chain tactics, invest in risk management, and investigate alternate sourcing possibilities. Adaptability and resilience in the face of supply chain disruptions have become essential success elements for enterprises in the edible flakes sector in this ever-changing world.
More Insights, Lesser Cost (-50% off)
Insights on import/export production,
pricing analysis, and more – Only @ Fact.MR
What Strategies Can Start-ups Employ to Capture Opportunities in the Edible Flakes Business?
"Focus on Sustainable Sourcing and Production Practices"
Start-ups should prioritize several important methods to achieve a competitive advantage and grasp the various possibilities in the edible flakes industry. To begin with, product differentiation is critical. In a congested market, creating distinctive and high-quality edible flakes that stand out through new flavors, nutritional benefits, or packaging can help your business stand out.
Establishing a solid online presence, engaging with customers via e-commerce platforms and social media, and implementing targeted marketing campaigns are all critical for increasing the reach. Working with retailers and distributors to ensure that the products are widely available, with an emphasis on health and wellness trends, product innovation, and customer involvement. Non-negotiables should include quality assurance, competitive pricing, and regulatory compliance. Startups can carve out a lucrative niche in the competitive edible flakes sector by applying these methods and remaining committed to supplying high-quality products.
Country-wise Insights
North America is developing as the market leader in the global edible flakes industry. North America accounted for 34% of the market share in 2019. Because of the growing popularity of ready-to-eat breakfast cereal flakes among working-class people and college graduates in nations such as China and India, Asia Pacific is projected to lead the market in the forecasted period.
What Makes India a Promising Market for Edible Flakes in Asia Pacific?
"Rising Adoption of Healthy Ways of Living by a Large Part of the Population"
Urbanization, hectic work schedules, and growing health and wellness awareness have created a need for quick and easy breakfast options. This need is effectively met by edible flakes, which provide a simple, ready-to-eat solution with minimal preparation time. Consumers are more prepared to spend on branded and high-quality food goods, such as edible flakes, as disposable incomes rise.
With rising worries about lifestyle diseases like obesity and diabetes, there is a trend towards healthy eating practices. Individuals and families who are health-conscious prefer edible flakes that are low in sugar, high in fiber, and loaded with vitamins and minerals.
The demographic profile of India is favorable for the edible flakes market. With a significant number of young customers, morning cereals and snacks have a sizable market. Manufacturers are aiming for this population by providing child-friendly flavors and packaging, making these items appealing to both children and parents.
What's Underlining the Potential of the United States Market?
"Large Health-conscious Consumer Base in the Country"
The position of the United States as a leading market in North America is based on its economic strength, business environment, consumer-oriented culture, well-developed retail sector, regulatory stability, and global trade connections. Market research regularly highlights the country's importance as a key destination for enterprises looking for growth and possibilities in the North American region. The retail sector in the United States is highly developed, with a diverse range of distribution channels such as supermarkets, department stores, and online marketplaces, which allow businesses to reach out to customers efficiently and effectively.
The U.S. edible flakes market is expanding rapidly, owing to a large consumer base that prefers healthier breakfast options. Rising health consciousness, a demand for on-the-go breakfast options, and the existence of important market competitors all contribute to growth.
Know thy Competitors
Competitive landscape highlights only certain players
Complete list available upon request
Category-wise Insights
The rice flakes segment accounted for 30% of the edible flakes market share and convenience stores, and hypermarkets/supermarkets accounted for around 58% of the market share based on the distribution channel.
Why are Corn Flakes a Popular Snacking Choice for Many Consumers?
"Versatility of Cornflakes Leading to Their High Demand across the World"
Worldwide consumption of cornflakes accounted for 39% share of overall product sales in 2022.
Current edible flakes market trends centered on health and variety have catapulted cornflakes into a prominent position in the expansion of edible flakes. Due to their widespread popularity, particularly in places such as the United States, cornflakes have developed a solid presence in the global market. They have become a breakfast staple for many customers, contributing significantly to the overall revenue of the edible flakes market.
Health-conscious consumer trends have favored cornflakes. They are frequently considered as a nutritious breakfast option due to their reduced fat content and fortification with key vitamins and minerals. Their popularity stems from their compatibility with health and wellness trends.
The versatility of cornflakes extends beyond conventional breakfast consumption, making them suited for a variety of culinary applications such as snacks and sweets. This versatility has increased their market reach, allowing them to capture customers throughout the day. A mix of market presence, health-conscious appeal, and culinary diversity is driving cornflakes to the forefront of the edible flakes market expansion.
Competitive Landscape
The edible flakes market is competitively characterized by a combination of global industry leaders such as Kellogg's and General Mills, regional competitors serving specific areas, and private label brands offering cost-effective alternatives. Product diversification, driven by changing consumer demands, health consciousness, and dietary trends, fuels industry innovation. Companies are increasingly emphasizing healthier and more nutritious options, as well as lowering sugar content and fortifying products with key vitamins and minerals.
Sustainability and ethical practices, as well as a strong internet presence and global expansion attempts, are gaining importance. Marketing techniques that are effective and adapt to changing consumer demands for health, sustainability, and variety are critical to the success of a brand in this competitive market.
Nestlé S.A. launched a joint venture with General Mills in May 2018 to offer a wide range of products in India. Nestlé S.A. manufactures a wide range of morning cereals, including cornflakes, KoKo Krunch, and Honey Star.
Nature's Path, North America's biggest organic morning cereal and snack Food Company, launched its new No Added Sugar granola in July 2021. Nature's Path No Added Sugar Granola consists of outstanding flavor, 100% certified organic ingredients, and all the nutritious value you expect from Nature's Path, but without the sugar kick.
Kellogg Co., Quaker Oats Company, Marico Ltd, Nestle SA, PepsiCo Inc., Bagrrys India Limited, and Dr. August Oetkar are some of the top companies in the edible flakes market.
Segmentation of Edible Flakes Market Research
By Nature :

By Type :

Corn Flakes
Oat Flakes
Wheat Flakes
Rice Flakes
Others

By Distribution Channel :

Convenience Stores
Hypermarkets/ Supermarkets
Online Retailers
Others

By Region :

North America
Europe
Asia Pacific
Latin America
Middle East & Africa
- FAQs -
The global edible flakes market is estimated at US$ 6.1 billion in 2023.
Demand for edible flakes is projected to reach a market value of US$ 12 billion by 2033-end.
Revenue from the sales of edible flakes is projected to increase at a CAGR of 7% through 2033.
The market size of cornflakes is valued at US$ 1.2 billion in 2022.
Europe currently holds around 33% of the global market share.