Electrolyte Beer Market
Electrolyte Beer Market Analysis by Product Type (Ale, Lager, Others), By Alcohol Content By Volume (ABV) (>0.5 to 1%, 1 to 3%, 3 to 5%), By Packaging (Metal Cans, Glass Bottles), By Sales Channel (Online (e-Commerce Platforms, Company-owned Platforms), Offline (Supermarkets/Hypermarkets, Retail Stores) & By Region – Global Market Insights 2023 to 2033
Analysis of Electrolyte Beer Market Covering 30+ Countries Including Analysis of US, Canada, UK, Germany, France, Nordics, GCC countries, Japan, Korea and many more
Electrolyte Beer Market Outlook (2023 to 2033)
The global electrolyte beer market is valued at US$ 156.83 million in 2023 and is forecasted to reach US$ 474.21 million by 2033, expanding at a substantial CAGR of 11.7%, according to a new market study by Fact.MR.
Electrolytes are minerals that help maintain the balance of fluids in the body and facilitate various bodily functions. They are commonly found in traditional sports drinks and certain water-based beverages. Electrolyte-infused beverages are designed to replenish electrolytes lost through sweating during physical activity and provide hydration.
Demand for craft beer with unique flavors has been growing significantly in recent years. There is also a growing demand for low-alcohol and non-alcoholic electrolyte beers as consumers seek healthier alternatives to traditional alcoholic beverages.
Growing number of brewers are incorporating electrolytes into their beverages, drawing inspiration from sports drinks. Specialty beers often contain less alcohol and can be consumed before or after working out before or after working out. Many other fitness-focused brews use unusual ingredients that are not found in a standard ale or lager.
An example of this trend can be seen in the beer called Rec. League, produced by Harpoon Brewery in Massachusetts. This beer incorporates chia seeds, a whole grain cereal known as buckwheat kasha, that contributes minerals and B vitamins, along with Mediterranean Sea salt that provides electrolytes. It has an ABV of 3.8% and contains 120 calories.
Gatorade recently launched Gatorade Zero, which significantly reduces the sugar content of the beverage, making it a game-changer for consumers of electrolyte drinks.
Report Attributes
Details

Electrolyte Beer Market Size (2022)

US$ 140.4 Million

Estimated Market Value (2023)

US$ 156.83 Million

Forecasted Market Value (2033)

US$ 474.21 Million

Global Market Growth Rate (2023 to 2033)

11.7% CAGR

United Kingdom Market Growth Rate (2023 to 2033)

12.5% CAGR

United Kingdom Market Value (2033)

42.2 Million

Germany Market Growth Rate (2023 to 2033)

12.1% CAGR

Germany Market Value (2033)

72.5 Million

Japan Market Growth Rate (2023 to 2033)

12.3% CAGR

Key Companies Profiled

Zelus Beer Company
Sufferfest Brewing Company
Boston Beer Company
Bedford Brewer
Rally Beer
Tribe Breweries
Harpoon Brewery
Fifty West Brewing Company
Mispillion River Brewing
Don't Need a Global Report?
save 40%! on Country & Region specific reports
What are the Factors Influencing the Demand for Electrolyte Beers?
"Growing Preference for Low-alcohol Beverages with Unique Flavors"
Electrolyte beers provide an opportunity for socializing and sharing a unique drinking experience with friends or at social gatherings.
Craft breweries are known for experimenting with flavors and ingredients. Breweries could explore creative flavor combinations to offer unique and refreshing options. These could include fruit-infused variations or herbal blends to enhance the taste while maintaining hydrating properties.
"Market Benefitting from Increased Focus of Breweries on Promotional Strategies Targeting Health-conscious Consumers"
Electrolyte-infused beers were earlier launched as limited releases or niche products by craft breweries. This approach allows breweries to gauge consumer interest and gather feedback before potentially expanding production and distribution.
To effectively reach their intended audience, electrolyte beer brands focus on targeted marketing strategies. This involves partnerships with fitness or sports events, collaborations with athletes or influencers, or utilizing digital marketing channels to reach health-conscious consumers.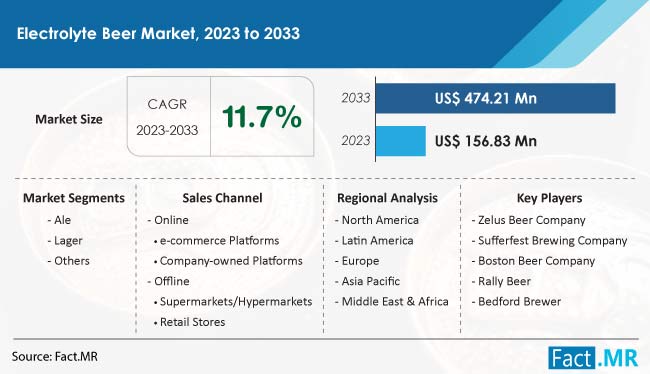 Which Key Barriers are Denting the Growth of the Electrolyte Beer Market?
"Stringent Regulations Governing Production of Alcoholic Beverages"
Alcoholic beverages are subject to various regulations and restrictions in different regions. Compliance with existing regulations and obtaining necessary approvals for electrolyte-infused beers may pose challenges and increase the complexity of entering and operating in the market.
The concept of electrolyte-infused beers is relatively new to consumers. Consumers have concerns about the taste, quality, or potential conflicts between the health benefits of electrolytes and the consumption of alcohol. Educating consumers and building trust around the concept is a challenge.
"Complex Supply Chain Requirements Related to Quality Maintenance for Electrolyte Beer"
Incorporating electrolytes into the brewing process may impact the flavor profile and brewing techniques of traditional beers. Finding the right balance between the desired electrolyte content and maintaining the characteristic taste and quality of beer can pose technical challenges for electrolyte beer brewers.
Electrolyte beers require specialized storage and distribution considerations due to their unique properties. Ensuring proper handling and maintaining the quality of the product throughout the supply chain, especially considering the perishable nature of beer, is a restraint for market growth.
More Insights, Lesser Cost (-50% off)
Insights on import/export production,
pricing analysis, and more – Only @ Fact.MR
Country-wise Analysis
What Makes the United States a Lucrative Market for Manufacturers of Electrolyte Beer?
"High Demand for Healthier Alternatives to Conventional Alcoholic Beverages"
Demand for electrolyte beer in the United States is anticipated to reach a valuation of US$ 149.85 million by 2033, increasing at a high CAGR of 12%.
The United States has a vibrant and diverse beer market, with a wide range of craft breweries, established beer brands, and a growing interest in health-conscious beverage options. The increasing popularity of functional and healthier beverages and the emergence of electrolyte-infused beers in the country are rising during the forecast period.
The electrolyte beer market has evolved in the United States, and craft breweries and functional beverage companies are likely to be at the forefront of introducing these products. Craft breweries, known for their innovation and experimentation, seize the opportunity to create unique and refreshing electrolyte beer offerings to cater to health-conscious consumers.
Growth of the electrolyte beer market in the United States depends on various factors, including consumer acceptance, regulatory considerations, marketing strategies, and the ability of breweries to create appealing flavors while maintaining the balance between electrolyte content and beer characteristics.
The launch of BOLT24 was announced by the American sports-themed food and beverage manufacturer Gatorade. It is free of artificial tastes and sweeteners, and the company's new beverage is an electrolyte drink with few calories to aid athletes in staying hydrated throughout the day.
How is Demand for Electrolyte Beer Shaping Up in China?
"Robust Beer-drinking Culture and Breweries' Strong Focus on Creating Favors Tailored to Population's Preferences"
The electrolyte beer market in China is projected to reach US$ 74.45 million by 2033, rising at a high CAGR of 12%.
China is estimated to account for a significant market share, with a strong beer-drinking culture and a diverse range of domestic and international beer brands. Electrolyte-infused beers hold the promising potential to meet the rising demand in the market.
People in China are generally health-conscious and have shown interest in functional and healthier beverages. The ability of breweries to create flavors that resonate with Chinese consumers' tastes and preferences is also an important driving factor.
Category-wise Insights
Why are Metal Cans Extensively Used in Beer Packaging?
"Recyclability of Metal Cans Boosting Their Utilization in Beer Packaging for Environmental Sustainability"
Sales of electrolyte beer in metal cans are anticipated to progress at a CAGR of 11.8% during the forecast period.
Metal cans are becoming an increasingly popular packaging choice for electrolyte-infused beers, adding a touch of innovation and convenience to the market. Cans provide excellent protection against light and oxygen, preserving the beer's quality and taste. This is particularly important for electrolyte-infused beers, as exposure to light and oxygen can degrade the electrolyte content over time. The metal acts as a reliable shield, ensuring that consumers enjoy the full benefits of the electrolytes.
In terms of sustainability, metal cans are widely recognized for their recyclability. They can be easily recycled and repurposed, contributing to an eco-friendlier beverage packaging solution. With the growing emphasis on environmental consciousness, use of metal cans for electrolyte-infused beers aligns with the sustainability goals of both consumers and breweries.
What are the Demand Projections for Electrolyte Beer with 3% to 5% ABV?
"High Demand for Moderate ABV Electrolyte Beer Due to its Tradeoff between Hydration and Refreshment"
Demand for electrolyte beer with 3% to 5% ABV content is expected to increase at a CAGR of 11.9% during the forecast period.
The moderate alcohol by volume (ABV) content range of 3% to 5% plays a significant role in shaping electrolyte beer's consumer perception and market positioning as a balanced beverage option. Health-conscious consumers who desire a moderate alcohol consumption experience show a preference for electrolyte-infused beers due to their low alcohol content compared to many traditional beers, which typically range from 5% to 8% or higher.
The low ABV makes electrolyte beers a more attractive choice for individuals who desire a refreshing beverage with a milder impact. Electrolyte-infused beers with a moderate ABV content strike a balance between hydration and alcohol intake.
Know thy Competitors
Competitive landscape highlights only certain players
Complete list available upon request
Competitive Landscape
Electrolyte beers may face competition from well-established beverage categories such as sports drinks, non-alcoholic beverages, and traditional beers. Convincing consumers to choose electrolyte-infused beers over existing alternatives can be a hurdle and requires effective marketing strategies and differentiation.
Key producers of electrolyte beers who have a loyal customer base may seize the opportunity to cater to the growing demand for electrolyte-infused beers in their respective markets. They can leverage their community connections and tap into the preferences of local consumers who prioritize supporting local businesses.
Zelus teamed up with Chris Mirick, the brewer at the Wellesley Ale House, to produce its first gluten-free beer, The Ankleknocker, in 2020. This flavorful brew is available both in Zelus's taproom and local stores, offering customers the opportunity to taste the difference.
Key Segments of Electrolyte Beer Industry
By Product Type :

By Alcohol by Volume (ABV) :

>0.5% to 1%
1% to 3%
3% to 5%

By Packaging :

By Sales Channel :

Online

e-Commerce Platforms
Company-owned Platforms

Offline

Supermarkets/Hypermarkets
Retail Stores

By Region :

North America
Latin America
Europe
Asia Pacific
Middle East & Africa
- FAQs -
The global electrolyte beer market stands at US$ 156.83 million in 2023.
Consumption of electrolyte beer is predicted to surge at a CAGR of 11.7% from 2023 to 2033.
Worldwide sales of electrolyte beer are anticipated to reach US$ 474.21 million by 2033.
Demand for electrolyte beer in the United States is expected to increase at 12% CAGR through 2033.
Sales of electrolyte beer in Japan are predicted to rise at a CAGR of 12.3% from 2023 to 2033.