Sports drinks are specially formulated beverages to help keep the body hydrated during or after exercise or sports activity. These drinks are usually rich in carbohydrate and are the efficient source of energy. These sports drinks contain electrolytes such as potassium, sodium, and chloride, it also consists high percentage of sugar to restore energy.
As a primary fuel utilized by muscles, carbohydrates are important to perform various exercise and sports activities. Addressing increasing concern from consumers regarding sugar content, sports drinks manufacturers are focusing on including non-glycemic and non-caloric natural sweeteners such as erythritol, stevia, etc. Increasing consumer demand for natural and organic ingredients is fostering the trend of exotic ingredients in sports drinks. Sports drinks manufacturers are also investing time and money in finding better ingredients while formulating a final product with the aim to meet the purpose of sports drinks.
Manufacturers are also launching new product lines including different flavors. With rising competition between startups and existing market players, new marketing strategies and formulations are also becoming critical to reach sports drinks users. Stringent government regulations are also resulting in the development of clean label products, adoption of safety methods and creating transparency between consumers and manufacturers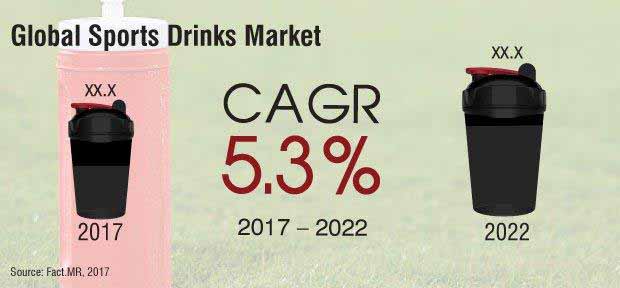 According to a new study by Fact.MR, the global sports drink market is anticipated to have steady growth. The market is expected to reach nearly US$ 25,500 million revenue by the end of 2022. Increasing health consciousness among consumers is boosting the demand for natural and sugar-free sports drinks.
Market Taxonomy
| Product Type | Consumption Type | Distribution Channel |
| --- | --- | --- |
| Isotonic | Pre-exercise Sports Drinks (PRX) | Modern Trade |
| Hypertonic | During Exercise Sports Drinks | Drug Stores |
| Hypotonic | Recovery Drinks | Convenience Store |
| | | E-Commerce |
| | | Other Retail Format |
(Additional information, including cross-sectional data and country-wise analysis & forecast is available in the report)
Isotonic Sports Drinks to Gain Popularity
Isotonic sports drinks will showcase impressive growth between 2017 and 2022. The segment is expected to account more than two-fifth of revenue share on global revenues towards the end of 2017.
Recovery Drinks to Gain Maximum Revenue Share
Towards the end of 2017, Recovery Drinks and During Exercise Sports Drink will collectively account for more than three-fourth of revenue share on global revenues. Compared to During Exercise sports drinks, Recovery sports drinks will witness impressive CAGR.
Modern Trade to Emerge as the Largest Distribution Channel
Among various distribution channels, modern trade is projected to reach nearly US$ 8,700 million value by the end of 2022. Meanwhile, E-Commerce will account for less than one-fourth of revenue share on global revenues towards the end of 2017.
Competition Tracking
The report also profiles companies that are expected to remain active in the expansion of global sports drink market through 2022, which include The Coca-Cola Company, Abbott Laboratories, Monster Beverage Corp, Suntory Beverage & Food Ltd., Red Bull GmbH, Dr Pepper Snapple Group, Inc., GlaxoSmithKline Plc., GNC Holdings Inc., Pepsico Inc., PacificHealth Laboratories, Inc., and Nestlé S.A.
Note: The insights mentioned here are of the respective analysts, and do not reflect the position of Fact.MR
Comprising enhanced levels of electrolytes, sports drinks play a vital role in keeping the body hydrated. With the rising trend of 'no added sugars', manufacturers are focusing on using organic/natural sweeteners such as monk fruit, stevia, etc. Sports drink manufacturers are also coming-up with new formulations to meet the changing customer demand. This report, published by Fact.MR, provides in-depth analysis of the global sports drink market for the forecast period 2017-2022, and offers key insights about future market direction.
Scope
The scope of Fact.MR's report is to analyze the global sports drink market for the forecast period 2017-2022 and provide readers an unbiased and accurate analysis. Sports drinks manufacturers, stakeholders, and suppliers in the global food & beverage sector can benefit from the analysis offered in this report. This report offers a comprehensive analysis, which can be of interest to leading trade magazines and journals pertaining to sports drinks.
Summary
The report commences with a brief information of the global sports drink market. This executive summary sets the tone for the rest of the report, providing users the scope of the report. The executive summary includes important facts and statistics on the global sports drink market.
Overview
The next section offers an overview of the global sports drink market. This comprises an introduction to the market, along with a standard definition of the product – sports drinks. In this section, market value and year-over-year growth is offered to the readers. Year-over-year growth provides readers with a broader view of growth patterns over the forecast period.
The report's succeeding section focuses on drivers, restraints and key trends from macroeconomic, demand, and supply perspectives. Impact analysis of weighted average model-based growth drivers is contained in the report for better provision of decision-making insights to clients.
In order to offer readers with up-to-date information about the latest advancements in the global sports drinks market, the report provides updates about market opportunities, which can benefit leading manufacturers of sports drinks. With continuous evolution of the food & beverage sector, keeping a record of latest developments and trends is fundamental for sports drinks manufacturers to formulate key business strategies. Detailed insights about raw material sourcing, supply chain, pricing analysis, list of distributors, and cost structure are provided in this section.
Considering the broad scope of the global sports drink market, the Fact.MR report provides in-depth and segment-wise analysis and forecast. The global sports drinks market is segmented into- product type, consumption type, distribution channel and region. Through this section, report offers detailed country-wise forecast on all the key parameters associated with sports drinks.
The report's last section comprises of the global sports drink market competitive landscape, to provide readers with the dashboard view of company analysis and market players. This competitive intelligence is based on the providers' categories across value chain, and their presence in the global sports drink market.
Research Methodology
Fact.MR is committed to offer unbiased and independent market research solutions to its clients. Each market report of Fact.MR is compiled after months of exhaustive research. We bank on a mix of tried-and-tested and innovative research methodologies to offer the most comprehensive and accurate information. Our main sources of research include,
Primary research
Secondary research
Trade research
Focused interviews
Social media analysis
Fact.MR offers custom research services that help clients to get specific research solutions
We are committed towards customer satisfaction and quality service.
---
Our Clients

Sports Drink Market Forecast, Trend Analysis & Competition Tracking: Global Market insights 2017 to 2022