Electronic Design Automation (EDA) Tools Market
Electronic Design Automation (EDA) Tools Market Analysis by Component (Solutions, Services), by Application (EDA Design Tools, EDA Simulation Tools, EDA Verification Tools), by Deployment (Cloud Based, On-premise), by Region - Global Forecast 2022-2032
FACT7272MR
Apr-2022

List of Tables : 94

List of Figures : 40

170 Pages
Electronic Design Automation (EDA) Tools Market Outlook (2022-2032)
The global electronic design automation (EDA) tools market was valued at US$ 2.1 Billion in 2021, and is projected to register a Y-o-Y increase of 9.5% in 2022 to be valued at US$ 2.3 Billion. During the 2022-2032 period of assessment, demand is expected to rise at a 5.6% value CAGR, likely to reach US$ 3.9 Billion by the end of the said forecast period.
Report Attributes

Details

Anticipated Base Year Value (2021)

US$ 2.1 Billion

Expected Market Value (2022)

US$ 2.3 Billion

Projected Forecast Value (2032)

US$ 3.9 Billion

Global Growth Rate (2022-2032)

5.6% CAGR

Growth Rate of the U.S (2022-2032)

5.9% CAGR

Expected Market Value of China (2032)

US$ 0.3 Billion

Growth Rate of U.K (2022-2032)

5.1% CAGR

Key EDA tools Players

Agnisys Technology Pvt. Ltd.
Aldec
Altium Ltd
Ansys Inc.
Arm Holdings
Cadence Design Systems Inc.
Keysight Technologies Inc.
JEDA Technologies
MunEDA
Siemens PLM Software Ltd.
Synopsys Inc.
Zuken Inc.
Overall, the EDA tools landscape is poised to yield an absolute dollar opportunity worth US$ 1.6 Billion until 2032. Sales of EDA tools for semiconductors will continue to flourish, with a documented CAGR of 3.13% from 2016-2021. In addition, AI will continue to be a leading choice, making it more likely to register a CAGR worth 5.6% from 2022 to 2032. North America will continue to lead the market, with opportunities worth US$ 3.2 Billion during the forecast period.
Avail customized purchase options for your needs
EDA Tools Revenue Analysis 2016-2021 vs. Future Outlook 2022-2032
According to market research and competitive intelligence provider Fact.MR, the EDA tools industry grew at a CAGR of 6.1% from 2016 to 2021. As part of the transition from manual to electronic design automation tools, circuit board and semiconductor design techniques have largely replaced by manual methods. With continued miniaturization and integration of semiconductor devices into electronic systems, the EDA industry has a close connection with the semiconductor industry, embedded software industry, and more recently micro-mechanical and photonics.
IC and complex PCB design is now accessible to a much broader market because of the emergence of several trends associated with digital transformation, however, the vast majority of electronic design automation software is still utilized in the semiconductor industry. According to reports, the pandemic resulted in a temporary drop in global demand for EDA tools as several manufacturing industries were closed. However a revival in the market occurred during the second half of 2020, and growth is expected to continue in the future.
As the world transitions back to normalcy at the end of the post-pandemic era, the automation industry seems to be poised for a period of upward momentum in the future market. During the forecast period, it is expected that the microprocessors & controllers segment will grow at a CAGR of more than 10%. From 2022 to 2032, the global EDA tools market is expected to grow 1.4x.
Prominent Growth Drivers Influencing EDA Tools Market Growth
Connected Devices and Internet Adoption to Drive Popularity of EDA tools
Smart home systems, wearables, and other connected devices have gained in popularity in recent years. According to company analysts, the growth of electronic design automation is expected to be driven by the ever increasing integration of power electronics into these devices. Electronic design automation workflows are poised for the next wave of development with cloud-based architecture. Businesses can boost their electronic design automation workflow by taking advantage of cloud elasticity, which offers 24x7 support and lower operational costs. In the future, demand for high-performance electronic design automation solutions with low power consumption capabilities is expected to drive industry growth, which will influence companies to update their IP cores.
Another megatrend, the Internet of Things (IoT), offers enormous potential for electronics innovation. A company offering electronic design automation services with a broad range of hardware, intellectual property, and software solutions can assist in putting IoT into practice by enabling businesses that specialize in system design to differentiate their service offerings. As IoT devices become ubiquitous in different enterprise environments, the market for electronic design automation will have numerous opportunities in the future market.
Among the most important features of electrical design automation solutions are their capabilities to design and verify Internet of Things (IoT) devices in the market. In any case, there will be an inevitable move towards EDA toolsets that make use of machine learning capabilities as well as cutting-edge technologies such as cloud, AI and other technologies to further contribute to the growth of the market in the near future. Over the past couple of years, significant investments have been made in the development of tools that enable designers to reduce errors, and thereby save valuable time, and these initiatives are expected to yield positive results in the future growth.
An Adaptive Approach to Modern-day Research Needs
Key Challenges Impacting EDA Tools Industry Growth
The constant evolution of technology may hinder growth
Technological developments are constantly evolving, particularly in semiconductors. It is impossible to maintain the equilibrium with new technologies entering the market on a regular basis. Likewise, process nodes have an important role in the IC industry. In semiconductor devices, changing the nodes can affect the complexity, size, and form factor of the chip. Hence, manufacturers are confronted with a variety of challenges in designing SoCs, such as technical difficulties in integrating devices and the application of a new design approach.
Increasing technological advancements are resulting in changing sizes of technology nodes. Thus, it is imperative that the semiconductor manufacturers overhaul the design of IP cores. EDA solutions have been enhanced by the majority of companies to enhance their products to ensure their products keep up with the changing technology. EDA companies are continually upgrading and expanding their solutions in order to adapt to the new IP core design architecture. This becomes increasingly challenging due to the constant alterations in technology, leading to the growth in the overall cost of designing semiconductor chips. These factors have all slowed down the growth of these tools in the market.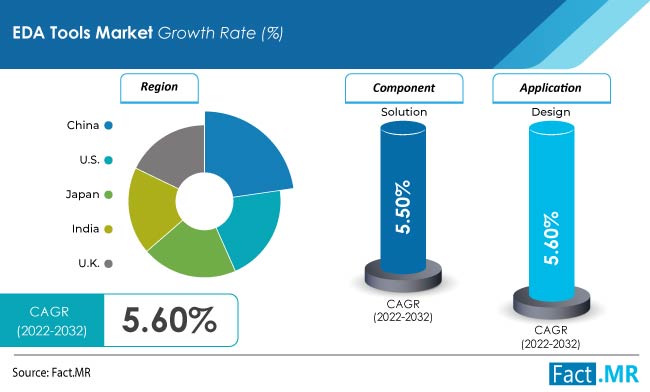 Country-wise Analysis
What are the Prospects for the China's EDA Tool Market in the Future?
Consumer Electronics are Growing Rapidly in China, Fueling the Demand for EDA Tools in the Market
Strong Chinese presence in the semiconductor industry has spurred the growth of EDA tools in the market. Being a major semiconductor hub and an IC manufacturing hub, the region has had a massive impact on the overall growth of this market. As electronics manufacturers open up retail outlets in the region, especially in China, the adoption of their products is expected to grow. A growing demand for consumer electronics in this region has propelled the growth of the IC market in this region. The high demand for electronic products is also expected to contribute to regional growth in the near future.
A CAGR of 6.5% is expected to be achieved by the market for EDA Tools in China during the forecast period. As the electronic design automation market continues to grow, the rising demand for new electronic products and technological innovation, is driving their adoption. Growing number of players in the market for EDA tools to further propel market growth.
What Will the U.S. market for EDA Tools Look Like in the Coming Years?
Technological Advancement and Widespread Growth of IoT will broaden Scope
According to Fact.MR's study, the U.S is poised to yield an absolute dollar opportunity worth US$ 0.5 Billion, expanding at a 5.9% value CAGR from 2022 to 2032. By the end of the forecast period, a market valuation of US$ 1.2 Billion was projected for the industry across the country as a whole. Among the most significant reasons for the growth of the regional market can be attributed to the early implementation of technology, such as machine learning, 5G internet, and the Internet of Things in the U.S. market.
By two surveys conducted by SIA (Semiconductor Industry Association) there is evidence that in the United States, more than a quarter of a million people are employed in the semiconductor industry. In 2020, the US semiconductor industry is expected to generate sales of USD 208 billion. With regard to semiconductor manufacturing, engineering, and development, the United States is a significant player in the EDA tool market. Despite its prominence, the region is not only driven by the export of electronic equipment but also by an increasing number of end-users who consume semiconductors in large quantities, such as the automotive and consumer electronics industries.
With the development of complex electronics in the 21st century, the United States has always been at the forefront of advancement in the automation industry. Additionally, some of the vendors in the United States have upgraded and expanded their offerings to meet the demand for EDA tools that have been growing in the region. Synopsys Inc.,
For instance, announced the industry's first autonomous AI chip design application in March 2020. The design space AI initiative is part of the company's strategic investment and multi-year planning for the implementation of AI-based design technologies. In addition to enabling automatic optimization of broad design spaces, the solution revolutionizes the process of finding optimal solutions. Therefore, there is a probability that such innovations will support the growth of the market in the future.
Country-wise Forecast CAGRs for the EDA tools Market
| | |
| --- | --- |
| U.S | 5.9% |
| U.K | 5.1% |
| China | 6.5% |
| Japan | 5.8% |
| India | 5.3% |
Category-wise Insights
Which Component is expected to be the Most Popular in the EDA Market?
EDA Tools Solutions to remain Prominent
According to Fact.MR, EDA tools solutions are expected to register the highest growth, expanding at a CAGR of 5.5% from 2022-2032. Increasing adoption of cloud-based solutions in the development of EDA tools in the market to further stimulate growth for these tools in the market.
Consumer electronics continue to drive the market for EDA tools solutions in the market as the market for integrated circuits and multichip modules increase. In addition, consumers' growing desire for compact and miniature devices in the market has further contributed to market growth for EDA tools solutions in the market.
By Application, Which Category is Likely to Make Maximum Use of EDA Tools?
Missiles to be Primary Utilizers of EDA tools
According to Fact.MR, EDA tools for design applications are expected to experience major uptake, growing at a CAGR of 5.6% until 2032. Based on applications, EDA tools market is segmented into design, simulation, and verification market. Various countries are major design centre for integrated circuits (ICs), FPGAs and SoCs which go into electronic gadgets, telecommunication equipment, and different types of automobiles.
In order to design or analyze a semiconductor chip, chip designers use a set of tools to create a design flow that consists of these tools working together. With semiconductor devices becoming increasingly complex, as well as the demand for miniature designs, as well as the rising awareness, demand, and acceptance of these devices for a range of applications in many sectors, semiconductor EDA & design tools are expected to grow at the highest rate in the future.
Interested to Procure The Data
Competitive Landscape
In order to provide consumers with the best ICs and semiconductors, prominent manufacturers of EDA tools are looking to technological innovations. Increasingly, companies are partnering with governments in order to enhance their presence across major geographies, and expansions in the market.
Siemens Digital Industries Software announced in May 2021 that it had acquired Fractal Technologies, a provider of IP validation tools based in the Netherlands and the United States. By acquiring this service, Siemens' electronic design automation (EDA) customers can validate the internal and external intellectual property and libraries used in their integrated circuit (IC) designs more quickly and easily to improve design quality and speed market time. IP validation provides customers with production sign-off-quality IP to help improve silicon quality and accelerate silicon development. Siemens' Solido product family will incorporate Fractal's technology, extending Siemens' machine-learning-powered EDA capabilities to the IP validation field.
In Febraury 2022, Ansys announced its collaboration with IFS Accelerator EDA Alliance to provide innovative simulation and EDA tools for customized three-dimensional integrated circuits. Through IFS Accelerator, customers can design chips with unique features utilizing Ansys' multiphysics solutions. With Ansys' advanced EDA and simulation software, mutual customers can lower design barriers, minimize design risks, and speed up the time to market.
Key Segments Covered in the EDA Tools Market Study
EDA Tools by Component

EDA Tools Solutions
EDA Tools Services

EDA Tools by Application

Design EDA Tools
Simulation EDA Tools
Verification EDA Tools

EDA Tools by Deployment

Cloud Based EDA Tools

Private Cloud
Public Cloud
Hybrid Cloud

On-premise EDA Tools

EDA Tools by Region

North America EDA Tools Market
Europe EDA Tools Market
Asia Pacific EDA Tools Market
Middle East and Africa EDA Tools Market
South America EDA Tools Market