Epsom Salt Market
Epsom Salt Market Analysis by Form (Granules, Powder, Crystals), By Grade (FCC Grade, Pharmaceutical Grade, Technical Grade), By Application (Food & Beverages, Agriculture, Personal Care, Pharmaceuticals), By Distribution Channel (Store-based Retailing, Supermarkets, Pharmaceutical & Drug Stores, Specialty Stores) and By Region – Global Market Insights 2023 to 2033
Analysis of Epsom Salt Market Covering 30+ Countries Including Analysis of US, Canada, UK, Germany, France, Nordics, GCC countries, Japan, Korea and many more
Epsom Salt Market Outlook (2023 to 2033)
According to a new study by Fact.MR, a market research and competitive intelligence provider, the global epsom salt market stands at US$ 4.53 billion in 2023. Worldwide demand for epsom salt is forecasted to reach a market value of US$ 7.7 billion by the end of 2033, increasing at a CAGR of 5.4% over the decade.
Epsom salt, commonly known as bath salt, is a polyatomic ionic substance produced through the combination of magnesium carbonate and sulfuric acid. On the dissolution of magnesium carbonate in sulfuric acid, a reaction takes place resulting in the formation of magnesium sulfate heptahydrate, which is widely recognized as pure epsom salt. This compound consists of magnesium sulfate molecules with an attachment of seven water molecules.
Bathing in epsom salt is said to increase magnesium levels in the body. When heated to 250 °C, the water molecules that are loosely linked to the magnesium sulfate dissociate, releasing anhydrous magnesium sulfate or anhydrous Epsom salt. Epsom salt is manufactured commercially in anhydrous and hydrous forms. Rising consumer health consciousness is expected to drive demand for Epsom salt during the projected period.
Constipation has become a widespread issue, and everyone wants to get rid of it. Mineral salt contains magnesium and sulfate, both of which are considered therapeutic natural resources. Magnesium aids in regulating enzyme activity and is essential in regulating many biological activities, including muscle and electrical stimulation, energy production, and elimination of toxic pollutants.
Demand for epsom salt is likely to rise steadily in the near future as a result of these causes. The majority of large enterprises exclusively sell FCC-grade Epsom salt. As a result, there are several opportunities for small and new businesses in this industry to expand their operations by providing medicinal and technological expertise. Organic salt is a fertilizer that can be applied to plants as a leaf sprat or added to the soil.
Report Attributes
Details

Epsom Salt Market Size (2022)

US$ 4.3 Billion

Estimated Market Value (2023)

US$ 4.53 Billion

Forecasted Market Value (2033)

US$ 7.7 Billion

Market Growth Rate (2023 to 2033)

5.4% CAGR

China Market Growth Rate (2023 to 2033)

7.5% CAGR

Key Companies Profiled

Dadakarides Salt SA
SaltWorks, Inc.
Giles Chemical
Unilever PLC
Kao Corporation
CVS Pharmacy
Baymag Inc.
STANDERS
Bataclan Corporation
What are the Factors Driving Worldwide Consumption of Epsom Salt?
"Role of Epsom Salt in Reducing Stress and Promoting General Well-being Contributing to Increased Sales"
Epsom salt is used for both internal and external healing. It can ease constipation and purify the liver by acting as a laxative. As an outpatient medication, Epsom salt can help reduce stress, promote bone strength, improve cardiovascular and neurological health, purify the skin, reduce acne, eradicate oily hair, and remove dandruff.
Bathing in Epsom salt increases magnesium levels in the body, regulates enzyme functions, enhances muscle and nerve function, reduces inflammation, eliminates toxins, and maintains cardiac and circulatory health.
"Rising Demand for Technical-Grade Epsom Salt in Agriculture and Horticulture"
Epsom salt finds extensive use as a fertilizer in various agricultural applications, including rubber trees, oil palms, tobacco plants, orange and tangerine plants, meadows, cattle breeding, silviculture, and soilless cultivation. Its role in supporting healthy plant growth, addressing magnesium deficiency in the soil, and providing plant nutrient solutions leads to stimulated growth, development, and enhanced productivity. As a result, demand for epsom salt in agriculture is expected to increase.
Increasing demand for technical-grade epsom salt in the agriculture and horticultural sectors has led to improvements in grass quality, size, and crop production. The rising global consumer health awareness is expected to drive the demand for micronized salt, which is utilized in the treatment of various ailments.
Don't Need a Global Report?
save 40%! on Country & Region specific reports
What are the Major Obstacles to Epsom Salt Market Growth?
"Limited Awareness of Epsom Salt Benefits and Stringent Quality Control Regulations"
Despite the therapeutic and agricultural benefits of epsom salt, awareness of its benefits among consumers and potential end users remains limited. A lack of knowledge regarding its various applications and benefits can hinder market growth.
Epsom salt faces competition from alternative products and substitutes in both the therapeutic and agricultural sectors. Consumers and farmers may opt for other remedies or fertilizers, which could impact the demand for epsom salt.
The market can be influenced by regulatory constraints and restrictions. Regulations related to labeling, safety standards, and quality control may impose compliance requirements on manufacturers and suppliers, potentially impacting Epsom salt market dynamics.
"Fluctuations in Raw Material Prices and Environmental Concerns Associated with Epsom Salt Production"
Fluctuations in the prices of raw materials used in the production of Epsom salt, such as magnesium and sulfur, can affect the overall cost of the product. This may impact pricing strategies, profitability, and market competitiveness.
Extraction and production processes of epsom salt may raise environmental concerns, particularly regarding the sustainability of raw material sourcing and manufacturing practices. Growing environmental awareness is expected to influence consumer preferences and purchasing decisions.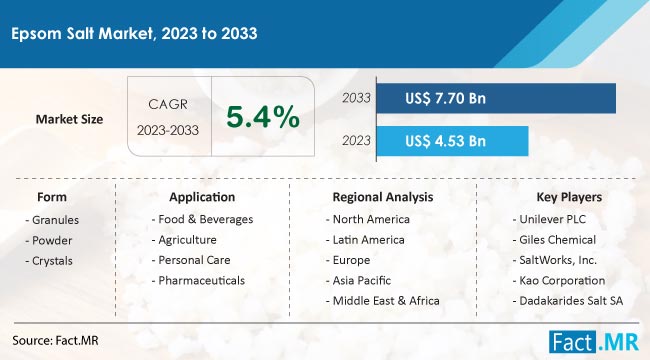 Country-wise Insights
What Makes China a Profitable Market for Epsom Salt Producers?
"Increasing Consumption of Epsom Salt in Wellness Centers & Salons and Agricultural Processes"
During the forecast period, China is expected to lead the global Epsom salt market. This increase is linked to an increase in epsom salt demand from end-use industries such as agriculture, medicines, home care, and personal care. The market is expected to expand during the projected period due to the increasing use of Epsom salt in wellness centers and salons.
China is one of the largest consumers of epsom salt globally. The country's growing population, expanding agricultural sector, and increasing demand for personal care products have contributed to the market's growth. Epsom salt is widely used in China for its therapeutic properties, such as relieving muscle aches and promoting relaxation. It is also utilized in the agricultural sector as a source of magnesium and sulfur, essential nutrients for plant growth.
What is the Demand Outlook for Epsom Salt in the United States?
"Product Sales Driving by Rising Health and Beauty Consciousness"
Over the forecast period, the epsom salt market in the United States is expected to grow at a significant pace. The expanding number of health- and beauty-conscious customers, increased consumer awareness of Epsom salt's therapeutic effects, and extensive use in the personal care industry are expected to drive demand for Epsom salt in the country.
Growth of the United States market is expected to be fueled by the rising health and beauty consciousness among consumers, growing awareness of the medicinal properties of Epsom salt, and the expanding personal care industry.
The agricultural sector also contributes to the demand for Epsom salt. It is utilized as a fertilizer supplement to provide magnesium and sulfur nutrients to plants, promoting healthy crop growth and enhancing yields. Epsom salt can be applied directly to the soil or used as a foliar spray.
Epsom salt finds applications in the healthcare industry. It is used in some medical treatments and as a component in certain medications. However, it is important to note that the medical uses of Epsom salt are typically under professional guidance.
More Insights, Lesser Cost (-50% off)
Insights on import/export production,
pricing analysis, and more – Only @ Fact.MR
Category-wise Insights
What Role Does Epsom Salt Play in the Expansion of Agricultural Operations?
"Widespread Use of Epsom Salt in Agriculture as Soil Amendment to Correct Nutrient Deficiencies, Promote Plant Growth, and Enhance Crop Yield"
Epsom salt, or magnesium sulfate, has several applications in the field of agriculture. It is used as a fertilizer supplement to provide essential nutrients to plants, particularly magnesium and sulfur.
Agriculture is one of the most important applications of Epsom salt. This chemical is commonly used by farmers to promote plant growth and agricultural harvests. The treatment also improves plant mineral absorption, boosting its nutritional value. Epsom salt is traditionally placed on planting beds or directly on seeds before planting (as a fertilizer). It helps to improve the flavor, viscosity, and texture of processed foods such as bread, dairy products, sweets, and jams.
Epsom salt is commonly applied as a soil amendment to correct nutrient deficiencies. Magnesium deficiency can result in yellowing leaves, stunted growth, and reduced crop yields. By adding Epsom salt to the soil, magnesium levels can be replenished, promoting healthy plant growth.
Various crops exhibit distinct requirements for magnesium and sulfur, and Epsom salt can be customized to fulfill these specific needs. For instance, crops such as tomatoes, peppers, and roses necessitate higher magnesium levels, whereas cruciferous vegetables like broccoli and cabbage benefit from increased sulfur. Utilizing Epsom salt aids in achieving an ideal nutrient balance tailored to specific crop types.
Why is Epsom Salt Extensively Used in Crystal Form?
"Easy Dissolution of Crystal Form Driving Extensive Utilization in Baths and Foot Soaks"
Epsom salt, or magnesium sulfate, is commonly found in a crystal form. Crystals of Epsom salt are usually colorless and transparent, and have a characteristic elongated or needle-like shape. They can appear as fine, needle-like crystals or larger, well-defined crystals.
The crystal structure of epsom salt belongs to the orthorhombic system. Orthorhombic crystals have three axes of different lengths that are perpendicular to each other. Epsom salt crystals have an orthorhombic shape, with well-defined edges and faces.
Crystal Epsom salt allows for easy dissolution in water, which is one of the reasons why it is commonly used in baths and foot soaks. The crystals readily dissolve in water, releasing magnesium and sulfate ions, which can be absorbed by the body through the skin.
Competitive Landscape
The global Epsom salt market is fairly fragmented, with several important players competing at both the global and regional levels. Development of products and partnership agreements are being pursued by key players to extend their product ranges and achieve a strong foothold in the global market. The market is competitive, with the presence of established players and potential new entrants. Intense competition among manufacturers and suppliers can affect market share, pricing, and profit margins.
B.Braun Medical Inc., which specializes in infusion therapies and the treatment of pain, launched a line of ready-to-use injectable medication products containing magnesium sulfate in December 2021. To assure a consistent supply of this critical medicine for preventing and managing seizures associated with preeclampsia and eclampsia, the business decided to produce these products in Irvine, California.
Know thy Competitors
Competitive landscape highlights only certain players
Complete list available upon request
Key Segments of Epsom Salt Industry Research
By Form :

By Grade :

FCC Grade
Pharmaceutical Grade
Technical Grade

By Application :

Food & Beverages
Agriculture
Personal Care
Pharmaceuticals

By Distribution Channel :

Store-based Retailing
Supermarkets
Pharmaceutical & Drug Stores
Specialty Stores

By Region :

North America
Latin America
Europe
Asia Pacific
Middle East & Africa
- FAQs -
The global Epsom salt market stands at US$ 4.53 billion in 2023.
Worldwide demand for Epsom salt is forecasted to rise at a CAGR of 5.4% through 2033.
Global sales of Epsom salt are set to reach US$ 7.7 billion by 2033.
Sales of Epsom salt in China are expected to rise at a high CAGR of 7.5% through 2033.
Demand for Epsom salt is forecasted to increase at a CAGR of 3% in Japan.