Heat Exchangers Market Growth Outlook 2022-2031
Global sales of heat exchangers are expected to increase at a CAGR of 6% from 2022 to 2031.
In the year 2021, the global heat exchangers market was valued at US$ 18.94 billion, and is anticipated to reach US$ 34.24 billion by 2031.
Demand for shell and tube heat exchangers is projected to increase at a significant CAGR from 2022 to 2031, attributed to their growing usage across several industry verticals.
Report Attributes

Details

Market Size in 2021

US$ 18.94 Billion

Projected Forecast Value 2031

US$ 34.24 Billion

Global Market Growth Rate (2022-2031)

6% CAGR

Europe Market Share (2022)

35%

Key Companies Profiled

SAACKE GmbH
Heatmaster BV
Alfa Laval Corporate AB
Southwest Thermal Technology
General Electric Company
Thermax Limited
SPX Flow, Inc.
Kelvion Holding GmbH
Demand Analysis of Heat Exchangers from 2017-2021 Vs Market Outlook for 2022-2031
"Growing Need to Use of Energy-efficient Devices to Boost Demand for Heat Exchangers"
The global heat exchangers market was valued at US$ 18.94 billion in 2021.
A heat exchanger is a device that allows heat to be transferred from one fluid to another. It's utilized to regulate a system's or substance's temperature. It contains hot and cooler fluid streams that are used to transfer thermal energy between them. If the fluids are immiscible, they can be separated by a regenerative thermal oxidizer or plate or kept in direct contact.
These heat transfer devices aid in the heating and cooling of buildings, as well as the proper operation of motors and machinery. As a result, air blast coolers, heater coils, boilers, furnaces, heat pumps, freezers, car radiators, sewage treatment, and air conditioning systems all use them.
The market is primarily driven by significant increase in the demand for heat, ventilation, and air conditioning (HVAC) from the industrial, commercial, and residential sectors. This can be attributed to rising disposable income levels, shifting living standards, and globally extreme average climatic conditions.
Furthermore, rising environmental concerns among consumers about the use of energy-efficient and environmentally-friendly devices are driving market growth. Government organizations have enacted strict rules to limit carbon emissions across industries, resulting in a bright future for the heat exchangers industry.
Demand for heat exchangers is projected to rise at a CAGR of 6% from 2022 to 2031.
Know thy Competitors
Competitive landscape highlights only certain players
Complete list available upon request
Which Emerging Trend is Fuelling Sales of Heat Exchangers?
"Rapid Deployment of Advanced Technologies for Waste Heat Recovery"
Every industry on the planet generates waste heat, which can be trapped and reused to harness high temperatures and energies. Because this equipment is equipped with the functionality to do so, it is in high demand across all industry verticals.
Their use generates revenues for the owner by increasing heat utilization and lowering energy costs per unit. Furthermore, application industries including power plants and the food and beverage industry are growing at a strong rate, supporting investment in such exchangers.
The global need for energy has been fueled by causes such as rising population rates and rapid industrialization. However, because of increased greenhouse gas emissions from companies, this has a negative impact on the environment.
As a result, a number of businesses are using energy-efficient technologies for waste heat recovery and improving process optimization by installing innovative heat recovery devices in a variety of industrial applications. This is projected to contribute to the global heat exchangers market growth over the forecast period.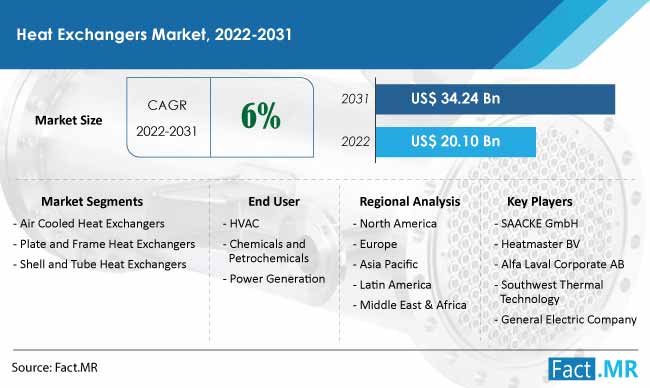 Which Roadblocks are Hampering Heat Exchangers Market Expansion?
"High Maintenance Cost & Fluctuating Raw Material Prices Restraining Market Growth"
Raw material price fluctuations in copper, aluminum, steel, and other metals affect heat exchanger manufacturers.
One of the major market limitations is the regular cracking and rust of devices, which is accompanied by difficult tube cleaning. Because this equipment has to deal with a variety of chemicals and water types, internal part corrosion is a big worry, and the complexity of maintaining and replacing any parts adds to the losses.
These considerations may limit market expansion to some extent.
Which Region Will Lead Revenue Generation for Heat Exchanger Manufacturers?
"Increasing Demand for Sustainable Energy Usage Driving Market Growth in Europe"
Europe accounts for 35% revenue share of the global heat exchangers market. Increasing focus on less carbon-intensive activities and demand for sustainable energy usage driving demand for heat exchangers in the region.
Industrial development is predicted to be fuelled by rising public and private infrastructure investments, as well as increased demand from a variety of end-use industries for steam heat exchangers with improved durability, performance, and corrosion resistance.
More Insights, Lesser Cost (-50% off)
Insights on import/export production,
pricing analysis, and more – Only @ Fact.MR
Country-wise Insights
How is the U.S. Heat Exchangers Market Faring?
"Rising Energy Consumption in Commercial Sectors Driving Market Growth"
The need for heat exchangers in the United States is predicted to rise as oil and gas development activities increase. Furthermore, rising energy consumption in a variety of private and commercial sectors is expected to enhance the power and energy sectors, boosting the market for heat exchangers over the coming years.
Many well-known enterprises in the fields of oil and gas, information and communication technology, HVAC, automobiles, aviation, and aerospace are based in the United States. Increased investment in technological advancements will increase operating efficiencies, resulting in lower energy use.
With a booming aviation industry, the United States is expected to account for high demand for aircraft heat exchangers over the coming years.
Why is There High Consumption of Heat Exchangers in China?
"Government Initiatives for Infrastructure Development to Propel Market Revenue"
The market in China is likely to rise rapidly over the forecast period due to increased demand for heat exchangers from the chemical industry. Overall expansion of the market has been aided by rapid industrialization and increased investments in production, commercial, and industrial projects.
Rise in the population and increasing attempts by the government to improve the infrastructure of the country are driving the market for heat exchangers, especially regenerative heat exchangers.
China's marine sector is one of the biggest in the world. With a maritime network spanning the globe, the country will see consistent demand for marine heat exchangers, thereby driving overall growth of the market for heat exchangers.
Category-wise Insights
Why is Demand for Shell and Tube Heat Exchangers Rising Rapidly?
"Shell and Tube Heat Exchangers Most Popular Owing to Their Cost-effective Benefits"
Shell and tube heat exchangers are expected to account for around 40% of market sales over the forecast period, as they are more cost-effective than other forms of heat exchangers. They are preferred in many industries, including petrochemicals and food and drinks since they are simple to install and maintain at greater working temperatures and pressures.
Shell and tube heat exchangers are utilized in applications that demand a wide temperature and pressure range, as well as the transfer of two liquids, liquids and gases, or two gases. These heat exchangers have a simple design and are suitable for transferring heat from steam to water.
Which End User is Bringing in High Profits for Heat Exchanger Suppliers?
"Heat Exchangers Commonly Used in Chemicals & Petrochemicals Due to Their Flexibility in Design"
Chemicals and petrochemicals account for a significant portion of the market. The use of heat exchangers in a complicated series of processes is a key driver for the chemical segment. They have the ability to manage fluids with varied quantities of solids due to their characteristics.
The petrochemical sector is expected to develop in response to the rising demand for fertilizers, plastics, packaging, electronic devices, medical devices, and textiles. In addition, the integration of petrochemical products in advanced power systems, such as wind turbines, solar cells, and electric vehicle parts, is expected to propel the industry forward.
As a result, the aforementioned reasons are projected to stimulate demand for these goods in chemical and petrochemical industries.
COVID-19 Impact on Heat Exchangers Consumption
The COVID-19 pandemic hampered different industrial activities and disrupted the supply chain, affecting practically all industries. The COVID-19 pandemic caused delays in heat exchanger manufacturing and supply. Because of lockdown restrictions, limited personnel availability, supply chain disruptions, country-wide lockdowns, and fluctuating raw materials prices, heat exchanger producers encountered unexpected hurdles.
On the other hand, companies are slowly returning to normalcy with their operations, resuming and slowly restoring pre-pandemic levels. Several energy projects are expected to aid market expansion. The growth in industrial activities, development, and the emergence of new power plants are expected to boost the market.
Competitive Landscape
Heat exchanger manufacturers collaborate with others to produce innovative heat transfer products to meet the world's expanding energy needs. Heat exchanger providers are trying to gain a competitive advantage over their competitors by expanding the scope of their products' applications.
For instance :
In December 2021, Alfa Laval signed a global partnership deal with Microsoft to create digital solutions to help with the maintenance and support for its plate heat exchanger range. End users will be able to identify customers' requirements using artificial intelligence (AI) in these new devices.
Key Segments Covered in Industry Research
By Product :

Air Cooled Heat Exchangers
Plate and Frame
Shell and Tube
Others (Condensers, Oil Coolers, and Radiators)

By End User :

HVAC
Chemicals and Petrochemicals
Power Generation
Others (Food Processing, Aerospace, and Medical)

By Region :

North America
Europe
Asia Pacific
Latin America
Middle East & Africa