InsurTech Market
InsurTech Market Analysis By Insurance Type (Health, Life, Travel, Auto, Business, Home), By Service (Consulting, Support & Maintenance, Managed Services), By Technology (Blockchain, Cloud Computing, IoT, Artificial Intelligence, Machine Learning, Robo Advisory, Big Data & Business Analytics), By End-use Industry (Automotive, BFSI, Healthcare, Manufacturing, Retail, Transportation), & By Region - Global Market Insights 2023 to 2033
Analysis of InsurTech Market Covering 30+ Countries Including Analysis of US, Canada, UK, Germany, France, Nordics, GCC countries, Japan, Korea and many more
InsurTech Market Outlook (2023 to 2033)
The global insurtech market is expected to increase from a value of US$ 8.6 billion in 2023 to US$ 34.7 billion by the end of 2033, Expanding rapidly at a CAGR of 15%. One of the key factors expanding the insurtech market size is the ever-rising cases of insurance claims around the globe.
To save operating costs, increase operational efficiency, and enhance the entire client experience, insurance companies are investing heavily in digital technology. The three types of insurance claims that people most often secure are auto, life, and house.
Research by the Insurance Barometer revealed that 36% of Americans purchased life insurance in 2021.
The insurance technology industry, long known for its traditional and conservative nature, has been experiencing a wave of innovation due to the emergence of insurtech, a term that refers to the use of technology to transform and optimize various aspects of the insurance value chain. Insurtech has been reshaping the insurance landscape, challenging established norms, and driving changes across the entire insurance industry.
Insurtech is expected to gain momentum in the coming 10 years due to several factors, especially advancements in technologies such as artificial intelligence (AI), machine learning (ML), big data analytics, blockchain, and the Internet of Things (IoT), have created new opportunities for insurers to use data and digital capabilities to improve customer experience, streamline operations, and enhance risk assessment and underwriting. Furthermore, changing customer expectations and behaviours, particularly among younger generations who are more tech-savvy and demand convenience, transparency, and personalized solutions, are all fuelling the insurtech market growth.
Customer interaction is one of the main areas experiencing a change in the insurtech business. Digital channels are being used by insurtech businesses to provide seamless and individualized consumer experiences. This covers platforms for buying insurance, managing policies, processing claims, and providing customer care that is web-based and mobile-based.
These digital solutions give clients more ease, accessibility, and transparency, which make it simpler for them to look up, evaluate, and buy insurance plans on their terms. With the help of data and analytics, insurtech companies are also able to provide customized insurance services and solutions that are catered to the demands and lifestyles of their clients. Examples include usage-based insurance, on-demand coverage, and parametric insurance.
Report Attributes

Details

Insurtech Market Size (2023E)

US$ 8.6 Billion

Forecasted Market Value (2033F)

US$ 34.7 Billion

Global Market Growth Rate (2023 to 2033)

15% CAGR

Leading Regional Market

North America

Key Companies Profiled

Alan SA
Shift Technology
Clover Health
Cytora Ltd.
simplesurance GmbH
Haven Life Insurance Agency LLC
Quantemplate Technologies Inc.
Oscar Insurance Corp.
Trov Insurance Solutions LLC
ZhongAn Online P&C Insurance Co. Ltd.
Damco Group
Amodo
Don't Need a Global Report?
save 40%! on Country & Region specific reports
How is Insurtech Expected to Revolutionize Customer Experience and Micropayments?
"Insights, Innovation, & Convenience - Advantage of Insurtech on Data-driven Decision-making and Customer-centric Solutions"
The availability of data enables a business to monitor consumer behaviour and gather insights to enhance the customer experience and offer superior services. As insurtech is adopted more broadly, it enables better decision-making and the execution of innovative business strategies to satisfy the rising needs in the global insurance business. Due to the rising use of mobile phones and wearable technologies, insurtech has made micropayments for customers simpler.
To serve customers in areas with low insurance penetration rates, major firms in the insurtech business are creating micropayment systems. The creation of platforms that provide clients with one-stop shopping for purchases, payments, servicing, and social media engagement is made possible by insurtech.
To meet the increasing need for online and mobile channels, insurance companies are creating self-directed customer acquisition and customer care solutions. For a better user experience, more transaction efficiency, and greater transparency, customer-centric solutions are being employed on an increasing basis. Usage-based Insurance (UBI) models are becoming more popular as a result of the growing consumer demand for effective services and individualized solutions.
Why is Insurtech Gaining Popularity So Across the World?
"Increasing Utilization of Wearable Devices & Data Analytics for Risk Mitigation & Improved Customer Experience in Healthcare Insurance"
The world of healthcare is rapidly evolving with the integration of insurtech and wearable tech. The adoption of wearable devices is skyrocketing, leading to a significant influence on the telemedicine market. As a result, the demand for insurtech in the healthcare sector is expected to soar during the forecast period.
The capacity to collect data for risk mitigation and bettering customer experience is one of the main advantages of integrating insurtech in healthcare. To prevent the development of chronic health disorders, technologies such as big data analytics, cloud computing, artificial intelligence, and the Internet of Things (IoT) are incorporated, which results in significant savings in claims. Complete healthcare data digitization develops a strong ecosystem for risk management and customer engagement, resulting in improved outcomes for insurers and policyholders.
"Future of Healthcare Insurance - Genomic & Epigenetic Technologies Redefining Life Policies"
The growing adoption of genomic and epigenetic technologies in the market for biological age determination is set to revolutionize the cost and execution of life policies. Companies such as Good Doctor, Discovery Vitality, Babylon, and Wellthy Therapeutics, among others, are at the forefront in this field of the insurtech market, providing cutting-edge technologies to redefine the landscape of healthcare insurance.
"Introduction of Blockchain Technology and Growing Insurtech Alliances Developing Cryptocurrency-based Coverage Payment Options"
Utilizing digital technologies, businesses may better understand their customer's wants and adapt their offers to meet those needs.
In 2021, 59% of insurance businesses boosted their investment in digital infrastructure, according to a report by the software company EIS Group.
Worldwide demand for blockchain technology is being driven by its advantages, including reduced costs, quicker payments, and fraud prevention. Insurers employ blockchain technology for processes including anti-money laundering (AML), know your customer (KYC), managing claims, and developing peer-to-peer models.
Several insurtech firms are forming alliances with insurance providers to provide solutions based on blockchain technology.
The insurtech business Amodo announced in December 2020 that it had partnered with the tech business Galileo Platforms Limited. By working together, the companies hope to help insurance firms offer improved coverage options and improve the consumer experience, owing to their advanced technologies.
Insurance providers are increasingly embracing cryptocurrency-based payments.
The motor insurance provider Metromile announced in December 2021 that it would allow customers to pay premiums and settle claims with Bitcoin. The corporation hopes that this endeavour would improve its market position.
Universal Fire & Casualty Insurance Company, which specializes in providing standard casualty and property insurance to small enterprises, started accepting Bitcoin in June 2021. These trends in insurtech are expected to benefit market growth favourably during the forecast period.
More Insights, Lesser Cost (-50% off)
Insights on import/export production,
pricing analysis, and more – Only @ Fact.MR
Why Should Insurtech Service Providers Work More on Securing the Privacy of Insurance Holders?
"Misuse of Personal & Financial Databases – A Huge Threat"
The issue of privacy is the biggest roadblock to insurtech. Distributed ledger technology, a shared database accessible across several businesses and websites, is used to track credit scores.
Laws governing data protection must adapt to its ongoing change. International governments are raising privacy concerns for regulators using a variety of distributed ledger technology management techniques. Due to its collaborative nature, distributed ledger technology may be decentralized, which implies that no one organization can be held responsible in the event of a dispute. This makes integrating into insurtech entirely challenging.
Why is the Insurtech Market Considered a Boon for Start-up Companies?
"Start-ups Riding Wave of Innovation and Unleashing Power of Technology"
The insurance industry is expected to be transformed by new, tech-savvy companies that are bringing their full force of innovations and opportunities. They will bring about changes and transform the playing field on which incumbents compete.
Insurtech start-ups are entering the market and using cutting-edge innovations to offer coverage to a more technologically savvy clientele. Technology can streamline and automate various processes in the insurance value chain, leading to high operational efficiency and cost savings. Insurtech start-ups may employ technologies such as AI, data analytics, and automation to optimize underwriting, claims processing, customer service, and other areas, which can result in improved profitability and scalability.
Regulatory restrictions have been lowered in some places. For instance, insurtech companies have been encouraged to test their novel business ideas on particular client groups in Australia, Singapore, and the United Kingdom without being required to adhere to the entire regulatory framework that applies to incumbents.
Top 3 Insurtech Start-ups :
Lemonade: Lemonade is a New York-based insurtech start-up that has gained widespread attention for its innovative approach to home and renters insurance. Using artificial intelligence (AI) and machine learning (ML), Lemonade offers a simple and transparent insurance experience through its mobile app. Customers can get quotes, purchase policies, file claims, and receive payouts in a matter of minutes, all with a focus on a seamless, digital-first customer experience.
Root Insurance: Root Insurance is an insurtech company that offers personalized auto insurance based on telematics data collected from a mobile app. By using data-driven insights, Root Insurance aims to provide fair and transparent pricing for auto insurance, rewarding safe driving behaviour with lower premiums. Root Insurance has gained traction in the industry for its innovative approach to auto insurance and has expanded its offerings to include home insurance as well.
Hippo Insurance: Hippo Insurance is a California-based insurtech company that specializes in home insurance. Hippo uses data analytics and AI to provide homeowners with more comprehensive coverage and proactive risk management. Its online platform allows homeowners to get information, purchase a policy, and manage their insurance needs with ease. Hippo Insurance has also expanded its offerings to include smart home devices that can help prevent damages and losses.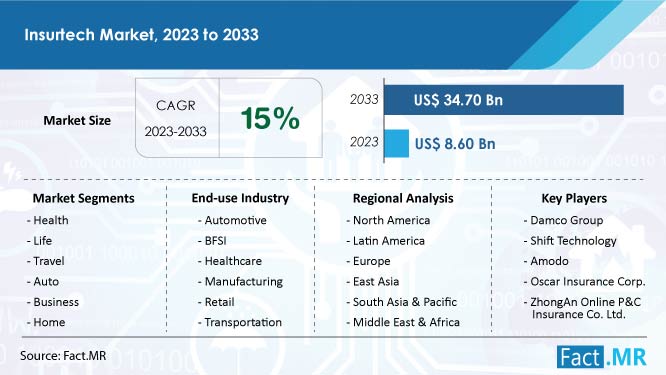 Country-wise Analysis
How are Insurtech Companies Advancing Traditional Insurance Industry in the United States?
"Hotbed of Innovation - Transforming Insurance Landscape with Digital Technologies"
The insurance industry, known for its traditional and established practices, has seen a surge in innovation in recent years with the rise of insurtech companies in the country. The United States insurtech market has emerged as a hotbed of innovation, with numerous start-ups and established players driving change and reshaping the industry.
One of the key areas of focus for insurtech companies in the United States is personal lines of insurance, such as pet auto, home, and renters insurance. Start-ups such as Lemonade, Root Insurance, and Hippo Insurance have gained traction in the market by utilizing technologies to streamline the insurance buying process, offer personalized coverage, and improve customer engagement. These companies have introduced digital-first approaches, innovative pricing models, and enhanced risk assessment tools to provide a differentiated value proposition to consumers.
Why are Insurtech Firms in the United Kingdom Gaining Ground?
"High Focus on Value-added Services to Customers"
European countries are expected to be the most profitable marketplaces for insurtech companies. In Europe, there were 293 new insurtech businesses between 2010 and September 2021. 201 of these businesses came from just the United Kingdom, Germany, and France. Nearly 70% of the region's insurtech companies are based in these three countries.
Insurtech service providers in the United Kingdom are becoming increasingly successful, and a major part of their growth can be due to the innovative ways they meet customers' insurance needs in a growing digital environment, creating new opportunities for businesses along the whole insurance value chain. Following the Fintech revolution, Insurtech is booming in the United Kingdom, offering effective solutions for the whole insurance sector.
Which Strategies are Benefitting Insurtech Service Providers in Singapore?
"Utilizing Chatbot Data and Call Center Recordings"
With over 80 businesses listed in the Singapore FinTech Association's Insurtech directory, Singapore boasts one of the greatest concentrations of insurtech start-ups.
Singapore is a thriving centre for artificial intelligence (AI) and big data innovation, and these technologies are useful for enhancing customer experiences by enabling hyper-personalized services. Some insurers are comparing chatbot data with call centre recordings to learn more about consumer feedback and agent service quality.
Insurance service providers are focusing on providing insurance at affordable premium plans. The adoption and upgradation of technological platforms are boosting the revenue growth of insurtech enterprises in Singapore.
Know thy Competitors
Competitive landscape highlights only certain players
Complete list available upon request
Category-wise Analysis
Which Insurance Type is Allowing Insurtech Service Providers to Earn More?
"Improved Health Insurance Data Analytics – Hastening Claims Process"
Some of the insurance policies provided by insurance companies include health, life, travel, auto, business, home, and more. The demand for health insurance is predicted to be driven by the rising use of digital platforms that connect brokers, providers, and carriers in the health insurance industry.
Life and health insurance companies are putting a lot of effort into employing advanced analytics to better serve and comprehend their clients. Insurtech technologies are being adopted by many health insurance providers to speed up the claims processing process. For enhanced convenience, insurers are concentrating on integrating mobility features into their health insurance plans.
Competitive Landscape
Top insurtech companies are concentrating on tactics such as collaborations to support them in strengthening their market positions. Also, they are focusing on advancing insurtech software to help insurers form alliances and streamline claim procedures to improve their client base.
The property and casualty insurer Heritage Insurance Holdings Inc. announced in November 2021 that it had partnered with the insurtech P&C carrier Slide. The former company would use Slide's skills through this agreement to enhance underwriting and rating choices.
Key Segments of Insurtech Industry Research
By Insurance Type :

Health
Life
Travel
Auto
Business
Home

By Service :

Consulting
Support & Maintenance
Managed Services

By Technology :

Blockchain
Cloud Computing
IoT
Artificial Intelligence
Machine Learning
Robo Advisory
Big Data & Business Analytics

By End-use Industry :

Automotive
BFSI
Healthcare
Manufacturing
Retail
Transportation

By Region :

North America
Latin America
Europe
East Asia
South Asia & Oceania
MEA
- FAQs -
The global insurtech market is valued at US$ 8.6 billion in 2023.
The insurtech market is predicted to reach US$ 34.7 billion by 2033.
Global demand for insurtech services is set to surge at a CAGR of 15% from 2023 to 2033.
The United States, the United Kingdom, and Singapore are some of the lucrative markets for insurtech companies.
Some of the leading insurtech companies are Damco Group, Amodo, and Oscar Insurance Corp.