Liquid Biopsy Market
Liquid Biopsy Market Analysis By Product & Service (Assay Kits, Instruments, Software & Services), By Circulating Biomarker (Circulating Tumor Cells (CTCs), Cell-free DNA, Circulating Cell-free DNA, Exosomes & Extracellular Vesicles), By Indication (Cancer [Lung, Breast, Prostate, Colorectal, Melanoma], Non-cancer [Non-invasive Prenatal Testing (NIPT), Organ Transplantations, Infectious Disease Testing]), By Clinical Application (Routine Screening, Patient Work-up, Therapy Selection, Treatment Monitoring, Recurrence Monitoring), By Technology (Multi-gene-parallel Analysis (NGS), Single-gene Analysis (PCR Microarrays)), By Sample Type (Blood, Urine, Saliva), By End User and By Region – Global Market Report (2023 to 2033)
Analysis of Liquid Biopsy Market Covering 30+ Countries Including Analysis of US, Canada, UK, Germany, France, Nordics, GCC countries, Japan, Korea and many more
Liquid Biopsy Market Outlook (2023 to 2033)
The global liquid biopsy market size is estimated at US$ 4.72 billion in 2023 and is forecasted to expand rapidly at a CAGR of 18% to reach a valuation of US$ 24.70 billion by 2033, according to a newly released market study of liquid biopsy by Fact.MR, a market research and competitive intelligence provider.
Liquid biopsy technology is a disruptive force in cancer diagnostics, providing non-invasive and highly sensitive approaches for cancer detection and surveillance. Because of its potential to change cancer treatment, this new technique has seen tremendous growth and gained enormous interest. Liquid biopsies detect cancer such as breast biopsy biomarkers in physiological fluids such as blood-based biopsy and urine, and they have several advantages over standard tissue biopsies as there are separate blood collection tubes for liquid biopsy.
According to this liquid biopsy research report, the market is expected to continue its upward trajectory. Continuous technological breakthroughs and greater research investment will fuel innovation, boosting the accuracy and accessibility of liquid biopsy tests even further.
Key Market Growth Drivers
Advances in DNA sequencing, next-generation sequencing (NGS), and the refinement of assays for evaluating circulating tumor DNA (ctDNA) and circulating free DNA (cfDNA) have improved the sensitivity and specificity of liquid biopsies drastically.
Because of the global growth in cancer cases, there is a high demand for non-invasive liquid biopsy diagnostic procedures. Liquid biopsies are on the cutting edge of managing this expanding cancer burden, notably through early identification and accurate surveillance.
Governments and commercial organizations have both recognized the potential of liquid biopsy technologies and boosted their efforts in liquid biopsy oncology research and development. This financial assistance is spurring innovation and aiding in the development of more accurate and cost-effective diagnostic technologies.
Early cancer detection and monitoring by liquid biopsies can result in improved treatment outcomes. It enables prompt changes to treatment regimens and reduces the need for more intrusive operations, improving the quality of life of the patients.
The Liquid Biopsy Market growth in the Asia Pacific region is rapidly expanding. Improved healthcare infrastructure, increased cancer awareness, and increased disposable income are driving the demand for liquid biopsies. Because of the enormous patient pool, this region is a viable market for liquid biopsy firms.
Liquid biopsies are poised to play an increasingly important role in the fight against cancer, with a growing global emphasis on early cancer detection, tailored treatments, and less intrusive liquid biopsy diagnostic tools.
Report Attributes
Details
Liquid Biopsy Market Size (2022A)
US$ 4 Billion
Estimated Market Value (2023E)
US$ 4.72 Billion
Forecasted Market Value (2033F)
US$ 24.70 Billion
Global Market Growth Rate (2023 to 2033)
18% CAGR
North America Market Share (2022)
48.32%
Cell-free DNA Biomarker Segment Share (2022)
48.2%
Blood Sample Segment Share (2022)
69.8%
Assay Kits Segment Share (2022)
53.35%
Routine Screening Segment Share (2022)
39.5%
Multi-gene-parallel Analysis (NGS) Segment Share (2022)
70.15%
Key Companies Profiled

Bio-Rad Laboratories
Biocept Inc.
Guardant Health
Illumina Inc.
F. Hoffman-La Roche Ltd.
Johnson & Johnson
Laboratory Corporation of America Holdings
MDxHealth SA
QIAGEN N.V
Thermo Fisher Scientific Inc.
QIAGEN;
Myriad Genetics, Inc;
ANGLE plc
Oncimmune
Lucence Health, Inc.
Freenome Holdings, Inc.
Epigenomics AG
Natera, Inc.
CARDIFF ONCOLOGY, INC.
Menarini Silicon Biosystems
Sysmex Inostics Inc.
Fluxion Biosciences Inc
Epic Sciences
Predicine
Oncocyte Corporation
Don't Need a Global Report?
save 40%! on Country & Region specific reports
What is Fueling the Growth of the Liquid Biopsy Market?
"Ability to Detect Cancer Prematurely and Avoid High Risk"
Early cancer detection is a main driver of the liquid biopsy industry due to its ability to radically alter the course of the disease. Traditional cancer diagnosis is sometimes delayed until the tumor has advanced, making treatment more difficult and decreasing the odds of a favorable outcome. Liquid biopsies can detect cancer at an early stage, frequently before clinical signs appear. Liquid biopsies can provide an early warning system by detecting tiny levels of cancer biomarkers in physiological fluids, such as circulating tumor DNA (ctDNA) testing or circulating free DNA (cfDNA) testing.
Liquid biopsy for early detection allows for quick treatments, allowing healthcare providers to begin treatment when the disease is more treatable and the prognosis is generally more positive. Early detection also improves patient outcomes and overall survival rates, making liquid biopsies an important weapon in the fight against cancer. Furthermore, because liquid biopsies are less intrusive than traditional tissue biopsies, patients can undergo testing more regularly, increasing the odds of early identification and precise monitoring, particularly in high-risk individuals.
"Monitoring of Minimal Residual Disease (MRD) Enabling Healthcare Providers to Timely Alter Treatment Plans"
Monitoring of minimal residual disease (MRD) is another significant driver of the liquid biopsy business. MRD refers to the presence of cancer cells or their genetic material in the body of a patient following the treatment via liquid biopsy genetic testing. Although effective cancer treatment tries to destroy all cancer cells, a few may stay undetected by conventional approaches.
Liquid biopsies, particularly those focused on ctDNA or cfDNA analysis, excel in MRD monitoring because they can detect minute quantities of cancer-related genetic material in the circulation of a patient. MRD monitoring provides various important functions. MRD monitoring enables long-term tracking of the response of the patient to therapy and the risk of relapse, thereby assisting in the development of individualized and improved treatment plans. Liquid biopsy-based MRD monitoring provides a more complete view of the disease and condition of the patient, allowing for more proactive decision-making and, ultimately, improved patient treatment and results.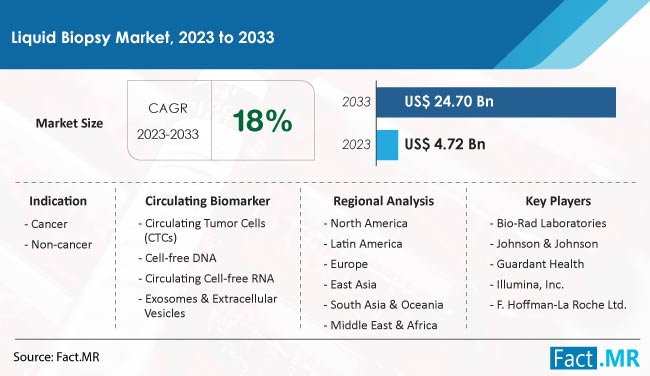 What Preventing the Market from Attaining its Full Potential?
"Lack of Relevant Clinical Evidence and Reliability of Liquid Biopsy"
Lack of strong clinical evidence is a key barrier to the implementation and acceptance of liquid biopsy technology. While liquid biopsies have a promising future in cancer diagnoses and monitoring, healthcare practitioners and regulatory agencies require considerable and well-documented clinical data to support their usage.
Clinical evidence is required to demonstrate the efficacy, accuracy, and safety of liquid biopsy tests in a variety of clinical settings. These tests must not only detect the existence of cancer biomarkers but must also demonstrate their capacity to improve patient care. Clinical proof is especially important because liquid biopsy techniques are non-invasive and may detect cancer at an earlier stage or with greater sensitivity than standard biopsies. To substantiate these claims, the medical community and regulatory authorities, understandably, seek solid facts.
Conducting large-scale clinical trials, collecting patient data over lengthy periods, and examining the long-term influence on patient survival and quality of life are all part of generating such evidence. Without a solid basis of clinical evidence, there is a danger of misdiagnosis or overdiagnosis, which could lead to unnecessary therapies or delayed interventions. Contradictory or unclear data can weaken the trust in technology by healthcare professionals, preventing its wider implementation. Significant investments in rigorous clinical research are required to overcome this constraint.
More Insights, Lesser Cost (-50% off)
Insights on import/export production,
pricing analysis, and more – Only @ Fact.MR
What Should Start-ups Focus on While Entering This Competitive Market?
"Focus on Niche Segments to Capture Opportunities in Liquid Biopsy Market"
Start-ups encounter both problems and opportunities in the fluid landscape of the liquid biopsy industry. They must take a diversified approach to maintain a competitive edge and make a lasting influence. Continuous R&D efforts to improve the sensitivity, specificity, and cost-effectiveness of liquid biopsy technologies are required as a cornerstone. Collaboration with established institutions, strategic collaborations, and clinical validation studies can increase credibility and speed up market access.
Discovering and catering to niche markets can distinguish a start-up, allowing for customized services that address particular therapeutic needs, such as uncommon cancer types or specific patient demographics. As the market expands beyond boundaries, the client base of a start-up can be expanded through global expansion into emerging regions. A commitment to clinical validation via rigorous trials, as well as a willingness to adapt and pivot in response to changing market trends and customer feedback, ensures that liquid biopsy start-ups remain agile and relevant in a transformative field where innovation and adaptation are critical to long-term success.
Country-wise Insights
North America generated almost half of the global revenue share in 2022. Asia Pacific is anticipated to grow significantly and lead the global market by 2033-end with the market in China expanding at a CAGR of 30%. The United Kingdom is projected the lead revenue generation in the European region.
What is the Market Scope for Liquid Biopsy in India?
"Surge in Liquid Biopsy Adoption Due to Increasing Cancer Cases and Improving Healthcare Infrastructure"
India is seeing a significant increase in cancer diagnoses, which is being driven by factors such as population growth, aging demographics, and lifestyle changes. The increased prevalence of cancer causes a strong demand for non-invasive diagnostic tools, making liquid biopsies a desirable solution. India's improved healthcare infrastructure and growing emphasis on precision medicine have resulted in a higher emphasis on advanced cancer diagnostics, such as liquid biopsy technology. India's diversified patient population opens up a large market for liquid biopsy firms, with prospects spanning a wide range of cancer types.
Regulatory organizations in India are also becoming more supportive of innovative diagnostic technologies, making it easier for liquid biopsy options to enter the market. As the country's regulatory and reimbursement frameworks mature, India is emerging as a major participant in the global liquid biopsy industry, with enormous growth potential for companies that can provide accessible, cost-effective, and dependable cancer diagnostic solutions.
The market in India is anticipated to expand at a high-value CAGR of 24.83% between 2023 and 2033.
Why is Demand for Liquid Biopsy Booming in the United States?
"Market Driven By Strong Healthcare System and Culture of Innovation"
The United States healthcare system is distinguished by a sturdy infrastructure, an innovative culture, and strict regulatory monitoring. The Food and Drug Administration (FDA) has been actively involved in developing stringent standards for the validation and licensing of liquid biopsy testing, serving as a quality and safety benchmark. This regulatory clarity not only fosters the development of innovative technologies but also increases the trust of healthcare professionals and patients in the accuracy of liquid biopsy diagnoses.
The frequency of cancer in the United States, combined with an increasing emphasis on early detection and individualized care, emphasizes the value of non-invasive diagnostic methods such as liquid biopsies.
The American healthcare industry has been at the forefront of precision medicine, a discipline that greatly benefits from the capabilities of liquid biopsy. The ability to tailor cancer treatments to a patient's individual genetic composition is a driving force behind the development of these non-invasive procedures, which leads to improved treatment outcomes and fewer side effects. Furthermore, the lively ecosystem of research institutions, biotechnology corporations, and startups in the United States actively contributes to the growth and development of the liquid biopsy market. The United States innovation ecosystem's support and resources make it a fertile ground for advancements in liquid biopsy technology.
Know thy Competitors
Competitive landscape highlights only certain players
Complete list available upon request
Category-wise Insights
Circulating Tumor Cells (CTCs) have emerged as a strong force leading the market for liquid biopsy. The blood sample category held almost two-thirds of the global liquid biopsy market share in 2022. The cancer indication segment held a leading market share and is driving the growth of the indication segment. Liquid biopsy suppliers should capitalize on the rising sales of assay kits to generate more revenue.
Why are Circulating Tumor Cells (CTCs) Most Profitable among Circulating Biomarkers?
"Sensitivity and Specificity of CTC Detection Methods"
CTC's presence in the bloodstream is an important sign of metastatic potential and can provide important insights into cancer progression. The ability of CTCs to provide real-time, dynamic information on the current status of the disease, which is often more therapeutically important than genetic mutations or DNA alterations, is the fundamental reason for their significance.
Capturing CTCs at various phases of treatment allows clinicians to adjust therapeutic tactics, ensuring patients receive the most effective care. CTCs contain a plethora of information regarding the biology of the tumor. Their research can provide insight into tumor heterogeneity, which is important in understanding how malignancies evolve and become resistant to treatment. CTCs provide a unique opportunity to acquire a greater understanding of the genetic and phenotypic alterations in the tumor over time since they can be separated and analyzed at multiple time points.
Technological advances in CTC extraction and liquid biopsy market analysis have increased the sensitivity and specificity of CTC detection methods, making them more dependable. The combination of microfluidics, high-definition imaging, and automated methods has simplified CTC capture and characterization, ensuring their clinical value. The importance of CTCs in cancer diagnosis and treatment decisions is anticipated to grow as researchers continue to harness their potential, opening the door for more effective, patient-centered oncology care.
Circulating Tumor Cells (CTCs) biomarker segment held a leading market share of 36.7% in 2022.
Competitive Landscape
The global liquid biopsy market is characterized by a wide set of companies, ranging from established diagnostic giants to creative start-ups, all competing for a place in this fast-paced industry.
Illumina, Inc., a genetic sequencing technology powerhouse that provides critical high-throughput sequencing technologies that support several liquid biopsy procedures, is leading the charge.
Guardant Health has quickly garnered notoriety and market share with its revolutionary ctDNA analysis technique.
Biocept specializes in providing comprehensive liquid biopsy testing services, allowing for reliable cancer detection and monitoring.
Personal Genome Diagnostics (PGDx), with an emphasis on precision oncology, offers liquid biopsy options to aid in cancer diagnosis and treatment selection.
Natera, best known for its ctDNA testing platform, has achieved substantial advances in both the prenatal and cancer liquid biopsy industries.
This competitive landscape, characterized by a mix of top liquid biopsy market companies and forward-thinking entrants, supports the continued evolution and growth of the market, promising new discoveries in the field of cancer diagnostics.
Segmentation of Liquid Biopsy Market Research
By Product & Service :

Assay Kits
Instruments
Software and Services

By Circulating Biomarker :

Circulating Tumor Cells (CTCs)
Cell-free DNA
Circulating Cell-free RNA
Exosomes & Extracellular Vesicles
Others

By Indication :

Cancer

Lung Cancer
Breast Cancer
Colorectal Cancer
Prostate Cancer
Melanoma
Others

Non-cancer

Non-invasive Prenatal Testing (NIPT)
Organ Transplantations
Infectious Disease Testing
Others

By Technology :

Multi-gene-parallel Analysis (NGS)
Single-gene Analysis (PCR Microarrays)

By Clinical Application :

Routine Screening
Patient Work-up
Therapy Selection
Treatment Monitoring
Recurrence Monitoring
Others

By Sample Type :

Blood
Urine
Saliva
Others

By End User :

Hospitals & Laboratories
Specialty Centers
Research Institutes
Others

By Region :

North America
Europe
Latin America
East Asia
South Asia & Oceania
Middle East & Africa
- FAQs -
Based on sample, blood sample-based tests held 69.8% share of the global liquid biopsy market in 2022.
The market for liquid biopsy stands at a value of US$ 4.72 billion in 2023.
Demand for liquid biopsies is forecasted to reach a market value of US$ 24.70 billion by 2033-end.
Sales of the liquid biopsy market are forecasted to expand at a CAGR of 18% through 2033.
The North American market accounted for 48.32% revenue share in 2022.