Load Break Switches Market Outlook (2023 to 2033)
The global load break switches market is valued at US$ 2.4 billion in 2023 and is projected to reach US$ 4.1 billion by 2033, expanding at a CAGR of 5.5% over the next ten years. Modernization of outdated power infrastructure, higher investments in the power distribution industry, digitalization of electric utilities, and high focus on renewable energy generation are factors that are expected to boost the demand for load break switches.
An electrical connection can be made or broken at specific current levels using a disconnect switch known as a load break switch. In simple terms, a load break switch is used to turn off or disconnect the flow of electricity in a circuit to isolate it for maintenance or to prevent damage to the circuit in the event of a fault or failure. Load break switches are activated in no-load situations as a security measure. Based on the installation location, load break switches are segmented into indoor and outdoor switches.
In certain situations, load break switches are commonly equipped with additional devices to provide a bare-bones load-switching capability. An air gap switch can be modified for use at high voltage and current levels by connecting it with a series interrupter. By using a series interrupter, a disconnect switch can effectively switch the load or fault currents of the connected equipment. This is because the series interrupters significantly enhance the load-breaking capacity of the disconnect switch.
Gas-insulated, vacuum, air-insulated, and oil-immersed load break switches are some of the types of load break switches.
Global demand for gas-insulated is expected to rise at a CAGR of 6% from 2023 to 2033.
A gas-insulated load break switch is utilized to open or terminate an electrical circuit. These switches are used in high-voltage applications when it is necessary to isolate a portion of the circuit.
Stainless steel or aluminum is usually used in the production of gas-insulated load break switches. They are controllable either manually or automatically.
Automatic gas-insulated are commonly employed when it is necessary to quickly open or close a circuit, such as in emergency situations. Gas-insulated load break switches are widely utilized in damage control against heavy loads or short circuits.
Report Attributes

Details

Load Break Switches Market Size (2023E)

US$ 2.4 Billion

Forecasted Market Value (2033F)

US$ 4.1 Billion

Global Market Growth Rate (2023 to 2033)

5.5% CAGR

China Market Growth Rate (2023 to 2033)

7% CAGR

Japan Market Growth Rate (2023 to 2033)

4% CAGR

Germany Market Growth Rate (2023 to 2033)

4% CAGR

Canada Market Growth Rate (2023 to 2033)

5% CAGR

Key Companies Profiled

ABB Ltd.
Eaton Corporation PLC
Fuji Electric Co., Ltd.
Legrand SA
Powell Industries, Inc.
G&W Electric Company
Katko OY
Arteche Group
Ensto Group
ETI Elektroelement d.d.
Lucy Electric Ltd.
Huayi Electric Co., Ltd.
LS Electric Co. Ltd.
Don't Need a Global Report?
Save 40% on Country & Region specific reports
Which Factors are Anticipated to Boost the Sales of Load Break Switches?
"Rising Demand for Medium-voltage Load Break Switches from Wide Range of Industries"
Rapid industrialization across the globe is driving the growth of the load break switches market. Medium-voltage load break switches can handle voltages between 3 kV and 36 kV.
Medium-voltage load break switches are available in two forms: indoor switches with a metal enclosure and outdoor switches without a metal enclosure. Oil or vacuum switches can be used as the mechanism of interruption for these load break switches.
A circuit breaker uses a medium-voltage load break switch. The main purpose of a circuit breaker is to stop current whenever there is a failure. High-voltage load break switches are employed in power systems operating above 36 kV.
Medium-voltage switchgear producers recognize Elecspare as a skilled and reliable supplier of medium-voltage load break switches. These switchgear components play a critical role in maintaining ongoing safety, electrical stability, and equipment durability and in minimizing maintenance needs, thereby preventing environmental damage.
"Rapid Urbanization and Industrialization Worldwide"
Demand for load break switches is expected to grow as a result of increasing energy demands to support rapid urbanization and growing awareness of the new power generation technologies. Load break switches are generally employed in complex electrical substations and industrial settings, where they must withstand a wide range of operating voltages as well as harsh climatic conditions to maintain voltage stability.
The use of switching devices in industrial applications is being pushed by infrastructural developments. The construction and renovation of industrial structures such as power plants, government offices, and commercial buildings are expected to drive the growth of the market for load break switches.
"Increasing Focus on Renewable Power Generation"
Sales of load break switches are anticipated to increase due to rising investments in the development of renewable energy sources and supportive government laws and subsidies for technological innovations.
The demand for switching equipment is growing because of efforts to minimize global carbon emissions and the rising awareness of the advantages of renewable energy production. The adoption of switchgear components is expected to increase due to the development of new transmission and distribution (T&D) lines by bulk power plants that use onshore and offshore wind, solar, and hydroelectric power.
What are the Challenges That Manufacturers of Load Break Switches Need to Address?
"High Cost of Load Break Switches Limiting Product Sales in Developing Economies"
The adoption of load break switches is growing across several end-use sectors because of their several advantages. However, load break switches are expensive, which may limit the demand for load switches in developing economies.
Also, the development of improved load break switches calls for a high level of technical proficiency. Thus, the scarcity of skilled workforce could act as a hindrance to producing advanced load break switches.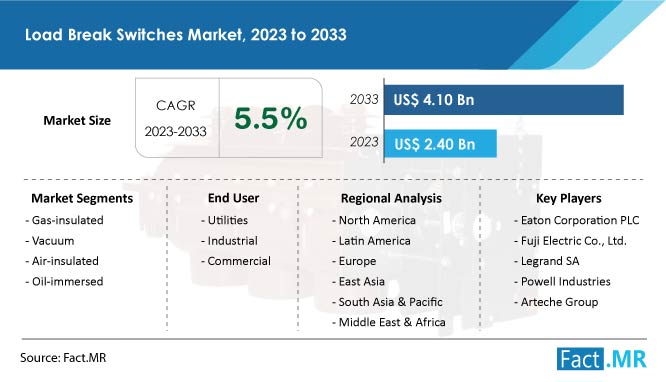 Country-wise Analysis
Which are Lucrative Markets for Manufacturers of Load Break Switches in Asia Pacific?
"Increase in Power Plant Construction Projects in China and Japan"
The Asia Pacific region is experiencing a rapid expansion of power plant construction projects, particularly in Japan, China, and India. The increasing number of power generation projects, driven by the rising electricity demand, is leading to the growing demand for load break switches in these countries.
Sales of load break switches in China and Japan are expected to increase at CAGRs of 7% and 4%, respectively, during the forecast period.
Thus, countries in Asia Pacific are expected to be lucrative markets for load break switch manufacturers due to the increasing investments in large-scale power generation and system upgradation initiatives.
Gas-insulated segments are gaining popularity in the Asia Pacific region due to their ease of maintenance and long lifespan. Governments in the region are focusing on large-scale renewable energy projects, and this factor is expected to increase the sales of gas-insulated.
Sales of load break switches are expanding in countries where remote grid access is a high priority because of a rise in remote power generation projects. The digitization of the utility sector in Asia Pacific is anticipated to generate lucrative opportunities in the load break switches market.
How is Demand for Load Break Switches Progressing in Germany?
"Rising Public-Private Partnerships to Develop Advanced Energy Storage Technologies"
Sales of load break switches are anticipated to increase in the European region because of strict restrictions developed by the European Union to accommodate the production of renewable energy alongside the established transmission and distribution networks.
The European Union established a climate and energy framework to help it meet its goals from 2021 to 2030, in line with the target of generating 32% of all energy from renewable sources by 2030.
From 2023 to 2033, market is expected to increase at a healthy pace in Germany, the United Kingdom, Italy, and Spain.
Sales of load break switches in Germany are expected to rise at a CAGR of 4% from 2023 to 2033.
Public and commercial organizations in Germany are collaborating to develop advanced energy storage technologies. The national government is increasing its investment in load break switching systems by offering special incentives to encourage the demand for storage systems and renewable energy.
What's Augmenting Sales of Load Break Switches in the United States?
"Rising Production of Renewable Power in the Country"
Rapid industrialization, construction of commercial buildings, and power plant construction projects are boosting load break switch sales in the United States. Renewable power generation refers to the process of producing electricity from alternative sources such as nuclear power, hydroelectricity (excluding pumped storage), solar energy, geothermal energy, wind energy, and biofuels.
Increasing production of renewable energy is boosting the growth of the power industry in the United States, which subsequently increases the demand for load break switches.
In November 2022, EE North America and Elio Energy partnered to construct 2 GW of solar power pipeline infrastructure and energy storage systems in Arizona and neighboring states in the United States. By 2026, the companies aim to build 10 GW of renewable energy capacity across the country, aiding state and local governments in achieving their net-zero emissions objectives. These developments are expected to drive sales of load break switches in the country.
More Insights, Lesser Cost (-50% off)
Insights on import/export production,
pricing analysis, and more – Only @ Fact.MR
Category-wise Analysis
Which Sector Accounts for a Major Share of Load Break Switches?
"High Demand for Load Break Switches from Utilities Sector"
Utilities, industrial, and commercial sectors widely use load break switches. The demand for load break switches from the utility sector is expected to increase at a rapid pace during the forecast period. The increasing investments by electric utilities towards upgrading and maintaining the existing electrical infrastructure to prevent power outages could be a contributing factor to the growing demand for load break switches.
Demand for gas (SF6) insulated load break switches is increasing because of their ability to safely handle the requirements of the electric utility sector. Grids for the distribution of electricity widely employ SF6 load break switches.
Competitive Landscape
Key players in the load break switches market are developing advanced compact load break switches that are suitable for low-voltage devices. Furthermore, to obtain a competitive edge and enhance their share in the market for load break switches, these players are engaged in offering tailored solutions to end users.
Eaton Corporation, a reputed power management company, provides a range of electrical products through its electrical division, including circuit breakers, panel boards, switchgear, power distribution units, load centers, motor controls, sensors, relays, and inverters. The company's products are available in over 175 countries worldwide.
In its latest report on the load break switches industry, market research and competitive intelligence provider Fact.MR provides detailed insights into the marketing strategies of leading companies.
Load Break Switches Industry Research Segments
By Type :

Gas-insulated
Vacuum
Air-insulated
Oil-immersed

By Voltage :

Below 11 kV
11 to 33 kV
33 to 60 kV

By Installation :

By End User :

Utilities
Industrial
Commercial

By Region :

North America
Latin America
Europe
East Asia
South Asia & Oceania
MEA