Magnesium Chelates Market
Magnesium Chelates Market Analysis By Form (Powder, Crystalline), By Type (Magnesium Bisglycinate, Magnesium Amino Acid Chelate, Magnesium Citrate, Magnesium Glycinate, Magnesium Taurate), By Application (Beverages, Nutritional Bars, Powder Mixes, Meal Replacement Products, Soft Gels, Dietary Supplement Tablets) & Region – Global Market Insights 2023 to 2033
Analysis of Magnesium Chelates Market Covering 30+ Countries Including Analysis of US, Canada, UK, Germany, France, Nordics, GCC countries, Japan, Korea and many more
Magnesium Chelates Market Outlook (2023 to 2033)
According to a new industry analysis by Fact.MR, the global magnesium chelates market is projected to expand at a CAGR of 5.9%, rising from its current value of US$ 228.1 million to US$ 404.7 million by the end of 2033.
Currently, various types of magnesium are available as dietary supplements but not all of them can be efficiently utilized by the body. From this perspective, it is crucial to select magnesium that is readily absorbed by the body. A highly efficient form of magnesium that is quickly absorbed into the bloodstream is magnesium chelate. Compared to other forms of magnesium, such as magnesium hydroxide, it has a significantly better capacity for absorption in the body.
Magnesium chelates are compounds in which magnesium is bound to an organic molecule, such as an amino acid or organic acid. This chelation process enhances the bioavailability and absorption of magnesium in the body, making it an important nutrient for various biological functions. Magnesium chelates are widely used in the food and beverage industry, dietary supplements, pharmaceuticals, and agriculture sectors. Huge demand for functional foods and nutraceuticals is boosting market expansion.
Chelation involves the formation of a ring-like structure around the magnesium ion, which protects it from binding with other substances in the digestive system that can reduce its absorption. This complex structure helps to improve the solubility and stability of magnesium, allowing for better absorption and utilization by the body.
Use of magnesium chelates in beverages is estimated to rise at a CAGR of 6.2% over the decade. Magnesium chelates can be incorporated into beverages to provide a convenient and easily consumable form of magnesium supplementation.
There are different types of chelating agents used in magnesium chelates, including amino acids such as glycine and glutamic acid, as well as organic acids, including citric acid. These chelating agents not only enhance the absorption of magnesium but also provide additional health benefits associated with the specific chelating agent used.
The chelated form of magnesium is often preferred by individuals who have difficulty absorbing other forms of magnesium or experience digestive issues with certain magnesium compounds. Magnesium chelates are commonly used as dietary supplements to support overall health and well-being.
Report Attributes
Details

Magnesium Chelates Market Size (2023)

US$ 228.1 Million

Forecasted Market Value (2033)

US$ 404.7 Million

Global Market Growth Rate (2023 to 2033)

5.9% CAGR

Market Share of Powdered Magnesium Chelates (2023)

64%

Japan Market Size (2033)

US$ 25.1 Million

United Kingdom Market Growth Rate (2023 to 2033)

5.9% CAGR

China Market Size (2023)

US$ 49.5 Million

United States Market Growth Rate (2023 to 2033)

5.7% CAGR

Market Share of Beverages (2023)

30%

Key Companies Profiled

Novotech Nutraceuticals, Inc.
Balchem Inc.
Reliance Private Label Supplements
Peptech Biosciences Ltd.
Ava Chemicals Private Limited
Kompava
Ajinomoto
Blue- Dip Organic Industries
Don't Need a Global Report?
save 40%! on Country & Region specific reports
Which are the Major Forces Behind Increasing Demand for Magnesium Chelates?
"Growing Consumer Awareness about Magnesium Deficiency"
Magnesium is an essential mineral required for various physiological functions in the body, including muscle and nerve function, energy production, and bone health. Many people do not consume enough magnesium in their diets, leading to magnesium deficiencies. As a result, there is a growing demand for magnesium supplements, including chelated forms, to address these deficiencies.
There is a growing awareness and emphasis on overall wellness and preventive health measures. Magnesium plays a vital role in supporting various bodily functions, and adequate levels of magnesium are associated with improved overall health. As individuals become more health-conscious, they are seeking out magnesium chelates and other supplements as part of their wellness routines.
Different chelating agents used in magnesium chelates, such as amino acids and organic acids, provide additional health benefits. For example, glycine, an amino acid commonly used in magnesium chelates, has calming properties and can promote relaxation. These additional benefits attract consumers who are looking for specific health outcomes in addition to magnesium supplementation.
"Increasing Need for Magnesium Chelates among Geriatric Population"
Adequate magnesium intake is essential for maintaining strong and healthy bones. As individuals age, they become more susceptible to conditions such as osteoporosis and fractures. Magnesium chelates provide a convenient way to supplement magnesium intake, which can support bone density and reduce the risk of fractures in the aging population.
As the global population ages, there is an increased focus on maintaining cognitive well-being. Magnesium is involved in neurotransmitter function and brain health. Adequate magnesium levels are associated with better cognitive performance and a reduced risk of cognitive decline. Magnesium chelates can help maintain optimal magnesium levels in the aging population, potentially supporting cognitive function and reducing the risk of age-related cognitive decline.
What is Restraining the Sales Growth of Magnesium Chelates?
"Lack of Awareness about Benefits of Magnesium Supplementation and High Production Cost"
Many individuals are not aware of the benefits of magnesium supplementation or the specific advantages of chelated forms. Limited knowledge about the importance of magnesium and its role in supporting health can hinder the demand for magnesium chelates.
The production process of magnesium chelates involves complex manufacturing techniques, which can be expensive. The high production costs can limit the affordability and accessibility of magnesium chelates for certain consumer segments.
While magnesium is generally considered safe for most individuals, some people can experience gastrointestinal side effects, such as diarrhea or stomach upset, when taking magnesium supplements. Although chelated forms can improve absorption and reduce the risk of these side effects, some individuals can still have sensitivity or intolerance to magnesium, which can impact the demand for magnesium chelates.
More Insights, Lesser Cost (-50% off)
Insights on import/export production,
pricing analysis, and more – Only @ Fact.MR
How Can Start-ups Shape the Future of the Magnesium Chelates Space?
"New Companies Should Focus on Improving Stability, Solubility, and Bioavailability of Magnesium Chelates"
Start-ups should focus on offering unique and innovative products that differentiate them from established competitors. This can include developing proprietary chelation technologies, introducing specialized formulations, or targeting specific niche markets with specific health benefits. By offering something distinct, they can attract and retain customers who are seeking novel and effective magnesium chelate supplements.
New market players must concentrate on proprietary chelation technologies to improve the stability, solubility, and bioavailability of magnesium chelates. These advancements ensure optimal absorption and utilization of magnesium in the body, maximizing the benefits for consumers.
As per the recent research by Fact.MR, a market research and competitive intelligence provider, the market for magnesium chelates is dynamic and new companies must adapt to changing consumer preferences and industry trends. By implementing these strategies, start-ups can establish a strong position in the magnesium chelates market and differentiate themselves from competitors, thereby gaining customer trust, expanding their customer base, and driving long-term growth.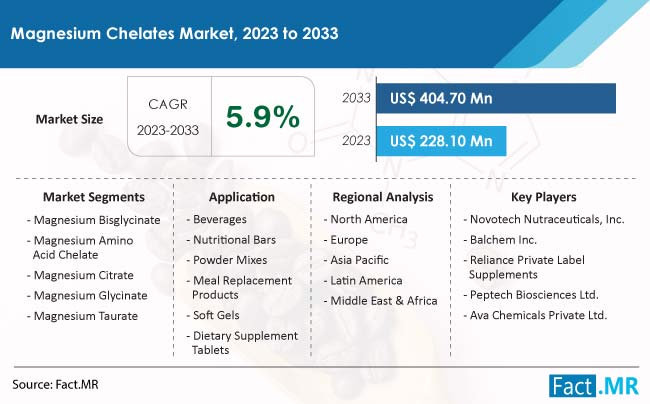 Country-wise Insights
What is Paving the Way for Suppliers of Magnesium Chelates in the United States?
"Presence of Well-established Dietary Supplement Industry"
The magnesium chelates market in the United States is set to reach US$ 74.1 million by 2033.
The United States has a significant demand for dietary supplements, including magnesium chelates. Additionally, the presence of a well-established dietary supplement industry and widespread consumer awareness about the benefits of magnesium supplementation further drive the demand. Increasing focus on preventive healthcare is driving the demand for magnesium chelates in the United States.
How is the Magnesium Chelates Industry Faring in Germany?
"Increasing Healthcare Expenditure Driving Market Value"
Sales of magnesium chelates in Germany are valued at US$ 29 million in 2023.
A strong wellness industry contributes to the demand for magnesium chelates in Germany. The market for magnesium chelates in the country is driven by the increasing health consciousness among consumers, coupled with the prevalence of magnesium deficiency. Increasing healthcare expenditure is supporting market expansion.
Why is China the Frontrunner in Worldwide Consumption of Magnesium Chelates?
"Rapidly Increasing Geriatric Population Driving Market Expansion"
The market in China is set to rise at a CAGR of 6.9% through 2033.
Stringent regulations on dietary supplements ensure product quality and safety, boosting consumer confidence in magnesium chelates. The growing geriatric population and increasing disposable income are driving market demand. The Chinese market offers significant opportunities for magnesium chelate manufacturers and suppliers.
Know thy Competitors
Competitive landscape highlights only certain players
Complete list available upon request
Category-wise Insights
Why is There Higher Demand for Powdered Magnesium Chelates?
"Powdered Magnesium Chelates Offer Convenience and Versatility"
Based on form, the market is classified into powder and crystalline.
In 2023, powdered magnesium chelates are the most preferred form, with a market revenue share of 64%.
Powdered magnesium chelates offer convenience and versatility in terms of consumption. They can be more palatable, as they can be mixed with flavored liquids or incorporated into foods, helping individuals overcome taste aversions or digestive discomfort.
The powder form allows for easy mixing and can be added to various beverages or food products, making it convenient for individuals who prefer to incorporate magnesium into their existing routines. It can be easily customized to fit personal preferences and dosages.
Individuals can easily measure and adjust the amount of powder they consume based on their specific magnesium needs and health goals. Powdered magnesium chelates offer flexibility in dosage adjustment. This customization allows for tailored supplementation, especially for individuals with varying magnesium requirements or those who need to meet specific dietary recommendations.
Competitive Landscape
Key market participants heavily spend on R&D to broaden their product offerings. They engage in strategic activities such as the introduction of new products, product standards, quality control, increased investments, and collaborations with other firms to extend their presence and respond to significant market developments.
For instance,
Doctor's Best launched its high-absorption magnesium product, featuring a chelated form of magnesium. This supplement emphasizes enhanced absorption and bioavailability, allowing for optimal utilization of magnesium in the body.
Key Segments of Magnesium Chelates Industry Research
By Form :

By Type :

Magnesium Bisglycinate
Magnesium Amino Acid Chelate
Magnesium Citrate
Magnesium Glycinate
Magnesium Taurate
Others

By Application :

Beverages
Nutritional Bars
Powder Mixes
Meal Replacement Products
Soft Gels
Dietary Supplement Tablets

By Region :

North America
Europe
Asia Pacific
Latin America
Middle East & Africa
- FAQs -
The global magnesium chelates market is valued at US$ 228.1 million in 2023.
Sales of magnesium chelates are estimated to reach US$ 404.7 million by 2033.
The market for magnesium chelates is projected to expand at a CAGR of 5.9% through 2033.
The market in the United Kingdom is estimated to reach US$ 16.6 million by 2033.
The market in Japan is set to increase at a CAGR of 6.1% from 2023 to 2033.